Rookie Watch
By David Thorpe
Scouts Inc.

Wall
John Wall, Wizards: While November was a good month for Wall, December has been a disappointment. And it's not just because his points per game are down from 17.3 to 14.2. Nor is it just because his assists per game are down from 9.1 to 8.4. No, the biggest issue is his shot selection, which is the cause for both of those averages dropping and why he's making just 35.9 percent of his field goals in December.
Wall is still dynamite off the dribble, especially in transition, which is why we don't consider 18-foot pull-up jumpers with lots of time on the clock good shots. Forget his mechanics for a moment -- he has improved his release but his foundation is poor -- and focus on his decision-making.
Teams are inviting him to shoot the ball, going under screens and generally giving him room to get off his shot. They'd prefer not to put themselves in jeopardy of him attacking. Wall, however, is very competitive and must be thinking, "I'll show these guys that I can make this." But that's not the best response.
He's making just a third of his shots from 10 feet to the 3-point line (and 33 percent from behind the line). While he does have to continue taking these shots on occasion, especially when the shot clock is winding down, he doesn't have to take as many as he has been. Taking early shots like these robs him of penetration-and-dish plays.
---

Favors
Derrick Favors, Nets: Heading into the season, scouts felt that Favors had lots of upside but very little polish. Breaking down his game on tape reveals that he has a lot more polish than expected.
Some of it is obvious, like when he rebounds athletically and grabs the ball above his head, then leaves the ball high on the put back. Or when he has a tough finishing angle on the side of the rim, yet deftly gets the ball past his defender by going under, not over, his opponent's hands and uses the lower part of the backboard to kiss the ball into the net.
Or even when he makes a catch in the short corner and makes his move to the rim with perfect footwork, like he did against the Lakers, something that is not easy to do. (Realizing that Pau Gasol was going to come over to help is the next step in his evolution; Gasol blocked this attempt easily.)
Look closer and you'll see a guy who sets his man up by acting like he's going to pop up from his spot near the blocks before suddenly jumping to the rim to dunk a quick lob pass. Best of all, I've seen him use his arms to make a subtle push, helping his man up the floor to create an easier angle for him to catch the lob, and not get called for the foul. He's learning the tricks of the trade, and he's still only a teenager.
• David Thorpe breaks down his top 10 rookies

Bynum's Back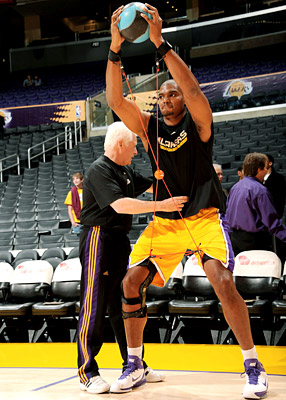 Andrew D. Bernstein/NBAE/Getty Images
After missing the Lakers' first 24 games while recovering from offseason surgery on his right knee (meniscus), Andrew Bynum was set to return to L.A.'s lineup tonight. But would he start?
Love's Mean Streak
By ESPN Research
Kevin Love had 21 points and 22 rebounds when the Timberwolves and Warriors met on Nov. 27, one of the five 20-20 games he's had this season.
Most Consecutive Games With 15+ Rebounds: Last 15 Seasons
Season
Player
Games
2002-03
Ben Wallace
14
2010-11
Kevin Love
10*
2000-01
Ben Wallace
9
1999-00
Dikembe Mutombo
8
1996-97
Dennis Rodman
8
*Active streak