Amare Is Prophetic, Not Preposterous
By Ian O'Connor
ESPN New York

NEW YORK -- His first words -- "The Knicks are back" -- came off like a punch line LeBron James might have delivered at a cocktail party.
Yeah, the New York Knicks are back. Back to throwing bad money after bad.
Inside a suite at the Four Seasons, Amare Stoudemire had just engaged in a $100 million handshake with Madison Square Garden chairman Jim Dolan. If it seemed like a panic move on the Knicks' end, well, they were terrified of coming away empty-handed from the historic summer sale of 2010.
Dolan about fell over when Amare said yes -- "Jim got emotional," said the player's agent, Happy Walters -- and suddenly Stoudemire was standing under a Knicks cap outside the Garden, talking about winning championships and sounding like a damned fool.
"We're going to start a dynasty-approach program here," Stoudemire said, "and today's the first step."
To read the entire column, click here.
LeBron James By The Numbers
The Timberwolves And Conventional Wisdom
By Benjamin Polk
TrueHoop

Love
Benjamin Polk of A Wolf Among Wolves tackles the notion that the Timberwolves have historically bad leadership:
The Minnesota Timberwolves are epically mismanaged. Their roster is an unsolvable puzzle, ridden with curiosities, redundancies and mercurial, underachieving former lottery picks.
And, as absurdly as the team is constructed, the way they're coached may be even more baffling. Do they even realize that Kevin Love -- the guy with the World Championship gold medal, who scored 31 points and grabbed 31 rebounds in one game -- is the best player on this ridiculous team?
Winning Feeling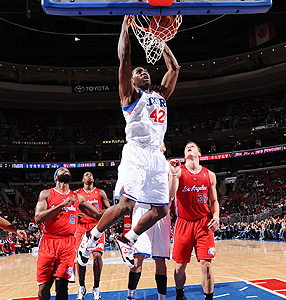 Nathaniel S. Butler/NBAE/Getty Images
After a slow start to the season, Elton Brand and the Sixers, who are taking on the Lakers tonight, have won five of their previous six games.
Clash Of The Point Guards
By Jeff Caplan
ESPN Dallas

DALLAS -- When Steve Nash and Jason Kidd go head-to-head tonight at American Airlines Center, take it in and enjoy watching two of the greatest true point guards ever to play the game.
Their matchups could be limited to just three more after tonight. Both have one more season remaining on their respective contracts, but a potential lockout threatens to wipe out the entirety of the 2011-12 season. Nash, in his 15th season, will turn 37 in February. Kidd, in his 17th season, turns 38 in March.
To read the entire column, click here.