Jalen Rose On Magic's Moves
Mavs-Heat: Five Things To Watch
By Kevin Arnovitz and Tom Haberstroh
ESPN.com


If it seems like Dirk Nowitzki doesn't miss these days, that's because he doesn't. The 32-year-old is in the midst of one of the best shooting campaigns in the history of the NBA, nailing 56 percent from the floor with most of those shots coming outside the paint. But Nowitzki has only four games in which he shot less than 40 percent -- and one of them came against the Heat.
Nowitzki uncharacteristically missed 14 of his 23 shots in their first matchup back on Nov. 27. The Heat were fortunate. Time and time again, Heat big men guarding Nowitzki would double up on the ball handler (even J.J. Barea) in a pick-and-roll situation, leaving Nowitzki alone for the jumper. Nowitzki didn't hit his shots, but the Heat have to communicate better through screens to keep a body on Nowitzki at all times.
Also, he's absolutely deadly from the right block, especially when he pivots to face up. Chris Bosh must stay close and keep his hands active when Nowitzki has the ball on his hip since it's virtually impossible to affect Dirk's shot once he brings it over his head. The moment you relent, the ball's already splashing through the net.
Not Same Ol' Spurs
By John Hollinger
ESPN.com

If you can't beat 'em, join 'em.
Just seven months ago, the San Antonio Spurs couldn't beat the Phoenix Suns a single time in four tries in the second round of the Western Conference playoffs. Try as the Spurs might, the Suns' league-best offense was simply too good for them to stop.
Fast-forward to Monday's rematch between the Spurs and Suns, and you'll notice one key difference: The Spurs' offense has become even more unstoppable than Phoenix's. The Suns have led the NBA in offensive efficiency every year since they signed Steve Nash in 2004, but this year the streak may finally end (along with an even more amazing streak -- Nash's team has led the league every year since 2001-02). Believe it or not, it's the Spurs who lead the league in offensive efficiency heading into Monday's games, by nearly a full point per 100 possession over the Suns, who are third.
In doing so, they've completed an impressive transformation. San Antonio's championship teams in 2003, 2005 and 2007 had the same Tim Duncan-Manu Ginobili-Tony Parker nucleus as this year's squad, but those clubs were far better on defense than offense -- they ranked third, first and second, respectively, in defensive efficiency, but never cracked the top four on the offensive end.
That's par for the course for the Duncan Era Spurs. In terms of the league rankings, they were better on defense than offense for the first dozen years of Duncan's career, and often the differences were large -- in 2007-08, for instance, San Antonio was third in defense but a mere 15th in offense.
• Hollinger breaks down the San Antonio Spurs

NBA SCOREBOARD
POSTSEASON
TOP PERFORMERS
- 06/19/16
Yao Ming's Impact
By Michael Wilbon
ESPN.com

It's easy to forget, now that he's been so absent the last two years, that Yao Ming was once an iron man. The career obituaries that detail all the games missed in recent seasons and various injuries to his feet and legs tend to not mention that Yao played all 82 games his rookie year in the NBA, all 82 games his second season and 80 his third season.
The latest injury, the one that will force Yao to the sideline for the rest of this season and threatens to end his career, has prompted more conversation about what might have been had he stayed healthy and, sadly, not enough about the enormous contribution he made to basketball.
Almost certainly, Yao Ming has introduced more people to professional basketball, surely the NBA brand, than any one man in the history of the sport. While it's difficult to get exact ratings of the 39 NBA games broadcast in a season in China on CCTV (China Central television), the best available evidence is that approximately 200 million have frequently watched when the Rockets play, which is about one-third of the time. That's 195 million more than watch an NBA playoff game, on average. It's nearly two Super Bowls worth of eyeballs on any game. Or as former Rockets guard Sam Cassell said, "Let's just say for the sake of arguing, its 50 million people. That means Yao attracts a major market all by himself. Actually, that's five major markets. And we all know it's a lot more people than that. It's hundreds of millions watching games for the whole time he's been in the league."
That begs the question of how popular the NBA will remain in China if Yao never plays again.
• To read Wilbon's entire column, click here.
Bad Break For Bucks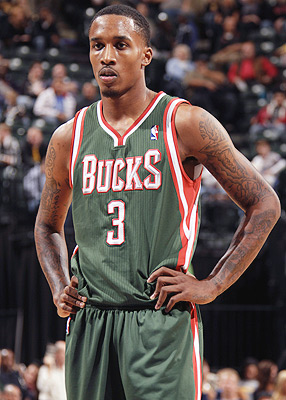 Ron Hoskins/NBAE/Getty Images
Tough news for Milwaukee, which begins a three-
game West coast swing today: Brandon Jennings is out 4-6 weeks with a broken bone in his foot.