Lakers Turnaround In Sight
Saving The Lakers
By John Hollinger
ESPN.com

SAN ANTONIO -- Let's start the morning with a sobering fact for Los Angeles Lakers fans: In NBA history, 361 teams have lost three straight games by 15 or more points.
Want to know how many of them won the title?
Would you believe one of them? It's true -- according to Elias, only the 1977-78 Washington Bullets went on to win a championship after dropping three straight by such margins during the regular season. And that Bullets team, I would add, was arguably the worst champion in league history.
All of which is part of the new reality for a Lakers team that is rapidly losing its sheen as the alpha dog in the Western Conference. The San Antonio Spurs are now six games ahead of the Lakers in the standings and just beat them handily head-to-head, while L.A. is icing its wounds after losing by 19 to Milwaukee, 16 to Miami and now 15 to the Spurs.
(This, incidentally, is one reason I keep harping on scoring margin as a predictor of future success or failure. Good teams, even great ones, can easily lose three straight games by close margins and march on. But getting your brains beat in three straight? Normally that is a much greater indicator of quality, or rather the lack of it. In fact, the last time it happened to the Lakers, in 2006-07, they finished with 42 wins.)
While no sane person would put the Lakers' odds of repeating as low as 1-in-361, it does offer a shot glass full of reality. Moreover, it's tough to blame this slump on injuries because all their key players are in the lineup -- and one of the losses was to a Milwaukee team fielding a skeleton crew itself.
To read the entire column, click here
Year-Ending Deals
By Tom Haberstroh
ESPN.com Insider
As the new year approaches, several teams find themselves in the hunt for the playoffs. Here are some New Year's resolutions for six teams on the playoff bubble, according to John Hollinger's playoff odds, caught between making the leap or rebuilding for the future.

Houston Rockets
Current Status: 15-15, 1 game back
New Year's resolution: Find a taker for Yao Ming
There's a silver lining to the Yao injury news, after all. Whoever ends up with him by the end of the season will be responsible for the remaining portion of his $17.7 million expiring contract -- but there's a catch. Should a team deal for Yao's swollen expiring contract, insurance will pick up half the outstanding amount, making the deal far more appealing for potential buyers. It will be painful to part with Yao, given his long history and close ties with the Rockets organization, but don't be surprised if Rockets GM Daryl Morey creates February deadline fireworks for a second straight season and grabs some more depth at the center position.
Helping the Rockets' cause is Aaron Brooks' return from an ankle injury after being sidelined for more than a month. Once he gets his legs back, he should reclaim his starting job from Kyle Lowry. Lowry has regained his shooting stroke after a putrid start to the season, and the domino effect of Brooks' return should help the Rockets make their push; Houston has been 10.3 points worse per 100 possessions when Lowry leaves the floor to his replacements.
To read the entire column, click here
Alternative Listening
The B.S. Report: 12/29
Bill Simmons and J.A. Adande discuss whether it's time to panic about the Lakers, the emergence of Blake Griffin and more from the NBA.
Celtics Top Stories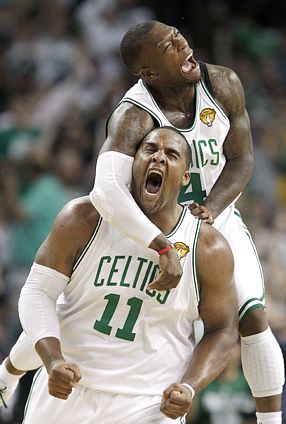 AP Photo/Charles Krupa
The Shrek and Donkey Show was one of the top stories of the year for the Celtics. Read the rest of Chris Forsberg's list at ESPNBoston.com.
Rookie Report: Good and Bad
By David Thorpe
ESPN Insider
From parents to teachers to coaches, it is common to use a simple formula when teaching or criticizing a student/child. "Something good, something bad" is an age-old technique that works, and I've used that exact method most of the time when I'm with NBA players.
As we close 2010, let's take a look at what many rookies can take from the first two months of their pro careers, and see what they have to clean up moving forward.

Griffin
Something good: Oh my, where do we begin? Monster dunks, beastly attitude, competitive spirit, willing and able to put his team on his back for long stretches of games -- he's been the best rookie we've seen since this report started three years ago. It's hard for a No. 1 pick to exceed expectations, but he has done so without question.
Something bad: There's not much to choose from here, but his biggest weakness is the most obvious one. He's making just 59 percent of his free throws, which is a problem when he is so good at getting fouled. With a team on the upswing, this becomes even more of an issue, as the Clippers are playing so many games to the wire. Check this out: The Clippers are 7-7 in December, and in their seven losses, Griffin missed enough free throws to either tie or win three games. How would a 10-4 December record heading into the last game of the year look to Clipper Nation? It makes a world of difference when your best player is also money from the line.
• To read the rest of the column, click here