Same Team? Celtics, Heat Play Nice ... For Now
By Michael Wallace
ESPN.com


LOS ANGELES -- For one night, at least, LeBron James is willing to forgive Rajon Rondo for that pesky little peek into the Miami Heat's huddle during last Sunday's game in Boston.
And Celtics forward Kevin Garnett won't carry a grudge from that running forearm shiver that Dwyane Wade delivered his way in the lane on that flagrant foul last week. Gone, too -- at least momentarily -- is the bitterness, intensity and rage that have come to define what so far has been a one-sided rivalry between the Miami Heat and Boston Celtics.
Why? Because tonight at the Staples Center, the two top teams in the Eastern Conference have no choice but to unite for a common cause as East teammates in the All-Star Game.
James, Wade and Chris Bosh join Garnett, Rondo, Paul Pierce and Ray Allen in the goal of helping the East team knock off Kobe Bryant, Blake Griffin and the West squad for midseason bragging rights. And for now, that task is bigger than any level of beef between the Heat and Celtics.
"Right now, we come down here as allies," Pierce said of setting aside any grudges with the Heat. "Maybe we'll leave as enemies. But now we're allies. And it's all about having fun."
• Read the rest at the Heat Index » / See the C's side at ESPN Boston »
Starry Night: All-Star Game Preview
D-Rose A Reluctant Star
By J.A. Adande
ESPN.com

Rose
LOS ANGELES -- The most intriguing player in this All-Star Game is second-time participant Derrick Rose, a man who in many circles (including mine) is the top candidate for this season's Most Valuable Player, yet his deferential demeanor around the guys who've been through this weekend of hoops hype a few times makes you think he's a teenager who just transferred to a new high school.
"I feel like I'm still a rookie compared to all these guys," Rose said. "You look at KG [Kevin Garnett], this is like his 14th one. He's got so many stars on the back of his warm-up.
"It makes you want to fight to get more. Makes you want to go in and work out harder, just because you want to get to the All-Star Game the number of years the other guys did. "
All-Star Weekend

What: All-Star Weekend
When: Feb. 18-20
Where: Los Angeles
Friday: Wall lifts rookies
Saturday: Blake best dunker, James 3 king
Sunday: 2011 NBA All-Star Game (TNT, 8 ET)
Topics: All-Star Game | Slam Dunk Contest
Sideshow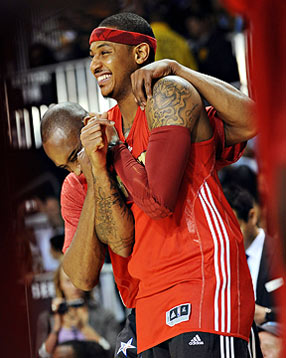 Andrew D. Bernstein/Getty Images
Carmelo will suit up for the West, but will he be East-bound by Thursday's 3 p.m. trade deadline?
Sources: Nets meeting | Report: NYK's offer
Kobe's Still Shining

Adande
LOS ANGELES -- This was supposed to be a tribute to a unique accomplishment by Kobe Bryant … except Kobe wasn't having any part of it.
With the All-Star Game back in Los Angeles, Bryant is the only player since the NBA-ABA merger to make two All-Star Game appearances in his home arena in a single city. When I brought that to his attention, he didn't seem impressed.
"Is that supposed to mean anything?" he said.
I added this: Of the 24 players who participated in the 2004 All-Star Game at Staples Center, only Bryant and six others have stayed with their same respective teams in the seven years that have elapsed. And of those six -- Paul Pierce in Boston, Tim Duncan in San Antonio, Dirk Nowitzki in Dallas, Andrei Kirilenko in Utah, Michael Redd in Milwaukee and Yao Ming in Houston -- only Pierce, Duncan and Nowitzki will be back at the All-Star Game.
Kevin Garnett and Ray Allen are still All-Stars, only now they're in Boston. Jermaine O'Neal and Shaquille O'Neal are in Boston, too, but no longer earn trips to the league's showcase game. Tracy McGrady has gone from one of the top scorers in the league to a point guard for lottery-bound Detroit. Some scattered across the globe in order to keep playing, Steve Francis to China and Allen Iverson to Turkey.
Stars Align In Los Angeles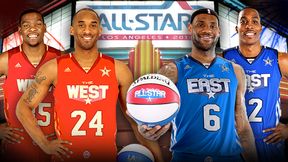 ESPN Illustration
Follow all of the action leading up to NBA All-Star Weekend in Los Angeles. '11 All-Star Index »