Sizing Up Magic's Potential Playoff Foes
By Eddy Rivera
ESPN TrueHoop

With the Miami Heat coming away with a much-needed victory against the Los Angeles Lakers to snap a five-game losing streak, it's becoming clear that they're locked in to the No. 3 seed in the Eastern Conference -- at minimum. There's 17 games left in the regular season and unless the Heat go on another prolonged losing streak or the Orlando Magic begin winning games left and right, it's tough to see them falling below their in-state and divisional rival in the standings. As a point of reference, the Magic trail the Heat by three games.
NBA on ESPN

On ABC, ESPN Radio:
Magic-Suns, 3:30 p.m. ET (Radio pregame 2:45)


Given that Basketball-Reference's projected standings and John Hollinger's NBA Playoff odds predict that Orlando will finish with a record of 52-30, thus locking them in to the No. 4 seed, it's time for the attention to be diverted away from Miami and onto two other teams in the East that pose as more immediate threats.
Meet the Atlanta Hawks and New York Knicks.
Even though the Hawks lead the Knicks by 2½ games in the standings for the time being, they are predicted to have a photo finish for the race to the No. 5 seed and the rights to play the Magic in the first round of the playoffs, each of them hovering around the 44-46 win mark. Thing is, even though Atlanta is "better" in terms of wins and losses, New York owns a better efficiency differential and beat them head-to-head on Sunday by the score of 92-79 with both teams utilizing their revamped rosters.
In the postseason, who would Orlando rather face?
Billups Return Expected
By Chris Sheridan
ESPN NewYork.com

Billups
GREENBURGH, N.Y. -- Chauncey Billups scrimmaged with the New York Knicks Saturday and was highly optimistic that he'll be able to return Sunday against the Indiana Pacers following a six-game absence due to a deep thigh bruise.
"It felt good, now I'm just hoping I don't have any setbacks between now and tomorrow. If not, I look forward to playing tomorrow," Billups said after the Knicks' 90-minute session. "I went as good as I could. It's amazing how being out a week you can get winded so fast, but I went pretty hard and it felt pretty good."
The Knicks went 4-2 while Billups was sidelined, and they hope to have him for the final 18 games of the regular season as they jostle for playoff positioning.
Billups has not played since his thigh collided with the knee of Dwight Howard in the Knicks' loss to Orlando on March 1.
Toney Douglas has started in his absence and averaged 16.5 points on 52 percent shooting with 7.5 assists per game.
Fired-Up SVG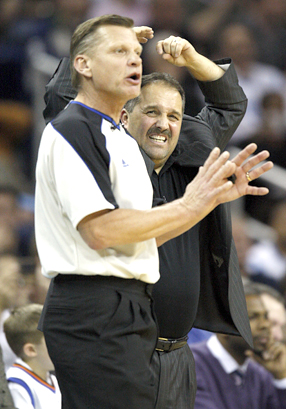 Steve Mitchell/US Presswire
Nothing gets Magic coach Stan Van Gundy's goat more than technical fouls called on Dwight Howard. But he pledges to keep a lid on his ire directed at the commissioner.
Tweet Watch
Growing up in MI n watching The Fab Five in the early 90s made me wanted to go to UofM. But glad I had some sense n went to State! Lol11:30 p.m. Saturday via Echofon
Jason Richardson
jrich23
Simmons And MacMullan
The B.S. Report: 3/11
Bill Simmons talks with ESPN's Jackie MacMullan about her career, Lisa Olson, Reggie Lewis, Bird and Magic, Shaq and Kobe, Paul Pierce, the Miami Heat and much more.