Who Is The Best Available Player?
By Jay Bilas
ESPN.com

Irving
Ahead of Thursday night's NBA draft, here's my ranking and analysis of the top 30 players in the 2011 class. A few things to keep in mind: First, this is not a mock draft, nor is this a prediction of the order in which these players will be taken. The list simply represents my opinion of the most talented players in this year's draft pool. Take a look:
1. Kyrie Irving, Duke
A pure point guard who changes speeds, can really shoot it and is efficient. Irving is not a better athlete than Derrick Rose or John Wall, but he is a better pure point and the better shooter.
• To read the entire column, click here »
Rubio A Throwback Point Guard
By Zach Harper
Special to ESPN.com
Whether it's his intention or not, Ricky Rubio has set out on a journey to re-revolutionize the way the point guard position is played in the NBA. His mindset on the court and style of play dictate as much.
Some will say Rubio's inability to score enough or shoot well from the field indicates that he doesn't belong in the pro game in the U.S. However, those stats won't tell his story.
Rubio's memory of Magic's words, which he brought up at his introductory press conference in Minnesota on Tuesday morning, perfectly sums up the attitude he has on the court.
• To read the entire column, click here »
The Next Kobe?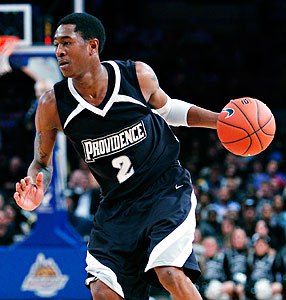 AP Photo
Fair or not, expectations are through the roof for Providence guard Marshon Brooks. Can he possibly live up to all of the hype?

Fredette
BYU's Jimmer Fredette may not be the most talented player in the NBA draft. He's not a one-and-done blue-chip prospect. At 6-foot-3, 196 pounds, he lacks ideal height and athleticism. Some scouts aren't even sure what position he plays.
Ask 15 different people about Fredette's NBA prospects and you'll get 15 different answers.
However, I get asked more questions about Fredette, on a day-to-day basis, than any player I've ever covered. Whether you love him or hate him, everyone wants to know whether his game translates to the NBA.
I've spent months speaking with NBA GMs and scouts about Fredette's future in the pros. Here's a handy FAQ that hopefully will sort through the issues concerning Jimmer.
• To read the entire column, click here »