Who Is The Best Available Player?
By ESPN.com

Irving
1. Fact or fiction: Kyrie Irving is a franchise player.
Jay Aych, The Painted Area: Fiction. There is plenty to like about Irving's game, but I'm not comfortable projecting him as a franchise player. I like his feel for the game but wish he were a bit more athletic. I don't believe Irving to be on the level of Chris Paul, Deron Williams, Russell Westbrook, Derrick Rose or John Wall.
Zach Harper, Daily Dime Live: Fiction. I think the idea that Irving reminds people of Paul is valid. Stylistically, there are a lot of similarities in their games, even if Irving doesn't project to be as good as Paul. But as I look at the landscape of the young point guards in the NBA, you now have to be extremely special to be a franchise guy.
• To read the entire column, click here »
NBA Best No. 1 Picks Draft
Who Wins Jimmer-Kemba Faceoff?
By Chad Ford
ESPN.com
We just published our Mock Draft 7.0, where a number of areas are still a bit hazy. Although I'm feeling pretty solid on Picks 1-3, the Cavs are still trying to decide between Jonas Valanciunas and Tristan Thompson at No. 4. They had both players in town this week to meet with owner Dan Gilbert.
Picks 5 and 6 also feel very solid right now, depending on what happens at the top. The Raptors have been high on Brandon Knight for weeks, and the Wizards have been high on Jan Vesely for months.
To me, the biggest wild card right now is with the Kings at No. 7. I don't think they are in love with anyone on the board. Not Kemba Walker. Not Kawhi Leonard. Not Jimmer Fredette. They're clearly talking to a number of teams about a trade. Walker is our default pick right now, but there's a good chance he won't be the pick.
• To read the entire column, click here »
Valanciunas To Cavaliers?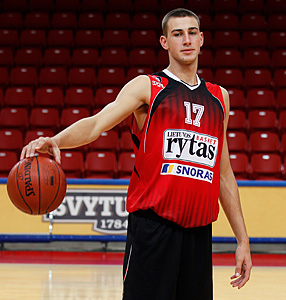 AP Photo
According to sources, the Cavaliers are expected to take Lithuania's Jonas Valanciunas with the No. 4 pick in tonight's draft.
Heat Seek Athleticism In Draft
By Michael Wallace
ESPN.com
MIAMI -- Chet Kammerer confirmed the moment he entered the media room at AmericanAirlines Arena on Wednesday, the eve of the NBA draft, that he holds one of the league's toughest jobs.
Kammerer, the Miami Heat's scouting czar and vice president for player personnel, had his annual pre-draft session with the media one day after team president Pat Riley met with reporters in the same room, albeit in front of a larger audience.
"I've got to talk to someone about the scheduling," Kammerer joked Wednesday as he nodded in the direction of the Heat's media relations staff. "You [normally] have the warm-up act, and then you follow with the main event. Yesterday, you guys had the main event. And now, you're following with the warm-up act. I'm just glad to have somebody here."
If Kammerer thought following in Riley's footsteps with the media was hard work, try convincing the Heat's top basketball decision-maker that there could be a second-round pick in one of the weakest drafts in recent years who could help boost a veteran roster that fell two wins short in the NBA Finals.
• To read the entire column, click here »