NBA/NBPA Meeting In New York
Lockout: Frequently Asked Questions
By Larry Coon
Special to ESPN.com

Saturday's breakdown of the NBA labor negotiations came with an ultimatum from the league: The players have until close of business Wednesday to accept its latest proposal, or else it will reset its offer to where it was months ago -- including a 47 percent split of revenues for the players and a "flex" cap system that the union already dismissed as a hard cap in disguise.
In the meantime, the players have been trying to find a way to fight back. A number of players, led by stars such as Paul Pierce, have explored decertifying the union as a means to gain leverage. According to ESPN.com's Marc Stein, the players hoped to collect enough signatures by Tuesday to file their petition with the National Labor Relations Board and get the ball rolling.
Midseason Form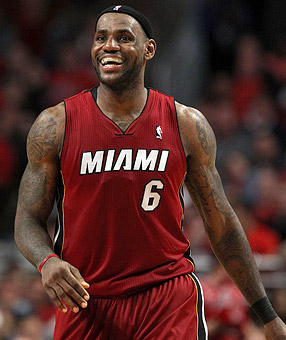 Leon Bennett/Getty Images
LeBron James fired in 43 points to power his team to a win in Rudy Gay's charity basketball game Tuesday night.
Read more »
Martin Ready To Get To Work
By Henry Abbott
TrueHoop

The NBA landscape has been swimming in the language of rejection and ultimatums.
A rare exception is Houston Rockets guard Kevin Martin, who made some waves by saying that he's in favor of taking the best deal possible, while implying his primary concern was not missing games.
"I think about [the ongoing CBA negotiations] probably more than I think about myself," the guard said on the phone from Ohio, where he grew up. "I'm just always hoping there's going to be a breakthrough. Every time they meet, I hope they're getting close."
With so many meetings ending in heartbreak, does he still muster hope every time?
"I just patch my heart up," he says, "and hope that it doesn't get broken again. I'm going on the ride with them the whole way."
Should Players Accept Latest Deal?
By ESPN.com
It might be too much for tormented fans to hope the NBA lockout will end this week.
But something is going to happen. NBA commissioner David Stern announced a Wednesday deadline to accept the league's latest labor proposal. NBPA officials summoned player representatives from all 30 teams to New York for a mandatory meeting Tuesday.