Look Who Is Shooting Now
By Henry Abbott
TrueHoop
A few games in, it's too early to conclude much from statistics. But it's fun to take a peek nonetheless. Watching Monta Ellis the other night, looking like he was paid by the field goal attempt, it struck me that he had to be shooting more per minute than anybody in this young season, right? As it happens, wrong.
Being on this list is not strictly a good or a bad thing. Being on this list and missing a ton, though, well there's no way that's not hurting your team. Al Jefferson, Danny Granger, Russell Westbrook, Rudy Gay, DeMarcus Cousins and Michael Beasley might have just gone through slumps, in which case, these numbers ought to come up in a few weeks. If not, it's time to have a hard talk about shot selection.
To read the full story, click here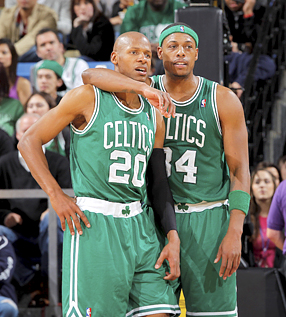 NBAE/Getty Images
Ray Allen and Paul Pierce kept the Wizards as the league's only winless team (0-5).
5-on-5: Hawks-Heat Preview
By ESPN.com

After crushing the Charlotte Bobcats by 39 points to move to 5-0 on the season, the Heat will face a more formidable foe in the Atlanta Hawks on Monday. In the Heat's second pair of back-to-back games in the early going, LeBron James, Dwyane Wade and Chris Bosh take on the Hawks' trio of Joe Johnson, Josh Smith and Al Horford in a battle of Eastern Conference powers.
The Hawks are off to a good start of their own, winning three of their first four games, but they haven't exactly been battle tested with wins against the New Jersey Nets (twice) and Washington Wizards. In Atlanta's final game of the 2011 calendar year, the Houston Rockets beat them by 11 points.
Are the Hawks a better test for the Heat than the Mavericks and Celtics? Is Horford a better big man for the Heat than Bosh? Is Jeff Teague better than Mario Chalmers and Norris Cole? Are the Hawks and the Heat going to finish in the top four in the East? Will the Heat win by double digits on Monday night?
By Marc Stein
ESPN.com

The Dallas Mavericks' courtesy hold on the top spot in ESPN.com's weekly NBA Power Rankings didn't make it to halftime of their first game.
The Miami Heat rolled up a 35-point lead on their old friends from Dallas before the fourth quarter on Christmas then used that rout to fuel the first 5-0 start in franchise history, quickly sending LeBron, D-Wade & Co. to the rankings summit.
Perhaps we're showing too much of the respect we always grant to the reigning champs, given how old and slow and out of shape no less of an authority than Dirk Nowitzki says they look, but the Mavs have clung to their spot in the top half of the rankings despite a humbling 1-4 start. Only the fact that three of the Mavs' four losses came to teams in the top four has kept them from falling below No. 15. For now.
To read the rest of the Power Rankings, click here