1. Spurs Stuck In Same Old Spin Cycle?
By Jesse Blanchard
TrueHoop Network
Even in their championship heyday, the San Antonio Spurs were no strangers to fits of individual brilliance from opposing players.
Memories of Steve Nash and Amare Stoudemire running roughshod over the Spurs' defense for gaudy individual statistics through entire playoff series come to mind during Spurs championships runs.
So while hearing M-V-P chants for Derrick Rose coming from the San Antonio crowd may have been a little disconcerting, his 29-point performance was hardly surprising. Nor was it unaccounted for.
"We know we're not going to stop him, but we're going to try to make him work," Spurs coach Gregg Popovich said before San Antonio's 96-89 loss to the Bulls at AT&T Center. "And we'll see if we can make him work hard to get the ball to other people."
There is no shame in Rose getting his points against your defense. As factions of the crowd pointed out, he is the reigning MVP. The difference lies in other traditional hallmarks of the Spurs' defense and how it has fallen off.
The two main principles of the Spurs' defense are to stop shots at the rim and from behind the 3-point line. During Tim Duncan's prime, paired with other 7-footers, the Spurs required far fewer resources to prevent the first type of shots. Without this luxury now, they've had to compensate by yielding more of the latter.
With DeJuan Blair and Matt Bonner comprising half of a four-man frontline rotation, the Spurs are giving up higher shooting percentages at the rim. The defense compensates for this by allowing fewer shots at the rim than most other teams, mostly by rotating extra defenders over.
This is where a 29-point performance for Rose proves more damaging in the past. The Spurs made Rose work, but they required more resources at the rim to do so. And with each extra defender, they left a crack in the defense.
Rose had his brilliant performance, but the Spurs were also outrebounded. Especially in the first half. And when the Spurs adjusted to that, it left Luol Deng open behind the 3-point line for the sort of key 3-pointers the Spurs never used to allow.
While rumors of their demise were greatly exaggerated after last season's loss to Memphis in the first round last year, a major question still exists: Are the Spurs a team built primarily for the regular season?
Jesse Blanchard covers the Spurs for 48 Minutes of Hell, part of the TrueHoop Network.
2. Around The Association
Bryant
Kobe Bryant, Lakers: Kobe overcame a broken nose, a concussion and a clear mask on his mug to lead the Lakers to an easy win over the Timberwolves. The Masked Mamba's final line: 31 points, eight assists, seven rebounds, five turnovers and one bad-ass new accessory.
Hamilton
Richard Hamilton, Bulls: Let's stick with the masked theme. In only 16 minutes, veteran shield-wearer Hamilton took eight shots ... and made only one of them. The search for a shooting guard continues in Chicago.
"Kobe, how's that thing where your brain smashed into your skull lining? Good? Ok, get back in there." - Mike Brown

— netw3rk (@netw3rk) March 1, 2012
"I felt like I had a sauna on my face, like I was drinking my own sweat."
-- Kobe Bryant, on life inside the mask.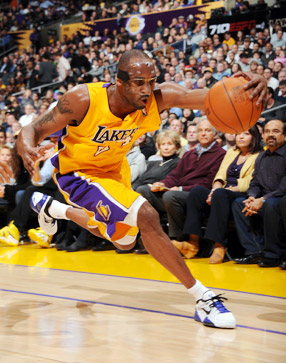 Andrew D. Bernstein/NBAE/Getty Images
Despite breaking his nose and suffering a concussion three days earlier, Kobe Bryant suited up for the Lakers and scored 31 points.
Defining moment: The Wizards gave Orlando more of a game than it wanted, but Hedo Turkoglu nipped that in the bud late. With 1:38 left, Hedo missed a 3-pointer, but Jameer Nelson got the long offensive rebound and kicked it back to Turkoglu. He made the second attempt, putting Orlando up seven and sealing the deal.
X factor: Ryan Anderson has been called an X factor before, and I doubt this is the last time, either. Hey, when a guy attempts 10 3-pointers and makes four of them while getting 23 points and 15 rebounds, X marks the spot.
That was … Jordan-esque, but not: Now, which Jordan is up to you to decide (remember Reggie Jordan?), but after scoring the first six points of the third, Jordan Crawford continued to light up Orlando (and J.J. Redick) with 14 points and three assists in the period. Then he went cold in the fourth, missing all six of his attempts.
That was … odd: After holding the Raptors to just 11 points in the third quarter, the Hornets gave up 24 in the first six and a half minutes of the fourth.
MVP: Linas Kleiza lit it up, scoring 21 points on 13 shots. He was 5-for-7 from behind the arc and nailed two big 3s that silenced the Hornets crowd in the fourth.
X factor: Samuel L. Jackson was in the house wearing a "Reservoir Dogs" shirt. As it turns out, he's a Raptors fan. Usually Hornets fans heckle opposing fans, but Jackson got a pass, likely for being the most terrifying person in the arena.