1. Magic Not Helping Case As Deadline Looms
By Danny Nowell
TrueHoop Network
Ugly as it was, there is a sort of precedent for games like the one the Orlando Magic dropped Tuesday night to the Bobcats 100-84. In the post-All-Star doldrums of the NBA season, fluke losses can become a sort of existential inquiry: If a good team falls to the five-win Bobcats where nobody can hear it, does it make a difference?
This is the time of year when energy lags, when fans and players look forward to the playoffs, when it can often seem as if the games themselves are the sideshow in the league's broader pageant. But the Magic don't have the luxury of indifference. Not right now, as the franchise finds itself in a crucible of scrutiny and uncertainty with the March 15 trade deadline looming in advance of Dwight Howard's possible free agency.
[+] Enlarge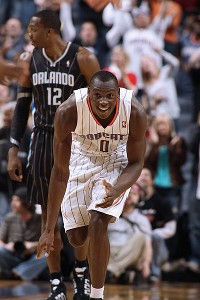 Kent Smith/NBAE/Getty Images
It's widely assumed these days that the Magic, in light of their recent success, are planning to keep Howard until the end of the season. Their thinking seems to be that consistent winning, coupled with a contract larger than any other team can offer, will be simply too much for their franchise center to walk away from. Management seems to feel this team is close enough that tweaking, not rebuilding, will put it right back in the thick of contention and that Howard will see that.
But the team is proving that if it is a balanced squad that can beat anybody on a given night, it also is a maddeningly flawed and inconstant bunch, prone to lackadaisical play and a reliance on variable outside shooting.
Against the Bobcats, the worst elements of the Magic were on display. Slow-footed perimeter defenders prostrated themselves before the highly mortal Corey Maggette while ball handlers drifted listlessly over half-hearted screens. This is not a roster that can support Stan Van Gundy's typical defensive intensity, and when the shots aren't falling, the primary decision-makers tend to check out. And although Howard has somewhat muted the rhetoric of his early trade requests, he occasionally has been vocal about his teammates' subpar effort this season -- even if the Magic have thus far overperformed, it's impossible to believe efforts such as this won't stick in Howard's craw.
In fact, Howard might just cast his glance at a franchise that we know doesn't take these sorts of lapses lightly; about 600 miles north, the Los Angeles Lakers fell to the lowly Pistons in the sort of game that makes a championship-spoiled franchise yearn for another hungry superstar. Of course we can't know the effects of a single midseason night of embarrassments, and of course we don't know how Howard or any particular team will respond, but the Magic know the truth: For a franchise on the brink, the margin for losses such as these is slim.
Danny Nowell covers the Magic for Magic Basketball, part of the TrueHoop Network.
Dimes past: Feb. 28 | 29 | March 1 | 2-3 4
3. Tuesday's Best
Stuckey
Rodney Stuckey, Pistons: Kobe's last-second dagger extended the game, but Stuckey made the difference in overtime, scoring six of his 34 points in the extra frame to lift the Pistons to an upset victory over the Lakers.
4. Tuesday's Worst
Anthony
Carmelo Anthony, Knicks: This might be rock bottom for Melo. Even with Jeremy Lin around to run the show, Anthony mustered only six points on 2-for-12 shooting as the Knicks fell to the Mavs 95-85.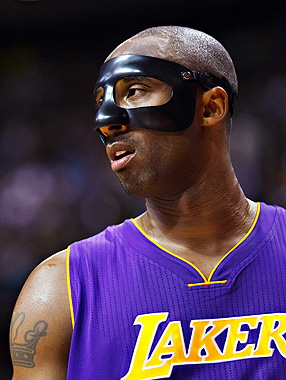 Rick Osentoski/US Presswire
Kobe Bryant went to the dark side for his visor choice before switching back to his clear mask after the first quarter of the Lakers' OT loss.
6. Tweet Of The Night
Some teams have to think about who their closer is at the end of games. The Knicks have NOVAK.

— Zach Lowe (@ZachLowe_SI) March 7, 2012
8. Quote Of The Night
"Yes, and I'm going to use my ESPN connections and get to everybody at ESPN in the NBA department because I know who you are, I know where you live. I spent that year with you guys. I'm going to find out what the deal is."
-- Lakers coach Mike Brown, with tongue firmly in cheek, after backing Kobe Bryant for MVP.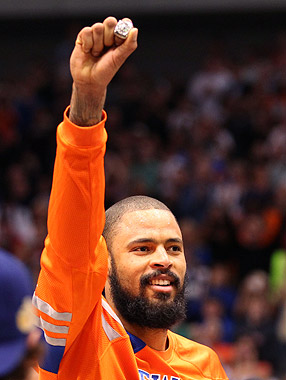 Matthew Emmons/US Presswire
His Dallas return wasn't so pretty (six points in a 95-85 Knicks loss) but Tyson Chandler left the AA Center a bit more blinged out, as he finally retrieved his 2011 championship ring.