Backup Stinger: Dwight Howard Adjusts Game
While Derrick Rose weighs his decision to stay on the sidelines for what is on the verge of becoming a lost season, he need only look at his team's opponent Sunday when the Chicago Bulls play the Los Angeles Lakers (ABC, 3:30 p.m. ET) to see the argument against playing too soon.
Howard returned from back surgery earlier than was advisable, and, in the process, showed that the only thing worse than losing a season is losing control of the narrative.
The surgery to repair Howard's herniated disk was performed in April. Some people around the NBA speculated he wouldn't return until December. He was playing in a Laker uniform for the first time in exhibition games in October. He recently admitted he might have been better served coming back in March, but felt caught up in the Lakers' collection of talent and wanted to be on the court for the guys whose playing days are numbered.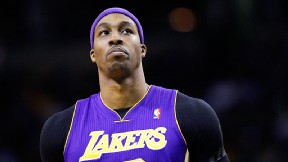 Greg M. Cooper/USA TODAY SportsDwight Howard says it's been a humbling season.
But was it in his best interest? His averages of 16.2 points and 12.1 rebounds are at their lowest levels since his first two seasons in the NBA. His value as a franchise player has come into question. Much of the blame for the Lakers' disappointing season that has kept them on the outside edge of the playoff picture has fallen on Howard's shoulders (one of which has a torn labrum). And, worst of all, he has not been able to extricate himself from his public relations missteps through the best remedy possible: great play.
It's obvious that Howard lacks the explosive leaping ability he had in Orlando. His reaction time is slower. He is just now rounding into NBA-level conditioning. To make it worse, he's stuck in a system that doesn't feature him, playing with a shoot-first star who isn't dedicated to finding him.
When he is at his best, he erases his teammates' defensive lapses with well-timed rotations and blocked shots. When he's hampered, as he has been this season, he can't even cover up his own quote miscues.
Howard has not yet rebounded from this two-season downward public-image spiral. It started with his vacillating statements about his desire to be with the Orlando Magic and has continued through this month with his awkwardly phrased description of his time in Orlando.
The killer quote: "My team in Orlando was a team of guys who nobody wanted. And I led that team with a smile on my face."
The words, spoken during an interview with a Los Angeles television station, prompted a slew of retaliatory quotes from his former Magic teammates, who apparently had some pent-up frustrations with Howard that they wanted to unleash.
Howard's problem, as is often the case, was a product of poor execution rather than bad intentions. I believe he meant to say he had an underdog squad that made it to the 2009 NBA Finals, so he can be the main guy on a championship-caliber team. I believe the subtext to his statement was, "Hey, this LeBron James guy who everybody's tripping over themselves to praise right now? The only time we squared off in the playoffs, my team won."
You can get away with these things when you have championship hardware.
But when you haven't won in a while, your intended message doesn't come across. When you're not wearing a crown and sitting on a cushy throne, you don't have the luxury of having your words viewed in the best possible light. You're not in control.
Just look at the difference between pre- and post-championship LeBron. If spun properly, the story of LeBron's move to Miami could have been, "LeBron uses interest in his free agency to raise funds for Boys & Girls Clubs, then selflessly signs with Heat for less money because he wants to win a championship." Instead it turned into: "LeBron spits in Cleveland's face by announcing his decision on TV, agrees to ride shotgun to Dwyane Wade because he can't do it on his own … then chokes in the NBA Finals."
Now LeBron is perceived as a master of the game bending the sport to his will and having fun in the process. He's coming off a championship, and he's at his physical peak. His mistakes are allowed, not re-racked for endless loops.
LeBron also starts possessions with the ball in his hands, one advantage Rose would enjoy as well. It's something Howard can only dream about.
Howard gets the ball only after Kobe Bryant and Steve Nash, and sometimes even Metta World Peace and Jodie Meeks, get to touch it. So Howard has reinvented himself. He'll run out to set screens 28 feet from the basket. And he realizes that if all eyes are on Kobe, that applies to the officials as well. So Howard has made like a pro wrestler, bending the rules behind the referee's back in order to help Kobe make two of the highlight plays of the year.
First, in the Atlanta game on March 3, Howard set a high screen on Josh Smith, then ran down to the paint and locked up Zaza Pachulia's arm while Kobe flew by for a dunk. At the end of the Toronto game Friday night, Howard tugged at Rudy Gay's jersey just in case Gay had any notion of trying to block Bryant's go-ahead dunk in overtime.
"Any time I see him drive, I just try to seal my man so he can have a clear lane to the basket," Howard said. "Sometimes, you've gotta be nasty, and sometimes you've gotta be creative."
I asked him for a little language creativity: to attempt to sum up this season in a word.
He let out a long "Uhhhhh," as he sought the right answer. Finally, he arrived at his choice.
"It's been a humbling season," he said.
Humbling. that's probably been his most candid comment since he got to L.A.
"It's also been a blessing," he continued. "Even with all the bad things that have been said and going on, all the rumors and stuff, I just stuck with everything. I just stuck with the process, getting back in shape and not allowing a lot of these things to affect me mentally."
He is healthier after cutting sugary snacks from his diet. Lakers coach Mike D'Antoni sees the old multiple-jump bursts from Howard's legs. He says Howard is more focused -- the result of reflection during his down time in Houston for the All-Star weekend.
But he still doesn't have control of the storyline. D'Antoni made an interesting point in a post-practice discussion when he said the media often lags behind the real stories in the NBA, the way financial reporting takes a while to catch up to market changes.
Howard's small improvements have been overshadowed by Bryant's torrid March (Kobe's averaging 36.8 points and 7.5 assists the past four games). He's also lagging behind Kobe's media mastery. Bryant is to the point at which he's giving himself multiple nicknames ("Vino", Italian for wine, is the latest) and getting away with it. He cut off criticism of the nine-turnover blemish on his 41-point, 12-assist performance against the Raptors by bringing it up himself and saying how much it angered him.
Meanwhile, across the locker room, Howard was paying tribute to Bryant with a rendition of George Thorogood's "Bad To The Bone." That's the byproduct of a season of losing narrative control. It can even turn divas into backup singers.
Truth Telling For Boston
Pierce
BOSTON -- Remember the plan?
With Paul Pierce approaching the twilight of his career -- although the Celtics brass was savvy enough to not utter the infamous words that earned former Red Sox GM Dan Duquette a decade of derision for his description of Roger Clemens -- the Celtics publicly laid the groundwork in advance of the 2012-13 season that perhaps it was time for Pierce to come off the bench, to diminish his burden as the primary scorer, to cut down his minutes so his 35-year-old body would be fresh for the postseason.
Both Danny Ainge and Doc Rivers suggested this course of action. Pierce merely shrugged and agreed to do what was asked of him, even though he believed he was capable of successfully holding down his starting job.
"You know coaches," Pierce said, laughing heartily. "Sometimes they ramble."
That plan was hatched before Rajon Rondo was lost for the season with a torn ACL and Jared Sullinger followed with season-ending back surgery.
The Celtics arrive in Oklahoma City for a nationally televised tilt Sunday (ABC, 1 p.m.) with a five-game winning streak in tow and Pierce assuming a role that's more expansive than ever.
D-Rose Cleared, But ...
Rose
Derrick Rose's doctor has cleared the Chicago Bulls' star to play, a team source said, but his long-awaited return to the lineup won't occur until he can dunk confidently off his left foot, Rose has told the team.
Rose, who had surgery to repair a tear to the anterior cruciate ligament in his left knee on May 12, 2012, has been videotaped dunking off each foot, but more casually than he would during a game. A source said that although he has been practicing and scrimmaging hard, he told the Bulls that until he feels "in his mind" he can dunk confidently off his left foot in a game situation, he is not 100 percent mentally ready to return to competition.
The team is not pressuring Rose, the source said, but the Bulls are confident he will return this season and are still hoping for a mid-March return, which would mark 10 months after his surgery. The Bulls play at Golden State on March 15.
"He's been cleared to do everything that there is, but before he makes the final step, everyone has to get together and sign off, and that hasn't happened yet," Bulls coach Tom Thibodeau said before Friday's game against the Jazz. "As I said, the most important part of this is that we have to trust Derrick, and I trust him."
The source said the team has been assured by Rose's doctor that there is no greater chance of the former MVP getting injured upon his return than anyone else, and that the doctor told the Bulls that "he can play now." Rose is now dealing with the psychological side of trusting his body.
Rose, 24, raised the possibility that he wouldn't return at all this season during an interview on Feb. 13 after the Bulls lost to the Celtics in Boston, which was the last time Rose spoke publicly.
D12 Has Support Of SVG
Howard
EL SEGUNDO, Calif. -- In the war of words between Dwight Howard and his former Orlando Magic teammates, one significant voice weighed in on the side of the Los Angeles Lakers center.
Howard said that his former Magic coach, Stan Van Gundy, reached out to him Thursday to offer support.
"He knows I would never disrespect my teammates," Howard said after the Lakers' shootaround Friday in advance of their game against the Toronto Raptors. "He understood exactly what I was saying, and that's what he expressed."
Howard expanded on the topic after the Lakers' 118-116 overtime victory over the Raptors, saying, "Both of us, we know how great we were together. I've always told him if we had a second run together, that would be great.
"I would always tell him what my goal was: I want to be one of the greatest to play, and he would always push me to get there. So, I respect him."