1. Heat, Rockets Look To Shake Recent Slumps
MIAMI -- The cranes, jackhammers and hard hats were a few blocks away on another waterfront site, but AmericanAirlines Arena had the feel Saturday afternoon of a construction site.
A reconstruction site, actually, considering the repairs at hand.
In the practice facility upstairs, LeBron James and the Miami Heat were trying to rebuild confidence, chemistry and rhythm after having lost five of their past six games. Meanwhile, downstairs on the arena's main court, Dwight Howard and James Harden moved the Houston Rockets through an extended practice session in an effort to distance the team from consecutive demoralizing losses.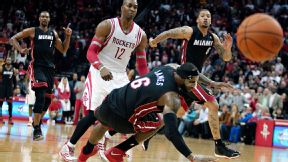 AP Photo/Patric SchneiderWhen Houston and Miami last met on March 4, the Rockets' win ended up sending LeBron and the Heat into a tailspin.
The Heat and Rockets weren't just sharing space in advance of Sunday's matchup.
There were also two teams of the same spirit.
"We took a huge step [backward]," Rockets coach Kevin McHale said Saturday of a 24-point loss in Chicago the previous game. "From where we were, that was the worst game we've had in two months. We were really poor in all aspects. Crazy thing about the 82-game schedule; you have some stinkers."
McHale was then told that Heat coach Erik Spoelstra expressed the exact same sentiment in his session with reporters when Miami's practice ended about 30 minutes before Houston's workout concluded.
"Well there you go," McHale cracked. "So I guess misery loves company, you know."
Plenty has changed since these same teams met two weeks ago in Houston. Going into that March 3 game at the Toyota Center, James was coming off the most prolific scoring game of his decorated career when he torched Charlotte for a franchise-record 61 points the previous night in Miami.
At the same time, the Rockets had posted the best record in the league since the All-Star break and were closing in on Oklahoma City and San Antonio for the top spot in the Western Conference. James has hardly been the same player since the Heat's 106-103 loss that night to the Rockets, who held him to just three points in the second half and scoreless in the fourth quarter.
Houston (44-21) finished out the week with wins against Orlando, Indiana and Portland. But this week, the Rockets have barely resembled that same team from a week ago after being run out of Oklahoma City and Chicago on the first two stops of a three-game trip that ends with Sunday's rematch in Miami.
Both teams have now come full circle looking for the same type of breakthrough.
For Miami (44-19), that process has involved sorting through recent chemistry issues that have left James and Dwyane Wade fundamentally at odds over their roles in the offense. Since his career-high, 61-point outburst on a night Wade sat out to rest his knees, James has voiced displeasure about not having the ball in his hands as much in the fourth quarter of games.
James has either struggled with his shot or has been frustrated with the limited shots he's gotten in losses to the Rockets, Spurs, Bulls, Nets and Nuggets over the past two weeks. Those concerns have coincided with Wade having his best stretch of the season over the past six games despite the losses.
After dancing around the issue with veiled references about the offense not coming his way in recent days, James came clean Saturday about what he believes is at the root of the matter. Essentially, one of the best developments of Miami's season heading down the stretch has also caused bit of a disruption: Wade's improving health and aggressiveness.
"When he was in and out, I knew exactly what I had to do and how to exactly attack the game," James said of his mindset amid Wade's 16 absences this season. "His health has gotten better. It's going to be better for the team. But it's kind of gotten me out of rhythm right now as an individual. But it's not like this is our first year playing together. It's something we've figured out Year 1. But you can't take it for granted. You still have to figure it back out, and it's something I'm going through right now."
Yes, even after four years, three trips to the NBA Finals and two titles together, James and Wade still hit rough patches on the court when their chemistry with one another is off and affects the entire team. James laughed at questions as to whether there was any friction between the two.
"Beef between me and D-Wade? Yeah, let's have that be a story," James joked. "Yeah, I hate him."
The feelings were mutual.
"Obviously, we appreciate each other," Wade said. "We're going through a little slump right now. Individually, when you're not playing the way you want to play, you start showing it in your body language a little bit. But we're fine from the standpoint of ... how our relationship is. One thing is he's happy that I'm feeling healthy and able to be there in the fourth quarter to run offense and things like that. And the whole burden isn't on him. It's about finding the right combination."
Wade has averaged 22.2 points on 55.1 percent shooting over his past 10 games and has sat out only once since returning from the mid-February All-Star break. While James has grown accustomed this season to carrying much of the second-half burden of running the offense, he has had to get readjusted to having Wade take over for stretches late in games.
Wade said James will get back to getting his opportunities late in games.
James insists he will "go and demand the ball" if he must, but knows how to keep everyone involved.
And then there's Chris Bosh, who has also gained more confidence in his 3-point shooting and vowed entering the season to more aggressively establish himself. As a result, Saturday's rare practice seemed more like training camp as the team attempted to fit the primary pieces together.
"It's never going to be ideal," Wade said. "Whenever you have this much talent, at some point, someone is going to feel left out. It's just the nature of the beast. But at the end of the day, we all have good intentions for each other and we've always figured it out."
Spoelstra points to the fourth quarter of Friday's game against Denver as evidence of progress. The Heat scored 36 points on 64.7 percent shooting in what he believed was a more balanced attack. James attempted four shots from the field in addition to four free throw attempts. Mario Chalmers and Ray Allen were a combined 7-of-9 from the field and Bosh made both of his field goals.
But Wade had one shot in nearly 10 minutes of action in the period. The bigger headache for the Heat was their 20 turnovers and spotty defense that allowed the Nuggets to build a 16-point lead early in the fourth quarter. Miami rallied to within 94-90, but couldn't dig all the way out of the hole.
"When you go through tough points in the season and there is adversity, you just have to work your way through it," Spoelstra said. "What we always talk about is sweat our way through it."
But that doesn't mean the Heat will have to sweat out any growing pains for long as James and Wade work their way back into a collective rhythm. Spoelstra said it's his responsibility to get James into positions on the court where he's comfortable and effective. The ongoing challenge is to find ways to pull that off without diminishing Wade's impact.
"What we've learned about this process of being around each other for so long and going through all of those battles together is that it never stops," Spoelstra said. "As much equity and experience as we have together, that doesn't mean you don't have to go through it again. You go through it again, and most likely differently. So we're constantly trying to figure it out and balance everything at the same time."
Juggling all of the issues has created some frustrations. But Bosh believes the bonds the team has built over the years run deep enough to withstand some occasional discomfort as long as the lines of communication are open and honest.
"We get stuff out," Bosh said. "Nothing's personal around here. We're all in this together. That's never an issue here. So when a guy is expressing something, I'd rather him get it out than keep it in. It's healthier not only for the individual but for the group."
Houston had its own version of group therapy to help get through a rough patch. It came Friday, when an issue with the team's plane forced the Rockets to spend an extra day in Chicago. Instead of staying cooped up in hotel rooms, Howard said he spent time with teammates shopping and pranking people along Michigan Avenue.
By the time they arrived in Miami, the Rockets were recharged and refocused on the task ahead.
It's two title contenders looking to shake out of slumps in a nationally televised game certain to have a playoff atmosphere. Both teams hammered away at their issues Saturday.
Only one will be pleased with Sunday's progress.
"We want to finish [this trip] strong," Howard said. "The last two games, we didn't come out the right way. Against a team like Miami at home, they're desperate for another win, coming off five games out of six they've lost. I know they're angry about it. As the season winds down, we want to make sure we're playing our best. And playing against a team that's won two championships in a row and has been to the Finals the last three years, they know how to get the job done. We're striving to be there."
ESPN Staff Writer
ESPN.com NBA reporter
Blogs regularly on the Miami Heat
14 years covering the ACC, SEC, NFL and NBA
Rockets Stay True To Course
Eastern Conference scout on the Houston Rockets' 23-8 surge since Jan. 1:
"All the top teams [in the West] have certain flaws and the Rockets are no exception. But I like that they stay true to themselves. They don't hesitate about who they are. So as a result the players' minds are free to just go play.
"They run, they shoot a lot of 3s, they want to get to the rim ... and anything else is post-ups for Dwight [Howard]. And they're not going to make a lot of adjustments.
"Maybe I'm in the minority, but I think Kevin McHale should be getting more credit than he does. People want to see a coach calling a lot of plays, because they make so much money, so [McHale] opens himself up to criticism with the approach he takes. But it takes a pretty strong person to sit through some of the low points without trying to change things because he wants to stay true to what they do."
End Times For L.A.
He said goodbye in May of 2011 with a wry smile, not a tear. Whatever emotion Phil Jackson had on the day he officially retired as the Los Angeles Lakers coach had long since been felt. His last words were ones of gratitude, not nostalgia.
"I said what I wanted to say, so I don't want to belabor this at all," Jackson said then to the assembled media at the Lakers' training facility. "Just wanted to come down and thank the L.A. fans. The Laker fans particularly have been generous to me. When I first came here they thanked me for coming to L.A. I hope they thank me for leaving."
Three years have passed since that day, and until he finally signed on to be the new president of the New York Knicks, it never really felt like Jackson had left.
Over the past three years, he's been neither coach nor consultant. His fiancée, Jeanie Buss, is the one still receiving Lakers paychecks, not him. But in his absence, Jackson's presence has only grown larger among the Lakers and their fans. By remaining in the shadows, his enormous shadow has hung over the franchise.
People got used to it that way. It was comforting to know Jackson was still there, close by. Just a tweet away. That also made it hard for other things to grow, but it was better than the alternative.
When legendary owner Dr. Jerry Buss passed away last February, Jackson was still the one subsuming that patriarchal role in this very strange, dysfunctional saga. The Lakers and their fans never really had to stare into the abyss in front of them.
Now they do. That it took a full week for Jackson to formally sign on as the Knicks president after word of their serious mutual interest leaked only prolonged the torture for Lakers fans.
They don't want to say goodbye. This does not feel good. There is no relief now that it's finally over.
Points To Make On Age Limit
The NBA's age limit has been a topic of debate recently. As a veteran coach of many high school players who earned college scholarships, college players who had NBA potential and dozens of NBA players, I recognize most of the arguments being made on each side are based on myths. Let me explain, using some examples from this year's rookie class.
Myth No. 1: Colleges are better at developing players than pro teams are
The truth: While college coaches help build a young player's basketball IQ and overall knowledge base, they are not focused on developing their players for the pro game but rather for their own team's needs.
Colleges are focused on winning now, as many coaches are often hoping for better jobs or a better contract. So coaches work more on masking a player's weaknesses to help the team win, rather than improving the player and risking losing often in the process. There is no general manager who takes a longer-term approach to building a consistent winner.
Would Anthony Davis, who became one of the best players in the NBA after only one full season as a pro, be this good already if he had stayed another year at Kentucky? No. Here's why: Playing at least 82 games a season in the NBA against the best players in the world is an enormous help to a player in that he will fail and fail and fail. And failure is often the best teacher for a player driven to improve and succeed.
Muhammad Ali was famous for working on his weaknesses with sparring partners. The NBA exposes a player's weakness better than any basketball league in the world, including the NCAA. The openness of the pro game has also helped Davis show off his perimeter skills and improve them at the same time, something he was limited in doing in the tighter confines of the college court.