Nathaniel S. Butler/NBAE via Getty Images
Knicks Win As Cloud Hangs Over Isiah

NEW YORK -- Kristin Dolan got a big, fat kiss on the lips from her husband, Jimmy, who then held court along the baseline with a few high-rolling fans before ducking into the tunnel and walking to the door outside the Knicks locker room. There he stood face to face with Isiah Thomas. From a distance, all you could see was the Madison Square Garden chairman's back and Isiah's front, with Isiah's eyes locked on the box score he held in his hands as Dolan was speaking to him. "Congratulations," was the message Dolan brought to Thomas, according to Thomas, who didn't seem all that comfortable speaking about it afterward. "That was about it. Everyone was pretty happy." For now, yes they are. But that's simply because they're 1-1 instead of being 0-2 heading into a home game against Denver on Tuesday, a night when the Nuggets are going to be coming into the Garden looking to stomp on Thomas after what he cost them a year ago by helping to instigate the brawl that led to a 15-game suspension for
Carmelo Anthony
. And make no mistake, 0-2 would have been borderline devastating for Thomas, whose each passing day brings us closer to the realization that he's likely playing under another ultimatum this year, only this one an implied one rather than the overt one he overcame last season. We're bearing down on the four-year anniversary of Thomas taking over for Scott Layden as president of the
New York Knicks
. And there are signs pointing to the possibility that Thomas' act may finally be starting to wear thin with Dolan, the only person whose judgment matters. "I think we're all kind of on the edge of our seats a little bit, we all want to win and change things around here," said
Eddy Curry
, who made 19,763 people groan in unison with 17 seconds left when he grabbed an offensive rebound with the Knicks ahead by three and went straight back up instead of passing the ball outside to milk the clock. Curry's shot was blocked and Minnesota gained possession, but the Timberwolves failed to tie when
Antoine Walker
-- who appeared to be dozing off on the bench in the third quarter -- launched a 26-footer to tie that missed with 6.9 seconds left, allowing the Knicks to hold on for a 97-93 victory. Curry's mistake will quickly be forgotten after what Thomas appropriately described as a "happy" night, and it didn't hurt that the fans seemed to have forgotten Thomas' sexual harassment trial, too. It was either that, or -- more likely -- the fact that the PA announcer called out Thomas' name so quickly during pregame introductions, no one even had the time to get the B in "Boo" out of their mouths before the assistant coaches were being introduced, too. But Thomas' liability in that case is hanging like a cloud over the franchise, and it could not have been pleasing to the Dolan that the New York Daily News reported last week that Thomas' attorneys wanted to settle with Anucha Browne Sanders but were overruled by Dolan's attorneys two days before the trial began. Thomas has been unusually morose during the five weeks since the trial ended and training camp began, quietly expressing his frustration over how it appears the sexual harassment charge -- which he continues to maintain he is innocent of -- could cling to him for years to come. He has appeared frustrated with the Knicks' PR official who monitors his every public word and tries to cut him off every time he veers into anything quasi-controversial, and his public mood has rarely strayed from sullen and sore. He would have been a real treat at practice Monday had the Knicks lost this one to drop to 0-2, and the When Will The Axe Fall Watch would have been sure to start Wednesday morning if the Knicks had come out of the blocks 0-3. But that's not the case now, and Thomas can breathe a little. Instead, this was that rare home opener in New York -- the first home-opening win in six years, actually -- when Mrs. Dolan could get a little love from Jimmy, and Isiah could gets his, too, in the form of a "congratulations." So we'll opt against a premature start to the Isiah watch, but we'll warn that such a watch is right over the horizon if Kristin Dolan doesn't keep getting kisses in the baseline seats along the Eighth Avenue end of the Garden.
Chris Sheridan covers the NBA for ESPN Insider. To e-mail Chris, click here.
Dimes Past:
October 31
|
November 1
|
2
|
3-4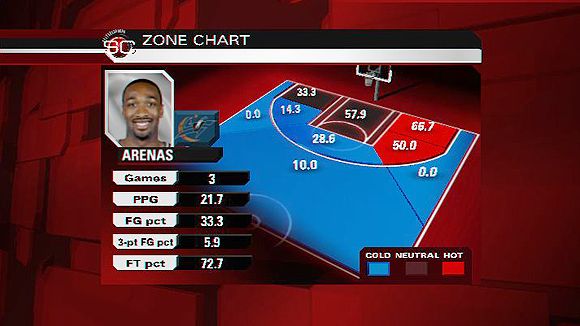 A sampling of comments from ESPN's Conversation pages ...
Even if Seattle wins its litigation, they will only have until 2010 before the lease is up. Considering what the lawsuit will cost them in the long run it will be a pyrrhic victory. If Bennett doesn't sell the team back to Schultz the Sonics are gone, either now or 2011. --
oceana_84
•
Join the Sonics moving conversations
"Coach [Jim] O'Brien has done a really good job not only installing a new offense and new style, but installing a lot of confidence in a lot of our players."
-- Pacers center Jermaine O'Neal, talking on ESPN Radio's GameNight after his team moved to 3-0
.
• O'Neal: Style prolongs my career

• Houston guard Mike James on winning as retro Rocket

Sunday's Best

Ray Allen, Celtics
Goes for 33, including the winning 3, in the Celtics' 98-85 OT win over the Raptors. With Paul Pierce (4-for-17 shooting) off, the C's needed that.

Sunday's Worst

Larry Hughes, Cavs
While the Cavs' bigs were punishing the Suns' Lilliputian frontline, maybe the guards could've pitch in? Sorry. Six points, 33 percent shooting and five turnovers in 30 minutes for Hughes.
Quote of the Night

"We're not going to get down about it. We're 0-3. There's no doubt about that. We play San Antonio and Phoenix coming up, so the schedule gets tougher. But we'll go back to work [Monday]."
-- Heat coach Pat Riley, after losing to the Bobcats 90-88 on Sunday.
• See how Sunday's best fared
-- Andrew Ayres
By Andrew Ayres | ESPN.com
Notes from weekend box scores ...
Patrick O'Bryant
isn't in the D-League again. So he's got that going for him. But the Warriors No. 1 pick from last season managed to commit four fouls in 12 minutes in the 133-110 loss Saturday to the Jazz. • Yep, Warriors forward
Al Harrington
's 38 points (15-for-20 shooting) went for naught in that loss. Could have helped his pride, after he sagged against the Jazz in the playoffs. • Good to see Sixers rebound machine
Reggie Evans
is posting his usual oddball line: two points and 11 rebounds in 21 minutes in a 93-88 loss to the Nets. • New Kings big man
Mikki Moore
hasn't delivered much yet on his three-year, $18 million deal. He's averaging 4.7 points and 3.3 boards in just under 25 minutes of action in Sacramento's three losses. •
Mike Dunleavy
is thriving in Indy -- he went for a game-high 27 points in the 121-111 win over the Grizzlies. • Still waiting for that first bucket by
Juwan Howard
in a Mavs uniform. He's missed both his shots in a combined 24 minutes of action in Dallas' first two games.
AJ (Atlanta, GA):
Do you realize that it's you media guys that say the Spurs are boring and everyone buys it. They are fantastic to watch with their crisp passing and solid defense. Did you watch Manu Ginobili with all his assists in the first two games? I blame the media for selling the "boring" angle. The same "fans" of basketball love the NCAA for the exact same style of play from the Spurs. It boggles the mind.
J.A. Adande
: Trust me, every columnist that cares about basketball has written the "The Spurs are good, you should watch" story. I did it before the '05 Finals. The public isn't buying it. And part of the problem is that the Spurs don't try to sell themselves. Tim Duncan is smart and funny, but he doesn't open up to the media. So people would rather watch stuff like "Sunset Tan." I've given up trying to explain or understand it. This is just the way it is. The ratings don't lie.
Justin (Chicago, IL):
Do you think a major reason of why the Bulls and Lakers stop talking was to wait until Andres Nocioni can be included in the deal???
J.A. Adande:
I do think talks will pick up in December when more players can be moved.
• Read J.A. Adande's full chat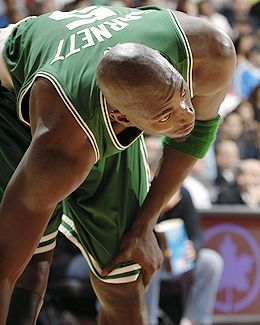 Ron Turenne/NBAE via Getty Images
Kevin Garnett scored 10 of his 23 points in unbeaten Boston's 98-95 OT victory over Toronto.