(Photo by Fernando Medina/NBAE via Getty Images)
Believing In Magic Not So Unreasonable

ORLANDO -- They didn't cheer loudest for the T-shirts rocketing from the launchers during timeouts. They didn't cheer loudest for the cheerleader who leapt off the trampoline and dunked. They didn't even cheer loudest when asked by the PA announcer to scream. No, the people of central Florida stood in Amway Arena on Sunday night and cheered loudest for the basketball. They cheered for a sudden rivalry with the other new power in the East. They cheered at the discovery that the unbeaten Celtics had flaws after all. They cheered at the realization that although their own team would have to figure out
Paul Pierce
and
Kevin Garnett
, the Celtics actually had no answer for
Dwight Howard
. And they cheered loud enough in their 104-102 win to convince more than a few that not since the "old days" of Shaq and Penny has November hoop been so magical here. Of course the Celtics brought their own buzz, ushered into the building by New England transplants in green who think none of their teams ever lose. (Even Harvard went unbeaten in the Ivies!) As the sun set on this former basketball wasteland Sunday, Boston fans slapped five and yelled as if the game would only continue a perfect November. The Pistons came here recently and didn't draw nearly as much commotion. Magic fans, and perhaps the players, wanted this game much more than revenge against Detroit for a playoff sweep last spring. "They have sort of a cockiness," said
Jameer Nelson
of the Celtics. "We have sort of a confidence." That sort of a confidence exploded all over the visitors, as the Magic's speed and skill and shooting made Pierce and Garnett and
Ray Allen
go poof in the first quarter, after which Orlando led 28-17. Magic fans easily drowned out the Chowds, and it became clear to Boston fans that this was not a Devil Rays game. But the "sort of" part of the Magic's new confidence showed up in the second half as Pierce -- who is arguably more of an MVP candidate than Garnett -- seemed to play all five positions while scoring 19 points in the middle two quarters on his way to 28. Boston, amid the din, erased a 17-point halftime deficit to take the lead in the fourth. And at that moment it became apparent that neither of these two teams is completely familiar with playoff-caliber tension. Both sides made mistakes late, from repeated 3-second violations by the Magic to
Tony Allen
's layup brick to Pierce's questionable three as time expired. By then, the noise was louder than the jackhammering heard every morning on condos bought downtown at preconstruction prices and now unable to be sold. Longtime Magic watchers insisted it was the loudest Amway had been for a regular-season game in years. "That was the game we needed," said
Adonal Foyle
. "It was a true test for us and the fans." In the quiet of postgame, the Magic's own MVP candidate underlined the conclusion of the evening: that Orlando is carefully sliding from very good toward superb. "We're trying to prove to ourselves," said Howard, who had 24 points, "that we are a great team." Whether more traditional NBA cities get it is another matter. Howard is still only 21, Nelson is still establishing himself as a leader, and
Rashard Lewis
is still brand new. The Magic held Garnett to 14 and still almost gave the game away. But the Orlando players are at least starting to think like Boston fans. "People are still not going to say good things about us," said Nelson. "But whoever is not on the bus now will get on the bus later." And Magic fans, who up until only a month ago didn't seem to care about the bus either way, are suddenly driving it.
Dimes Past:
November 1
|
2
|
3-4
|
5
|
6
|
7
|
8
|
9
|
10-11
|
12
|
13
|
14
|
15
|
16
|
17-18
Rondo's Shot Looking Good For Boston

By David Thorpe
|
ESPN.com
ORLANDO -- Answering a few questions after watching the Magic and Celtics here ...
Celtics point guard Rajon Rondo made 8 of 9 shots and is shooting 57.5 percent this season. He shot 41.2 percent last season. What's the difference?
Everything is different. His balance is better. His follow-through looks great. He is using the same mechanics on each shot. The pregame shot I saw looked the same as what he did in the game -- a sign that he now "owns" his new form.
How long will most teams concede a long jumper from him, no matter how well he shoots?
Perhaps all season. With three amazing offensive teammates beside him, it's tough to imagine a team willing to give up a shot to them over one from Rondo.
If Rondo's shooting better because of the Big 3, do you see any other players in particular who will play better than we thought them capable?
At this point, no, and that's my biggest concern. Eddie House is an incredibly confident shooter, but he was before he arrived in Boston and always will be. Perhaps
Tony Allen
will raise his game to another level.
Any danger in the C's burning out before playoff time?
Actually, I liked the rotation Doc Rivers employed Sunday. It seemed like a big-game atmosphere, but he played his bench a good amount. It appears he understands that this team will be playing in May, so they'll need their legs to make it to June.
Biggest weakness on C's?
I have to go with the hole in the middle. Kendrick Perkins still is too immature, to my eyes, to be the starting center for a championship team. The Magic ignored him and focused on KG, and Perk was unable to make them pay, forcing Doc to bench him for much of the second half. I'd imagine a similar strategy will be employed all season.
Pick their final regular-season record.
As of Sunday night, I'd go with something like 51-31. They played with such fire during this win streak, but that will certainly dampen some as the season plays out. Still, watching the Big 3 play together in person was impressive. They understand how fortunate they are to have each other and I think they'll battle hard all year to take advantage of their good fortune. But their margin for error is smaller than some of the other elite teams we have in the league.
Bulls Hope Nocioni's Energy Can Fill Gaps

By Ian Whittell
|
Special to ESPN.com
LOS ANGELES -- It's not as though
Andres Nocioni
has a reputation for being trigger happy but injured
Chicago Bulls
teammate
Luol Deng
did feel moved to comment before his team's 106-78 defeat at the L.A. Lakers Sunday that the Argentinian has never seen a shot that is not to his liking. Deng was joking -- well, half joking -- although those comments proved well-founded as Nocioni finished with 14 points on 5-for-14 shooting, all but three of those points coming in the first half. Far more important than statistics, however, the fourth-year forward brings something not easily discerned from a box score, especially when used in his new role as starter. "He always has energy," said Bulls coach Scott Skiles. "He can't possibly play great every night but even nights when he doesn't, he always has intensity. In some games we have been lethargic and I should have possibly played him more, that's probably my fault." Certainly, it is no coincidence that the Bulls' recent improvement in form in the midst of their by-now traditional early-season incompetence has coincided with Nocioni replacing
Tyrus Thomas
in the starting lineup. Chicago may only be 1-2 in that spell but defeats against the
Phoenix Suns
and Lakers have seen the Bulls at least in contention for long periods and Saturday's sorely-needed 92-73 win at the L.A. Clippers featured Nocioni at his most "energetic" or irritating, depending on whether you were a teammate or opponent. Nocioni finished with 21 points in the win, committed a flagrant foul on
Ruben Patterson
and irritated the Clippers to such an extent that they were hit for one technical and two flagrants of their own against the Bull. Patterson spoke for his entire locker room afterwards in branding Nocioni "dirty." "That was a situation that sometimes happens in the game," said Nocioni brazenly unaffected by the ill feeling a day later, "I don't have any problem with anybody, I'm trying to play my game, that's it. I think I'm playing better and just trying to help the team by bringing energy, whether I'm in the starting lineup or off the bench." Nocioni's physical play saw him run into early foul trouble against the Lakers and accounted, in part, for the patchy offensive output which followed his nine-point first quarter. In the short term, Skiles' major concern will be the length of time he will be without Deng, currently sidelined with a bruised back, and how he will replace his productivity -- the fill-in Adrian Griffin finished with zero points in 13 minutes against the Lakers. Long-term, however, the first half of Chicago's annual "Circus" road trip may have seen Nocioni earn himself a permanent starting place.
Ian Whittell covers the NBA for the London Times
Sunday's Best

Beno Udrih, Kings guard:
The spurned Spur has given Sacto a boost at the point. His 23 points and six assists helped the Kings beat the Pistons. He made 9 of 13 shots and all five of his free throws.
---
Sunday's Worst

The Chicago Bulls:
When you shoot 34.8 percent from the floor, you better get some rebounds. Not the Bulls. Even with Kwame Brown sidelined early, the Lakers outboarded the Bulls 51-38. Even Kobe can't help Chicago.
---
Quote of the Night

"We're not perfect. We didn't think we were going to go 82-0. But we are a team of character. We do play hard. We do play together -- just not perfect."
--
Celtics forward Kevin Garnett,
after his team absorbed its first loss, a 104-102 defeat in Orlando.
• See how all 85 players fared
-- Andrew Ayres
Magic forward Rashard Lewis (22 points) helped the Magic hand the Celtics their first defeat of the season.
By Royce Webb
ESPN.com
The Boston Celtics' blazing 8-0 start featured blowout after blowout. Their scoring margin of 15.1 points per game (after their first eight games) was larger than that of even the 1995-96 Chicago Bulls, who racked up an amazing 12.3 ppg margin for the season in compiling an all-time best 72-10 record. And now, in addition to the easy wins, these Celts and those Bulls have something else in common. Just as Boston fell first in Orlando, so did the Bulls midway through the first month of their incredible ride to their fourth NBA title. Twelve years and five days ago, the Bulls took their 5-0 record into the Magic Kingdom and came out 5-1. Penny Hardaway dominated the game with 36 points, five boards, four steals and two blocked shots in a 94-88 win. Michael Jordan led the Bulls with, yes, 23 points. Can Boston keep pace with the '95-96 Bulls (who started 41-3)? Probably not, but if you want to see how close they can come, bookmark our
side-by-side comparison
and check out the Celts' progress.
Not So Incredi-Bull Non-Scorer

By Eric Karabell
ESPN Fantasy
Ben Wallace, Bulls:
A week ago, this guy was owned in nearly 90 percent of ESPN leagues, but Evans is actually more valuable, at least today. Wallace is shooting .303 from the field this season, and .400 from the line, but has taken a total of 48 shots combined in those areas. Kobe Bryant, incidentally, shot 59 times combined to open the season, and that's just one game! Wallace isn't doing much in steals or blocks, and his 5.6 rebounds per game are fewer than Tim Thomas. No need to own Wallace if he keeps performing like this, but I do see him getting healthy and delivering double-digit rebound games soon.
DeSagana Diop, Mavericks:
I think blocks are the toughest single category to acquire in fantasy hoops. We all draft the power forwards who rebound, but some of them don't contribute in blocks, namely fellas like Carlos Boozer. Well, you can quickly find yourself in last place in blocks, and desperate for someone like Diop. He's playing better than I thought he could, let's put it that way. The return of Erick Dampier appears to be changing things, if Thursday's game is any indication, but Diop was a nice rebounder and shot-blocker before, so I think that could continue.
• See the full Karabell blog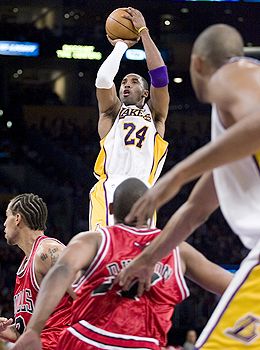 AP Photo/Jeff Lewis
Kobe Bryant coasted to 18 points as the Lakers topped the Bulls, 106-78