(Photo by Jesse D. Garrabrant/NBAE via Getty Images)
Chicago Bulls
forward
Luol Deng
declined his team's contract offer this summer while finding himself at the center of talk about a possible trade with the
Los Angeles Lakers
for
Kobe Bryant
. Meanwhile, the first eight games of the season saw him averaging 14.6 points, 6 rebounds and 1.6 assists a game -- down from 18.8 ppg, 7.1 rpg, 2.5 apg last season -- before suffering a back injury which could rule him out of Tuesday's visit to the
Denver Nuggets
.
Q. You have started the season slowly and the consensus seems to be you and the team have been affected by contract talks and rumors of a Kobe trade. Did that talk unsettle you and the team?
A. To some degree, it probably did. Every player will probably tell you they weren't thinking about it but it has been in the back of our minds, not necessarily on purpose. It's just human nature, especially when so many guys were mentioned [in trade talk].
Q. You seemed to be the man in the middle of that trade talk. The Lakers would not trade Kobe without getting you in return, Kobe would not move to Chicago without you still being there. Is that unsettling?
A. Honestly, no. If anything happens, it happens. I don't really know how accurate that talk is, but if it's accurate, it is flattering -- to hear that the Lakers wanted me and that Kobe wouldn't come without me. As a player, I've just got to keep my head and get better as a player.
Q. Then you have had to endure your own fans chanting Kobe's name at home games this season. Were you angered by that?
A. Honestly? Yes. Then again, if I was a fan and the team I supported was playing the way we were, I'd probably do the same thing. It doesn't mean I'm stopping supporting my team, it just means I'm frustrated. I understand that from the fans and I'd never be mad at them because they have been cheering us since I've been here. I guess it's a love-hate relationship.
Q. A figure of $57.5 million was leaked by team sources as their final offer in your contract talks. Was that the Bulls' final offer? And do you regret rejecting it?
A. No. We talked about $50 million, that was the talk. I'm happy with my decision, no matter what happens. Now it is my challenge to go out there and prove I am worth what I want. If I'm not worth that, there is no shame in that. If someone thinks I'm worth it, then they will pay it.
Q. Did those talks leave a bitter taste or would you still be happy to re-sign with the Bulls next summer?
A: I wish we had dealt with it better. I think both sides could have handled it better. But this is my first time going through this and I learned from it. The Bulls tried to make the best deal for the team and they still have next year to do it and didn't feel the need to rush. If I could play here in Chicago my whole career I would be happy with that. I'm not really the sort of guy who wants to start with a new organization. Chicago is trying to go in the right direction and I'm happy to be here.
Q. Because of all the attention you have received, do you feel teams and opponents have been playing harder against you so far this season?
A. Oh yeah. Teams are focusing their defense on me and we talk about that in the locker room. We know it's coming. But I don't think it changes anything. In fact it could help us by freeing up other guys.
Q. You spent the summer playing international ball for the first time, for Great Britain. Could your slow start to the season be due to fatigue?
A. I've been waiting for someone to say that but no. If I hadn't played for Britain this summer, I would have worked even harder back in Chicago. Last summer, when I wasn't playing for GB, I put myself through more physical work than this. This summer, I rested a lot, played two games a week and practiced. Our coach Chris Finch didn't have us going crazy out there, there was a lot of shooting, a lot of resting. I'm really proud to have played for my country and every chance I get to do it in the future, I'll do it.
Q. So why the poor start? You have started poorly in all four of your years in Chicago (0-8, 3-5, 3-9, 2-7).
A. I've got no idea. As a team, our chemistry always gets better as the year goes on because we are all competitors. But our style is such that we have to play hard to win. Some teams in this league are so talented, they just go out there, go through their plays and win. We can't do that.
Q. Despite the poor start, do you feel you can still challenge in the East and that you can make the All-Star Game for the first time this season?
A. I think we will compete, yes. Everyone will see us keep getting better as the year goes on. When the season started, we were missing our swagger. When we beat the Clippers [on Saturday], I saw it start to come back. Making the All-Star Game is definitely a goal for me this year. I'm really frustrated to have hurt my back, especially after making such a slow start. There are more than 70 games to go, so I just want to get healthy and prove I am All-Star standard. It's definitely a goal and I think I have a chance.
Ian Whittell covers the NBA for the London Times
Dimes Past:
November 3-4
|
5
|
6
|
7
|
8
|
9
|
10-11
|
12
|
13
|
14
|
15
|
16
|
17-18
|
19
Rashard Addition Paying Off

By Chris Broussard
|
ESPN The Magazine
After receiving widespread criticism for giving
Rashard Lewis
$110 million, GM Otis Smith looks pretty wise right now. Lewis still isn't worth that kind of loot, but he's playing well (21.4 ppg) and the Magic are winning, so who can argue? Lewis' tremendous shooting ability has opened things up inside for
Dwight Howard
, who's actually playing like -- dare I say it -- an MVP candidate. And
Hedo Turkoglu
, who's averaging 17.6 points and can also play the vindication card, has the room to do damage with two other offensive weapons on the floor. The most vindication belongs to Coach Stan Van Gundy, though. Man, I'm glad to see that things have worked out for him after being unfairly pushed aside in Miami back in 2005. I've been impressed with Van Gundy since he led a Miami team Pat Riley abandoned to a 42-40 record as a rookie coach. Remember, that Heat team made the second round of the playoffs and gave a very good Indiana club all it wanted in that semifinal round. Van Gundy was unfairly blamed for the Heat's loss in Game 7 to Detroit in the EC Finals a year later, and then of course, Riley, sensing another championship for himself, moved Van Gundy out two years ago.
• See the full Chris Broussard blog

By Eric Karabell
|
ESPN Fantasy Games
Fantasy basketball can be a maddening game when you depend on a certain player, but he either doesn't perform or he doesn't get the opportunity to. This
John Salmons
situation in Sacramento, for example, is annoying. Yes, I am one of the many fantasy owners who enjoyed Salmons' stylings the first two weeks, and yes, I am trying to keep a roster spot for him, just in case coach Reggie Theus changes his mind again. Who knows what he's thinking? I know Theus' goal is to win games, and he couldn't care less about Salmons' production or how the Kings win, but fantasy owners need to know! One day Salmons is in the top-20 on the ESPN Player Rater, then
Ron Artest
returns and Salmons doesn't matter.
Francisco Garcia
looked mighty fine when he was starting, not so much in the last week. And who is this
Beno Udrih
fella? What an interesting four weeks he's had.
• See the full Eric Karabell blog

Monday's Best

Stromile Swift, Grizzlies forward:
Back in Vancouver in 2000, this seemed like the kind of night that might often go to the Swift. Not often enough, though. Filling in for an injured Darko Milicic, Swift rolled out a season-high 24 points, five rebounds and four assists in a 125-108 win over Seattle.
---

Monday's Worst

Nenad Krstic, Nets center:
Misses all six shots in nine minutes of action. That knee must be aching. Nets could use a healthy NK, because 102-75 thrashings by Utah are no fun to absorb.
---
Quote of the Night

"Nobody is going to come here and rescue us. We have 15 guaranteed contracts. We can't bring in anybody to help with the situation right now. We've got to get it done."
--
Blazers coach Nate McMillan,
who gave his team a tongue-lashing after a 101-92 loss to Charlotte.
• See how all 85 players fared
-- Andrew Ayres
Dwight Howard helped the Magic win their fifth straight game, topping the Hornets.
By Chris Sheridan
ESPN.com
Well, here we are on the verge of the 10th game of the season, and a loss Tuesday would drop the Knicks' record to 2-8. The Knicks fly after the game to Detroit for a game Wednesday against the Pistons, and logic dictates that it's questionable whether owner James Dolan even allows coach Isiah Thomas to make it aboard the airplane if the Knicks get blown out in their own building and the Dolan Slumpfactor (how far Dolan slumps down in his courtside seat) edges toward double digits on a scale of 1-10. Of course, Dolan may prefer to wait an extra day -- especially if another hammering happens Wednesday night in Auburn Hills, in what may be Isiah's last moments on an NBA court. So if we are indeed in the twilight of the Thomas era, which by all appearances is at hand, we should take a look at what may lie ahead.
• See the full Chris Sheridan story
By The Associated Press
Orlando needs three more victories to match a franchise-best start of 13-2 in the 1995-96 season. • New Orleans is 1-1 since Chris Paul went out. Paul is day to day and might play Wednesday night when the Hornets host Indiana. • Jazz reserve point guard
Jason Hart
missed the game with the Nets to attend his grandmother's funeral in Los Angeles. •
Jason Collins
started the first nine games at center for the Nets, but played just 10 scoreless minutes and never matched up against twin brother Jarron, who had six points. The Nets attempted 21 3-pointers but made only six.
Bostjan Nachbar
's 16 points were a season high.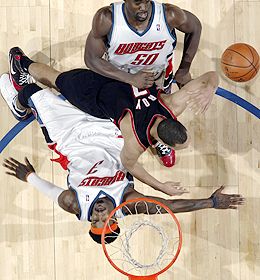 Photo by Kent Smith/NBAE via Getty Images
Portland's Brandon Roy runs into a Gerald Wallace roadblock during the Bobcats' win.