Eugene Hoshiko/AP Photo
One Month In, I Do Declare ...

Early as it is to be making declarations or drawing conclusions … we're going to do it anyway.
Five things we're absolutely sure of at Stein Line HQ, just one month into the season:
1. 14-3 is way better than 13-4.
The Magic won only one more game under Stan Van Gundy, through 17 games, than they did last season under Brian Hill. The difference, though, is legitimately Dwight Howard-sized.
Howard is obviously at the forefront here with his unquestioned leap to legit MVP candidate. But he's also been surrounded with pieces that snap in snugly around him and handed to a coach in Van Gundy who A) had the gumption to believe that
Rashard Lewis
and
Hedo Turkoglu
could work well together and B) who knows how to win with a young team, as seen in Miami with
Dwyane Wade
in the season before
Shaquille O'Neal
arrived.
For all the justified fretting about its bench, Orlando will remain ultra-dangerous if Jameer Nelson keeps getting to the rim like he has been and the rejuvenated Turkoglu continues to be a playmaking difference-maker.
Lewis, meanwhile, will probably never convince folks that he was worthy of a contract approaching $120 million, but his length and shooting touch -- combined with Turkoglu's -- complement Howard's power game nicely. So nicely that, according to one admiring executive from the West, this is just the beginning.
"I really think that these guys are going to win a championship in the next five years," he said. "They have so much more offensive firepower than anyone in the East besides the Celtics, and those guys [in Boston] aren't going to be able to do it forever. And the big guy [Howard] in Orlando is just going to get better and better."
2. LeBron James is not coasting.
For much of last season's first half, remember, that was a complaint LeBron heard often. As recently as a February column lamenting the league-wide lack of trade activity at last season's deadline -- and Cleveland's inactivity in particular -- ESPN.com's Bill Simmons made a reference to LBJ "putting a 39-cent stamp on the season."
But a trip to the NBA Finals and a Team USA summer spent alongside the maniacally driven Kobe Bryant and Jason Kidd appear to have tweaked James' approach. Throw out an Opening Night no-show against Dallas -- "It looked like he didn't want to play that night," one Mavs foe suggested, surmising that James still was upset Cleveland was starting the season with Anderson Varejao and Sasha Pavlovic unsigned -- and he has played at the highest possible level.
How high? With four triple-doubles (and two near-misses with nine assists) in a span of 12 games for a depth-challenged team that got no deeper in the offseason, James has put himself on pace to possibly join Michael Jordan and Oscar Robertson as the only players in history to average 30 points, eight rebounds and eight assists in a season.
3. The Heat need to make another panic trade.
Full disclosure: As stated several times in this cyberspace, I thought the acquisitions of Ricky Davis and Mark Blount were ideal to help the Heat get through the regular season without sapping whatever Shaquille O'Neal has left and overextending Dwyane Wade. I appear, like the Heat themselves, to have miscalculated.
4. Boston is for real (by East standards) and Chicago's start is more disastrous than New York's (because the Bulls were not supposed to be anywhere near the bottom of the East).
Can't imagine you'll quibble with the Chicago part, since the Bulls were widely picked to win the East … and since it looks as though not even a 45-point humiliation in the Knicks' only TNT appearance of the season can convince James Dolan that he's dealing with a crisis that demands an immediate coaching change.
As for the Boston part, I'm sure you're going to bring up how the Celtics have only three wins against teams over .500 entering the weekend: Toronto (8-7), Denver (9-7) and the Los Angeles Lakers (9-6). Won't change my opinion, though.
Concerns about the minutes being logged by Kevin Garnett, Paul Pierce and Ray Allen are valid and you also have to wonder if KG's uber-intensity is setting the Celts up for a playoff flameout reminiscent of what happened to the Mavericks last season. But Boston remains my favorite to win this conference that's there for the taking. Be it October, November, whenever.
5. Like it or not, there are still 84 days to go before No. 24's devoted fans in L.A. can really exhale.
It's been a rather promising start in Lakerland. A 9-6 record is more than passable after an offseason and training camp leaking with turmoil. Better yet, Phil Jackson has just agreed to coach the team for two more seasons after this one … and all that Kobe trade chatter somehow has faded to a faint whisper.
Yet surely you'll note how the Lakers -- Jackson included, after announcing his contract extension Thursday -- have refused to come right out and say they're not trading Kobe, privately fearing how that might make him react after a month of relative peace.
The reality is that the subject of Kobe's future, thanks to his right to become a free agent in the summer of 2009 and his possession of the league's only active no-trade clause, won't reach a tangible state of dormancy unless he's still a Laker after the Feb. 21 trading deadline. As Mark Heisler, newly inducted in the Basketball Hall of Fame, wrote in Friday's Los Angeles Times: "Let's just say it wouldn't be a good idea for the Lakers to lose a lot of games and see how that affects the situation."
Marc Stein is the senior NBA writer for ESPN.com. To e-mail him, click here.
One more declaration because we couldn't stop at five: The NBA is still good for a fairy tale or two.
Admit it.
After a summer of scandal, starting with disgraced referee Tim Donaghy and ending with Isiah Thomas and the Knicks losing big in a courtroom, you never expected to swoon so soon over someone like Toronto's Jamario Moon … or see Shaq and Penny Hardaway in a starting lineup together again in Miami … or catch Denver's Kenyon Martin holding up pretty well on two knees repaired by microfracture surgery.
You have to believe that the ref story will resurface in a big way when the games start to matter more -- what David Stern called "the worst situation I have ever experienced" simply can't go away that quickly -- but November couldn't have been much better for denizens of the league office.
Except, of course, for that NBA.com blogger named Gilbert Arenas.
A three-month absence after his recent knee surgery would have Gilbert Arenas back on the floor for the Wizards shortly after the Feb. 21 trading deadline. Spend time around the Wiz, though, and you definitely get the sense that they don't realistically expect him in uniform again until sometime in March.
The good news for Gil's legions of fans: You'd struggle to find someone in the Wizards' locker room who believes that Arenas, even though he'll soon be entering a free-agent summer, will elect to miss the rest of the season to guard against further damage to his left knee.
"Knowing Gil, yeah, I'm pretty sure he'll make an appearance before the season is over with," said Wizards forward Antawn Jamison, who has played with Arenas in Golden State as well as Washington.
"But for me, as a friend, I really want him to get this thing situated and for him to get healthy. In March or April, if we've got things going, I think he's going to do everything possible to come back. But because it's the same knee [Arenas hurt last season], I think he's going to be more cautious and he's really going to listen to what they [members of Washington's medical staff] tell him to do."
Asked whether he was tempted to advise Arenas, as a friend, to wait until next season before returning, Jamison said: "If he's 100 percent, no. That's the thing. If he's doing the things he's supposed to be doing … we all know Gil. He likes to do things on his own. If he's healthy and everything is fine, there's no need to not come back. But I know Gil. Sometimes he's not 100 percent and he tries to rush back. We need him to get everything situated, get everything 100 percent, and then come out and do what he does best.
"You could sense that he wasn't 100 percent when he came back last time. He knows that trying to make a certain number of shots in the summertime wasn't good for [the knee] and playing certain summer leagues and things like that … it wasn't the smart thing to do. But you learn from your mistakes, and I think he understands how important this is."
---
Leastern Conference no more?
Not exactly.
Entering play Friday -- the last day of November -- East teams were trailing the West only slightly, 46-44, in head-to-head games. That's the good news.
The bad news? The league's three most disappointing teams all reside in the East: Miami, Chicago and New York. Only the new-look Celtics and Magic, furthermore, are playing what could be described as elite-level basketball in their conference.
In the West, meanwhile, there is no shortage of quality teams, even with more clubs than usual harboring little-to-no playoff hope (Memphis, Sacramento, Portland, Minnesota and Seattle) and even after all those big scorers switched conferences (Kevin Garnett, Ray Allen, Rashard Lewis, Jason Richardson and Zach Randolph.
---
Dwight Howard's vow to return to the dunk contest in February almost certainly means he'll be asking the league -- again -- to let him raise the rim to 12 feet during the contest.
Back in February in Las Vegas, you'll recall, Howard had two specials planned that would have given the 7-footer an opportunity to throw down a couple of never-before-seen dunks and invalidate the assumption that big men automatically have it easier. One was a 360 dunk with the rim hiked to a full 12 feet, two feet higher than regulation. The other would have set the rim at 11½ feet, with Howard planning to go between his legs with the ball in midair before slamming it through.
League officials denied those requests, however, deciding that changing the height of the rim -- easily done midcontest with the help of hydraulics -- was a little too bold for their liking. But sources close to Howard say he plans to push for that opportunity again. No word yet on whether the league will relent.

Howie (OC): Bulls-Lakers trade for you NOT involving Kobe. Why wouldn't the Lakers go after Ben Wallace? Trade Kwame's expiring contract and a player for Big Ben and a pick. The Lakers could move Ben to the 4 spot and have him focus only on defense and rebounding. This would allow Bynum to play center and stay out of foul trouble. I know about the financial impact (luxury tax for the Lakers) but doesn't this deal make too much sense for the Lakers to pass up? It moves Turiaf and Radmanovic to the bench where they belong. Wallace would be rejuvenated. The Lakers could potentially contend.
Stein: Interesting idea. My initial reaction is that the (very) expensive two-plus years after this season left on Ben's contract and his increasing offensive limitations would put the Lakers off, especially since Kwame Brown's expiring contract is one of the best chips they have left to make a move that makes Kobe happy. I imagine they'd want more of a scoring 4 man … and I struggle to picture Ben functioning in the triangle offense as a non-shooter with limited passing ability. But I also remember a very smart GM telling me once that surrounding Kobe with as many shooters and rebounders/hustlers as they can find might be the best way for the Lakers to proceed. So you could be onto something. The issue is how much quality hustling Ben has left.
Can't see how the Bulls could say no, though, if the Lakers were interested. The combination of Ben's decline and his obvious issues with Scott Skiles suggest that his Chicago numbers aren't going to pick up any time soon. So I imagine they'd find your idea hard to resist, even though bailing on Ben this soon and thereby admitting that signing him was a mistake would open the Bulls up to all sorts of new criticism.
• Read Stein's full chat


Committing an additional $24 million over the next two seasons to Phil Jackson was a bold expenditure for the Lakers. For a few reasons.
1. The $12 million annual wage is by far the highest salary ever paid to an NBA coach, with no peers close except for Pat Riley with his coach/president/minority ownership package in Miami.
2. The Lakers might have more to work with rosterwise than preseason forecasts suggested -- maybe even a lot more -- but the consensus remains that they need to add at least one more star (or close to it) without weakening their supporting cast to contend for Jackson's record-breaking 10th championship.
3. At 62, Jackson has a contract that runs one season beyond Kobe Bryant's expected return to free agency in the summer of 2009 … assuming Kobe can't force his Lakers exit before that.
It should be noted, however, that the Lakers did register some positive cash flow this month. Trading Brian Cook and Maurice Evans to Orlando for Trevor Ariza sliced their luxury-tax bill from more than $3 million over the tax threshold to just under $1 million over.
If the season ended today, 11 teams would be taxpayers, with the Lakers now carrying the 10th-highest tax bill from that group. There are an additional six teams less than $1 million away from the $67,865,000 threshold, with San Antonio closest to the line at just under $30,000 away after shedding Beno Udrih's contract just before the season started.
---
How clutch is Kobe?
The league's annual survey of general managers might best illustrate Bryant's rep for crunch-time cool, with a whopping 88.5 percent of responding GMs selecting No. 24 as the player they'd want taking the last shot with a game on the line.
The Elias Sports Bureau, however, counters with a statistic to challenge that rep … at least a little bit.
Bryant was 15-for-16 from the foul line in the Lakers' 102-100 loss to New Jersey on Sunday, but his one miss came with just six seconds remaining and L.A. trailing by only a point. According to Elias, Bryant is 3-for-6 from the line in that situation over the past seven seasons, with "that situation" being defined as L.A. trailing by one point with 10 seconds or less to play in the fourth quarter or overtime.
---

He can get rattled by double-teams. He occasionally forces things around the basket. He has lofted a few of those ill-advised fadeaways Hakeem Olajuwon used to take in his younger days before Dream accepted passing as a post man's responsibility and started making his teammates better.
Of course, Al Jefferson is just 22.
So for all the uncertainty in Minnesota's future, there is one source of unmitigated glee for Kevin Garnett's old team. The Wolves needn't sweat what Jefferson can't do yet when he's already been so impressive and eager to embrace his new life as The Guy They Got For KG, averaging 20.7 points and 11.2 rebounds.
How impressive?
Says new teammate Antoine Walker: "He's one of the best low-post players I've ever seen. As he develops his left hand, he's going to be very tough. I think he also needs to develop a face-up jump shot to be even tougher. But I've never seen anyone score like that in the post, especially at his age."

Tracey M. (Seattle):
Kevin Durant and the Sonics need some SERIOUS help at point guard. Why don't they try to bring back Gary Payton? Or is he retired for good?
Stein: I don't see it happening. It'd be a fun story, regardless of whether this is the Sonics' final season in Seattle, but I'm told that GP -- in the unlikely event he does come back to play -- isn't interested in one last on-court hurrah with the Sonics. It's easier to picture him going to a veteran-type team like Boston, after all those years folks wondered whether Payton and his good buddy Kevin Garnett would ever play together.
I've heard that GP did express some interest in the offseason in working for the Sonics in a non-playing, community-type capacity, which I'm guessing Sonics fans would settle for given Payton's stature in town. But the concept didn't go very far, which is no great surprise given the club's uncertain future in town and the fact that Payton hasn't completely closed the door on playing. I'm with you in spirit. I'd love to have seen GP finish his career in a Sonics uniform. I gather that, before he wound up in Miami and won a championship with the Heat, GP was hoping for the same. But after reading our own
J.A. Adande's piece
earlier this month, it sounds as though The Glove is enjoying his time away from the game.
What's happening behind the scenes with the teams that produced a 104-59 scoreline Thursday night? Marc Stein joins NBA on ESPN Radio studio host Marc Kestecher to talk Knicks and Celtics. •
Listen to the interview


"You can't give up 110 points at home to an Eastern Conference team. You just can't do it."
Mavericks forward Dirk Nowitzki, after Dallas was shredded Monday night by the Gilbert Arenas-less Washington Wizards. Sparked by Caron Butler hitting all five of his 3-pointers, Washington became the fourth Eastern Conference foe to beat the increasingly sluggish Mavs this season. Dallas went 27-3 against the East as part of its 67-win campaign last season.
You probably won't be surprised, as a follow-up, to hear that Butler -- who sank only 18 triples in 63 games last season -- says he feels truly comfortable from behind the 3-point line for the first time in his career.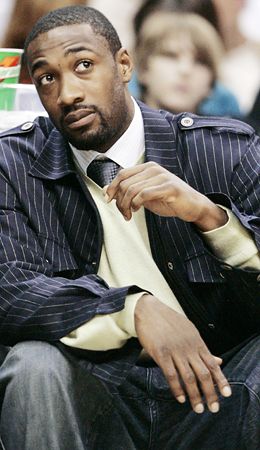 AP Photo/Haraz N. Ghanbari
Gilbert Arenas is out at least three months after another surgery on his left knee, but don't be surprised if it's closer to four months.
Five questions with Wolves forward
Antoine Walker:

Q: Is the shock of being traded wearing off?
A: I was shocked a little bit at the beginning. I knew in the preseason that [the Heat] weren't scoring a lot, and I knew they were going to address the scoring issue. But any time you get traded, you want to get traded earlier than the [end] of camp. I'm fine, though, Miami was good to me. It was a good place. Won me a title and got an opportunity to play alongside two great players.
Q: But did the way things end spoil the championship experience for you at all?
A: It depends on how people want to look at it. For me, it's fine. Obviously I got traded, and when you get traded, people look at it as a negative. But it wasn't a good situation for me anymore. There was nothing positive coming out [of Miami]. So much negative press. I'm too far along in my career and I've worked too hard to have constant negative press put out about me. Obviously they're struggling right now, so it wasn't necessarily just me.
Q: So you feel like you were the scapegoat for the struggles since the championship?
A: I wasn't the main focal point. I was just a piece of the puzzle there. I just felt, at this point in my career, I'm not into being in the papers and going back and forth. So I didn't do that. I respect Coach Riley. He's a great coach, Hall of Fame coach.
The differences that he had with me, for whatever reason, making it out that I wasn't in shape … I didn't understand it. But I never went back and forth with him. We all know, and anyone that plays for Riles knows, that he's very particular about body fat and weight. He puts a number out there for you, and if you don't hit his number, he feels like you're not in shape.
Q: A lot of vets in your situation would have asked for a buyout after winding up with a rebuilding team like the Wolves. Why haven't you?
A: Honestly, man, I'm just tired of moving. I don't know that the grass is greener for me somewhere else. You have to try something first before you can have an opinion about it. I didn't want to come in here and say, "I want out." I wanted to see if I can fit in with these guys. I don't want that perception put on me. I didn't want to disrespect these other 14 guys in this locker room.
At this point in my career, I'm not chasing rings like some other guys and I'm not chasing making the playoffs. I'm chasing a good situation for myself to play basketball and do something I love to do.
Q: So you're expecting a long stay in Minneapolis?
A: Right now, I'm a Timberwolf. I plan on being here right now. I've got this year and next year on my contract, and I'm just gonna worry about these two years and then see where I'm at. But I want to play five or six more years if I can stay healthy. I'm only 31.
Editor's note: Walker discusses the home invasion and robbery he survived in July in this story by ESPN.com's Wayne Drehs.