Photo by D. Clarke Evans/NBAE via Getty Images
Back In Seattle, Ray's Way Is Winning
SEATTLE -- Not going to the playoffs for the sixth time in seven seasons or competing for an NBA title? Possibly moving to Oklahoma City or living close to your offseason Connecticut home in Boston? Playing with one Kevin who is a rookie or another Kevin who is a future Hall of Famer?
Ray Allen wasn't exactly thrilled initially when the Seattle SuperSonics traded him to the Celtics on draft night. But when you compare what it is like to play for the title-contending Celtics with fellow superstars Kevin Garnett and Paul Pierce and what it would be like playing for rebuilding Seattle, Allen believes that the Sonics ultimately did him a favor by trading him.
"Did they do me a favor?," Allen asked. "Yup, look where I am. Who knows what would have happened? With me being here and the resurgence here in Boston, being able to be on one of the best teams in the NBA, yeah, I think they did me a great favor."
In his first game against the Sonics since being traded, Allen had a lackluster offensive night with 10 points on 4-of-13 shooting during the Celtics' 104-96 victory in front of a national television audience. But Celtics forward Paul Pierce scored 13 of his season-high 37 points in the fourth quarter and nailed five 3-pointers while Garnett added a double-double of 23 points and 14 rebounds.
Boston's fourth straight win improved it to an NBA-best 24-3 record. The Celtics have now won six straight road games and are 10-2 away from home. Heralded rookie forward Kevin Durant scored 25 points for the struggling Sonics (8-21) while ex-Celtics Delonte West and Wally Szczerbiak added a combined 33 points off the bench.
After being traded by the Bucks for ex-Sonics great Gary Payton in 2003, Allen became one of Seattle's most popular athletes on and off the court. A seven-time NBA All-Star overall, he represented the Sonics in the All-Star Game the last four seasons and led the team in scoring in each of his seasons there. He also was often recognized for his charity work in the community and won over the locals by living here for much of the offseason. Still, in a McDonald's restaurant not far from Key Arena, jerseys hanging on the wall represent four beloved sports stars: the Mariners' Ichiro Suzuki, the Seahawks' Shaun Alexander, the WNBA Storm's Sue Bird and a Sonics jersey with "Allen" on the back.
Considering the love affair for Allen in Seattle, it definitely couldn't have been a surprise to the Sonics when they were booed at their own draft party for dealing Allen. But in Allen's first trip back to Seattle, the Sonics showed him some love, by honoring him for his impact on and off the court with a video tribute and plaque before the game.
"Ray is a true professional and he'll always be valued by the Sonics organization," said Seattle first-year general manager Sam Presti in a recent telephone interview.
The Sonics dealt Allen and the draft rights to second-round pick Glen "Big Baby" Davis on draft night this year to the Celtics for Szczerbiak, West and the draft rights to fifth overall pick Jeff Green. So considering all this love for Allen, why did the Sonics trade him?
Presti declined to go into detail to answer that question. But the Sonics are believed to have made the blockbuster trade for some of the following reasons: Allen being 32 years old now, the fact that the Sonics would like the team to grow around Durant, Allen's hefty contract that pays $16 million this season, a need for a fresh start and their belief that Green will end up being a star.
Allen is still confused about why Presti dealt him and feels like he could have aided Durant's development as a mentor and by taking fewer shots.
"Ray was a consummate professional while he was with the Sonics, on and off the floor," Presti said. "We wish him the best in Boston. We had some tough decisions to make, but our goal is to build a talented group of players that can grow and develop on the same timeline. This is a process, but we feel positioning ourselves in this way provides our organization with the best opportunity to achieve consistent success."
The Sonics entered this season without stars Allen and Rashard Lewis, with a new coach and a new GM and expectations of moving to Oklahoma City soon. Allen believes the Sonics will be leaving the state of Washington and blames the previous ownership, led by Starbucks chairman Howard Schultz, rather than the new one from Oklahoma.
"I never felt betrayed by the new ownership that came in," Allen said. "I think it was more the old ownership because that's who we really got to know and spend time with. Upon moving further, trying to make the team better and doing everything we could, in hindsight it seems like everything was run barely above ground because ultimately they ended up selling the team."
Allen should have more tears of joy than pain now since he is wearing a Celtics uniform.
"The [Celtics], upon bringing me in, were looking at getting better as opposed to talking about it," Allen said. "They started making moves. It was definitely a positive thing."
Marc J. Spears, a regular contributor to ESPN.com, is in his ninth season covering the NBA and writes about the Boston Celtics for The Boston Globe.
Dimes Past: December 15-16 | 17 | 18 | 19 | 20 | 21 | 22-23 | 24 | 25 | 27

By Andrew Ayres | ESPN.com
Boston Celtics guard Ray Allen, 32, appears to be on a Hall of Fame track. The seven-time All-Star is a 39.7 percent career 3-point shooter, trailing only Reggie Miller all-time in 3-pointers, a shot that was introduced to the NBA in 1979.
A
formula
used at basketballreference.com puts his HOF probability at
69.9
percent. Kevin Garnett looks
like a lock at 97.3 percent.
Paul Pierce checks in at
77.3 percent.
The Celtics' Big 3 of Robert Parish, Larry Bird and Kevin McHale are already enshrined in Springfield. Allen-Garnett-Pierce are now out to make a name for themselves. But admission to the shrine can be difficult. Of note, the HOF predictor tool says Boston's 1970s great Jo Jo White
had a 84.7 chance,
but he's not in Springfield. Ken Shouler made a case
earlier this year
for White, a U.S. gold medalist and NBA Finals MVP.
C's Match Last Season's Wins

By Mark Simon
ESPN Research
With their 24th win on Thursday, over the Seattle SuperSonics, the Boston Celtics matched their 2006-07 win total.
At this point last season, Boston was a rather paltry 10-17, sliding as low as 13-42 with Paul Pierce sidelined much of the time with injuries.
Comparing Celtics Seasons

2006-07
2007-08
W-L
24-58
24-3
PPG
95.8
100.1
FG Pct.
44.3
47.4
Opp. PPG
99.2
86.3

By Michael E. Jackson
ESPN Research

The Minnesota Timberwolves are the worst team in the NBA and most look at the Kevin Garnett trade as the reason why. Garnett's passion and leadership are definitely missed but not his scoring and rebounding. The centerpiece of the deal from the Boston side, Al Jefferson, is doing well, too.
Kevin Garnett vs Al Jefferson Entering Dec. 31, Last Two Years With Timberwolves

Category
'06 Garnett
'07 Jefferson
Games
28
27
PPG
21.7
20.3
RPG
12.1
12.3
20-20 gms
0
2
20-15 gms
3
7

Thursday's Best

Paul Pierce, Celtics forward
His 3-point spree was the difference, sinking 5-of-7 from beyond the arc en route to 37 points in Boston's win over Seattle.
---

Thursday's Worst

Chris Kaman, Clippers center:
In recognition of his great year so far (18.6 ppg,14 rpg), his 4-for-17 shooting outing in a 108-88 loss to the Suns was out of character, shut down by Amare Stoudemire.
---
Quote of the Night

"I appreciate the minutes he left behind."
--
Sonics guard Damien Wilkins,
joking about the merits of the departed Ray Allen.
• See how all 61 players fared
-- Andrew Ayres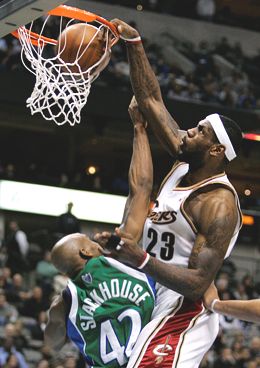 AP Photo/Tony Gutierrez
Despite a Mavs defense that sent him to the floor, Cavs forward LeBron James managed to throw down this dunk over Jerry Stackhouse.

Mac, Jurko & Harry, ESPN 1000 in Chicago: Interim Bulls head coach Jim Boylan talks about his coaching style, taking over the job and how the season can be fixed.
Skiles has fallen

M (DC): Everyone says that the Bulls need a legitimate low-post scorer, but how can they get such a player? Nobody is trading Tim Duncan or Dwight Howard, so they would have to trade half of their starters for inferior talent to get a semi-legitimate big.
Chad Ford:
You're right. These guys don't grow on trees.
Pau Gasol
has been mentioned a lot but you can understand why the Grizzlies are reluctant to part with him.
Jermaine O'Neal
is available ... but how much gas does he have left in the tank? Maybe
Nick Collison
from the Sonics?
Charlie Villanueva
from the Bucks?
Nene
from the Nuggets? There aren't a ton of options ... you're right.
Jay (Memphis, TN):
I have a feeling the Grizzlies franchise is well on it's way to imploding. Any way the Grizz can turn this situation around? Is trading Gasol the answer?
Chad Ford:
Yeah it doesn't look good at all. Gasol looks uninspired.
Darko Milicic
looks like he can no longer dodge the bust label.
Mike Conley
's been out with injuries. It's ugly. And Iavaroni sure doesn't look like the Mike D'Antoni clone he was billed to be. I thought, coming into the season, that they'd compete for the playoffs. So far,
Rudy Gay
's been their only real bright star. They need toughness and a winner badly. Conley might be that guy down the road ... but they sure could've used a guy like
Andres Nocioni
.
• See the full Chad Ford chat