(Glenn James/NBAE via Getty Images)
Detroit's Texas Trip Begins With A Stumble

DALLAS -- The first leg of the toughest back-to-back set that they'll see all season wasn't as demoralizing as it looked for the Detroit Pistons.
Word eventually reached them late Wednesday that the Boston Celtics lost at home to Charlotte -- yes, Charlotte -- while the Pistons were getting drilled in North Texas.
But that was the best thing you could say about the Pistons' night: Boston had it worse. The rest of the evening was so one-sided that Detroit, after absorbing a 102-86 hammering from the Mavs, was almost eager to get to San Antonio for the second stop of this daunting two-step.
It didn't help the Pistons, playing for the first time since their home loss to the Celtics over the weekend, that Dallas flowed as freely and efficiently as it has all season, flashing speed all over the floor and pulling away with a flurry of daggers from outside. But Detroit didn't help itself with the sort of passive, lifeless performance more commonly expected on the second night of a back-to-back. Especially back-to-backs as rough as this one.
"I don't know," Pistons coach Flip Saunders said when someone suggested that his team was still suffering from some sort of Saturday night Boston hangover. "I just know that we weren't aggressive as far as taking it to the basket [and] we weren't aggressive at attacking the ball defensively at the point of screens."
Indeed. The Pistons' problems defending pick-and-rolls in the middle of the floor -- something Boston picked at in Saturday's showdown and something LeBron James more famously exploited in a certain 48-point playoff game last spring -- resulted in a third-quarter runaway for the hosts. Detroit had sliced an early 14-point deficit to five by halftime, but the Mavs gradually opened up the floor with their quickness and aggression and rained in six 3s in the third -- including three straight back-breaking triples at the end of the quarter -- to start pulling away.
Two of those 3s came from Dirk Nowitzki, who unexpectedly encountered greater defensive resistance from Walter Herrmann than he did against the more celebrated shut-down abilities of Rasheed Wallace and Antonio McDyess. Nowitzki was 3-for-4 from the floor with 'Sheed guarding him and 5-for-5 when shadowed by McDyess, finishing with 23 points on just 15 shots to lead Dallas in scoring for the 10th successive game.
It must be said that 'Sheed was never the same after getting hit with two quick fouls, but it's likewise true that it wasn't just Nowitzki who punished the Pistons. Jason Terry, Jerry Stackhouse and Devin Harris were a combined 8-for-10 on 3-pointers … and you know what kind of damage Dallas can do when Harris has his jumper going. The much-maligned Mavs thus improved to a quiet 5-0 at home against the five division leaders they've played so far: Detroit, Orlando, San Antonio, Phoenix and Portland, with only Boston to go.
Not that Nowitzki did much celebrating. He chose instead to expound upon his recent pronouncement to the local media that there's no use touting regular-season milestones for his team because "nobody's going to believe in us anyway."
"After last year," Nowitzki added for our clarification, "we know you [media] guys will keep saying we can't do it until we do it."
With five of its next six games on the road and Dallas sporting an underwhelming 7-8 record away from the American Airlines Center, Nowitzki continued: "We know we can play well at home, but the great teams find ways to win on the road. We've got to see if we can get that road kill back that we had last year. We just had that confidence walking into other arenas knowing that we can win pretty much anywhere."
Nowitzki's coach was nonetheless encouraged by this showing and the overall vibe stemming from Dallas' 12-3 response to a 12-8 start.
"I think the men are focused," Avery Johnson said. "When a team has been together and had some pretty good regular seasons, [another] season can be a long, drawn-out point in your life. … [But] now that we are into 2008, I can see in the men's eyes that they are getting a little more into it."
On the Flip side …
Knowing all about the regular-season grind himself, Chauncey Billups managed to draw some solace from the fact that the Pistons (26-9) nearly made it halfway through the schedule before this kind of night.
"We saw a lot more of these early in the season last year," Billups said.
Marc Stein is the senior NBA writer for ESPN.com. To e-mail him, click here.
Guard Optimism? Not For Cavs

By John Hollinger | ESPN Research

ATLANTA -- Since Anderson Varejao returned from his holdout, Cleveland's defense has finally looked like the unit that locked up opponents en route to wining the Eastern Conference last season. Now about that offense …
LeBron James scored 31 points, but the Cavs' supporting cast authored another painful chapter in a 90-81 loss to the Hawks on Wednesday. Cleveland scored only 35 points in the first 30 minutes, including just three in the first 6:49 of the third quarter. Moreover, Cavs not named James were 19-for-66 from the field (28.8 percent) and earned only 10 free throws. No wonder they were blown out almost every night while James was injured.
Once again, the laser beam points at starting guards Larry Hughes and Sasha Pavlovic. The two combined to shoot 2-for-13, which continues a season-long pattern -- coming in they were at 33.8 and 34.0 percent, respectively. The thought of a reigning conference champion starting one player with such a poor percentage is mind-boggling … but two?!?!?
In a related story, neither Hughes nor Pavlovic played in the final 18 minutes, when the Cavs scored 46 of their 81 points. You connect the dots. The Cavs have gone as long as they can with the lineup that took them to last season's conference finals, but if the offense can't wake up soon they'll have to consider other options.
Tim (Katy, TX): Am I crazy or is Kobe by far the best player in NBA history? He does everything MJ did, with far superior handles and range.
David Thorpe: Tim, that's a double lifetime ban. And I mean it.
Rich (Richmond): I know it's sacrilege to say it, but I really don't see Kevin Durant turning into a superstar. I've watched almost half his games this year, and I think he'll grade out to be a very solid player, but not a real star. He has a long way to go before he can even TRY to play in the post, and his talent never seems to be fully utilized in the backcourt. Ban?
Thorpe: No way I'd ban you. Citing evidence is all that I require. I think you are wrong, but in the end I could be wrong. He does need to improve a great deal.
Mike (PHX): Best smack-talk you ever heard? I liked Jordan's line, "How you gonna beat me? You're wearing my shoes."
Thorpe: "The harder you play, the more I'm going to hurt you." When delivered by a huge and talented big man, it's strong stuff.

Wednesday's Best

Nazr Mohammed, Bobcats center:
For a night, the recent trade with the Pistons paid off handsomely: 18 points, 10 rebounds for Nazr in the upset of Boston. Jason Richardson (34 points) wasn't too shabby, either.
---

Wednesday's Worst

Warriors starters:
Nellie hoisted the white flag early in Portland. Andris Biedrins, Stephen Jackson and Baron Davis combine to play 48 minutes, scoring 11 points. At least they'll be fresh for Friday's game against the Grizzlies.
---
Quote of the Night

"The team has more confidence playing without T-Mac right now. That doesn't mean we don't need him. You have to face those games when you don't have him. When you miss him, you still have to play. We're finding a way to play without him right now."
--
Rockets center Yao Ming
, after scoring 36 points in a 101-92 win over New York.
• See how all 219 players fared
-- Andrew Ayres

By John Hollinger
ESPN.com
Miami Heat coach Pat Riley has been hesitant to blow this team up, but Tuesday night should have been the final, screaming beacon that it's time to get the dynamite ready. The issue isn't that Miami lost to Minnesota, it's that the outcome wasn't even a surprise. "We're one of the worst teams in the league also," as Wade said after the game.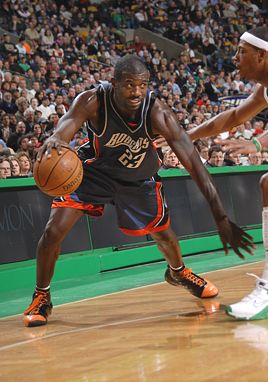 (Brian Babineau/NBAE via Getty Images)
Jason Richardson gave Paul Pierce all he could handle in the Bobcats' win in Boston. "I'm not surprised because we're a pretty good team," Richardson said of his 13-21 team. "It just doesn't show in our record."

The Pistons square off against the Spurs on Thursday at 8 ET. After winning three straight against the Spurs, the Pistons have now dropped two straight against San Antonio. The Spurs have won nine of their last 10 games against the Pistons at home.
Tony Parker vs. Chauncey Billups Career Head-to-Head

Category
Parker
Billups
Wins
7
6
PPG
14.0
12.6
FG pct
48.1
38.0
3-pt FG pct
37.5
33.3
APG
4.8
4.6