AP Photo/Mary Altaffer
Super Bowl Scufflers: Celtics And Knicks Deliver Warm-Up Act

NEW YORK -- Exactly what was said between Paul Pierce and Quentin Richardson will remain between the two of them, because neither had the nerve to speak up about it afterward.
As for what was said by Eddie House, which the entire Knicks bench reacted to as though they had been summoned for a street fight, all we have is House's PG-rated version:
"Just keep it down," House said afterward, acknowledging that an adjective or two was being dropped. "It was a little more colorful than that, but that's the gist of it."
House infuriated the Knicks when he turned to their bench yelling and gesturing after knocking down a 3-pointer with 2:24 remaining to increase the Celtics' lead to 20 in Boston's 109-93 victory over New York on Monday afternoon.
The Knicks immediately called a timeout, and a majority of them -- led by coach Isiah Thomas -- walked semi-menacingly toward center court as the timeout wound down, a moment that might have gotten out of hand if veteran referee Joey Crawford hadn't stepped over and said something to Thomas before the Celtics came away from their bench after their timeout.
"I have no comment on that," Thomas answered tersely afterward when asked about the exchange between House and the Knicks' bench, which ended up being the final confrontation in a day of snippiness.
"He's always got something to say," retorted House.
Bad blood and an intense rivalry has long existed between the Red Sox and Yankees in baseball, and the New York vs. New England dynamic is in for a two-week workout as the hype builds up toward the Super Bowl between the Giants and Patriots.
The Knicks and Celtics had a strong rivalry of their own back in the old days when they both managed to be relevant at the same time, though it has been dormant for a long, long while.
Perhaps it's back.
Prior to House's shout-out, Pierce and Richardson had been ejected after Richardson was overzealously physical in defending Pierce, drawing four personal fouls -- and causing the refs to call two double-technicals -- in the space of less than 2 ½ minutes midway through the third quarter.
Richardson called back to Pierce and challenged him to fight as he was being escorted off the court, and security guards and assistant coaches kept the peace by keeping Pierce from exiting the court until Richardson was safely out of the way. Several minutes later, security supervisors were scrambling to find enough burly bodies to station in the tunnel between the locker rooms just in case Pierce and Richardson decided to renew their difference of opinion beneath the stands.
"Q and Paul, they have a past of talking trash, and I guess the refs weren't really going to deal with it," Kevin Garnett said. "But there's not a night that we take the floor that teams aren't talking to us. We just have to keep our composure and understand what it is."
What it is, by the way, is a mixture of jealousy and toughness-testing from opponents -- the Knicks being just the latest -- looking to take a measure of just how good and just how composed these NBA-leading Celtics really are. Monday's victory was Boston's third in a row following a span of three losses in four games, meaning the Celtics can still get back to a 70-win pace if they win their next two -- Wednesday against Toronto and Friday against Minnesota, both at home -- before the mathematical midpoint of their season.
Monday's victory locked up a spot for Doc Rivers coaching the Eastern Conference All-Stars -- an accomplishment that was already such a given that owner Wyc Grousbeck revealed afterward that he chartered a plane a week ago to take Rivers and his coaching staff to New Orleans.
Despite the honor, Rivers was unhappy afterward due to the histrionics involving Pierce and Richardson, and later between House and the Knicks' bench.
"The scoreboard will talk. You don't need to run your mouth," Rivers said. "I wasn't happy with that, and I told the guys that this has happened a couple times, and we've gotten away with it."
But can they continue to get away with it? The answer will come as the Celtics are tested both physically and verbally over the second half of the season.
How they respond will be one of the true measures of their composure. And as of now, 70-win pace or not -- it's fair to say they're not always conducting themselves in a championship-level manner.
Chris Sheridan covers the NBA for ESPN Insider. To e-mail Chris, click here.
Dimes Past:
January 7
|
8
|
9
|
10
|
11
|
12-13
|
14
|
15
|
16
|
17
|
18
|
19-20
|
21
The Game Is Black And White For Portland

By John Hollinger | ESPN.com
ATLANTA -- Don't call it a bench.
It's the white team, according to Portland coach Nate McMillan, and it's a huge reason the Blazers have been such a surprise this year.
We saw further evidence of that on Monday. Portland's non-starters scored 62 points, including a game-winning jumper with 0.9 seconds in overtime by forward Travis Outlaw, to beat the Hawks 111-109 in the annual Martin Luther King Jr. Day game in Atlanta.
"We don't really say first unit or second unit," said Blazers coach Nate McMillan. "It's just black team and white team."
The designation is based on practice jersey colors, and McMillan said he does it that way because he feels both units are equally important.
"Players get caught up in 'I don't want to be a back-up,'" said McMillan. "But your best five don't necessarily start. I don't want them to get caught up in starting or [not]."
By any name, the unit has benefited from the emergence of one of the league's top sixth men in Outlaw. With Brandon Roy struggling, Outlaw became the Blazers' go-to guy in overtime when he had eight of his team-high 23 points.
Outlaw said the final play was one the team hadn't even practiced before -- isolating him at the top of the key against Atlanta's Josh Smith, and then holding the ball until almost no time remained.
"Two years ago I would have been like 'oh-oh-oh,'" said Outlaw of his ability to stay patient and wind the clock down. "But coach was telling me to hold on, hold on."
In fact, even when McMillan told him to go, Outlaw waited a little longer -- starting his move at the four-second mark rather than at six seconds as McMillan preferred.
"I was [supposed to] get to the rim and get fouled," said Outlaw. "He started backing off me a little bit and I knew the jumper was there, and I'm more comfortable shooting it now."
He's one of the few players in the league who could have got the shot off -- the 6-9 Smith is second in the league in blocked shots and had already altered several Blazer deliveries. But Outlaw is 6-9 himself and a good leaper, making his jumper virtually unblockable.
His shot provided the capper on a huge night for Portland's bench -- er, white team. Sergio Rodriguez emerged from nowhere to provide 16 points on 6-of-7 shooting, and might have doubled his four assists were it not for botched finishes. James Jones (10 points on seven shots) and Channing Frye (nine points and seven boards) also had solid games, helping make up for a low-energy starting unit that put only one player in double figures.
"We don't look at it as the bench, we look at it as the white team and the black team," said Outlaw. "We pick each other up, some nights the white team has it, some nights we're down and they pick us up."
And thanks to his shot, Portland passed another test on the road to "Are You For Real?" with flying colors. The Blazers are now 3-3 on their seven-game Eastern swing, and stand a good chance of being in first place in the Northwest Division when they come home Friday to play Houston.
"Nobody really expected it to happen so soon," said McMillan before the game of his team's success. But the black-and-white reality is that it did.

When Lakers rookie guard Coby Karl checked in with 3:19 left against Denver on Monday, George Karl became only the third NBA coach to have his son face him, according Chris Tomasson of the Rocky Mountain News.
New Orleans Jazz coach Butch van Breda Kolff met son Jan of the New York Nets on Nov. 9, 1976. Clippers coach Mike Dunleavy Sr. has coached 17 times this decade against Mike Jr., now with Indiana. "The opportunity to compete against my son is a dream come true," Karl told Tomasson.

Monday's Best

Ryan Gomes, Wolves forward:
The KG trade pays off! OK, not quite. Gomes' career-high 35 points and 11 rebounds gave Minnesota its first road win after 16 straight defeats, a 109-108 win at Golden State.
---

Monday's Worst

Jared Jeffries, Knicks forward:
Misses all five shots in 24 minutes of action against C's. Signing him was another brilliant Isiah stroke. At least he's a fellow Indiana University guy.
---
Quote of the Night

"We deserved the techs. We deserved the ejections. We deserved everything we got and we're very lucky to win the game."
-- Celtics coach Doc Rivers
, addressing his team's loss of composure in a 109-93 win over the Knicks.
• See Monday's daily leaders
-- Andrew Ayres
Nash Is Trouble For Bucks

By ESPN Research

When the Phoenix Suns play in Milwaukee on Tuesday night, the outcome shouldn't be surprising. The Suns are dominating this series lately. Phoenix has won 29 of the last 33 contests between the two franchises and all four of the losses have come in Milwaukee. Phoenix is averaging 116.3 PPG in their last 8 games vs Milwaukee, while the Bucks are dropping in an impressive 111.5 per contest. Steve Nash has had success against the Bucks.
Steve Nash Last 7 Games vs Milwaukee

Category
Stat
PPG
24.1
FG pct
66.7
3-pt FG pct
64.0
APG
11.9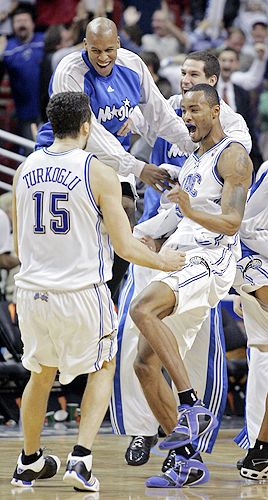 AP Photo/John Raoux
Magic forward Rashard Lewis celebrates with teammates after making the winning shot to beat the Pistions 102-100. Orlando was swept by Detroit in last season's playoffs.
In Fantasy, Baron's The One

By Eric Karabell
ESPN Fantasy Games
Baron Davis of the Warriors is the No. 1 guy on the ESPN fantasy Player Rater. I thought it was going to be the fabulous Chris Paul, and while he's No. 2, that's still second to the best guy. Davis is averaging 22.4 points, 8.1 assists, 4.8 rebounds, 2.5 steals and has 94 3-pointers. Those are sick numbers.
Paul would be a better option to build a fantasy team around, because he's younger and doesn't scare his owners with durability questions. His 21.2 points, 10.5 assists and 2.7 steals are great, but Davis so trumps him in boards and 3s, he's actually more valuable. Again, I was surprised, too. Steve Nash, by the way, is the No. 4 player in fantasy. Three of the four best players in fantasy this season are West point guards.
• See the full Karabell blog