Domenic Centofanti/Getty Images
Can You Dig It? Five Things To Know About The Shaq Deal

PHOENIX -- Shaquille O'Neal's introductory news conference as a member of the Phoenix Suns -- you'll still probably need to reread that line a few times to believe it -- isn't until Thursday morning.
Yet we can fill the void by passing along Five Things You Don't Know about the Suns' stunning trade for Shaq, all of which were gleaned here Wednesday when this gargantuan transaction was officially completed … and completely overshadowed one of the greatest games you could ever wish to see. (Or so we're told).
1. The Suns pulled the trigger because of Steve Nash far more than Pau Gasol.
Nash turns 34 on Thursday. There will be no alarm bells sounded in Phoenix to commemorate the occasion, because Nash has hushed pretty much every doubt about his durability by playing at an MVP level for the past three-plus seasons, but his bosses are realistic. They know that a team relying heavily on Nash and Grant Hill will have only a couple more cracks at the championship that has eluded this franchise for four decades.
"We've got a few years here," Suns president Steve Kerr acknowledged, "where we can really make a push."
So …
The trade might look like a direct reaction to the Lakers' grand theft of Gasol from Memphis, but the Suns knew long before that heist that defending the post and surrendering second-chance points have been their downfalls in the playoffs. This decision was made largely because Phoenix decided that it could no longer wait to change a locker-room dynamic that Nash has openly questioned at times, especially when a morale-booster like Shaq suddenly became available.
Nash spoke in glowing terms of Shawn Marion after the deal was announced -- "I'm a big fan of Shawn's," he said -- and has never specifically mentioned names when lamenting the Suns' occasional dips in togetherness and effort. But knowledgeable sources say that the Suns' power brokers, feeding off Nash's growing frustration and exasperation, lost confidence in the group's ability to win it all without some sort of shake-up. They stopped believing that the Suns' pre-Shaq core could overcome the behind-the-scenes negativity that typically involved either Marion or Amare Stoudemire without trading one of them away.
Now that it's finally happened? The giddy Suns instantly gave off a vibe Wednesday that O'Neal's impact on team morale might be as big as anything he'll provide on the floor, even in the unlikely event he winds up being the interior defensive force they've dreamed about. It's the sort of Shaq Effect that never would have been possible had Marion been moved in a more conservative swap for, say, Utah's Andrei Kirilenko, as the Suns and Jazz discussed early in the season.
"I just think we need a little lift," Nash conceded. "We probably can improve our chemistry. … At some point I think there needs to be a healthy balance between being excited and having a spirit about us and at the same time holding each other accountable. I don't think that balance, for the most part, has been [there]."
Said Kerr: "[O'Neal's] presence is magnetic and that is a big part of it."
2. Mike D'Antoni was the first Suns voter to push for the deal … and Kerr was actually the last one to sign off.
This will be recorded as Kerr's first major move since assuming control of the Suns' front office and maybe the biggest trade he'll ever make. He knows he's "on the line" with how it turns out.
"If it works, I'm a genius," Kerr said. "If it doesn't, I'm a moron, I guess."
Maybe that's why Kerr was the hardest to convince.
It was easy to assume that this deal was somewhat forced on D'Antoni; welcoming Shaq could be saying goodbye to a fair bit of the speed and abandon that has defined the Suns since D'Antoni and Nash hooked up for the 2004-05 season. But Phoenix privately insists -- and Kerr alluded to it publicly as well -- that D'Antoni was actually ready to make the trade as soon as it was presented to him.
It appears that Kerr was the apprehensive one, having closely followed the loud skepticism all season about how much O'Neal has left. That's why he insisted that O'Neal subject himself to a lengthy evaluation Wednesday afternoon with the Suns' doctors and training staff before the deal went through, during which those experts convinced Kerr that they can indeed nurse Shaq back to a healthy place like they've maintained with Nash and Hill.
"I wasn't going to do this," Kerr said, "unless I felt really good about it from a medical standpoint."
Said D'Antoni: "The question mark was, 'Does he have any gas left in the tank?' And I think you guys have debated it now for 24 hours and come up with 'no.' And I think you're wrong.
"I do find it kind of funny … first we can't win without a big man and once we get a big man, now we can't win with a big man. I do think he's not going to come to Phoenix and lay an egg."
3. Financial concerns? The Suns will make money from Shaq's arrival.
Suns fans are still smarting from what happened in the summer, when Phoenix gave Seattle two future first-round picks to convince the Sonics to take on the salary of its only dependable defender in the post -- Kurt Thomas -- in order to reduce the club's luxury-tax bill.
Memories of that move are a big reason so many executives and pundits around the league reacted with such skepticism when the rumblings of a Shaq-to-Phoenix deal began to spread Tuesday night. It was a reflex reaction to presume that Suns owner Robert Sarver would never sanction the acquisition of a thirtysomething 7-footer on the decline with two years and $40 million left on his contract after this season.
Yet we were all wrong. For starters, Sarver revealed that the talks between the teams originated at ownership level, stemming from conversations with Miami's Micky Arison.
There's also the not-so-small matter of the likely spike in the Suns' merchandise sales and TV ratings that comes with adding a player of Shaq's stature. Combine that with the fact that extending Marion's contract or trading him for someone else with a longer contract -- along with keeping Marcus Banks -- would have eventually cost Phoenix more than bringing O'Neal in, and you can understand Sarver's glee.
"This is money in the bank," one rival executive suggests.
4. The Suns love that so many outsiders are down on the trade.
Or so they claim.
Kerr, in particular, couldn't wait to share the story about a meeting Wednesday with D'Antoni and other Suns staffers during which O'Neal pointed up at a nearby TV that flashed some unflattering results from an ESPN.com poll.
Kerr quoted Shaq as saying: "Seventy-one percent of people in America apparently think this is a bad deal. That makes me angry. And I play better when I'm angry."
D'Antoni drew laughs with his follow-up wish that the poll figure soon increases to 80 percent, but you can understand why he was only half-kidding. O'Neal has missed 14 games already this season with a hip problem that is likely to delay his debut in a Suns uniform until next week at the earliest. As he intimated with his "egg" comment above, D'Antoni and Co. are naturally hoping that the scores of naysayers nationwide will help get Shaq into I'll-Show-You condition.
The Suns are already convinced that O'Neal will be a mentor to Stoudemire, whom he's known since Amare was 13. They know Shaq would dearly love to break his tie with Tim Duncan and win a fifth ring … and just getting out of the West would establish O'Neal as the first player in league history to take four different teams to the NBA Finals.
But they also know that Shaq has yet to prove to scores of doubters that he can find an offensive niche with a team that loves to shoot in seven seconds or less … or that he can stay out of foul trouble when the Suns absorb their usual punishment on guard penetrations … or that his body will cooperate with his 36th birthday just a month away.
"If you look at all the areas we're not good at, [O'Neal] adds a lot to those areas," Nash said. "He's an experienced champion. He's got the size we've always lacked. He can defend the post and rebound and block shots.
"I think, deep down, there's probably [Suns players] who have doubts. All of us are trying to figure this out together. … [But] I just think that [O'Neal is] a winner. I think he's got a lot of pride and I think he likes to show people what he can [still] do."
5. The Suns will nonetheless miss Marion more than they think.
My original reason for coming to Phoenix this week was seeing Chris Paul and Nash duel. I was barely able to take in a dribble Wednesday night because of all the Shaq-related hoopla, but it didn't escape my attention that the Suns tied an unwanted club record with only one steal in their epic 132-130 loss to New Orleans in double overtime.
That's one steal in 58 minutes.
Maybe Marion was indeed a handful in the locker room because of his persistent belief that he was underappreciated and underpublicized. Maybe rooting out his unhappiness and the unneeded tension it created will be addition by subtraction for the Suns, even if it takes Shaq some time to make an on-court impact.
Yet what you can't deny is that Marion was the only Sun who could guard all five positions … and that the Suns don't appear to have a perimeter defender who can comfortably replace him alongside Raja Bell … and that Phoenix seemingly had some pretty decent chemistry where it matters most. On the floor.
So we're about to find out if Marion is as critical to the Suns' success as he's been claiming (in vain, he'd argue) for all these years.
"Shawn is fantastic [defensively with] the different players he can cover and the amount of court he can cover with his quickness and athleticism," Nash said.
"There's no doubt that the jury's out. We'll see how this works. But it's pretty tough to pass up on a player like Shaq."
Marc Stein is the senior NBA writer for ESPN.com. To e-mail him, click here.
Dimes Past:
January 25
|
26-27
|
28
|
29
|
30
|
31
|
February 1
|
2-3
|
4
|
5
|
6
Full Circle With Kobe And Shaq

By John Hollinger | ESPN.com

ATLANTA -- Phil Jackson just couldn't resist. The coach known for his digs at rivals was given a hanging curveball out over the plate when asked about Shaquille O'Neal's role with the Phoenix Suns.
"Taking the ball out of bounds and waiting for the other team to get back," he said.
Unfortunately, it was his Lakers who looked Shaq-like in Atlanta on Wednesday -- they had only nine fast-break points, gave up 50 points in the paint and shot 10-for-16 from the line in a 98-95 defeat.
That wasn't without reason -- the club got into town at 4 a.m. after Tuesday night's win in New Jersey, and with the adrenaline from the Pau Gasol trade worn off and both Kobe Bryant (finger) and Gasol (back) hurting, it was a classic trap game.
Jackson said Bryant's dislocated finger looked fine at the shootaround earlier in the day, but that may have been a smokescreen -- it obviously hindered him. Bryant went over 22 minutes without scoring at one point and had only four points in the final three quarters. He also committed a crucial turnover with eight seconds left to help seal L.A.'s fate.
Afterward, Bryant admitted as much and talked about trying to get his finger "at least 70 percent for Friday" -- an ominous sign that he's far from full strength right now. He had two fingers taped together and was trying to play with the other three.
"It's just a different feel on the ball. It changes how you handle, changes how you shoot," he said. And on that fateful last-second play, "It just bounced out of my hands."
Gasol wasn't any better with 12 points on 5-of-12 shooting, including several misfires from close range. But at least we unearthed one side benefit to the trade -- Kobe speaks some Spanish and said he's already used it with Gasol on the court.
And although the Hawks are hardly mighty, they're a rough group to face with road-weary legs -- as Dallas, Phoenix, New Orleans, Denver and Utah already have discovered. Al Horford grabbed 20 rebounds -- the first Hawk to hit that plateau since Alan Henderson in 2002 -- and Tyronn Lue relived the glory days by scoring 16 points on old Laker teammate Derek Fisher to help Atlanta rally from an early deficit.
Yet the game was only the second-biggest story of the night. Everyone wanted to know what the former teammates thought of Shaq's new digs in Phoenix.
Jackson, in a more serious moment, discounted the idea that Shaq was unmotivated in Miami, and consequently that a move to Phoenix would suddenly spur him to regain his former glory.
"There's diminishing returns for a guy who's 7-foot-1, 300-whatever [pounds]," Jackson said. "When you have multiple problems in your legs -- feet, knees, hips -- that's the stability that holds up the frame. It's real difficult. And I knew he'll get in better shape as the year goes on, but ... all the tall guys have back [and] stability issues that go with having to maintain their foundation."
But, Jackson added, "He certainly can be a presence to contend with down there."
Lue said O'Neal's explosiveness was gone but the rest was still there. "He was so agile and explosive. But people can't be mad at him about that [decline]" Lue said. "He's 35 years old and he's been beaten up his whole career. It catches up to you."
And as for that other big trade this week, L.A. wasn't about to let a loss deter their joy at getting Gasol. Bryant again said his prayers were answered, while forward Lamar Odom described him as, "a 7-foot 2-guard. He can shoot the ball, handles well and makes plays for others."
"He's gonna make everybody's job easier," surmised Fisher. But this is still Kobe's team. So on a night on which his injury made it difficult for him to score, it's no surprise that L.A. fell a little short. The difference is that once he's healthy, he has more help than he's ever had in his post-Shaq career.
And, as Jackson hinted before the game, that may be why Shaq is now a Sun.

Wednesday's Best

Chris Paul, Hornets guard
-- In a thrilling 132-130 double-OT win over the Suns, CP3 goes for 42 points, nine assists and eight steals, including a big swipe on Steve Nash late in the game.
---

Wednesday's Worst

Sam Cassell, Clippers guard:
Why was Sam I Am going all Hong Kong Phooey on Rajon Rondo's dome, getting his Am-ness ejected? Perhaps because the C's point guard was scorching him for 12 points in the second quarter. Maybe Sam doesn't want to be a Celtic after all.
---
Quote of the Night

"Me and Shawn definitely got along. For all you guys who said me and Shawn didn't get along, we definitely got along. Shawn's a friend of mine and always will be."
-- Suns forward Amare Stoudemire,
who has been mentioned in tandem with the since-traded Shawn Marion at the heart of the Suns' chemistry problems.
• See Wednesday's daily leaders
-- Andrew Ayres

By Andrew Ayres
ESPN.com

There were three triple-doubles of note on Wednesday -- two real ones and one Tainted Triple -- the kind that includes turnovers.
In his 729th career NBA game, Dallas forward Dirk Nowitzki had 29 points, 12 assists and 10 rebounds in a 107-96 win over the Bucks for his first career triple-double. And the 499th career game for Seattle's Earl Watson brought a first triple-double: 23 points, 10 rebounds and 10 assists, helping the Sonics to a 105-92 win over Sacramento.
Then there's Steve Nash, whose 32 points and 12 assists were marred by 10 turnovers, many of which were caused by the D and swipes of Chris Paul.
Of note, Atlanta's Josh Smith has been the just-miss triple-double performer of late. He's fallen either one or two assists/rebounds/blocks short of a triple-double in three of his past four games. He had 17 points, nine rebounds and nine assists in Wednesday's 98-95 win over the Lakers.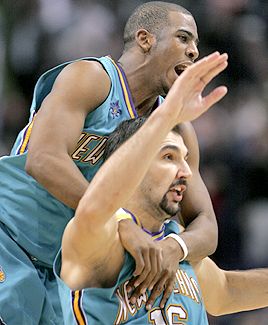 AP Photo/Matt York
After New Orleans rode Chris Paul, the Hornets' point guard gets a ride on Peja Stojakovic, who sank the game-winner in a double-OT win over the Suns.
By John Hollinger
ESPN.com

Shaq may be the player who is least capable of thriving in the Suns' system. Run the break? No, thank you. Set a high screen and dive to the cup? Maybe 10 years ago. Space the floor for 3s? Please.
He's 35 and out of shape; at the moment he's also hurt. Even when healthy, he's had difficulty staying out of foul trouble long enough to make an impact. Although I'll grant that Shaq can still be an offensive force -- even with his struggles this year, his player efficiency rating (PER) is a very solid 18.17 -- he's toasted regularly on defense. And if you thought Marion complained about not getting shots, you ain't heard nothing yet.
Even if you subscribe to the idea that Shawn Marion had to go -- there have been mutterings about his attitude for quite a while -- you can't seriously tell me this was the best deal on the table.
Although matching his $17 million contract is difficult, the fact that there's only a year and a half left on it means there are partners out there. Just thinking out loud, for instance, you'd think New Jersey would have taken Marion in a heartbeat for Vince Carter or Richard Jefferson, and the Andrei Kirilenko deal that was so heavily discussed before the season also would seem preferable.
Marion, by the way, hadn't let his dissatisfaction and his own offseason trade demand affect his play. His 20.25 PER nearly matches last season's 20.87, and he's made up for a reduction in shots by cutting his turnovers and increasing his assists.
But despite his performance, they're trading him for an older, less effective player, and one who could not be more of a square peg in a round hole in their system.
And get this -- the deal will worsen their cap situation, too. Shaq is on the books for two years after this one at $20 million a pop, whereas Marion has only one year left at less money and may opt out after this season. So in addition to messing up their own team, the Suns basically will be handing Pat Riley and the Heat a big fat Get Out of Jail Free card.
In short, this deal feels like one of those movie scenes in which the lead character has a plan and says, "It's crazy ... but it just might work!"
I'm not sure about the working part, but it's definitely crazy.
A few comments of the thousands offered in the ESPN Conversation on the Shaq Deal ...
On Pat Riley suggesting Dwyane Wade-Shawn Marion paring is reminiscent of Michael Jordan-Scottie Pippen:
Dwyane Wade is no Michael Jordan. MJ would never, ever, EVER let his team do as poorly as Wade has while he's been on the floor. Wade is an awesome player with a lot of tools at his disposal, but his style of play is going to leave him a shell of his former self in a short amount of time. I seriously hope that he tones down his whole charging-at-the-basket routine because he's a very promising, albeit turnover-prone, SG.
Adding Marion slightly improves the Heat, but honestly Marion isn't close to being as good as Pippen, and he sure as hell isn't going to want to play second fiddle to Wade despite the fact that he's a third scoring option at best. I'm not sure if this trade has made the Heat worse or not, but it certainly won't help a whole lot and saying Marion/Wade is close to Jordan/Pippen before they've even played together is ridiculous. I realize you said 'are we getting closer', but the answer is a resounding no. This trade will likely enable the Heat to clear out cap space once Marion's contract expires or he opts out of it. -- yowhatupg69
---
This means trouble for the Suns. Marion is the kind of player you don't miss until he's gone. Marion is a huge piece of the Suns' motor and without him they are going to struggle in my opinion. I am a Mavs fan, so all I can say is this works well if the Mavs meet the Suns in the playoffs this year.
Marion usually gives Dirk problems and now if you're the Suns, who's gonna guard Dirk? You could also say who's gonna guard Shaq, but Shaq is worn down and clearly no longer the dominant player he used to be. Also, he very well could get hurt and spend the playoffs on the bench. Ultimately I think he'll only hurt the Suns if they decide to slow it down and just feed the ball in to Shaq... I'm still in shock that this trade actually happened. I would have expected Mark Cuban to do something dumb like this but not the Suns. -- jmacattack143