Rocky Widner/NBAE via Getty Images
Back To The Starting Line For Webber

OAKLAND -- Where "He's Baaaaack" happens, according to the scoreboard at Oracle Arena.
Chris Webber returned to Golden State Warriors on Thursday night. And that's pretty much all you can say about it. He returned.
He played about one-fourth of the game and made a minimal impact. He matched the old Golden State jersey number the Warriors gave him with four points. He had two assists and one rebound while playing 12½ minutes in Golden State's 114-108 loss to a Chicago Bulls team without three of its top four scorers.
"I wouldn't look at Chris Webber's numbers," Warriors coach Don Nelson had warned beforehand. "I don't think they're going to show you anything."
True, Webber's numbers don't show how Monta Ellis missed a layup after Webber gave him a nice pass from the high post. Webber's numbers don't show how the Warriors missed their first seven 3-pointers and 21 of 28 3-pointers overall. They don't reflect Chicago's Chris Duhon breaking off a career-high 34 points. They don't show how Webber's one-on-one defense wasn't really put to the test because he guarded Ben Wallace, who isn't exactly Chicago's first option, or how Webber was slow to come off screens.
But it comes back to that one rebound. That's a big Warriors weakness. They've been outrebounded in 33 of their 49 games this season, and Webber will have to show he can help in that department.
Webber said his conditioning felt fine after offseason workouts and what Nelson called a "five-day minicamp" since Golden State last played on Feb. 1. And he said to wait for judgment.
"Give it four games, then we'll see what happens," Webber said.
So Webber's numbers didn't tell the story and his first game didn't tell the story.
Webber coming back to Nelson and the Warriors after everything that went down between them 14 years ago is a remarkable tale in itself. But the old stories had been rehashed enough times since Webber signed on Jan. 29.
Signing Webber was their attempt to get better, but that was quickly surpassed both in impact and shock value by the Lakers' acquisition of Pau Gasol and the Suns' trade for Shaquille O'Neal.
The pregame video concluded with a clip from Webber's rookie year: his behind-the-back move and dunk over Charles Barkley. Webber drew a large cheer from the crowd when he was introduced, but you could hear a few boos emanating from the vocal cords of longtime fans who recall how Webber's exodus caused a 12-year playoff drought.
Nelson played Webber in pretty short stints at the start of each half and then let him sit the rest of the way. He wanted to start Webber because he thought Webber would be looser than if he came off the bench. He also hoped for an emotional boost.
"I thought it would be a great opportunity for the team to come out and really show some excitement and exuberance," Nelson said. "But it didn't."
Kelenna Azubuike never got off the bench, and Nelson said he might stick with this rotation for a while. Perhaps they want to showcase Mickael Pietrus for trade purposes.
Initially, this wasn't enough. Webber missed his first shot attempt; when Baron Davis passed the ball ahead to him, he took off awkwardly, didn't elevate and missed a layup. He missed a jump shot and then a hook shot before knocking down back-to-back jumpers from the free-throw line in the third quarter.
Webber said you'll see him move faster than he did in Detroit last season because the Warriors play at a faster tempo.
"We're just trying to be a better team," Nelson said. "I don't know that we were good enough to make the playoffs the way we were. I thought we needed to do something. We did do something. I still don't know if we're a playoff team. But it will be interesting to watch us now."
They already were interesting, a fun, freewheeling carnival. Now they're intriguing, a chemistry experiment. And, perhaps, a test case for the Phoenix Suns.
J.A. Adande joined ESPN.com as an NBA columnist in August 2007 after 10 years with the Los Angeles Times. Click here to e-mail J.A.
Dimes Past:
January 25
|
26-27
|
28
|
29
|
30
|
31
|
February 1
|
2-3
|
4
|
5
|
6
|
7

Charles (San Jose): Chad, why couldn't the Suns get at least a draft pick in the Shaq deal? Is Shawn Marion really worth that little? Marcus Banks' contract isn't that bad.
Chad Ford:
Yeah ... a lot of people are stunned by why Phoenix got in return for Marion. Remember, they were talking about a Marion for
Kevin Garnett
deal this summer. It seems like the obsession with trading Banks (a guy they signed just a year and a half ago) played a role. Few teams were willing to take on his contract. And I think there was an obsession with trading Marion. The chemistry wasn't right in the locker room. Other players were pointing the finger at Marion and i don't think there's any question that
Amare Stoudemire
and
Steve Nash
wanted this deal to happen. However, I think sometimes the grass isn't always greener. Phoenix had a good thing going on and I think they blew it. I don't think they had to trade Marion. They just convinced themselves that they did and in the process lowered his value in their own mind to the point that they thought getting Shaq (a guy Miami was considering buying out) was equal value in return.
Mike, Miami:
Hi Chad, In this, the most improbable of seasons, I wouldn't be shocked to see Miami make the playoffs! What do you think?
Chad Ford:
I think the Heat are thrilled. They got an All-Star that's six years younger than Shaq. I think he and Dwyane Wade will be a formidable combination. However, the Heat have won nine games all year. Even if they go on a tear in the second half of the season, the playoffs look out of reach. Which makes you wonder ... was Marion worth giving up a shot at the No. 1 pick in the draft. My guess is the Heat probably finish with a draft pick in the 7 to 10 range. That puts them out of contention for one of the elite players in the draft.
• See the full Chad Ford chat
Fantasy World Not Kind To Shaq

By Eric Karabell | ESPN Fantasy Games

Let's just say I have doubts this is going to work out the way Phoenix wants it to. I see Shaquille O'Neal not fitting in with the team's running style and missing plenty of games as the Suns realize the only games that really matter are in the playoffs. Well, the games that matter to fantasy owners are in the regular season.
Why push Shaq too hard now? Bottom line is, if you think O'Neal is going to greatly increase his current pedestrian statistics, just because he goes to a contending, running team, I think you're missing the point. O'Neal can have big games, but he's 35 and not in good enough shape to stay healthy and be a consistent producer. Hey, I wouldn't laugh at someone who takes the chance and signs O'Neal to their fantasy hoops team, I just personally wouldn't be dropping any of these 25 centers -- yes, they are all center-eligible -- to do it
• Yao to Curry: See the 25 centers to keep over Shaq

Thursday's Best

Chris Duhon, Bulls guard
-- Who needs Ben and Kirk? A career-high 34 points and nine assists leads the Bulls to a 114-108 win over the Warriors.
---

Thursday's Worst

Daequan Cook, Heat guard:
The rookie misses all six of his shots in 14 minutes of action in a 101-84 loss to the Sixers. That's 21 losses in 22 games for Miami. Help us, Marcus Banks.
---
Quote of the Night

"He has been playing a style out there where there is a shot every seven seconds. Here, he's gonna think we're all playing in concrete boots. He's gonna have to adjust to us a little bit, and we'll have to adjust the rest of the year."
-- Heat coach Pat Riley,
on Shawn Marion, who is expected to make his Miami debut on Sunday against the Lakers.
• See Thursday's daily leaders
-- Andrew Ayres

By Vince Masi
ESPN Research

A reason why the Suns may have acquired Shaquille O'Neal is they are sick and tired of big men just eating them up this season. With a minimum of two games played against the Suns this season, four players are averaging at least 30.0 PPG against the Suns, two of which are players who play center or forward.
Notable Big Men vs Suns This Season

Player
PPG vs Suns
Season PPG
Al Jefferson
32.7
21.5
Dwight Howard
31.5
21.8
Tim Duncan
26.0
19.7
Andrew Bogut
24.0
13.7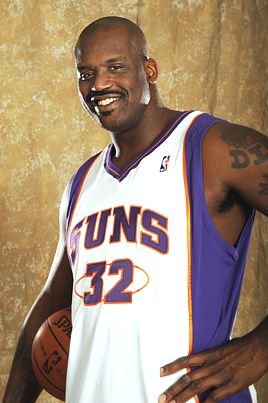 Andrew D. Bernstein/NBAE via Getty Images
Shaquille O'Neal is happy to be in Phoenix, but mad at those who doubt him. "When I'm upset, I'm known to do certain things -- like win championships."
Suns coach Mike D'Antoni told ESPN Radio's Mike Greenberg and Mike Golic that he thinks Shaq's experience will allow him to fit into any situation. The Suns have embraced the change and consider Shaq another weapon. Phoenix will ease Shaq into his playing time. O'Neal is excited and enthusiastic, saying he has gas left in the tank. They hope a change of scenery will bring back the old Shaq.
Talking With D'Antoni