Photo by Al Bello/Getty Images
All Over For Isiah In Madison Square Garden? Might Be

NEW YORK -- This might have been it. This might have been Isiah Thomas' last game as head coach of the New York Knicks.
Before we go any further, let's go back and emphasize the word
might.
Having covered Madison Square Garden chairman James Dolan and his New York Knickerbockers up close and personal for as long as we have, which is more than a decade, we have learned one universal truth: If it involves Dolan and the Knicks, err on the side of caution and choose illogic over logic. So with that specific caveat dispensed, we'll go back to our original thought and explain just why we grew inclined to believe over the course of a strange, illogical Monday -- even by Knicks' standards -- why the end seems to be at hand for the architect and head coach of one of the NBA's charter franchises.
Reason No. 1:
Dolan attended the Knicks' 100-88 loss to the
New Orleans Hornets
along with Garden president Steve Mills and vice president of communications Barry Watkins. Mills did not sit in his usual seat next to Dolan during the game, but he did accompany Dolan on a postgame visit to the coach's office, the threesome staying for only a few brief moments before walking stonefaced past reporters as they exited the building. Asked during the game whether Dolan had any plans to speak to the media anytime soon, Watkins text-messaged back: "We're taking things one day at a time."
Reason No. 2:
The
Stephon Marbury
situation. Thomas told reporters at the team's morning shootaround that Marbury would be attending the game Monday night and would speak with reporters. When a Marbury-related question was posed to Thomas 90 minutes prior to tipoff, he deflected it by saying "you can ask him yourself." When this reporter followed up by pointing out that there was one Marbury-related question that only Thomas himself could answer -- whether Thomas had placed any restriction on Marbury from attending home games or speaking to the media -- Thomas stood up before the question was finished being asked and left the room. Team beat writers said it was the fourth time in his past seven media availability sessions that Thomas had ended things by abruptly walking away. Marbury never showed up. Perhaps he had a reason, or perhaps the Knicks were creating a diversion and/or spinning the blame Marbury's way by making him look like a no-show following reports late last week -- which still have not been directly addressed in any kind of detail by the Knicks -- that Marbury had been told not to attend home games. A source close to the situation confirmed to ESPN.com that Marbury was indeed told to stay away, although the Knicks reversed course Monday and told Marbury he was free to attend. Thomas would not answer afterward when asked if Marbury would be fined or suspended for missing the game.
Reason No. 3
: Dolan's ego, and the Knicks' desire to keep their owner from being ridiculed. We're getting close to the one-year anniversary (March 11) of Dolan rewarding Thomas with a multi-year contract extension, which means we're close to several days worth of columns skewering Dolan's dubious decision in the New York media. But if Thomas exits the picture in the next day or two, the topic then changes to "Well, at least Dolan finally came to his senses." In a corporate culture at Madison Square Garden where spinning the media coverage is of paramount importance, this reason may outweigh the others all by itself.
Reason No. 4:
The horror show on the court. The Knicks only trailed New Orleans by four points with 1:08 left, yet by the time a timeout was called just 32 seconds later, an alley-oop dunk (
Chris Paul
to
Tyson Chandler
) and a three-point play by Paul (who was not being defended by the one player on the Knicks quick enough to defend him,
Nate Robinson
, because Thomas had removed Robinson with 1:33 left) had made it a nine-point game, sending the crowd streaming toward the exits.
Morris Peterson
added a 3-pointer with 12 seconds left for the final margin. The loss dropped New York a season-high 24 games under .500, and the Mendoza line -- matching Larry Brown's 23 wins when he was coach of the Knicks two years ago -- might become increasingly difficult to reach with each passing loss. So there you have it, four reasons to back up the premise that this
might
have been Isiah's last game with the Knicks. That doesn't mean you should necessarily look for him to be fired Tuesday, because it would be just like Dolan to leave everyone twisting in the wind for another day and drop the axe sometime late in the afternoon Wednesday. That, after all, was the way things went down four years ago when Dolan got rid of Don Chaney, who coached the Knicks at the morning shootaround that fateful day but found out he was getting fired as he wrote the game plan on the greaseboard two hours prior to tipoff. Legend has it that security guards escorted Chaney from the building that evening, although the Knicks have always insisted that's not how it happened. Exactly how and exactly when the end comes for Thomas -- and whether he gets the security guard escort -- will remain a mystery for the moment, but plenty of signs were there Monday pointing to an end that could be upon us at any hour, any day.
Chris Sheridan covers the NBA for ESPN Insider. To e-mail Chris, click here.
Dimes Past: February 20 | 21 | 22 | 23-24 | 24 | 25 | 26 | 27 | 28 | 29 | March 1-2 | 2 | 3

Here's how the ESPN Conversation is rolling on about Sam Cassell, who is expected to sign with the Celtics on Tuesday.
"The key to this transaction is point guard depth. If the C's were to lose Rajon Rondo to a long-term injury this season they'd be completely screwed. I can't overstate that enough. Gabe Pruitt and Eddie House would be our PG's.... disastrous. So say what you want about Cassell being old, washed-up, not able to make a major impact, whatever. His major contribution to this team is simply his presence, and it just so happens that he's played with Kevin Garnett, and Ray Allen before. So yes, this is a HUGE move, and a GREAT move for the Celtics no matter how you look at it." -- mack8432
"Looking deep into the playoffs, as great as Rondo is at defending the wing, Chauncey Billups will eat him alive when he posts him up. Cassell is still big enough and wily enough to defend Billups reasonably well in the post. If not, he'll annoy him enough and allow Boston's great help rotations to react when needed. It's not like Cassell is going to demand 35 minutes a game, but his play may dictate him a few more minutes, especially if he gets hot from the floor. " -- Inisfree19
"Cassell hasn't won a ring since 1995. I was a senior in high school. I'm 31 now. I'm talking about recent history. If Cassell's championship experience was worth something don't you think he would have won another by now?" -- DrewUnga
No. 1 Pick? Sorry, Hold The Mayo

By Chad Ford | ESPN.com
USC guard O.J. Mayo was ranked No. 1 on our Big Board in July. Some of that had to do with hype, but most of it had to do with Mayo's game. He already had the body and athleticism of an NBA player. He was an excellent scorer and scouts said they thought he would be a full-time point guard in the pros.
Mayo has proved he has the ability to score at USC. But the point guard thing hasn't materialized. He's looked fairly one-dimensional this season -- his assist and rebound totals are underwhelming. Some of that isn't Mayo's fault as he's asked to play off the ball and carry the team on offense. But scouts looking for something more than a shoot-first 2-guard have been disappointed. Some are calling Mayo the next Jerry Stackhouse -- a guy who never met a shot he didn't like or a defensive set he did like.
Scouts are being too critical in my mind. The backlash against Mayo has been too severe given his numbers. As a freshman, he's averaging more than 20 points per game in one of the toughest conferences in college basketball and shooting a respectable percentage from the field. His assist-to-turnover ratio isn't pretty & but he's been asked to do a lot.
The fact that he played Derrick Rose to a draw and outplayed Arizona's Jerryd Bayless stands out. But the truth is that if scouts are skeptical, then he's got to prove himself during workouts.
Right now he's ranked No. 9 on our draft board. But I think teams like the Knicks and Clippers will take a long look at him earlier in the draft.

MONDAY'S BEST
Deron Williams, Jazz guard:
Had 16 assists at halftime, finishing with 20 dimes overall in the 116-110 win over the visiting Mavs. His 17 points helped keep the Jazz to the NBA's best home record (26-3).
---

MONDAY'S WORST

Clippers rookie Al Thornton's grip
-- The good news was Thornton building on strong performances with 20 points for the Clippers. But when you complete the double-double with 10 turnovers in a 106-80 loss to Philly, that's bad news.
---
QUOTE OF THE NIGHT

"I kind of tried to grab him, and unfortunately grabbed him around the neck. Things went so fast, I didn't mean to grab the neck, but I just tried to hold him so he doesn't score. I happened to grab his neck and it was a bad fall."
-- Mavs forward Dirk Nowitzki,
on a flagrant foul that knocked Andrei Kirilenko out of the game with a bruised right hip.
• See Monday's daily leaders
-- Andrew Ayres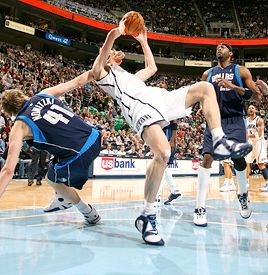 David Liam Kyle/Getty Contributor
Dirk Nowitzki delivers a foul on Andrei Kirilenko that sent the Jazz forward to the hospital for X-rays, which showed no break in Kirilenko's right hip.

Mike Dunleavy scored 36 points for the second consecutive game, leading the Pacers to a 128-106 win over the Bucks. It was Dunleavy's sixth game of 30 or more points this season, after reaching the 30-point mark only once in 399 previous NBA games.
Incidentally, only three other players in the Pacers' NBA history topped the 35-point mark in consecutive games: Billy Knight (three times), Reggie Miller (1990), and Jalen Rose (2000).

By Andrew Ayres
ESPN.com
Rockets center Dikembe Mutombo has filled in for the injured Yao Ming with great early success, playing a key role in three wins. Mutombo, 41, returns to action when Houston plays host to Indiana on Wednesday, with the Rockets aiming for a 16th straight win. Some notable figures from his career:
• He was once a scorer, averaging a career-high 16.6 ppg in his rookie year for the 1991-92 Nuggets coached by Paul Westhead.
• Averaged a career-best 4.5 blocks per game for the 1995-96 Nuggets.
• Averaged 14.1 rpg in 1999-2000 season with Atlanta Hawks.
• At age 31, recorded his career-best player efficiency rating (PER) with the Hawks in 1997-98 (19.8)
• Has taken two 3-point shots in his career, missing both. (Maybe Manute Bol can show him how it's done.)
• On March 3, 2007, while filling in for an injured Yao Ming, pulled down 22 rebounds in 33 minutes of action in a win over the Nuggets.
• Best of all, the hospital he helped create in his native Congo.
Mutombo In For Yao

G
MPG
BPG
RPG
PPG
3
21.7
3.7
8.0
3.3