Photo by Chris Graythen/Getty Images
Twenty Story: The Worst Win, The Best Of Times

ATLANTA -- Part of being a great team is the ability to win when you're not at your best.
And Wednesday night, the Rockets were most definitely not at their best. Houston trailed by double digits five minutes into the game, scored a season-low 32 points in the first half, and shot 33 percent from the field and 65 percent from the free-throw line. Yet for the 20th time in a row, they won, beating Atlanta 83-75. I'll repeat for emphasis:
the 20th time in a row
. The Rockets' improbable winning streak is tied for the second-longest in NBA history, trailing only the 1971-72 Lakers' 33 straight for the all-time record (the 1970-71 Milwaukee Bucks also won 20 straight). As far as winning streaks go, this one could hardly have been more unexpected. Remember, the Rockets were 15-16 on New Year's Day; now they're 44-20. They've won eight straight without All-Star center
Yao Ming
, whose absence was expected by many to submarine their playoff hopes. And for the most part, the wins have not been lucky one-point escapes but a series of impressive blowouts. Even on a rough night, Houston was in control by the end. In fact, the Rockets narrowly missed out on an NBA record when Atlanta's
Marvin Williams
dunked in the final seconds, costing the Rockets an 11th straight win by double digits. Nonetheless, there's no doubt this victory was the ugliest of the 20. But beauty is in the eye of the beholder, and afterward, the Rockets celebrated their ability to gut out a win when they were so clearly off their game. "It wasn't very pretty, maybe the ugliest thing we've done," said Rockets coach Rick Adelman. "But it might have been the best one, the way we fought through it." Maybe that's why the scene in Houston's locker room was so light. They knew they dodged a bullet, so this was a different kind of win than their string of recent romps. Moreover, the win combined with San Antonio's loss in New Orleans put the Rockets into a tie for first place in the Southwest Division. "The Rockets have won 20 games straight,"
Dikembe Mutombo
sang to nobody in particular. "All the critics can kiss my black a--."
Tracy McGrady
poked fun at his rough shooting night, saying, "I gave myself a chance" (by hoisting 28 shots -- he made only 10). And Adelman suggested the off night was Mutombo's fault -- he had hosted the team at his Atlanta home the night before. All joking aside, this win has to offer at least a little worry for Houston, as the team's ability to score against tough opponents remains in question without Yao Ming as a threat on the blocks. "We don't have a low-post presence anywhere," said Adelman before the game. "Trust me, not having that big fella to throw the ball into when you need it is a big item." The Rockets hadn't felt Yao's absence while the jumpers were falling, especially since several of the recent wins came against the league's lesser teams. But with McGrady struggling for a half and
Rafer Alston
mired in a 3-for-18 brickfest, they had nowhere to turn. They could still survive against a team like Atlanta, but when facing the likes of the Lakers or Celtics -- as they do Sunday and Tuesday -- they'll need to be much sharper. That's especially true since rookie revelation
Carl Landry
remains out with a sore knee and may not be ready for Sunday's showdown against the Lakers, who lead the Rockets and Spurs by one game for the best record in the West. Adelman said he couldn't offer a timetable but that they didn't want to rush him back. Not that the Rockets are looking past the next test. They host Charlotte on Friday, where they'll be seeking win No. 21, and they're already vowing to avoid a stumble in what looks to be a classic trap game. "It would be uncharacteristic of our group to even think of anything past Friday," said Rockets forward
Shane Battier
. So I'll go ahead and look past it for you, Shane. The real challenge comes afterward, as the Rockets face a five-game gauntlet that reads Lakers, Celtics, at Hornets, at Warriors, at Suns. Regardless of how well they play, I'm guessing Houston's streak doesn't reach 25. But that still will make it the second-longest in history. And between now and Friday, they have 48 hours to bask in an amazing accomplishment. Adelman said he'd won 20 in a row only once before -- when he was coaching at Chemeketa Community College in Salem, Ore. "But that's not quite the same as this," he said. "I don't think anyone imagined winning 20 in a row," said Battier of his club, which needed 37 contests to win its first 20 games. McGrady noted that the 1995-96 Bulls, who went an all-time best 72-10, were not even able to muster a 20-game win streak. The best the Jordanaires did was 18. "I think of all the great players and great teams that have been a part of this league, for me to be on this team that's accomplished 20 straight wins, it's got to be up there with the most gratifying things I've accomplished in this league," McGrady said. And perhaps it's even more gratifying to do it this way -- with a team that doesn't overwhelm with individual talent but rather has become massively more than the sum of its parts. "We have an amazing belief in each other and in our system," Battier said. "Nothing great is ever accomplished without those two things. I think it's hard for people to understand who aren't with us every day, but that's just the truth." No, we're not with the Rockets every day. But for at least two more days, the rest of us get to enjoy this utterly unexpected, magical ride.
John Hollinger writes for ESPN Insider. To e-mail him, click here.
Dimes Past: March 1-2 | 2 | 3 | 4 | 5 | 6 | 7 | 08-09 | 9 | 10 | 11 | 12
Luqe, Caracas Venezuela: Coach Yoda, who will win it all? And who's your COY right now?
David Thorpe: Still like L.A. (slightly), and COY is still open. Rick Adelman may be the fave now.
Ryan Mckinney: Do you think the Mavs got a chance to go all the way? They have a winning record against the Spurs, Rockets, Suns and Hornets over past 5 years and Jason Kidd is doing great.
David Thorpe: I do. Almost a coin flip, as I see it, with LA.
Dennis Green (Retirement): Thorpe, if you want to crown the Lakers then crown 'em!
David Thorpe: You got problems dude.
Notes: On The Road With Riles

The Associated Press
Miami Heat coach Pat Riley leaves Thursday for a three-day trip to several major college basketball tournaments, including the Big 12, where he'll see Kansas State forward Michael Beasley, the presumptive No. 1 pick assuming the freshman, as widely expected, enters this year's draft.
Riley, who earlier this week saw Indiana's Eric Gordon -- another would-be lottery pick if he leaves after one college season -- expects to be back in Miami for the Heat game with the Dallas Mavericks on Sunday evening.
Assistant coach Ron Rothstein will coach the Heat when they face the Orlando Magic on Friday night.
• Spurs forward Bruce Bowen's start was his 500th in a row, the longest streak in the NBA. His run began on Feb. 28, 2002.
• Hornets guard Chris Paul had two steals in the first quarter, giving him at least one in all 61 games in which he has played this season, a franchise record and the longest streak in the NBA.
• Hornets reserve Bonzi Wells returned from a four-game absence (bruised Achilles) and scored eight points in 16 minutes.

WEDNESDAY'S BEST
David West, Hornets forward:
After missing four games with an ankle sprain, West returns and drops 29 points and 10 rebounds in a 100-75 trouncing of the Spurs.
---
WEDNESDAY'S WORST

New York's last 366 days:
Seems like just yesterday, but it's the one-year anniversary of the Knicks' announcing coach Isiah Thomas earned a contract extension because the team had shown "evident progress." With a 91-88 win over the atrocious Heat, the Knicks improved to 23-61 since Mission: Accomplished was announced.
---
QUOTE OF THE NIGHT

"We were terrible. The score isn't reflective of the way we played -- we shouldn't have only lost this game by one point."
-- Pistons coach
Flip Saunders
, after losing 83-82 at home to the 76ers.
• See Wednesday's daily leaders
• See the current playoff matchups
-- Andrew Ayres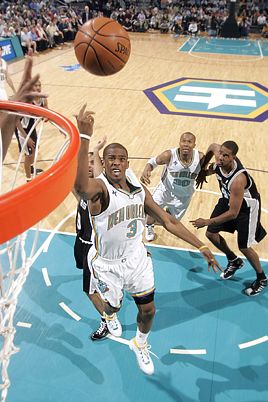 Layne Murdoch/NBAE/Getty Images
Hornets guard Chris Paul (26 points and 17 assists) helped send his team past Tony Parker and Kurt Thomas to a dominating win.
Elias Sports Bureau
The Suns scored 132 points against the Grizzlies on Tuesday, giving them 617 points in their last five games against Memphis (an average of 123.4 points per game). That's the most points by one team against another over a five-game span since the Suns had 618 over five games against the Washington Bullets from 1993 to 1995.

Mavericks guard Jason Terry tells ESPN Radio's Colin Cowherd that in a tough Western Conference, Terry isn't concerned about his team not making the playoffs. Jason says his team was young and getting Jason Kidd helps towards a championship. The future is now for Dallas. Jason thinks Kobe and LeBron should be co-MVPs.
JET's trails