Getty Images
Let's Not Forget The Other Conference's Races

It hardly merits comparison to the ever-changing landscape of the Western Conference playoff race, but there is a battle being waged between Washington, Toronto, and Philadelphia for the 5- through 7-seeds in the East that ultimately will determine the first-round opponents for Detroit, Orlando, and Cleveland.
Depending on how the final three games play out for Atlanta and Indiana, one of those teams will receive the dubious honor of being swept in the first round by the Boston Celtics. That much we know for sure. The other first-round pairings, however, are very much up in the air. One possible preview of a first-round matchup will take place on Sunday at the Palace of Auburn Hills, where the Pistons will host the Toronto Raptors.
In looking at a potential series between these two, neither team is sprinting through the finish line, but for very different reasons.

The Raptors have dealt with their usual laundry list of significant injuries as they have plodded down the path of mediocrity. With
Chris Bosh
missing over a month and
T.J. Ford
out for nearly twice that amount of time, Toronto has tried to keep its head above water without its two most important offensive players. The lack of continuity without a go-to threat to initiate the offense has forced role players to become primary scoring threats, which has taken players such as
Jamario Moon
,
Anthony Parker
,
Jose Calderon
, and
Andrea Bargnani
out of their comfort zones. The good news is that, in Ford's absence, the Raptors have discovered that Calderon is a future All-Star-caliber Eastern Conference point guard.
Detroit has a stable of All-Stars already in place, yet they have been merely average over the past two weeks as they prepare for their annual playoff run. The fact that the Pistons have sleepwalked their way to a 7-5 record over the past three weeks would be a cause of concern for most teams heading into the playoffs. Don't let the record fool you in this case. Detroit has been virtually locked in place as the No. 2 seed in the East for over a month. The Celtics distanced themselves at the top with a long winning streak in March, and the Magic haven't threatened from behind. As a result, the combination of sheer boredom and Flip Saunders giving ample rest to his core nucleus has resulted in some less-than-stellar efforts recently.

The upside for Detroit is that its bench has been given significant opportunity to show it is worthy of enormous playing time in the postseason. In the past two seasons Saunders shortened his rotation dramatically once the playoffs got under way and negated the "X" factor-type of performance that every championship team gets from an unexpected source on the path to a title. If
Chauncey Billups
,
Rasheed Wallace
, Rip Hamilton and Tayshaun Prince want another shot at a parade, they will need major contributions from
Jason Maxiell
,
Rodney Stuckey
,
Jarvis Hayes
, and
Amir Johnson
. Collectively, this is Detroit's deepest team in years.
If the Pistons and Raptors do, in fact, meet up next weekend in the first round, you can expect a tough series.
Toronto has one of the premier low-post threats in the game in Chris Bosh. He will force Rasheed Wallace to focus defensively every possession. If Bosh is able to be effective in the paint and draw early fouls on Sheed, it will hinder Detroit's ability to run its offense effectively. Without Wallace on the floor to go back at Bosh in the low post as well as provide spacing with his 3-point shooting, the Pistons could have problems.
T.J. Ford will be critical to establish Toronto's transition opportunities, which are essential to avoid long possessions against the Pistons' half-court "D." In addition, Jose Calderon's size will come in handy trying to defend Billups in late-game situations. One final "must-have" for Toronto is effective 3-point shooting. Detroit makes every possession a war for survival. That means its opponent must be efficient offensively. Open looks are rare, so they must be taken advantage of. That will put pressure on Jason Kapono, Carlos Delfino, and Anthony Parker to make the Pistons pay for double-teaming Bosh.
While I have just presented the game plan for the Raptors, carrying it out against a team with this much playoff experience and balance will be too much to expect from a group that has had virtually no postseason success. The Pistons may be cruising right now, but they have several more gears under the hood.
ESPN analyst Tim Legler is a regular contributor to the Daily Dime

By J.A. Adande
|
ESPN.com
Marcus (H-Town): MVP question: Gasol has played in a total of 24 games for the Lakers this season, and Bynum started a whopping 25 games with the two never playing together. Yet, playing through injury, Kobe has led the Lakers to 54 wins and counting. On the other hand, the Hornets have possibly been the healthiest team in the West. Why is the media so quick to give Gasol and Bynum credit for the team's success as an excuse to overlook Kobe for MVP?
J.A. Adande: Look at the records without Bynum and Gasol, though. The Lakers have basically been a .500 team. Are we making Kobe the MVP for basically being the main thrust behind a .500 team? Because if that were the criteria, I'd give it to LeBron.
Josh (Syracuse, N.Y.): A follow-up to Marcus' question. It's Kobe's time. That is the reason he should win MVP. Every year we hear 100 arbitrary arguments as to why this or that person should be MVP, so, I don't see why just giving it to Kobe makes it any different.
J.A. Adande: You can make a lot of arguments in favor of Kobe. "He's due" shouldn't be one of them. Don't give it to someone just because of what has or hasn't happened in the years before. It should be about this season. The past should factor in just as much as the upcoming playoffs. It's an award for THIS regular season.
Morgan: If the Lakers win the West, do you still give the MVP to Paul?
J.A. Adande: No. This might be the most contingency-oriented MVP ever. But it's so rare that the top spots aren't locked up by now. Two things to remember: Don't say Kobe deserved an MVP because he scored 81. That means David Thompson should have been the MVP the year he scored 70-plus. Do you really want to make that argument? And please stop forgetting the fact that Kobe played with Lamar Odom the past 2 years, not just Kwame Brown.
Spurs Put The 'D' In Defending Champs

By John Hollinger
|
ESPN.com
Earlier this week John Hollinger named his All-NBA defensive teams, and not surprisingly, the San Antonio Spurs were well represented.
It's time, once again, for the year-end awards, and there's one set of awards in particular that's extremely difficult to hand out.
I'm referring to the All-Defense team, because choosing one remains as much art as science. Despite the best efforts of numbers guys (like me) to shine some light on individual defense, there still are many dark corners.
Nonetheless, we have some numbers that can prove useful. One of my favorites is "points saved," with the idea being to compare what a player's team gave up when he was on the court (numbers from 82games.com) to what it was expected to give up based on previous results. The latter figure can be calculated by taking the minutes a player played in a game, multiplying it by the team's points allowed in that game and dividing by 48 (or 53 for an overtime game) …
With all that said, here's one man's ballot:
SMALL FORWARDS

Second team: Bruce Bowen, San Antonio (2.77)
I don't think there's any question that Bowen, at 36, has slipped a little from his peak and isn't quite as devastating a force as he once was. That said, he's slipping from an awfully high peak. Bowen still moves as well laterally as probably anyone in the game and has the same dogged mentality that's made him so frustrating for opposing scorers for the past decade.
CENTERS

First team: Tim Duncan, San Antonio (3.94)
The Spurs tend to limit Duncan's exposure to star post players, so we rarely get to see how good he is on a man-to-man basis. Instead, we have to content ourselves with watching his textbook help-defense and seeing how he never leaves his feet but always has a hand in position to block or alter a shot. I think he, like Bowen, might have lost a bit from his peak, which is why the Spurs are "only" third in defensive efficiency this season, but he remains among the cream of the crop on D.

The Toronto Raptors and Detroit Pistons feature two of the best backcourts in the entire NBA.
It should come as no surprise then that these are the two best teams in the NBA at taking care of the ball.
Since the NBA began tracking turnovers in 1970-71, only two teams have finished a season with an average of fewer than 12 turnovers per game: the 2005-06 Pistons (11.4) and 2002-03 Mavericks (11.6).
Fewest TOs Per Game (2007-08 season)

TO per game
Pistons
11.6
Raptors
11.7
Hornets
11.9
Spurs
12.7
Mavericks
12.8
-- Peter Newmann, ESPN Research

Here's a look at the key games coming up on ESPN and ABC:
Sunday: Raptors-Pistons, 1 p.m., ABC, ESPN Radio; Spurs-Lakers, 3:30 p.m., ABC, ESPN Radio
Wednesday:
Hornets-Mavs, 7 p.m., Jazz-Spurs 9:30 p.m., ESPN, ESPN360.com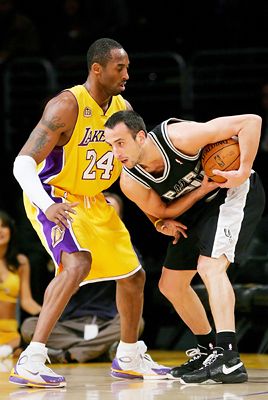 Getty Images
A lot is at stake as both the Spurs and Lakers still have a shot at the top seed out West.

The matchup between the San Antonio Spurs and L.A. Lakers features plenty of All-Stars on the court.
But it may be the only game in the NBA where there are also stars on the sidelines.
Gregg Popovich and Phil Jackson are two of the most successful coaches in NBA history.
Highest Win Percentage (NBA History)

W-L
Win Pct.
Phil Jackson
974-418
.700
Billy Cunningham
454-196
.698
Gregg Popovich
630-301
.677
K.C. Jones
522-252
.674
Red Auerbach
938-479
.662
Most NBA Titles All-time

Head Coach
Titles
Phil Jackson
9
Red Auerbach
9
Pat Riley
5
John Kundla
5
Gregg Popovich
4
-- Peter Newmann, ESPN Research