Andrew D. Bernstein/NBAE via Getty Images
The Real Boozer Finally Showed Up

SALT LAKE CITY -- There had been so much talk about the Utah Jazz's home-court advantage over the past couple of days you'd have thought the Lakers would be better served studying blueprints of EnergySolutions Arena than watching game tape.
But two minutes and 40 seconds into the game, neither the fans nor the altitude nor Bear the mascot was to blame for the Lakers' 11-3 lead. It was starting to look like more of the same things we saw when the Lakers won the first two games in Los Angeles: missed shots and insufficient effort by Utah. One sequence by Carlos Boozer was indicative of the way the series had been going for him. He didn't jump for a rebound that was grabbed by Pau Gasol, then he didn't jump when Lamar Odom went up for a shot on the other end.
Playoff Schedule
WEST SEMIFINALS

New Orleans 2, San Antonio 1
Game 4: Sun., 8 ET, at SAS
L.A. Lakers 2, Utah 1
Game 3: Sun., 3:30 ET, at UTH
EAST SEMIFINALS

Detroit 2, Orlando 1
Game 4: Sat., 5 ET, at ORL
Boston 2, Cleveland 0
Game 3: Sat., 8 ET, at CLE
Then Boozer and the Jazz got back to playing the way they did when they posted a 37-4 record here in the regular season, and the Jazz got back into the discussion of this series.
It's not all about the Lakers anymore. They suffered their first loss in the playoffs after winning six straight, and they failed to score 100 points for the first time as the Jazz won Game 3, 104-99.
Boozer had 27 points and 20 rebounds. It was nice to finally see the Boozer who made the All-Star team this year, the Boozer who averaged 23.5 points and 12.5 rebounds in a breakout playoffs last year. Jazz fans needed to see Boozer dominate just as music fans need to hear a new album by Sade.
Boozer averaged 15.1 points in his first eight playoff games this year; in the two games in L.A., he scored a total of 25 points on 9-for-24 shooting while missing time with foul trouble and strapping a heating pad to his sore back. NBA observers saw a hesitant player who was reluctant to get into the offense even when plays were called for him.
Friday night, the Jazz got back to their basics in crunch time, highlighting Boozer in the pick-and-roll with Deron Williams. Boozer triumphed in the ultimate challenge: He made a bigger impact on the game in the fourth quarter than Kobe Bryant.
"I just tried to stop thinking so much out there," Boozer said. "I think we've all been waiting for such a big game out of me, and I've been waiting for it too and putting a little too much pressure on myself. So I tried to go back to the basics and just have fun out there, enjoy the game, play with more passion."
One by one, the Jazz are starting to join the series. Mehmet Okur had been their only consistent player. Then Williams seemed to get it going in the second half of Game 2, and carried that over to Game 3.
"I realized I needed to assert myself on this game if we wanted to have this game, and I think that's what I did today in that first quarter," said Williams, who played on after bruising his right wrist in a fall right before halftime. "I had seven points and four assists. I think guys feed off my energy."
He finished with 18 points and 12 assists, and by the fourth quarter he was content to keep feeding Boozer. The Jazz cleared their other players off to the weak side to free space for Williams and Boozer, who responded with 11 points and seven rebounds in the fourth. In the exact opposite of that lackadaisical first-quarter sequence, he grabbed his own missed free throw and then made a layup to complete an unconventional three-point play and give the Jazz a nine-point lead with 4:40 remaining.
Bryant had 12 points on 3-for-7 shooting from the field in the quarter and committeed two turnovers. He had a couple of notable miscues: He fell down and lost the ball on a drive, and then clanked a 3-point attempt wide of the rim and off the backboard.
While Bryant scored 34 points, including 10 straight for the Lakers in one third-quarter stretch, it's worth noting that he hasn't won a playoff game in Utah in six tries.
You couldn't blame him for this one, though, not when a timid Pau Gasol had five turnovers. ("This was a game in which Pau was looking at the referees every time he got stripped there in the first half," Phil Jackson said.) And certainly not when the Lakers got zip-zero from bench players Jordan Farmar and Sasha Vujacic.
Come Sunday, Bryant won't have to worry about Stockton and Malone and the other old-school Jazz players who were around the last time he played a postseason game here in 1998. But he will have to deal with the full roster of the 2008 Jazz now that Boozer's back on duty.
J.A. Adande is the author of "The Best Los Angeles Sports Arguments." He joined ESPN.com as an NBA columnist in August 2007 after 10 years with the Los Angeles Times. Click here to e-mail J.A.
Playoff Dimes Past: April 27 | 28 | 29 | 30 | May 1 | 2 | 3 | 4 | 5 | 6 | 7 | 8 | 9
Bryant's Late Barrage Not Enough For L.A.

By Tim Buckley | Special to ESPN.com
SALT LAKE CITY -- Mr. MVP was a mere mortal in the first half, shooting just 1-of-5 from the field and scoring only eight points.
He finished with 34 points but botched a couple of plays in the final few minutes, including one turnover and a couple of missed 3-point attempts.
For much of the second half of Game 3 between the Los Angeles Lakers and the Utah Jazz on Friday night, however, Kobe Bryant was in Hollywood superhero form, doing things at EnergySolutions Arena that would have impressed even Staples Center front-row fan Tobey Maguire.
Ultimately, it would not be enough for the Lakers to go up 3-0 in the Western Conference semifinal series.
But for a while there, even Jazz coach Jerry Sloan was starting to wonder.
"He didn't have a great first half, obviously, with the numbers and everything," Sloan said after Utah's 104-99 win. "But you know who he is, and know what's gonna happen in the second half.
"He was tremendous in the second half by taking the game over, and pretty much almost winning the ball game by himself -- because that's who he is, and that's what he's displayed in his career."
At one point in the third, Bryant -- named NBA MVP earlier in the week -- scored 10 straight Lakers points.
And with just less than five minutes to go in the fourth, he made the play of the game, pulling the Lakers to within six at 92-86.
Caught in an Andrei Kirilenko/Kyle Korver trap, Bryant went All-Star Game on the Jazz, throwing a lengthy pass off the backboard to himself and dunking it home with authority.
He wasn't awarded an assist, but he arguably could have been.
"It was unbelievable. I think I looked at [teammate] Jarron Collins [who was sitting on the bench] and was like, 'Wow.' And I was in the game," Jazz point Deron Williams said. "Sometimes you've just got to give respect when respect's due. I think he meant to do it. I know he meant to do it."
Tim Buckley covers the Utah Jazz for the Deseret News.
Williams' Balancing Act Key For Jazz

By Tim Buckley | Special to ESPN.com
SALT LAKE CITY -- Deron Williams vowed after shootaround Friday morning to strike a balance between involving teammates and doing whatever he must to get the Utah Jazz back into their Western Conference semifinal series with the Los Angeles Lakers.
"Sometimes I sacrifice my scoring and it's tough to get going," Williams said.
So, the Jazz point guard promised, "I'm gonna be aggressive from the start."
Williams was a man of his word Friday night, scoring 18 points and dishing a game-high 12 assists to help Utah -- along with a 27-point, 20-rebound double-double from Carlos Boozer -- to beat the Lakers 104-99 and trim L.A.'s lead in the best-of-seven series to 2-1.
"I struggled a little bit from the floor the first game -- a lot from the floor the first game -- and didn't hit a lot of shots," said Williams, who was 5-for-18 from the field in Game 1. "But I'm not a guy that loses confidence easy. I think that first quarter of the second game I still was a little bit reluctant, but then I realized that I needed to turn up my game if we're gonna have a chance to win. And I think that's what I did.
"In that first quarter, I came out and had seven points and four assists -- and I think guys fed off my energy. In the second quarter I really didn't even have to score -- because guys were doing the work for me."
In the series' first two games, Williams had a tough time against ex-Jazz guard and longtime Laker starting point Derek Fisher.
But by the time Game 3's fourth quarter rolled around, Williams was feeling awfully good, no matter who was guarding him.
"At the beginning of the fourth I just tried to attack the basket," he said. "Fish was out of the game and [backup Jordan] Farmar was in, so I tried to exploit that and just assert myself a little bit.
"I think when I do that, it gets other guys going," Williams added. "And, it also puts pressure on the defense to where they've got to help on me and I can find people for open jumpers like Memo [Mehmet Okur] and Booz [Boozer]."
Mission accomplished, then.
As promised.
Williams didn't guarantee more of the same for Sunday's Game 4, but he did suggest nothing should get in his way -- not even a right hand and wrist that were bruised on a fall to the floor late in Friday's second quarter.
"It definitely affected me," Williams said. "One time I missed a shot and slapped my hands, which was not very bright. Just landed on it on wrong. Got a little bruise. X-rays are negative, so I'm good to go."
Tim Buckley covers the Utah Jazz for the Deseret News.

FRIDAY'S BEST
Mehmet Okur, Jazz center
: Utah improved to 41-5 at home this season and the sharpshooting man in the middle played a big part in its latest win, firing in 22 points (4-for-7 on treys) and grabbing seven rebounds.
---

FRIDAY'S WORST
Jordan Farmar, Lakers guard
: He missed all six of his shot attempts on the way to a scoreless night for Los Angeles, which received only 19 points from its reserves.
---
QUOTE OF THE NIGHT

"My teammates were waiting for a big game out of me and I was too ... I had to play thought-free and just react and play."
-- Jazz forward Carlos Boozer on how he overcame his personal playoff struggles in Game 3.
-- Maurice Brooks
Lakers are handed first postseason loss
By Elias Sports Bureau
Prior to the 2008 conference semifinals, 64 teams lost the first two games of a best-of-seven series to the top-seeded team in its own conference since the NBA instituted the current playoff format in 1983-84.
Only two of the teams in that situation came back to win the series (3.1 percent): Chicago vs. New York in 1993 and Cleveland vs. Detroit in 2007.
• See more Elias facts that figure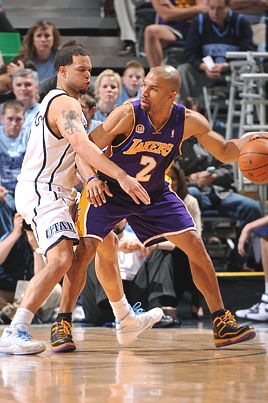 Andrew D. Bernstein/NBAE/Getty
Derek Fisher scored 13 points for the Lakers on Friday -- a year after his infant daughter went through surgery for cancer in her eye.

Kelly (California): Hey J.A.! Hope you have a great weekend buddy. My question for you is: Do you believe Steve Nash and Dirk Nowitzki were really worthy of the MVP award? I'm not a hater of either, but it just seems to me that an MVP should be someone who makes a difference on both ends of the floor. That's one thing people have said about this year's MVP Kobe Bryant -- how he affects the game on offense and defense. It just seems to me that as great as Nash and Nowitzki are on offense, I don't think they've played a day of defense in their life.
J.A. Adande: I don't have a problem with Dirk and Nash's MVPs. Part of value to a team is executing the system, and I don't think either of their defense was vital to the way those teams played. It didn't keep them from having 60-win seasons. Shaq was a worthy MVP when he couldn't make free throws. And there have been weaknesses in Kobe's defense as well. It's pretty rare when you have an MVP nominee who's also a candidate for defensive player of the year.
To read the full chat, click here.

LeBron James is averaging 16.5 points, shooting just 19 percent from the field, and has committed 17 total turnovers in two games against the Celtics. Bad shooting games are open to interpretation, but here is a look at how some notable players rebounded:
Michael Jordan
Bad games
May 4, 1995 vs CHA - 24 points, 8-21 FG, 3 TO
May 7, 1995 at ORL - 19 points, 8-22 FG, 8 TO
Good game
May 10, 1995 at ORL- 38 pts, 17-30 FG, 2 TO
Series result
Lost series to Orlando
Bad games
June 6, 1997 at UTAH - 26 points, 9-22 FG
June 8, 1997 at UTAH - 22 points, 11-27 FG
Good game
June 11, 1997 at UTAH - 38 points, 13-27 FG
Series result
Won series vs UTAH
Larry Bird
Bad games
May 9, 1981 at HOU - 8 points, 3-11 FG
May 10, 1981 at HOU - 8 points, 3-11 FG
May 12, 1981 vs HOU - 12 points, 5-16 FG
Good game
May 14, 1981 at HOU - 27 points, 11-20 FG
Series result
Won series vs Houston
Bad games
May 1, 1982 at WSH - 14 points, 3-8 FG
May 2, 1982 at WSH - 10 points, 4-16 FG
Good game
May 5, 1982 vs WSH - 26 points, 12-21 FG
Series result
Won Series vs Washington
Bad games
April 26, 1991 vs IND - 21 points, 6-20 FG
April 28, 1991 vs IND - 18 points, 7-18 FG
May 1, 1991 at IND - 15 points, 4-13 FG
Good game
May 3, 1991 at IND - 18 points, 7-14 FG
Series result
Won series vs Indiana
Magic Johnson
Bad games
April 22, 1984 at Kings (KC) - 17 pts, 4-11 FG
April 28, 1984 vs DAL - 6 points, 3-8 FG
Good game
May 1, 1984 vs DAL - 27 points, 12-17 FG
NOTE: Had double-digit assists every game
Series result
Won series vs Dallas
Bad games
May 14, 1985 vs DEN - 13 points, 5-16 FG
May 17, 1985 at DEN - 7 points, 2-6 FG
Good game
May 19, 1985 at DEN - 17 points, 6-9 FG
NOTE: Had double-digit assists every game
Series result
Won series vs Denver
Bad games
April 25, 1991 vs HOU - 17 pts, 5-15 FG, 10 Ast
April 27, 1991 vs HOU - 13 pts, 5-13 FG, 21 Ast
Good game
April 30, 1991 at HOU - 38 points, 14-20 FG
Series result
Won series vs Houston
-- Lisa Brooks, ESPN Research