Nathaniel S. Butler/NBAE/Getty
Rondo Provides Support For Big Three

BOSTON -- Right when it seemed LeBron James was taking over the game -- and the Cavaliers-Celtics series -- once again, a guy Boston had been getting nothing from suddenly stepped up.
A 3-pointer from the corner cut a 12-point deficit to nine.
Another 3-pointer got it down to six.
And when the Boston Celtics went into the locker room trailing by just three points despite allowing James to score 23, Rajon Rondo was the reason they were right back in the game.
"Those were shots that when they go in, you love them," Celtics coach Doc Rivers said. "They probably gave him confidence. He had a great feel for the game tonight."
Did he ever.
Playoff Schedule
WEST SEMIFINALS

New Orleans 3, San Antonio 2
Game 6: Thu., 9 ET, at SAS
L.A. Lakers 3, Utah 2
Game 6: Fri., 10:30 ET, at UTH
EAST SEMIFINALS

Detroit 4, Orlando 1
Pistons win series
Boston 3, Cleveland 2
Game 6: Fri., 8 ET, at CLE
Rondo was the primary difference-maker on offense with 20 points and 13 assists, and the Celtics turned up their defensive intensity on James -- and their physicality on everyone else -- during a pivotal third quarter as they defeated the
Cleveland Cavaliers
96-89 Wednesday night to take a 3-2 lead in their best-of-seven Eastern Conference semifinal.
Rondo played the entire second half and logged more time -- 42 minutes, 10 seconds -- than any other Celtic, and Boston regained command of the series and moved one victory away from moving on to the conference finals against Detroit.
"I wasn't tired, but I am tired now," Rondo said after undergoing 30 minutes of treatment after the game. "I've been trying to stay aggressive all series, and tonight I made shots."
The Cavaliers had been sagging off Rondo in the previous four games, preferring that the Celtics moved the ball either to him or to Kendrick Perkins, the two starters who were struggling most offensively. (Well, OK, maybe not as much as Ray Allen, but it was close.)
Rivers confronted the problem by telling his team to put the ball into Rondo's hands more, depriving the Cavs of a chance to stay off him, as he penetrated and passed or made shots in the lane -- or jumpers when open.
Rondo's 13 assists were two more than the Cavs had as a team, and he also contributed two steals and two blocks while turning the ball over only once.
But it wasn't just Rondo, and it wasn't just about the Celtics' offense. Paul Pierce was much more aggressive than he had been all series in scoring 29 points and knocking down eight consecutive free throws in the final 1:23 of the fourth quarter to help clinch the game, and Kevin Garnett stepped up too, with 26 points, 16 rebounds and three blocks.
"Tonight I wanted to be a lot more aggressive," Garnett said. "I felt like in the first two games I was aggressive, but obviously I wasn't on the road. We've got to figure out a way to carry this momentum with us on the road."
Like Garnett, a number of Celtics pointed to an increased level of aggression on both ends of the court as the determining factor in this game.
You could certainly see it defensively in the second half, with the Celtics sending a second defender at James whenever he got the ball and committing hard fouls against James' teammates whenever he found the open man out of those double-teams. After scoring 23 points in the first half, James had only two in the third quarter when the Celtics shot 75 percent and outscored the Cavs 29-17.
James finished with 35 in what was easily his best offensive game of the series, but Cleveland got little from anyone else aside from Delonte West (21 points). Wally Szczerbiak scored eight points in the first quarter but only two the rest of the night, Zydrunas Ilgauskas never got involved in the offense and scored just six points, and the Cavs' other three big men -- Ben Wallace, Joe Smith and Anderson Varejao -- combined for just 15 points.
And in the third quarter, when somebody needed to step up given the extra attention to James, nobody did.
"Definitely they turned up the pressure. They got into the passing lanes, we had some unforced turnovers, they got to a lead," James said. "You can't get outscored by 12 on the road and turn the ball over like we did in the third quarter. We didn't turn the ball over a lot, but when we did they made us pay for it."
The Cavs' three third-quarter turnovers came on their first three possessions of the second half, and Boston took the lead for good just past the midpoint of the quarter. But Rondo's two tide-turning 3-pointers late in the first half are what got them in position to have a decisive third quarter.
Rondo had made only two 3-pointers in the first 11 playoff games combined, and he knocked down only five in 19 attempts during the entire regular season. As a rookie in 2006-07, he made only six 3-pointers all season.
"When they were down, he hit those two 3s, and that was something defensively that we wanted to give up," James said. "He was the X factor. You know, 20 and 13 and only one turnover, it speaks a lot. Without Rondo it would have been a much tougher game for them to win. He was definitely the player of the game tonight."
Chris Sheridan covers the NBA for ESPN Insider. To e-mail Chris, click here.
Playoff Dimes Past:
May 1
|
2
|
3
|
4
|
5
|
6
|
7
|
8
|
9
|
10
|
11
|
12
|
13
|
14
Kobe No Longer Has To Do It All

By J.A. Adande | ESPN.com
LOS ANGELES -- It was almost like a scientific experiment, a two-part test designed to see if home court really is the only difference-maker in the conference semifinals.

Step 1: Reduce the sport's best player to a set-up man, the equivalent of asking Mariano Rivera to pitch middle relief.

Step 2: Send out some of the least reliable players on the team for the most critical stretch of the season to date.

Somehow the test produced the desired results for the Lakers, a 111-104 victory over the Jazz in the pivotal Game 5 of the Western Conference semifinals (and, in the 2008 playoffs, it was win No. 19 for the home team in 20 conference semifinal games).

The Lakers prevailed even though Kobe Bryant didn't attempt a field goal for the final 13 minutes as his injured back tightened up throughout the night. They went from a tie score to a three-point lead in the first 3½ minutes of the fourth quarter, when coach Phil Jackson sent out a lineup that included Jordan Farmar (who had made only one basket -- solamente uno -- in the previous 10 days), Vladimir Radmanovic (whose shooting and playing time had become so sporadic that he admitted he was surprised to be on the court in the fourth quarter) and Luke Walton (who botched a key play in Game 4 when he couldn't master the simple task of controlling the ball when it landed right in his hands).

Chalk it up to home-court advantage? The Staples Center crowd was vocal at the end, but there were long stretches when the building went quiet as the Jazz stayed uncomfortably close throughout the game -- even if Utah never did manage to take the lead.

The benefits of home were more apparent on the stat sheet: The Lakers enjoyed a 42-28 advantage in free-throw attempts (and that includes the four free throws Bryant shot in the final 10.7 seconds, when the Jazz fouled to stop the clock).

When the Jazz got close to the basket, there was more contact than in a rush-hour crowd shoving into the subway, but rarely a blown whistle. Meanwhile, at the other end, Lamar Odom breezed past Carlos Boozer for a layup and got a gift and-one. And Utah players and coaches are still wondering how Mehmet Okur could wind up sprawling toward the baseline, leaving Pau Gasol alone under the basket for an easy offensive rebound and dunk to put the Lakers ahead by five points with 20.5 seconds remaining.

The question now is if the Lakers can expect to win Game 6 in Utah, where the calls didn't always go their way in Games 3 and 4, and where the support players practically no-showed, and if they can do it when the usual antidote to road challenges -- Bryant -- must experience life as a mere mortal.

Jackson said he "wasn't particularly happy" with the way the Lakers played in Game 5. Unlike the first two games here, in which the Jazz never seemed to have a real chance, this one was up for grabs until the final minute. Jackson knows a similar effort won't get it done in Utah.

"I don't know," he sighed. "We'll see what we can do."

He'd surely feel more confident if he knew exactly what to expect from Bryant.

Bryant said his back didn't get any worse after this game, but it's unlikely to get any better. Remember, this came after two full days off to rest and get treatment. This time there's only one day off before Friday's game.

Wednesday, Bryant made three of his first four shots, and those accounted for half of his field goals. He attempted only 10 field goals overall.

"I just wanted to pick my spots," Bryant said. "I knew I wasn't 100 percent healthy. I wanted to get us off to a good start, give us an emotional boost."

By the latter stages of the second half, he was reduced to a facilitator.

It started on the Lakers' final two plays of the third quarter. The Jazz gave the Lakers a zone look, and Bryant found Walton in the left corner for a 3-pointer that missed. And on the final play of the quarter, Bryant pushed the ball ahead and found Farmar for an open 3-pointer that missed at the buzzer.

But Bryant had kept them involved in the game. As he put it, the game didn't leave him much choice.

"They're open," Bryant said.

To read the full Adande column, click here.
Allen Still Searching For His Shot

By Marc J. Spears | Special to ESPN.com
BOSTON -- The Boston Celtics entered the season in heralded fashion with the big three of Kevin Garnett, Paul Pierce and Ray Allen. But for the postseason, it's been a "big two" that has been carrying the Celtics because Ray Allen has yet to get his storied shot going.
Garnett scored 26 points while Pierce added 29 during the Celtics' 96-89 Game 5 victory over the Cleveland Cavaliers at a sold-out TD Banknorth Garden on Wednesday. Allen, however, made only 4-of-11 shots (1-of-4 on 3-pointers) and had three turnovers en route to 11 points in the win. In fact, the seven-time NBA All-Star was fourth on the Celtics in scoring on this night (Rajon Rondo scored 20).
Allen averaged 17.4 points per game during the regular season, his lowest average since his third season, the 1998-99 campaign with Milwaukee.
During this playoff series against Cleveland, the renowned sharpshooter is fourth on the Celtics in scoring, averaging 10.4 points per game on 34 percent shooting from the field (and he's made only 4-of-19 from 3-point range).
The surprising thing is that this has happened with Cavaliers guard Wally Szczerbiak guarding him.
Before this series, NBA fans weren't sure if Szczerbiak could guard a lamppost. Allen should be torching the heavy-footed former Celtic. But surprisingly he's not.
There has been much said and written during this series about how Cleveland star LeBron James hasn't gotten it going offensively, as is expected from him. Such couldn't be said in Game 5 as King James scored a game-high 35 points, with his buddy Jay-Z along with Beyonce sitting courtside.
But much needs to be made about how a hot Allen could aid the Celtics, too. Despite his struggles, there is no Celtic more confident in his shooting ability (and not many NBA players, for that matter) than the man who once played a character named "Jesus" in the movie "He Got Game." He doesn't ever think he is in a slump. To him, the ball just didn't go in.
To close out the series, the Celtics need to get their first road win of the postseason in Game 6 Friday night in Cleveland. Garnett and Pierce have been relatively consistent offensively. But if Allen finally gets hot again, he not only can help Boston get that much-needed win but also can get the big three back to what they were projected to be.
Now more than ever, the Celtics need "Jesus" resurrected.
Marc J. Spears is a regular contributor to ESPN.com and covers the NBA and the Boston Celtics for The Boston Globe.

WEDNESDAY'S BEST
Pau Gasol, Lakers center
: Talk about stuffing the stat sheet. The big man, who made several clutch plays down the stretch, finished with 21 points, 8 assists, 6 rebounds (all offensive) and 4 blocked shots.
---

WEDNESDAY'S WORST
Celtics bench
: Boston got the pivotal victory it needed, but its reserves didn't contribute much in terms of offensive production. The Celtics received a combined nine points from the six players who saw time off the pine.
---
QUOTE OF THE NIGHT

"We know it's a win-or-go-home situation. We've got to approach it that way. We're a very good team at home. But a LeBron James team is never desperate."
-- Cavaliers forward LeBron James talking about Game 6, which is Friday night in Cleveland
• See Wednesday's daily leaders
-- Maurice Brooks
Things Looking Up For Boston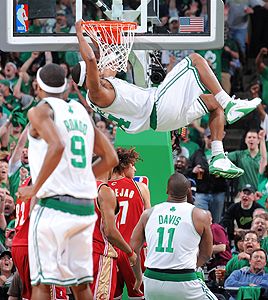 Brian Babineau/NBAE/Getty
Although he is shown here scoring two, Paul Pierce's Celtics used a strong defensive effort in the second half to edge the Cavaliers and move one victory away from the East finals.
Celtics stay perfect at home in playoffs
Jazz Can't Close the Deal

By Tim Buckley
Special to ESPN.com
LOS ANGELES -- The Utah Jazz came here to the land of make-believe and lots of makeup tied 2-2, knowing they'd have to win at least one in Los Angeles if they were to have any hope of advancing for a second straight time to the West finals.
They left after Wednesday night's 111-104 Game 5 semifinals loss to the Lakers down 3-2, and with no illusions about what it will take now: a win Friday night in Utah, and another, if they take care of business at home, in a Game 7 do-over chance Monday night.
Before getting to Friday, though, the Jazz have nearly 48 hours to beat themselves up over Wednesday's lost opportunity.
"I thought we had opportunities down the stretch to win the game," Jazz All-Star Carlos Boozer said. "A couple balls didn't bounce our way. Missed a couple shots.
"I thought we let one slip away. I thought we had opportunities. I thought we made too many mistakes. But, at the same time, I thought we were being aggressive, taking the ball to the basket, hoping for some fouls. But sometimes in Game 5s, fouls aren't going to be called."
The Jazz, then, left bemoaning a couple of unrealized offensive chances down the stretch, including failed trey tries from both Mehmet Okur and Deron Williams.
"We had some opportunities, missed some shots we'd like to have back," Utah coach Jerry Sloan said. "But that's the way it goes. We just couldn't get over the hump. We were right there, but we never did get there."
What really stuck in Boozer's craw was a call that he thought was missed when the Jazz needed one most.
It came -- or did not, as was the case -- with the Lakers up by three and 20.5 seconds remaining.
Sasha Vujacic rimmed out a trey try from the left corner, but big man Pau Gasol rose above Okur and Boozer to dunk home the rebound and make it 107-102 Lakers.
"I thought it was a push-off [by Gasol against Okur]," Boozer said. "I've been called for that a couple of times this series. I know it's down the stretch of a big game, winning time, but sometimes you want the referees to let players play.
"I think that was a situation tonight [in which] they wanted us to just let the players win the game."
The Jazz did not, making Friday's Game 6 the cold, harsh reality of do-or-die.
"We can't be demoralized right now," Jazz forward Andrei Kirilenko said. "We need to be confident. We need to get back home and play with great enthusiasm. That's the bottom line right now."
Boozer, meanwhile, had another line in mind.
"We don't want to go fishing,'' he said. "Not yet."
Not after letting one fall from the hook like the Jazz felt they did Wednesday.
Tim Buckley covers the Utah Jazz for the Deseret News.
Rajon Rondo had 13 assists in Boston's Game 5 win over Cleveland. Rondo, who had 12 assists in Game 4 against Atlanta, is the first Celtics player with 12 or more assists twice in one playoff year since Danny Ainge did it in 1988.
• More from Elias Sports Bureau
James Stars But Celtics Roll

By Brian Windhorst
Special to ESPN.com
BOSTON -- It was a sobering Wednesday night for the Cavs. They got exactly what they wanted most, a grand performance from LeBron James, and still couldn't get what they needed most, a single victory in Boston.
The Cavs' major accomplishment four games into their series with the Celtics, the overwhelming favorite, was that it's still a series. With it tied at 2-2, things started to get familiar, and they felt they were one great game from James away from scoring a league-shaking upset.
It surely seemed like that moment was at hand in Game 5 as James hit TD Banknorth Garden in a groove, finding his absent jump shot and figuring out the Celtics' roadblock to the basket in the same evening. When he hit eight of his first 11 shots -- keep in mind, it took him 42 shots to make eight baskets in the first two games -- it appeared as if he may be on the cusp of adding another postseason jewel to his mantle.
But there is a reason the Celtics won 66 games this season. They've had lapses in the playoffs where it has been fair to question their championship hopes, but they are still a deep and talented team. They showed it in the second half, overcoming a big-time James game with their stars and their role players to take a 3-2 lead.
James got 35 points -- which in this defensive-based series fairly projects to maybe a 45-point performance in a normal regular-season game -- but he was unable to be transcendent. And the Celtics' avoiding that may mean they will avoid an upset.
"He is a great player and he will have great games," Celtics coach Doc Rivers said. "We needed to win a game when LeBron plays great ... that is what we did today."
The Celtics did it by refocusing and changing their pick-and-roll coverage a bit in the second half, which slowed James down long enough for them to mount a run. Plus, Paul Pierce (29 points) and Kevin Garnett (26 points) responded with tremendous efforts to neutralize what James brought. Add Rajon Rondo's best-ever playoff game (20 points, 13 assists) and the point was made. None of James' teammates were up to the task, and that is the Cavs' greatest weakness.
James' playoff resumï is more impressive than that of any of the Celtics' big three right now, but they proved during the regular season that three All-Stars can often be better than having the All-Star Most Valuable Player.
They are proving it in this tug-of-war series, and ultimately it may be tough for James to swallow. He's not ready to give it up just yet.
"It was a pretty good performance by me, but us losing the game means more than anything," James said. "Now it's a win-or-go-home situation. A LeBron James team is never desperate."
Brian Windhorst covers the Cleveland Cavaliers for the Akron Beacon Journal.