Photo by Tim Heitman/NBAE/Getty
Artest's defense gets the accolades, but it was his offense that hurt the Mavericks.

Photo by Jesse D. Garrabrant/NBAE/Getty
Cleveland rookie J.J. Hickson made sure the first two points of his NBA career were memorable.

Photo by Barry Gossage /NBAE/Getty
Steve Nash has two MVP awards, while Chris Paul placed second in the MVP voting last season.
With McGrady Watching, Artest Shows Off Late For Rockets

DALLAS -- The evening began with David Stern beaming as he sat on an outdoor stage between what he described as "two modest gentlemen." Those gents were Dallas Mavericks owner Mark Cuban and Dallas Cowboys owner Jerry Jones, with Stern alongside them to confirm that, yes, his NBA is putting its All-Star Game in a football stadium with a capacity of nearly 100,000 in 2010.
The evening ended with the two stars of this Redemption Bowl -- Ron Artest and Josh Howard -- stopping for a quick midcourt hug and chat after Artest eventually trumped Howard's gaudy game with his own forceful, composed, game-changing performance.
Artest, frankly, got a lot more help than the home team's reclamation projection, but Thursday night was undeniably his night as much as anyone's in town. In the Dallas coaching debut for his old Indiana boss Rick Carlisle, Artest emerged as Houston's fourth-quarter anchor. With Tracy McGrady cheering happily from the bench, given crunch time off to ease the strain on his surgically repaired left knee and left shoulder, Artest rumbled to his first triumphant moment as a Rocket, capped by a late 3-pointer and celebratory, high-stepping leap that essentially iced a 112-102 victory.
"A backbreaker," Carlisle called it.
Artest, meanwhile, spoke of the "battery on his back" that he's playing with now after such a warm welcome from Houstonians and the Rockets' 2-0 start.
"It's been a few years since I've been on TNT," Artest said giddily. "I wasn't sure I'd get back to this point."
There were several Rockets, actually, who busted the Mavs in this one. Yao Ming was near perfect offensively (if you can forget the dunk he flubbed), turning baseline and scoring at will against Erick Dampier and DeSagana Diop to finish with 30 points and 13 rebounds, going 11-of-15 from the field and 8-of-8 from the line. Chuck Hayes supplied the physicality that finally slowed Dirk Nowitzki, leaving Nowitzki stuck on 36 points after Dirk scored 35 in the first three quarters. You could also make the case that little Aaron Brooks -- who wasn't even supposed to play thanks to a bone bruise in his ankle expected to keep him out a week or three -- was as big as Artest with some gutsy fourth-quarter quarterbacking which included 11 of his 14 points.
Yet to get away with sitting McGrady for the entire fourth quarter, after watching T-Mac labor to that point with little zip, Rockets coach Rick Adelman needed some veteran steel. Artest duly delivered 10 of his 29 points and five of his seven rebounds in the decisive final period, as well as the defensive tone-setting that got the Rockets back in transition and reduced the Mavs to a confused, stagnant half-court team that -- where have we heard this before? -- faded away with a flurry of errant jumpers.
It looked for a time that this might wind up being Howard's night, even though Dallas played from behind throughout. Nowitzki was rather toasty himself from outside and Jason Kidd quietly inched near triple-double territory, but it was Howard's aggression that stood out for the hosts, mainly because we saw so little of it in the playoffs in the Mavericks' final, fateful days under Avery Johnson.
For all of the off-court messes Howard inflicted upon himself in recent months, Mavericks' officials privately believe that no player regressed further or chafed more from Johnson's firm hand than the 28-year-old. Yet this looked more like the old Howard, as he racked up a quick 15 points in the first quarter -- some of that when checked by Artest -- and came away with 28 points, 11 rebounds and some undeniable love from the sellout crowd at American Airlines Center.
The Mavericks, though, didn't know where to go when Houston took their running game away down the stretch. They looked a bit rusty, too, after a seven-day gap between their final exhibition game and the league's latest season opener.
All of which set Artest up to hike Houston's lead to 108-94 with that backbreaking triple with 3:02 to go.
"I can't tell you how much I enjoyed that," McGrady said, insisting that he was thrilled to be a crunch-time spectator after scoring 16 points through three quarters.
"I'm in a position where I want to be professionally in my career, especially after 12 years, not having to carrying the burden night in and night out. That takes a toll on your body. Like I said, in the fourth quarter, I was enjoying watching somebody else go out there and carry the team. Ron did a great job. That's why we brought him in here.
"I'm not 100 percent right now, so I can't be me. But if I can have a guy like Ron and Yao play the way they played and get you numbers all across the board, we're a great team."
Said Carlisle: "They didn't even need McGrady to play his best to win. That tells you how good that team can be."
Carlisle went on to insist that Artest is "actually bigger and stronger" than he used to be and that "he's shooting the ball better." If you're looking for a negative, after two games, you'll have to settle for these two: Artest's shot selection can be questioned at times, and he might be guilty of trying too hard to fit in with the Rockets, since he spent much of his postgame address talking about three guys who played a combined 32 seconds in the fourth. That would be McGrady, starting point guard Rafer Alston and the injured Shane Battier ... although Battier was indeed un-missable in a red blazer he self-customized by sewing on a Rockets logo.
Asked about Carlisle's glowing scouting report, Artest said: "I was doing the same things in Sacramento. But nobody saw it. Only on local TV."
Said Nowitzki: "They have three legit superstars now. ... You never know what you're going to get with Artest over 82 games. But if his head stays in it, they're going to be right up there."
Marc Stein is the senior NBA writer for ESPN.com. To e-mail him, click here.
Dimes Past: October 28 | 29
Rockets vs. Mavericks Notebook
Marc Stein | ESPN.com
DALLAS -- The Mavericks, according to one veteran scout, "probably play the fastest pace in the Western Conference" now that Mike D'Antoni has relocated from Phoenix to New York, with new coach Rick Carlisle installing a system heavy on ball and player movement and featuring elements of the Princeton offense Jason Kidd ran in New Jersey.
For three quarters Thursday night, Dallas definitely lived up to that rep.
The Mavericks had racked up 30 fast-break points entering the fourth quarter when the combination of Houston's improved transition D and Dallas' repeated inability to get stops left the Mavs scuffling in the half court to keep up with the surging Rockets. With Ron Artest on Josh Howard and Chuck Hayes bodying Dirk Nowitzki, Dallas' big guns managed just one basket between them in the final period after scoring a combined 61 points to that point.
"Look," Carlisle said, reminding assembled reporters that the Mavericks are still adjusting to the new system. "There's going to be a formula that's going to be the right formula for us. We're not Loyola Marymount from the late '80s and we're not Phoenix from the last four years, but we have to use Jason Kidd's abilities to generate easy baskets to the best of our ability. And at the same time we've got to do it in a way that doesn't erode our defense."
---
What pleased Artest most in his second game as a Rocket? Two things
Houston rang up 112 points after managing just 82 in Wednesday night's season-opening home win over Memphis.
Artest congratulated himself for his restraint after rushing into a fourth-quarter crowd to pull teammate Yao Ming away from Howard and mistakenly believing that Yao had been struck in the face with an elbow.
"Technical foul, no punches, not cursing the refs," Artest said of the incident, which he followed some 70 seconds later with a 3-pointer that pretty much clinched the game.
According to the explanation Rockets coach Rick Adelman received from the referees, Artest received a T because he "escalated" the tension.
But the situation was calmed quickly, and Artest and Howard, for the record, hooked up after the buzzer for a friendly chat.
"Just wanted to give him a little support," Artest said, referring to the criticism Howard has attracted over the past six months thanks to his admissions of marijuana use and a summertime flap involving the national anthem.
---
Carlisle had the second-longest opening-night winning streak among active coaches before Houston's 112-102 triumph. Carlisle had won his past five season openers, one fewer than Utah's Jerry Sloan.
By Maurice Brooks
ESPN.com

THURSDAY'S BEST
Ron Artest, Rockets
: If his play against the Mavs is an indication, then the newly acquired forward is exactly what Houston needs. He provided tough defense against all five positions on one end and still found time to score 29 points and grab seven boards in a victory.
---

THURSDAY'S WORST
Raymond Felton, Bobcats
: The point guard didn't help Larry Brown in his coaching debut with Charlotte, missing nine of his 10 attempts from the floor and finishing with just five points in a 96-79 loss to Cleveland.
---
QUOTE OF THE NIGHT

"I'm not surprised with what's going on. The big people we're playing against seem to be more athletic and getting things done. A lot of our shots are tough shots. We're settling for long jumpers. When we do penetrate, we penetrate so deep, we get a lot of shots blocked. They penetrate and kick it out. We didn't expect it to be easy."
-- Charlotte coach Larry Brown evaluating his team's season-opening performance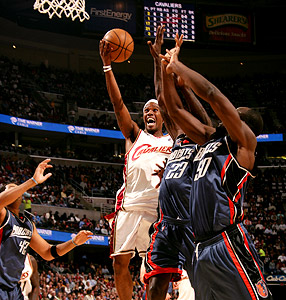 David Liam Kyle/NBAE/Getty
Cleveland's Daniel Gibson came off the bench to fire in a game-high 25 points on 10-for-14 shooting, including 4-for-6 on 3-pointers.

The Pistons' training camp was extremely tough and point guard Chauncey Billups knows why -- Detroit wants to get back to playing the best D in the league.
Spurs Look To Get On Track
The Spurs are 0-1 for the first time since the 1996-97 season and look for their first win of the season when they visit Portland on Friday night. San Antonio has won 12 in a row against the Trail Blazers, the longest active win streak over an opponent in the NBA. Portland last beat San Antonio on Jan. 24, 2005. The only current Blazers on Portland's roster that day were Joel Przybilla and Travis Outlaw.
-- ESPN Research
Elias Sports Bureau
The Hornets beat the Suns 108-95 in Phoenix one night after defeating the Warriors in Oakland. New Orleans becomes only the third team in NBA history to start 2-0 with both wins on the road against opponents which had won at least 48 games the previous season. The 1993-94 Knicks beat the Celtics and Cavaliers and the 1972-73 Bucks topped the Suns and Warriors.
• The Suns never led in their home loss to the Hornets. Phoenix had held a lead in its last 174 home games since losing to San Antonio on March 6, 2004. That had been the second longest current streak in the NBA behind the Spurs, who have led in their last 244 home games.