Jesse D. Garrabrant/Getty Images
Elton Brand and the Sixers turned away the Warriors despite not scoring a single fast-break point.

Noah Graham/NBAE via Getty Images
The Lakers had their teamwork on display, as eight players scored in double digits against the Kings.
Sixers Come To Life Against Warriors

Most of the euphoria brought to the City of Brotherly Love by the Phillies winning the World Series has been weakened by the miserable play of the Eagles -- punctuated by the second-half benching of Donovan McNabb in Sunday's 29-point loss to the Ravens.
With a postseason berth for the Birds looking less and less likely by the week, now is the perfect time for Philadelphia sports fans to turn their attention toward the Sixers, who in Sunday's 89-81 win over the Warriors gave a positive glimpse of the future.
Elton Brand, who was brought to town to be the face of the franchise, finally looked comfortable in the offense. He didn't show any hesitation launching (and making) 18-foot jumpers, and he dished out quick passes before the double-team could arrive.
Most of his game-high 23 points were scored with Brand setting a high screen and then flaring out for a midrange jump shot. He got the Sixers off to a good start by making four of his first six shots and finished 10-for-22 from the field.
Even though most of his attempts came from the perimeter, it didn't hurt his overall rebounding, as he pulled down 12 boards -- his seventh double-double of the season -- for the Sixers, who moved a game above .500 for the first time this season.
Brand wasn't the only Philly player who looked like he's ready to get on a roll. Andre Iguodala, who unofficially gave up the title of "the man" on the Sixers once they acquired Brand, has been in a season-long shooting slump.
After leading the team in scoring with an average of 19.9 points per game last season, Iggy has seen that total dip by seven so far this season. Part of the reason for the decline has been the Sixers' emphasis on getting Brand his touches and the emergence of second-year swingman Thaddeus Young. Still, Iggy's biggest problem is that he simply hasn't made shots.
He has compensated for being off target by posting career highs in rebounds and assists. And in spurts on Sunday, it looked like he was beginning to regain his stroke. In the second quarter, he made the Warriors pay for playing zone by draining a pair of 3-pointers, which wouldn't be a big deal until you notice he had made only seven all season and was shooting .226 percent from that range.
The steadily improving Young, who is a leading candidate for the league's Most Improved Player Award, also joined the zone-busting party by hitting two triples of his own in the period as the Sixers gave a lesson in half-court effectiveness on the way to an 18-point halftime lead.
Young leads the Sixers with a scoring average of 16.3 points per game, followed by Brand (15.9), Andre Miller (15.3) and Iguodala (12.9). The 20-year-old Young is shooting at a 53 percent clip and his confidence appears to be growing.
Sloppy ballhandling, Iguodala's extended stay on the bench because of foul trouble, and the play of youngsters Brandan Wright and Anthony Morrow helped the Warriors erase what was once a 22-point deficit and tie the game at 76-76 midway through the fourth quarter.
But instead of giving away a game they deserved to win, the 76ers shut down the league's highest-scoring team while making just enough plays on the offensive end. Samuel Dalembert (16 rebounds) reasserted himself on the glass, and the underrated Miller gave the Sixers a six-point advantage by draining the game's biggest shot -- a trey with a little over two minutes remaining.
Maurice Brooks is an NBA editor for ESPN.com.
Dimes Past: Nov. 6 | 7 | 8-9 | 10 | 11 | 12 | 13 | 14 | 15-16 | 17 | 18 | 19 | 20 | 21 | 22-23
Shaquille and Kobe Rivalry

Chris McKendry | ESPN
Shaq can't beat them, so he'll praise them. After the Lakers beat the Suns on Thursday night, Shaq said, "They're the best team. They're 9-1. They're playing good. Kobe's playing team ball, keeping everybody involved. He's got a lot of shooters around him. They're a very dangerous team." O'Neal had 15 points.
It would strike me as gracious if it didn't stink of insincerity. Shaq wants everyone to think he's the bigger man. We know better.
At their worst, Shaquille O'Neal and Kobe Bryant were no better than brats in a sandbox. O'Neal called Bryant a ball hog and Bryant responded by calling O'Neal fat and out of shape. With half a decade now to reflect on their pairing, O'Neal calls it creative differences that Phil Jackson wisely used to motivate the team to victory. Revisionist history, according to Shaq. "Phil never called us into the office and said, 'Both of you, shut the [heck] up.' Never did that in four years. He knew that when I read something, I was going to get upset. And he knew Kobe was going to always come out and play hard. So I think it was all done by design."
Really?
What was by design was Jerry Buss' decision to keep a younger Bryant and ship an older Shaq out of town. It was the right move. And one Shaq cannot let go of, clearly. As Shaq's career reaches its twilight and the spotlight shifts off of him, he drags Kobe and Phil into conversation and gets our attention, if not theirs. Then their paths cross and he apologizes, denies, expresses his unending love and respect. How desperate. How boring.
Timberwolves Dominate Auburn Hills

Elias Sports Bureau
The Timberwolves treated The Palace like their own with a convincing 106-80 victory over the Pistons. It was the first time that Detroit was outscored in every quarter of a home game since its 21-point loss to the SuperSonics on Dec. 12, 2003.
• Nene scored 21 points in the Nuggets' win over the Bulls to increase his season average to 15.4 points per game. Nene's 10.1 points per game increase in scoring average from last season is the largest for any NBA player.
ESPN Research
The basketball experts are quick to point out how well the Celtics play defense. On Sunday, Boston showed the Raptors they can get it done offensively, too. The Celtics entered the game against Toronto with road averages (first six games) of 93.8 points per game on 44.9 percent shooting from the field, including 34.1 from 3-point range. Against the Raptors they went off for 118 points, shooting 61.6 percent overall and 58.8 from distance.
By Maurice Brooks
ESPN.com

SUNDAY'S BEST
Kenyon Martin, Nuggets
: For one night, the rugged power forward was perfect -- connecting on all 10 of his shots from the floor en route to 26 points. He also grabbed eight rebounds.
---

SUNDAY'S WORST
Detroit Pistons
: I had a hard time trying to figure out which one of the Detroit starters -- Allen Iverson (3-for-11), Richard Hamilton (2-for-11) or Rasheed Wallace (3-for-10) deserved to be here.
---
QUOTE OF THE NIGHT

"I tried to gauge it and see if I could help the team, but I didn't really have any stability; it was becoming too painful."
-- Raptors big man Jermaine O'Neal, who spent the second half of the Celtics' game in the locker room getting treatment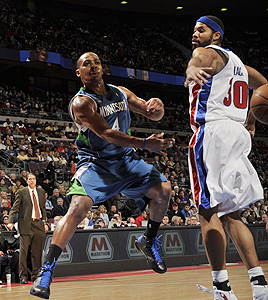 Allen Einstein/Getty Images
The Pistons are known for their defense, but Detroit couldn't come up with a plan to stop Minnesota's Randy Foye, who scored 23 points and gave out a career-high 14 assists.
New York-Golden State Deal
Mike Tirico and Scott Van Pelt give their takes on the trade between the Knicks and the Warriors.