Jesse D. Garrabrant/Getty Images
Ron Artest helped harass Dwyane Wade into 7-for-23 shooting in Houston's 107-98 win over Miami.

Joe Murphy /Getty Images
Manu Ginobili made his season debut, scoring 12 points to help the Spurs beat the Grizzlies 94-81.

Streeter Lecka//NBAE via Getty Images
While Elton Brand and Emeka Okafor battled, D.J. Augustin's 25 led Charlotte past Philly 93-84.

Hector Mata/AP //NBAE via Getty Images
Chris Paul had DeAndre Jordan in his way, but had a triple-double (14 points, 10 rebounds, 17 assists).
Rockets Survive, Thrive On The Road

MIAMI -- Sometimes the NBA regular season is just about surviving the grind.
And the Houston Rockets -- who finished a grueling, injury-plagued first four weeks of the season with a 107-98 win Monday in Miami that left them in first place in the Southwest Division at 10-5 -- can officially be declared survivors.
The Rockets have not only survived early-season ailments to their three best players and the absence of defensive specialist Shane Battier, they also were dealt a rough schedule right when they were vulnerable. Houston's 10 road games are tied with Portland for the most, and include trips to both coasts that have taken in the league's two farthest corners in Portland and Miami.
And in their compressed early-season schedule, Houston has faced not just quantity but quality. Already they've faced the Lakers, Blazers, Magic, Heat, Suns, Spurs and Mavs -- and all those games were on the road. Throw in home tilts against Boston, New Orleans and Dallas, and 10-5 seems like an accomplishment.
This, of course, brings familiar echoes to a year ago, when the Rockets labored through a cruel early-season schedule and then feasted on an easier slate later on en route to a 22-game winning streak.
The key difference this time is that the Rockets don't need an epic win streak to be in good shape. After all the early struggles -- including that 33-point beating in L.A. -- Houston finds itself all alone in second place in the West thanks to four consecutive road wins.
Moreover, Monday night Houston survived what it couldn't a year ago -- another dead-legged effort from guard Tracy McGrady. He was just 2-for-7 from the field with six points in 31 minutes, and the Rockets sat him the final 7:52 and used Brent Barry in his stead.
They survived this one for two reasons. First, Yao Ming destroyed a Lilliputian Heat front line with 28 points, 12 rebounds and 4 assists, not to mention numerous kickouts from double-teams that led to a second or third pass to an open shooter.
But second, and perhaps more importantly, was the play of Ron Artest. This game, as much as any, illuminated how he could make a difference on this team and provide what was missing last season.
Offensively, Artest made up for the lack of punch from McGrady by pouring in 20 points to supplement Yao. And he was a giant on the defensive end, where his size and quickness helped limit Dwyane Wade to 7-of-23 shooting and five turnovers.
Unusually, Artest wasn't his over-aggressive bulldog self, instead laying off Wade and forcing him into being a jump shooter. As a result, Wade took a season-high six 3-point attempts and attempted "only" nine free throws -- he came in averaging 10.5 -- and several of his misses were on long 2s.
"I like to push up, I don't like to back up," said Artest. "But coach told me I had to back up tonight. If I get up on him, obviously he'll blow right by me."
"Ron did a great job having patience, just making [Wade] work," said Rockets coach Rick Adelman. "We wanted to try to zone up as much as we can and give Ron as much help as we could."
Artest also provided the night's crucial sequence, when the Heat had cut a 13-point Houston lead to four points with 5:24 left. Adelman gave a winded Yao a late rest and had T-Mac on the sidelines, so Artest was the go-to guy. He delivered with an 18-foot pull-up to his left, then picked Wade clean up top at the other end to start a break that ended with a Carl Landry put-back dunk. The quick four points gave Houston some breathing room, and Miami never seriously threatened again.
But let's get back to the defense. That's Houston's bread-and-butter, and their game plan was to keep Artest on the court when Wade was (he played every second Wade did) and bring the cavalry from the weak side.
"Without Shane we didn't have anybody else to guard Wade," said Adelman.
Artest had help behind him. Yao was able to be a force defensively and alter several of Wade's deliveries around the rim, mainly because he largely avoided the sin of coming out too high to meet Wade.
"He can't come out from the rim," said Adelman. "He has to stay at the rim because that's where he's effective. He's so big that if he just stays there he's hard to shoot over."
It's way too early to say the Rockets are completely over the hump -- McGrady's ongoing maladies are a worry, and Yao's continued health can't be taken for granted either. Additionally, while the offense has flowed better the past three games, players admit moments of stagnation and hesitation remain while everybody gets on the same page -- most notably newcomers Artest and Barry, both of whom are shooting uncharacteristically poor percentages.
Nonetheless, the Rockets' perfect swing through the Southeast (they also beat the Wizards and Magic) may be the first sign of their jelling around new acquisitions Artest and Barry and getting away from the McGrady-dominated attack of yore.
"We're figuring out how we're going to play basketball," said Yao. "Our first 10 games we were playing just with our talent, not much with team discipline. We passed the ball to the weak side very well on this trip. We need to keep doing that the rest of the season."
In the meantime, this was exactly why they picked up Artest -- he enables Houston to survive the grind that takes such a toll on Yao and T-Mac. With 15 games gone, Artest is still on his best behavior and a quarter of the Rockets' road games are out of the way, and they have to like where they stand after a bumpy first four weeks.
John Hollinger writes for ESPN Insider. To e-mail him, click here.
Past Dimes:
November 15-16
|
17
|
18
|
19
|
20
|
21
|
22-23
|
24
By Peter Newmann | ESPN Research

The Thunder announced on Saturday that P.J. Carlesimo has been relieved of his head coaching duties, replaced by assistant coach Scott Brooks. On Monday, the Wizards fired Eddie Jordan and replaced him with Ed Tapscott. Oklahoma City was a league-worst 1-12 at the time of the coaching change. The Thunder had lost 10 straight games before the change.
The Wizards are 1-10 and have lost five games in a row. Below are the fewest games into a season that a team had made a coaching change in the past 10 seasons.
Fewest Games Into Season, Coaching Change is Made

Year
Games
Old Coach
New Coach
2002-03 Grizzlies
8
Sidney Lowe
Hubie Brown
2008-09 Wizards
11
Eddie Jordan
Ed Tapscott
2003-04 Magic
11
Doc Rivers
Johnny Davis
2004-05 Grizzlies
12
Hubie Brown
Lionel Hollins
2008-09 Thunder
13
P.J. Carlesimo
Scott Brooks
This Jordan No Longer Rules, But Who Can In D.C.?

By John Hollinger | ESPN.com
The Wizards have been horrible, but Washington's dismissal of Eddie Jordan on Monday came as a big surprise -- the general sentiment was that he'd earned a longer rope than just 11 games, no matter how badly the Wizards might have played in that time.
That's particularly true given the respect Jordan has among the league's cognoscenti. While the Wizards were struggling and their defense in particular was never terribly effective, Jordan kept his clubhouse together for half a decade and the general perception was that his team played hard right to the end. With three of their top six players injured, the general consensus is he just didn't have the horses.
Additionally, his mastery of offensive tactics has won him many admirers -- advance scouts speak highly of his cutting edge play-calling, and of course it was his offensive system that the Nets employed when they went to consecutive Finals with Jordan as an assistant.
But don't weep for Jordan. He'll move right near the top of the available coaches pool, one that currently includes the likes of Avery Johnson, Flip Saunders, Jeff Van Gundy, Mike Fratello -- and Larry Brown (presuming the current Bobcats coach hasn't found his next gig yet).
Instead, it's time to start wondering about Wizards team president Ernie Grunfeld. He's the one who made the decision to stand pat with a nucleus of Caron Butler, Antawn Jamison and Gilbert Arenas this past summer, even though the group had never managed better than 44 wins in a season. In particular, the six-year, $111 million deal for Arenas is looking highly questionable given his continued knee problems and the lack of cap flexibility the Wizards have as a result.
Grunfeld will have to hit the jackpot with his next coaching hire if he's going to occupy his chair much longer, and he likely will wait until the summer to do so. But regardless of how long he waits, the question that lingers is, who would want this job? Men like Johnson, Saunders and Van Gundy can pick and choose among offers and might not choose to sully themselves with Washington's group -- particularly if Arenas can't make a strong recovery when he returns in another month or so.
The 'Zards do have a few nice pieces -- JaVale McGee and Nick Young seem to be rounding into quality players, and of course Butler and Jamison can fill it up. But it appears the idea of this core being Eastern Conference contenders -- something I'd always maintained was more fantasy than reality -- can now officially be put to bed. In the big picture, Jordan's dismissal is likely the first of several moves Grunfeld will attempt to get this team back on track. The question now is whether he can make the right ones going forward.
By Andrew Ayres
ESPN.com

MONDAY'S BEST
Derrick Rose, Bulls
: Didn't take the rookie long to get his first win in Utah. Takes charge with 25 points (10-of-18 shooting) and nine assists in a 101-100 win over a Jazz team playing without D-Will and Booz.
---

MONDAY'S WORST
Jason Thompson, Kings
: We honor the impressive rookie big man with expectations -- scoring zero points in a 91-90 loss to the Blazers is beneath the Rider alum, who entered the game averaging 12.1 points per game.
---
QUOTE OF THE NIGHT

"Felt like 10 seconds in the paint to me. I was guarding the guy all night. I'm conscious of three seconds."
-- Heat "center" Udonis Haslem, who at 6-8 was called on to guard 7-6 Yao Ming. Haslem got a technical for protesting that Yao was loitering in the paint.

By Mark Simon
ESPN Research
LeBron James takes center stage at Madison Square Garden on Tuesday night. In 16 career games against the Knicks, he's averaging 27 points, 6.1 rebounds and 6.8 assists, leading his Cavaliers to a 9-7 mark against the Knicks.
LeBron's Best Games at MSG

Date
Pts
Reb.
Ast.
March 5, 2008
50
8
10
April 5, 2006
36
2
7
Dec 19, 2007
32
8
6
Nov 13, 2006
29
4
6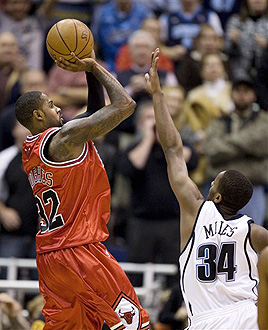 Allen Einstein/Getty Images
Larry Hughes collected the rebound of a Derrick Rose miss and launched the game-winner in Chicago's 101-100 win over Utah.

Golden State Warriors coach Don Nelson tells Mike Tirico and Scott Van Pelt on ESPN Radio that he still coaches after all these years because he has to pay for all of his stuff in Hawaii. Don is totally serious.
Tirico & Van Pelt

By J.A. Adande
ESPN.com
LOS ANGELES -- Byron Scott gave his team the truth, something neither they nor the circulation department of the New Orleans Times-Picayune wanted to hear.
"I told them quit reading the papers," the Hornets coach said. "Quit reading all the papers in New Orleans that said we're one of the higher-echelon teams, because that's a bunch of crock. You're looking at it instead of going out and proving it every day."
The Hornets returned the starting lineup of last season's team that won the Southwest Division and came within a game of the Western Conference finals, but they haven't brought back the same winning ways. They started 7-5 and dropped three of their first seven games at home, a place they lost only one out of four times on average last season.
"People don't understand we're still a very young basketball team," Scott said. "Sometimes you walk out the court thinking you're invincible. I had to bring them down to earth and tell them that you don't scare anybody."
It's the inconsistency on defense that bothers Scott the most, but that appears to be changing. The Hornets have held two of their past three opponents below 90 points, including a 99-87 victory over the Clippers on Monday night, after surrendering 105 points to Sacramento on Nov. 19 in what was their third loss in four games.
"I can deal with losing when we play hard and compete," Scott said. "But when we don't, that's when I lose sleep."
Tyson Chandler was going to lose sleep regardless of the outcome of Monday night's game. He had the alarm set for 3 a.m. to get down to Orange County, where doctors planned to induce labor from his pregnant wife, Kimberly, at 5 a.m. The Chandlers already have a 2-year-old daughter.
A Southern California native like Chandler, Kimberly has spent the final month of this pregnancy out here ... and Chandler admits his thoughts have been with his soon-to-be-born son as his numbers have dipped from more than 11 points and 11 rebounds per game last season to averages of 8 and 8 this season.
"The whole first month of the season, it's all I can think about," Chandler said. "You never know if you're going to get that call. You're pretty much worried."
Chandler planned to spend Tuesday and Wednesday in Orange County, then join the Hornets on Thursday for their game in Denver against the Nuggets.
In the meantime, a different locale meant a change in the media rules for the Hornets.
"It's the L.A. Times," Scott said. "I guess they can read that."