Nathaniel S. Butler/Getty Images
The Knicks are just one of many teams who are trying to free up salary-cap space for a run at James.

Noah Graham/Getty Images
Vince Carter and the Nets shut down Kobe Bryant, but still couldn't figure out how to beat the Lakers.
LeBron Feels Right At Home Inside MSG

NEW YORK -- His first attempt was a set shot from the 3-point line, and naturally, he drilled it.
His toes never completely left the floor on his second shot either, this one another 3-pointer that drained through the bottom of the net.
So, it was immediately clear Tuesday night that LeBron James was quite comfortable with his feet planted squarely on the ground in this, his favorite city, and the King barely had to break a sweat as the Cleveland Cavaliers romped past New York 119-101 in James' first game at the Garden since he dropped 50 on the Knicks late last season.
This, however, was the first time that James had entered the building with the locals having legitimate reason to believe their future savior was setting foot in his future home. The game came four nights after the Knicks made two major trades that set the course for the future direction of their franchise, clearing $27 million of salary-cap room for 2010-11 when they traded away Zach Randolph and Jamal Crawford.
"July 1, 2010 is probably going to be one of the biggest days in free-agent history in the NBA, a lot of teams are putting themselves in position to get one of those guys, they're gearing up for that date," James said before spewing the requisite background quasi-disclaimer on how having the opportunity to win the most championships will ultimately be one of the major deciding factors when he chooses to move on with his life or stick with Cleveland as the center of his universe.
James even brought up Tim Duncan and the small-market San Antonio Spurs, saying he was in awe of how Duncan had settled for less than max contracts to allow the team to retain key players Tony Parker and Manu Ginobili.
"It's not the market you're in, it's all about winning with me, and that's what this league has always been about," James said.
The New York media, never shy about calling out on athlete on something he just said, asked if James was implying that he'd take less than the maximum amount to help ensure how much quality he'll be surrounded with two years from now.
"Oh, I didn't say that. I like the talent part, bringing the talent in, but I didn't say I'd take less," James said.
He won't have to take less, but he'll need to be spurred by something such as excitement and/or hope. But there wasn't quite the buzz in the building that many had expected, and those in attendance didn't even have the creativity to put together a single "We want LeBron" chant to help kill the time after the Cavs went up by 29 before halftime.
James was asked flat-out before the game whether he'd like to play for the Knicks some day, and he avoided a direct answer.
"To bring that type of a distraction to our team right now would be unfair to my team, my teammates, the coaching staff and the rest of the organization," he said.
If Cleveland was coming off one or two titles, would that make the decision easier or harder?
"I don't know. We'll do our best to win it this and next year. Like I said, July 1 is a big day. I know that. I can't sit here and say I don't know how big July 1 of 2010 is, it's going to be a big day, but for me to give to an answer of whether I'm staying or not, or where I'm going or playing, I don't know."
And that's really the bottom line here over the next two seasons as the fans in Cleveland watch their team win 75 percent of their games and the folks in New York witness the opposite. The trades of Crawford and Randolph took away the Knicks' two leading scorers, they lost Nate Robinson to a groin injury Tuesday night, and they were so vertically challenged underneath that Cleveland had no problem turning this one into a rout early by exploiting every mismatch they could find down low.
That, along with LeBron's set-shot 3s, was more than enough to put the Cavs in charge early, where they remained.
"I work at it, so I'm able to change different shots out there on the perimeter. It's something I don't do much, but it's something I work at -- and if I need to resort to going to that, I can," he said.
James has also worked hard at making sure everyone will be walking on eggshells when it comes to impacting his future, and it has become clear he will not tip his hand too far in the direction of the Knicks or the Cavs -- or the Nets or anyone else, for that matter -- until the time is right.
"You have to stay open-minded if you're a Knicks fan," James said before delivering his parting words. "If you guys want to sleep right now and don't wake up until July 1, 2010, then go ahead. It's going to be a big day."
Chris Sheridan covers the NBA for ESPN Insider. To e-mail Chris, click here.
Past Dimes:
November 15-16
|
17
|
18
|
19
|
20
|
21
|
22-23
|
24
|
25
Ball Finally Bouncing Mavericks' Way
By Marc Stein | ESPN.com

DALLAS -- The Dallas Mavericks had missed 16 of their first 18 long-distance launches when Jason Terry sent up another 3-pointer from the corner that didn't look too good, either.
Yet here is where we should probably mention that the Mavs were playing the Indiana Pacers on Tuesday night, which might explain what happened next.
Terry's shot, seemingly left short, hit the front rim, bounced straight up and then dropped straight through.
For the Mavs? A total momentum-shifter.
For the Pacers? It proved to be their here-we-go-again turning point in another fall-from-ahead loss.
"It's very frustrating," Indy forward Danny Granger lamented. "We just can't seem to close teams out."
"That [shot] changed the game," Mavericks guard Jason Kidd countered, after Kidd had followed up Terry's kind bounce with two clutch 3s of his own to finish with 11 points and 13 assists.
The Pacers were up 97-90 when Terry made his fortuitous corner connection with 3:26 to play. But everything else in crunch time was aggressive and timely from Terry, who scored 16 of his 29 points in the final period to finally lift Dallas (7-7) back to .500. Combining with Kidd to pull out precisely the sort of game that the Mavs kept losing in the fourth quarter during their dreadful 2-7 start, Terry enabled the Mavs to tie Boston for the league's longest active win streak at five in a row.
It appears that the Mike Dunleavy-less Pacers, meanwhile, have inherited Dallas' blown-leads affliction, given how shaky and unsure they looked once the Mavs made their late charge.
The Mavs trailed by 13 in the third quarter and appeared headed for their fifth loss in six home games this season given the way they started the fourth; they were unable to get anything done in their half-court offense. You struggled to imagine where the comeback was going to come from with Dirk Nowitzki (24 points, 12 boards) absolutely blanketed down the stretch.
Terry's hot hand, however, gradually opened up the middle, setting up Dallas' lone off-the-bench scoring threat and Kidd to inflict Indy's sixth defeat in nine games in which the Pacers have led at halftime.
And that made sure that Dallas didn't waste a breakout game from surprise starter Antoine Wright, who didn't even get off the bench in Dallas' previous three games but offset the injury absences of Josh Howard (ankle) and Gerald Green (back) with 24 bonus points.
"That five-game losing streak felt like it was two months," Nowitzki said, reflecting on Dallas' 2-7 days.
Said Granger, sounding like he knows exactly what Dirk is describing: "It's a habit we're going to have to learn to break or we're going to be very disappointed this year."
Marc Stein is the senior NBA writer for ESPN.com. To e-mail him, click here.
Daily Dime Mailbag: I am thankful ...

The first few weeks of the season have been dominated by coaches being fired and big names being traded. Here's your chance to weigh in on all the happenings around the league.
Fill out the following sentence, I am thankful ...
The best responses will run in the Wednesday night Daily Dime.
Click here to submit your response.
By Maurice Brooks
ESPN.com

TUESDAY'S BEST
Caron Butler, Wizards
: What's the best way to end a five-game losing streak and impress the new coach? A stat line of 35 points, eight rebounds, six assists and three steals is a good place to start.
---

TUESDAY'S WORST
Ryan Anderson, Nets
: He came off the bench firing, taking eight shots in just 18 minutes of action, but he got only one to go down and finished with just five points.
---
QUOTE OF THE NIGHT

"LeBron is a grown man. A very intelligent young man. He's gonna make the decision which he feels is best for him. I think he's gonna take advice from his close friends. You know what Jay-Z's gonna tell him. ... But we'll see what happens."
-- Spike Lee on convincing LeBron to come to New York
Bench Power: Blatche Goes Off
Elias Sports Bureau

Andray Blatche came off the bench to compensate for another weak scoring performance by Washington's starting guards in the Wizards' win over the Warriors. Blatche scored 25 points with 12 rebounds, 5 assists and 5 blocked shots. Only one other player in NBA history reached Blatche's totals in those respective categories in one game as a sub: Charles Barkley for the 76ers on Nov. 28, 1986.
Dee Brown (10) and DeShawn Stevenson (1) combined for 11 points, the seventh consecutive game in which Washington's starting guards were held to less than 15 points combined.
• The Wizards defeated the Warriors 124-100 in Ed Tapscott's NBA head coaching debut. The 24-point margin of victory matched the third-highest for any coach in his first NBA game. The other coaches who won their first game by at least 24 points were Walt Budko (Baltimore Bullets, 39 points in 1951), Dick Versace (Pacers, 35 points in 1989) and Chris Ford (Celtics, 24 points in 1990).
Tapscott's debut was also the first game in nearly 13 years in which Washington scored at least 30 points in all four quarters. (The last was a 135-107 win over the Celtics on Dec. 2, 1995.) The only other coaches whose team scored 30 or more points in all four quarters of their first NBA game were Pat Riley (Lakers in 1991), Paul Westhead (Lakers in 1979) and Earl Lloyd (Pistons in 1971).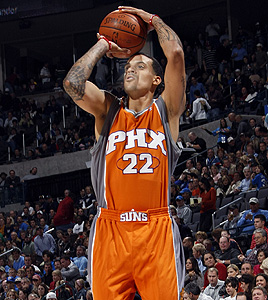 Layne Murdoch/Getty Images
Matt Barnes, who shook loose to score 16 points, drained the game-winning 3-pointer with 25.7 seconds left to play to lift the Suns to a 99-98 road victory over the Thunder.

Chris Webber says if he was LeBron James, he would definitely go to New York. C-Webb also says the Lakers will win the championship, but there's no way they will win 70 games.
The Herd with Colin Cowherd