Brian Babineau/Getty Images
Paul Pierce and Kevin Garnett powered the Celtics to their franchise-record 19th victory in a row.

Ron Hoskins/NBAE/Getty
Harris drained this game-winning shot at the buzzer to give the Nets a one-point win over Indiana.
Celtics Win 19th Straight, Go For 20 On Christmas In L.A.

BOSTON -- "Downplay," Kevin Garnett said. "Downplay is a terrible word."
Those were the words Garnett spoke to Paul Pierce as the two exited the postgame interview room and walked down the hallway, heading to a private Christmas party for the players' families in the Celtics' locker room.
The word "downplay" had been raised by yours truly after nearly 10 minutes of listening to Pierce and Garnett verbally shrug their shoulders at the magnitude of what they had just accomplished: defeating the Philadelphia 76ers 110-91 on Tuesday night to extend their winning streak to 19 games, the longest in franchise history.
Think about that for a second: Through all 17 championship seasons, through all the years of Red Auerbach lighting his stogie at the old Garden, through the Larry Bird era, the John Havlicek era, the Bill Russell era, the you-name-it era, none of those teams could ever proclaim what this year's team can: winners of 19 in a row.
But to hear them discuss it … well, let's just say they aren't pulling out the pom-poms and party favors and blowing their own horns just yet.
"I just don't think you understand how we see it. We're not downplaying anything; we're just being totally honest with you -- or at least trying to be -- very up front that unless you win it all, it's pretty much steam in the air. You see it, and then it evaporates," Garnett said. "With the history involved, if we win, we'll be able to sit back and reflect on the year and actually understand what it is, and the significance of it. But at this point, it's about getting better.
"Maybe we're aware of our flaws more than you guys are, but I wouldn't call it downplaying, man. We see it for what it is, and we respect the history of what it is, but at the end of the day the goal is much bigger than what it is."
At 27-2, the Celtics are off to the best 29-game start in NBA history and remain one game ahead of the 72-win pace set by the 1995-96 Chicago Bulls, who were 26-3 after their first 29 games but didn't lose their fourth until Jan. 22, after they had already piled up 41 wins.
There was little drama in this one, with the Celtics methodically pulling away in the second quarter, sustaining their lead in the third and never letting the 76ers make a game of it in the fourth when a "Beat L.A." chant broke out with just under six minutes left. They have played only four close games (two of which went to overtime) during the 19-game winning streak, and they'll go for No. 20 on Christmas afternoon in an NBA Finals rematch against the Lakers as they begin a four-game Western swing that also includes games against Golden State, Sacramento and Portland.
We'll take the liberty of getting a little ahead of ourselves and raise the possibility of Boston threatening the NBA record of 33 consecutive wins set by the 1971-72 Los Angeles Lakers. If the Celtics return home with a 4-0 record after their upcoming trip, they'll have already eclipsed the second-longest winning streak in NBA history: 22 by the Houston Rockets last season.
The Rockets (whose 22-game streak was ended in emphatic fashion by Boston last year) would be the team standing in the way of a 27th consecutive win, and the Cleveland Cavaliers, in their building, would be the obstacle to No. 28 on Jan. 9.
If the streak ever reached 33, the Miami Heat would be potential consecutive victim No. 34, so go ahead and make a mental note that the night of Jan. 21, when that Celtics-Heat game is played in Miami, could present a chance for the Celtics to make an even bigger impact on team and NBA history than they did Tuesday night.
Again, though, if they are to be taken at their word, such a streak would mean little to the Celtics in terms of the big picture.
"My resolution for '09 is to be NBA champs once again," Garnett said.
"I concur," Pierce chimed in.
Garnett and Pierce have repeatedly been making the point throughout the first eight weeks of the season that the Celtics refuse to overlook any opponent and circle every single game on their calendar, never looking past anyone. But there is no hiding the fact that they are anticipating having another close look at the Lakers, and there's no escaping the fact that they'd be elated if they're able to quiet the Staples Center by the end of Thursday night the same way they did by the end of Game 4 in last season's NBA Finals, the night they took control of the series and moved one win away from earning banner No. 17.
Which gets back to the point that consecutive win No. 19, when it's all said and done, is merely going to be a small part of the story if we get to the end of June and an 18th banner is on order from Banners 'R' Us, or wherever the champs order their tapestries.
And since it's only mid-December, and since four months of regular-season basketball and two months of playoffs still await us, we'll allow the Celtics the liberty of downplaying -- or whatever Garnett would rather have it called -- the significance of what they accomplished Tuesday.
Because as satisfied as they might feel privately, they seem completely genuine when they publicly insist that their current accomplishment -- no matter how significant -- will not detract their focus from what still remains unaccomplished.
Even former coach and current team broadcaster Tommy Heinsohn was shrugging his shoulders in a "So what?" gesture at halftime as I questioned him about the magnitude of doing something no other Celtics team has ever done.
"Right now, they're just looking at staying ahead of Cleveland," Heinsohn said, noting that the Celtics had gained only one game on the Cavs in the standings during the streak.
"They judge you on championships here, you know? My team went 68-14 and didn't win the title. Havlicek got hurt in the playoffs, so anything can happen.
"They're shooting for two in a row -- titles," Heinsohn said, "and that hasn't been done in a while by a Celtics team."
So it isn't just Garnett and Pierce. The standards are pretty high up here, and success will ultimately be judged by whether the Celtics win 16 games in the playoffs -- not 19, 20, or even 34 straight in the regular season.
That's just the reality here, whether or not the Celtics are truly downplaying what they've been doing.
Chris Sheridan covers the NBA for ESPN Insider. To e-mail Chris, click here.
Dimes past:
December 10
|
11
|
12
|
13-14
|
15
|
16
|
17
|
18
|
19
|
20-21
|
22
|
23
TrueHoop: One Bad Apple Can Ruin the Bunch
Henry Abbott | ESPN.com

Isn't this what the Celtics are talking about when they talk about Ubuntu? Isn't this what Pat Riley and his team were doing with their talk of 15 strong? Isn't the Spurs' careful method of character screening all part of weeding out those super-bad personalities?
Sure, it might not be huge to have the 15th guy play well. But it's huge to have him on the same page, pulling for the team to succeed.
I have also noticed over my life that title-winning teams tend to be teams where everybody can give 100% just about all the time. That means you can't have super-talented players who are not really contributing. In other words, I'd argue you're better with Mr. "Go Team" Mark Madsen as your 11th man, instead of a really talented player who can only give 100% if somebody gets hurt. It's your protection against the bad apple syndrome.
This, I'd argue, is the flaw with the Bob Whitsitt style of management where you assemble as many stars as possible. When there aren't enough basketballs to go around, some of your good apples might go bad. And, it turns out, that can change everything. Another part of the story mentions that in some research, across many industries, the best predictor of a team's success came from assessing the worst person on the team. As in, that person has a bigger effect than the leader or an average player. That's something, huh?
To read the entire TrueHoop blog, click here.
The Losses Continue To Pile Up For Thunder
ESPN.com

Despite getting 28 points from swingman Kevin Durant, the Thunder lost on the road to the Hawks 99-88 on Tuesday.
It is the second straight defeat for Oklahoma City, and its 10th loss in the past 11 games. The Thunder now have a record of 3-26, putting them on pace to go 8-74 for the season.
The 1972-73 Sixers, who posted the worst record in league history (9-73), had the same mark as the Thunder after 29 games.
By Maurice Brooks
ESPN.com

TUESDAY'S BEST
Rodney Stuckey, Pistons
: Seven games ago, Stuckey was inserted into the starting lineup. He rewarded coach Michael Curry's faith in him by scoring a career-high 40 points to help ease the loss of Allen Iverson (groin).
---

TUESDAY'S WORST
Mike James, Wizards
: Even though it is the holiday season, the point guard wasn't in the giving mood, going 4-for-16 from the field and finishing with just one assist in a loss to the Bobcats.
---
QUOTE OF THE NIGHT
"I'm hoping, maybe, that it's scar tissue or something like that, and those things are going to happen while he's recovering. We'll find out."
-- Spurs coach Gregg Popovich on Manu Ginobili, who appeared to tweak his ankle late in the win against the Wolves.
Will Mayo's Numbers Decline?
By John Hollinger | ESPN.com

O.J. Mayo, along with Derrick Rose, is making a run for rookie of the year honors, but the Grizzlies' guard might have trouble sustaining his level of production. That's not because he's a bad player. In fact, Mayo's fundamentals are much more solid than most one-and-done products, as he is a good defender, handles the ball well and doesn't try to overdo it.
That said, I can't imagine he's quite as good a shooter as he has shown so far. For starters, Mayo is at 40.8 percent on 3-pointers -- a range nearly all rookies struggle adjusting to. It's possible he's really that good, but he might just be shooting over his head.
But that's nothing compared to his success rate on long 2-point field goals. Mayo is shooting 66-for-120 on long 2s this season for a 55.0 percent conversion rate. I can't emphasize this enough: Nobody shoots that well. Last season, only two players with at least 100 attempts made more than half their shots from this range: Steve Nash and Mo Williams.
The odds of Mayo shooting anywhere near 55.0 percent on his next 120 long 2s are very, very low. Even the best open shooters in the league have trouble maintaining such a high success rate, and Mayo is shooting contested jumpers far more often than a lot of those players do.
So as impressive as his start has been, there's a good chance his shooting numbers will cool off a bit.
• Read all five Hollinger Insider Gems.
Heat Equal 2007-08 Win Total
Elias Sports Bureau

The Heat beat the Warriors 96-88, matching their 2007-08 win total of 15 wins in their 27th game. Miami tied the third-fewest games an NBA team has needed to reach its previous-season win total (minimum 80 games in the previous season). The 1973-74 76ers got their ninth win in their 24th game. The 1994-95 Mavericks won game No. 13 in their 25th try. And last season, the Celtics earned their 24th victory in their 27th try.
• Dwyane Wade had 32 points, eight rebounds and eight assists in Miami's victory. It was Wade's 15th career 30-8-8 game. The only NBA player with more such games over the past six seasons is fellow 2003 draftee LeBron James, who has 32.
Nothing They Can Do About It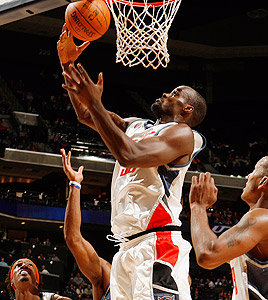 Brock Williams-Smith/Getty Images
Emeka Okafor did what he wanted to in the paint for the Bobcats, scoring 29 points and pulling down 18 rebounds, in their eight-point victory against the struggling Wizards.