Noah Graham/Getty Images
The Lakers improved to 27-5 and have the rest of the NBA chasing them for the best record.

Joe Murphy/Getty Images
After 13 straight losses to Dallas, the Grizzlies brought that streak to a halt with a convincing win.
One Week Into 2009, Lakers Have NBA's Top Mark

LOS ANGELES -- The Lakers have a growing list of injured players. They have concerns that their young big man hasn't recaptured the form that made him so promising a season ago. They have lapses when they forget what it takes to be effective. They also have the best record in the NBA.
And so, almost accidentally, the Lakers (27-5) claimed the top spot by beating Portland 100-86 on Sunday night after the Celtics (29-6) lost at New York and the Cavaliers (27-6) lost at Washington. Avoiding those losses to the bad teams is one of the ways the Lakers got here. They're 11-2 against sub-.500 teams. (The losses came at Indiana and Sacramento.) They're also 18-1 at home. So that's the basic part of the formula: win at home, beat the bad teams.
What makes the Lakers look championship-worthy is when they remember to play defense. They did so in the third quarter Sunday, a 12-minute stretch during which they forced five turnovers, held Portland to 16 points on 36 percent shooting and turned a one-point halftime lead into a 15-point advantage. Those types of quarters and games are there for them whenever they want. The greatest challenge during the course of this schedule-friendly month that features 11 games in the Staples Center and only one trip out of state (a back-to-back set in Houston and San Antonio next week) could be staying focused on basketball.
Before the game Sunday, Phil Jackson spent a good portion of his regular television interview discussing tacos. Afterward, the only time Kobe Bryant's expression changed was when he talked about the Philadelphia Eagles' playoff victory. (Bryant grew up in Philadelphia.) His best description of the Lakers was a NASCAR-themed metaphor.
"We've got plenty more gears to go to," Bryant said. "Plenty more. I haven't put it in third gear yet."
One reason the Lakers are winning without flooring the gas pedal is Bryant's efficiency. He is making 48 percent of his shots and is on pace for a career best in that category. He has shot 57 percent or better in three of his past four games. He scored 26 points on 19 field goal attempts Sunday and 40 on 23 shots Friday against Utah. He's still third in the league in scoring at 26.8 points per game despite playing his fewest minutes per game (35.4) since he was a reserve in his second season.
It helps that Pau Gasol is such a reliable scoring option and the Lakers' depth usually finds enough other scoring parts.
"They are a good group," Portland coach Nate McMillan said. "They are on a mission. They definitely know what they need to do to win."
It's simply a matter of application.
"That's always our Achilles' heel: how we play defense," Lamar Odom said. "Tonight in the second half, we were able to do that."
An Achilles' tendon injury seems like the inevitable next malady for the Lakers. Backup point guard Jordan Farmar has a torn meniscus in his left knee and probably will be out until February. Jackson, who had planned to pace 34-year-old starter Derek Fisher throughout the season, worries that Fisher will log too many minutes in Farmar's absence, such as the 42 he played chasing Utah's Deron Williams on Friday night. Luke Walton, who was recently plucked from the end of the bench to replace Vladimir Radmanovic in the starting lineup, was diagnosed with sesamoiditis (an inflammation of the tendons leading to the big toe in his right foot) and will see a doctor on Monday.
"Injuries are going to happen," Odom said. "That's why it's important to be a deep team."
Depth is the Lakers' greatest asset, and it has made their flaws seem minimal. Bryant hasn't shown quite the same explosive leap. He can't be counted on to physically overwhelm opponents anymore. And the Lakers haven't exactly dominated with their huge front line of Gasol and Andrew Bynum. Bynum's scoring, rebounding and shooting numbers are down from where they were before he was injured last season, and there's consternation in the crowd whenever Bynum misses a shot.
But the only thing that has really bothered the Lakers is their inconsistency.
They let an early 20-point lead against Utah slip away to three points on Friday. Then they fell behind Portland 18-9 on Sunday in a bumbling first quarter during which they committed nine turnovers. But Portland, playing without star Brandon Roy, couldn't sustain its offense or contain the Lakers, who kept coming at them.
And their greatest concern doesn't seem to be scoring runs or injuries. It's tacos.
A fast-food chain gives away coupons for free tacos to everyone in attendance if the Lakers win and hold their opponent to fewer than 100 points. They've done so in two of the four games they've played on their current five-game homestand.
"Everybody loves tacos," Bryant said in an on-court interview after the game.
On the pregame show, Jackson said he actually prefers the tacos made by a local spot not too far from the Staples Center. When I told him those tacos were overrated, he replied, "Aren't they all? A taco's a taco."
And a win is a win. At the end of the first weekend in January, 40 percent of the way through the season, the Lakers have racked them up at a better rate than anyone.
J.A. Adande joined ESPN.com as an NBA columnist in August 2007 after 10 years with the Los Angeles Times. Click here to e-mail J.A.
Dimes past: Dec. 18 | 19 | 20-21 | 22 | 23 | 24 | 27-28 | 29 | 30 | 31 | Jan. 1 | 3-4
Garnett Is Cool With the Celtics' Adding Marbury
By Chris Sheridan | ESPN.com

NEW YORK -- If the Boston Celtics want to sign Stephon Marbury, they have Kevin Garnett's blessing.
It's not an outright endorsement, mind you, but KG would be perfectly cool with Boston's pursuing Marbury if he reaches a buyout agreement with the New York Knicks, a story that has taken on considerable steam since it was reported Friday by ESPN.com's Marc Stein.
"I'm not opposed to Steph," Garnett said Sunday in his first public comments on the scenario. "I feel Steph still has a lot of basketball in him. I know his IQ is very, very high. He is one of the best point guards out there to play with. I wouldn't be opposed to that."
When asked whether he would take his non-opposition a step further and outright endorse the possible acquisition of Marbury, Garnett put the brakes on.
"I know where this is going, y'all. Y'all relax, OK?" Garnett told a small crowd of reporters who waited more than an hour for him to speak after the Celtics' shocking 100-88 loss to the Knicks. "If Steph came to this team and made it better, I'm all for that. If anybody came to his team and made it better, I would be for that."
Of course, Marbury remains the property of the Knicks, who are not exactly enamored with the idea of Marbury's joining an Eastern Conference rival and remaining relevant well into June -- a good two months after the Knicks' 2008-09 relevancy will have expired.
New York is even less enamored with Marbury's possibly joining the Miami Heat -- one of the teams the Knicks expect to be contending with for one of the final playoff spots in the East. But even though Knicks president Donnie Walsh planned to check into whether NBA rules permit him to make a deal -- whether a handshake deal or something in writing -- with Marbury in which New York would offer a larger buyout sum if Marbury were to agree to sign with a Western Conference team, the league doesn't allow such stipulations. The Chicago Bulls had a handshake agreement of that sort with Tim Thomas three years ago when they bought him out and allowed him to sign with Phoenix, and the Knicks can work out something similar. But they can't legally prearrange a divorce agreement that designates which conference the bought-out player would relocate to under NBA guidelines.
In speaking with ESPN.com prior to the game, Walsh made it clear that he plans to take his time moving forward on any Marbury resolution -- even going so far as to say he wouldn't be completely surprised if some team comes to him in the next six weeks and makes him a trade offer for Marbury to clear long-term salary. (He said no team has made a trade offer of any sort for Marbury to date.)
Walsh was quick to add that he would not want to take on any salary beyond the 2009-10 season, but when he was asked whether he would change his mind if he would have a chance to acquire a top-caliber player, Walsh responded affirmatively.
"There's an exception to every rule," Walsh said, adding that he could immediately think of two players (the educated guess here is that one player he was referring to was Baron Davis of the Clippers) who might become available in six weeks if current leaguewide win-loss trends hold. "You never know when some team might decide things didn't work out as planned and they want to blow it up and start over."
To read the entire Sheridan column, click here.
Celtics and Cavaliers Both Lose On Same Day ... Again
Elias Sports Bureau

For exactly 28 years -- spanning Dec. 30, 1980 to Dec. 30, 2008 -- there was never a day on which two NBA teams with winning percentages of at least .800 through at least 30 games of the season both lost. It's happened twice in the past six days, as the Celtics and Cavaliers both lost Tuesday and again Sunday.
• Allen Iverson scored 18 points and had 10 assists in the Pistons' 88-87 win over the Clippers. It was only the second time this season that Iverson recorded at least 10 assists in a game. He had 10 or more assists in 73 games during the previous four seasons.
• The Grizzlies have as many wins by 20 or more points in 2009 as they did in 2008 following a 102-82 win over the Mavericks. Memphis recorded only one 20-point victory in all of 2008 (124-100 over the Sonics last January).
• Orlando coach Stan Van Gundy was critical of Dwight Howard after his center scored 39 points but shot 11-for-18 from the foul line in the Magic's 108-102 loss at Toronto. It was the highest point total this season by a player who missed at least seven free throws in the game. Howard also missed seven free throws in a loss to the Blazers on Nov. 10.
By Maurice Brooks
ESPN.com

SUNDAY'S BEST
Wilson Chandler, Knicks
: The forward went off for a career-best 31 points as the Knicks handed the Celtics their fourth loss in the past six games. He also grabbed eight rebounds and helped New York pull away in the third quarter.
---

SUNDAY'S WORST
Kevin Garnett, Celtics
: Not only did he make just one of his six attempts from the floor en route to a season-low six points, but Boston's defense couldn't come up with a way to stop New York's
Wilson Chandler
or
Al Harrington
, who combined for 61 points.
---
QUOTE OF THE NIGHT
"We didn't play as good as we needed to play. We didn't block out on rebounds, we didn't do a lot of the little things, and I take the blame for a lot of the stuff that happened. I wasn't there defensively like I should have been."
-- Magic center Dwight Howard, who scored 39 points in the loss to the Raptors, but blocked only one shot.
Oden Continues To Improve
By J.A. Adande | ESPN.com

LOS ANGELES -- Twenty-four seconds into Sunday's game, Portland's Steve Blake drove down the lane to the southern basket in the Staples Center and dished the ball to Greg Oden for a dunk. Just like that, Oden had a better performance than he did in his NBA debut here in the season opener. Oden played only 13 minutes on opening night, having to leave with a foot injury that caused him to miss the next six games.
The Oden who returned Sunday night was, in his words, "more aggressive" and had a slightly more developed game.
He has a better sense of where to be on defense, such as in the first quarter when the Blazers left Kobe Bryant a lane to drive. Bryant took them up on the invitation, but then Oden stepped over, and suddenly Bryant was looking to pass. On another possession, Bryant was thinking score until Oden arrived on the scene to discourage his shot, and Bryant wound up throwing the ball away.
He's starting to show more on offense as well. Oden got the ball on the left side of the lane against the Lakers' Andrew Bynum, backed him into the middle of the paint, unleashed a hook shot and was fouled by a helping Vladimir Radmanovic.
The next possession, Oden drew a double-team, waited for the second defender to leave, then tried a hook shot over Bynum. This time Bynum didn't give ground. Oden needs to learn a secondary move or counter when opponents take away his first option.
"He's very athletic, very strong, very powerful," the Lakers' Pau Gasol said. "He needs to gain confidence and work on his post game, because right now it's based on his strength.
"Obviously, he's got a lot of potential, a lot of room for improvement on his game and for his career. Things look very promising for him. But there's still a long ways to go."
At least Oden's numbers for the night -- 10 points and four rebounds -- were an improvement from his scoreless debut.
"I represented myself, but we didn't win and that's the one thing that matters," Oden said.
Said Portland coach Nate McMillan: "I thought he was more aggressive and a little bit more relaxed out there. A little calmer than he was in the first game, and he was able to get some deep low-post position and make some plays out there for us."
Just a reminder: Oden's career still consists of only 27 games.
Bryant Behind Jordan and Wilt

Kobe Bryant, who scored
only
26 points in the Lakers' win over the Blazers on Sunday, topped the 40-point mark for the 94th time of his career in a victory over the Jazz on Friday. Here is a look at where he ranks on the all-time list.
Most career 40-point games
Wilt Chamberlain
271
Michael Jordan
173
Kobe Bryant
94
Elgin Baylor
88
Allen Iverson
79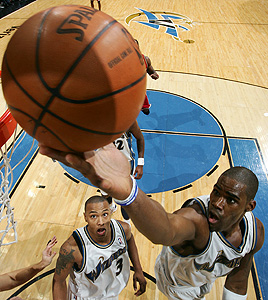 Ned Dishman/Getty Images
Antawn Jamison had 26 points and 13 boards for the Wizards, who edged the Cavs thanks to a travel call against LeBron James with 2.3 seconds remaining. "Bad call," James said. "We all make mistakes, and I think I got the wrong end of the bargain. I watched it 10 times, and it was clearly a good play."