Nathaniel S. Butler/Getty Images
Despite Durant's 31 points, six rebounds and five assists, the Thunder couldn't keep up with the Heat.

Ron Turenne/Getty Images
Grant Hill, who was one of six Phoenix players to score in double digits, had a team-best six boards.
Durant Is Way Ahead Of Beasley ... Right Now

Yes, they are childhood friends who lived near each other. Yes, they both destroyed their Big 12 opponents in one year of college in record-setting fashion that almost guaranteed NBA stardom. And yes, both were drafted No. 2 overall behind hugely talented players.
Their past, and their paths to the NBA, are so similar that expecting a similar future seems a foregone conclusion for this pair of 20-year-old phenom forwards. But in the case of Michael Beasley and Kevin Durant, yesterday and tomorrow might be the same, but today is vastly different.
Matched up against each other in Oklahoma on Sunday, the differences were evident from the opening tip. Durant has been a starter since he first arrived to the Sonics last year. And though he played uninspired ball for much of his rookie season, his sheer numbers, thanks to being the center of the offensive attention, were enough to earn him the Rookie of the Year award. He arrived and was handed the keys to the car.
Beasley, of course, has enjoyed no such luxuries since being drafted by the Heat. He has started fewer than half their games and plays behind very experienced and talented players like Shawn Marion and Udonis Haslem.
When he has started, he hasn't been anywhere near the center of the action, since superstar Dwyane Wade takes care of those duties.
Even with Marion sitting out Sunday night, Heat coach Erik Spoelstra elected to bring Beasley off the bench, where he has proved to be an excellent spark offensively.
By the time he entered this game late in the first period, Durant already had five points on four shots. Here's what "being the center of the offense" means; Durant runs his man off "single-doubles" to get open jump shots from the wing. He gets to post up smaller guys whenever he wants. He is asked to sprint the floor in transition whenever possible. He runs handoff actions from the pinch post. He plays two-man games with his point guard. He gets ball screens set for him. He plays catch and shoot with his teammates, both as a driver and a shooter. In essence, the Thunder utilize almost every offensive action available to free him up or isolate him in advantageous matchups.
And it worked well against Miami, just as it has ever since Scott Brooks took over as head coach. He scored 31 points on 20 shots (10-for-20 from the field) and nine free throws (8-for-9). KD also collected five assists, making easy passes when he felt the curl protection off those single-doubles or when he got pinched by two help defenders.
Durant is so tall for his position at small forward, and he's exceptionally long, too, so he presents all sorts of matchup problems even without the offensive execution. It's incredibly difficult to contest his shots, especially so because he has mastered the art of the quick release, shooting the ball as he jumps sometimes (something Bernard King was incredible at, but King was 5 to 6 inches shorter than KD). Because his defenders have to get extra close to him to contest the shot, Durant has an easier time getting his (long) first step by his opponent.
He gets 6.1 free throws per game, and I expect that to grow as the season unfolds. He is also deceptively fast and very creative finishing at the rim. I initially compared him to George Gervin last November because of that length and creativity. So seeing him lead a break or fill a lane is no surprise, and he has a chance to be one of the league's most feared transition finishers (not named LeBron James) once he adds considerably more strength.
Beasley is not tall or long for his position. Scouts around the league still question what his best position will be. That could not be answered this game, as foul trouble limited him to 10 total minutes and just four points, his lowest scoring output since he didn't score a point in 13 minutes in late November in Phoenix.
He's been a terrific source of scoring off the bench, averaging 15 points in just 24 minutes in January on 50 percent shooting. The presence of Wade means Beasley gets the bulk of his scoring opportunities off the play of someone else's action, a very different scenario than what he had in college.
Beasley spends a lot of time floating outside, giving Wade ample space to drive and make his special scoring plays. When Beasley does get the ball, he can both shoot effectively from deep (15-for-38 from 3) and get to the hole. He has a special "scorer's knack" of finding a crease and taking advantage of it. But when he does not get the ball, he tends to stand around and watch his incredible teammate, even after a shot is taken. Getting after every offensive rebound is a surefire way for Beasley to earn more playing time. But that still probably won't be enough to earn him a ROY award, as too many rookies get to be the "center of the action" for their teams and therefore put up more gaudy numbers.
Durant is much better now than he was last season, and it's fair to assume Beasley will experience similar growth next season. Importantly, Durant finished his rookie year in very strong fashion, though it had no impact on playoff positioning. And that's where Beasley can one-up his buddy. Having a teammate like Wade may hurt when trying to be the best rookie in his class, but it's a huge advantage when making the playoffs is the ultimate goal. And in the playoffs, Beasley's scoring feel and great hands as a rebounder could be the difference between winning and losing a series. So while these two longtime friends -- who forever will be remembered as two of the best freshman to ever play college basketball -- are impacting the league in different ways, they are most assuredly making an impact. And they should for years to come.
David Thorpe is an NBA analyst for Scouts Inc. and the executive director of the Pro Training Center at the IMG Academies in Bradenton, Fla., where he oversees the player development program for more than 40 NBA, European League and D-League players. To e-mail him, click here.
Dimes past: Jan. 1 | 3-4 | 5 | 6 | 7 | 8 | 9 | 10-11 | 12 | 13 | 14 | 15 | 16 | 17-18
Celebrating Martin Luther King Day
ESPN Research
The NBA's color barrier was broken in the 1950-51 season, marking the first appearance of black players in the league. With Martin Luther King Day being celebrated on Monday and the inauguration of Barack Obama as the nation's first black president on Tuesday, here are some firsts for blacks in NBA history.
First black player drafted: Chuck Cooper (out of Duquesne) by the Boston Celtics in the second round in 1950.
First black player to play in a game: Earl Lloyd with the Washington Capitols (Washington opened its season on Oct. 31, 1950).
First black All-Star: Donald Barksdale in 1952-53 with the Baltimore Bullets.
First black player to win an NBA title: Jim Tucker and Earl Lloyd with the 1954-55 Syracuse Nationals.
First black MVP: Bill Russell in 1957-58 with the Boston Celtics.
First black head coach: Bill Russell in 1966-67 with the Boston Celtics (he was a player-coach).
First black head coaches facing in the NBA Finals: 1975 featuring Al Attles (Warriors) vs. K.C. Jones (Bullets).
First black general manager: Wayne Embry in 1972-73 with the Milwaukee Bucks.
First black majority owner: Bob Johnson was granted a franchise (became the Charlotte Bobcats) on Jan. 10, 2003.
12-Game NBA Schedule On MLK Day

There are a dozen NBA games on the schedule on Martin Luther King Day, including nine afternoon games and a tripleheader on TNT. Here is the breakdown (all times Eastern).
Bulls at Knicks, 1 p.m.
Mavericks at Sixers, 1 p.m.
Raptors at Hawks, 2 p.m.
Nuggets at Rockets, 2 p.m. (NBA TV)
Spurs at Bobcats, 2 p.m.
Pacers at Hornets, 3:30 p.m.
Timberwolves at Clippers, 3:30 p.m.
Wizards at Warriors, 4 p.m.
Pistons at Grizzlies, 5:30 p.m. (TNT)
Suns at Celtics, 8 p.m. (TNT)
Bucks at Blazers, 10 p.m.
Cavaliers at Lakers, 10:30 p.m. (TNT)

By Maurice Brooks
ESPN.com

SUNDAY'S BEST
Steve Nash, Suns
: He had nine points, six rebounds and gave out a season-best 18 assists to move just two helpers behind Tim Hardaway (7,095) for 12th place in NBA history.
---

SUNDAY'S WORST
Toronto Raptors
: The Raptors, who were defeated 117-113 by the Suns, have dropped five straight and six of their last eight to fall 10 games below .500.
---
QUOTE OF THE NIGHT
"Not to my liking."
-- Suns coach Terry Porter on the Suns, who scored more than 100 points for the 17th time in the past 18 games
Magic Enjoying Special Season
ESPN Research

The Magic's Dwight Howard is a leading candidate for the MVP and Defensive Player of the Year awards, Stan Van Gundy has done one of the league's best coaching jobs, and few players have shown more improvement this season than Jameer Nelson.
While all of those individual accolades are nice, Orlando has championship dreams. The Magic, who are 33-8:
• Are tied with the Celtics for the most wins in the league;
• Have won seven straight and nine of their last 10;
• Have won 11 straight games at home;
• Are now 17-5 on the road and 18-4 vs. the Western Conference;
• Defeated all three Western Conference division leaders on its just completed West Coast trip;
• Swept the Lakers and Spurs in their respective season series for the first time in their 20-year history.
Scoring 18 Points In A Flash
Elias Sports Bureau

Dwyane Wade scored 18 points in the first quarter of the Heat's 104-94 win at Oklahoma City. It was the second-highest first-quarter point total of Wade's NBA career, one short of his personal record, set against the Jazz three years ago.
• The Raptors outscored the Suns 72-59 with their starting frontcourt of Chris Bosh, Jamario Moon and Andrea Bargnani all on the court together. But Bosh played only 36 minutes due partly to foul trouble, and Phoenix prevailed.
• Dirk Nowitzki scored 39 points in Dallas' win over Utah on Saturday. It was the 16th time in his NBA career that Nowitzki scored at least 39 points in a game, but only the second of those 16 games that he did not make a 3-pointer. Dirk scored 39 points against Seattle on April 14, 2003 despite going 0-for-2 from 3-point range.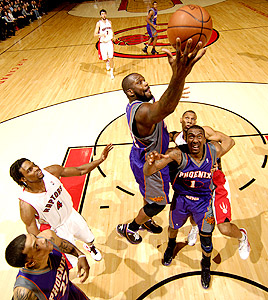 Ron Turenne/NBAE/Getty Images
Shaq had a good shooting game, going 6-for-9 from the floor and making all four of his free-throw attempts to help the Suns get past the Raptors. He finished with 16 points.