(Noah Graham/Getty Images)
With Amare Stoudemire and Steve Nash sidelined, Shaq's Suns couldn't keep pace with the Lakers.

(Joe Murphy/Getty Images)
When he wasn't stopping the Cavs' LeBron James, Ron Artest was busy scoring two of his 15 points.

(Noah Graham/Getty Images)
The Lakers, who tied their season high with 132 points, improved to 27-4 at home this season.
Suns Thinking About More Than Just Playing Ball

LOS ANGELES -- There's no pretense in the Phoenix Suns, no romantic notion that if they make a gallant run to make the playoffs they can keep the last remnants of this team together.
They're a temporary team with a temporary coach. "I lead the NBA in interims," said Alvin Gentry, now on his fourth head coaching job.
Yes, Phoenix could potentially elevate from its current ninth spot and crash the party of eight playoff-bound teams. But the likely first-round exit wouldn't rake in enough revenue to offset the financial issues of the franchise and owner Robert Sarver. And you're just as likely to see another round of trade rumors -- probably this time with action -- over the summer.
"It's the way it is," Steve Nash said. "It's been a common theme my 4½ years here. But we knew that going in, that that was the financial model for the ownership group.
"It's not obviously the best formula for winning, but it's understandable."
We've just seen an example of economics over performance two weeks ago, when the Suns' two All-Stars, Shaquille O'Neal and Amare Stoudemire, were also the two most prominent in trade rumors. So even the Sun most prone to make the most grandiose statements has turned into Shaq the Praqtical.
"It's been different," O'Neal said. "Most of the time when you're not playing well, your name comes up. But economy's different, business is different. Other guys want to do certain things, like save money. I know at the end of the day, any businessman is going to do what's right for his or her business."
He was asked what a playoff berth would do. He didn't bite.
"Again, business has to be handled accordingly," Shaq said. "Everybody's looking to cut back and save. In that sense ..."
It might not be enough?
"Yeah."
The sad thing is, we might not even see them all assembled together again. Stoudemire could miss the rest of the regular season with a detached retina in his eye. There might not be a postseason. Nash was out with a sprained ankle Thursday night against the Lakers, leaving a ragtag unit to get throttled 132-106 by the league's best team.
For now, business for the Lakers means the serious approach exemplified by Kobe Bryant, who was silent during a trip through the locker room during the pregame media access period, then had a quick fist pound and a tap on the chest for Shaq when they met before tip-off, a far cry from the playful banter when we last saw them together, sharing the All-Star Game MVP trophy. Then Bryant made all six of his shots in the first quarter, serving notice that the Suns shouldn't bother thinking they could sneak in a victory.
Shaq did talk with the media beforehand, taking questions on his newfound status as the Big Twitterer, looking back once again on his time with the Lakers and how it ended.
"I don't take anything personal, especially now at my old age," O'Neal said.
"For me, yeah, it was business. Yeah, probably was business [for them]. They probably wanted to move in a new direction and they probably wanted to stay under the salary cap. Back then I wasn't talking nothing under the salary cap."
Indeed, one factor in his trade from the Lakers to Miami was Laker owner Jerry Buss' inability to come to terms on a contract extension, with O'Neal vowing not to take a "drastic drop" in salary. There were personality issues as well, with an insurmountable clash with Kobe.
So O'Neal moved on to Miami, then on to Phoenix, and he could have gone to Cleveland or Portland before the trading deadline last week.
How quickly things change in the NBA. In 2007 it was Bryant demanding a trade, after the second consecutive playoff ouster at the hands of the Suns, on a franchise that seemed to be going in reverse.
"Seems like a long time ago," Bryant said of the old Lakers-Suns playoff battles. "Obviously their team's completely different than it was ...
"I wish they were still there so we could kick their [butt]."
Now they're not even guaranteed to make the playoffs. They could barely even muster a fight in an important game for their postseason prospects (they're pretty much all important from here on out.)
In fact, the greatest threat they posed to the Lakers Thursday night was their own potential lethargy, which explained Kobe's sober demeanor.
"Tonight's game felt kind of like a trap game, because we're at home and Steve's not playing," Bryant said. "It's one of those things where we take the night off, so to speak. I wanted to make sure from the jump that we didn't."
So there's the difference between the two teams, even more than the 15½ games in the standings. Lakers, businesslike on the court. Suns, consumed by business off the court.
Sarver said, "I'm not thinking about that stuff right now."
His players are. And that's no way to go through a season.
J.A. Adande is an ESPN.com senior writer and the author of "The Best Los Angeles Sports Arguments." Click here to e-mail J.A.
Dimes past: Feb. 7-8 | 9 | 10 | 11 | 12 | 13 | 18 | 19 | 20 | 21-22 | 22 | 23 | 24 | 25 | 26
Cashing In On the Freebies
By Paul Kinney | ESPN Research

Something must be in the water in NBA arenas this season. Toronto's Jose Calderon, Phoenix's Steve Nash, Boston's Ray Allen and Cleveland's Mo Williams are all on pace to have four of the top 12 individual free throw shooting seasons in NBA history.
What's more interesting is that other than those four players, the most recent player on the list below was back in the 1999-00 season.
All-Time Single-Season Free Throw Leaders

Player
Percentage
Season
1. Jose Calderon
.9817
2008-09
2. Calvin Murphy
.9581
1980-81
3. Mahmoud Abdul-Rauf
.9563
1993-94
4. Jeff Hornacek
.9500
1999-00
5. Mark Price
.9475
1992-93
6. Mark Price
.9474
1991-92
7. Rick Barry
.9467
1978-79
8. Ray Allen
.9457
2008-09
9. Steve Nash
.9456
2008-09
10. Ernie DiGregorio
.9452
1976-77
11. Chris Mullin
.9390
1997-98
12. Mo Williams
.9355
2008-09
Big Leads For the Division Leaders

By Elias Sports Bureau
The Lakers, who finish their February schedule with a game in Denver on Friday, extended their lead in the Pacific Division to 15½ games with a win over the Suns on Thursday. The Celtics (16½) and Cavaliers (17) also currently lead their respective divisions by more than 15 games. Only five teams in NBA history to date held a lead of at least 15 games at the end of February: the 2005-06 Pistons (15½), 1987-88 Celtics (15½), 1985-86 Lakers (16½), 1970-71 Bucks (15½) and 1958-59 St. Louis Hawks (16).
• The Suns, playing without Steve Nash and Amare Stoudemire, lost 132-106 to the Lakers. Since Nash rejoined the team in 2004, Phoenix is 0-4 when neither Nash nor Stoudemire play. Three of the four losses have been by at least 20 points.
• The only active players to go further into their careers than LeBron James (446 regular season games) without an assist-less game were Jason Kidd (723 games), Stephon Marbury (501) and Mike Bibby (468). (Marbury is expected to clear waivers and sign with the Celtics on Friday.)
By Maurice Brooks
ESPN.com

THURSDAY'S BEST
Ron Artest, Rockets
: His defense was the major reason that LeBron James made just 7 of 21 shots and didn't record an assist for the first time in his career (493 games, including postseason). James also was limited to one rebound.
---

THURSDAY'S WORST
Cleveland Cavaliers
: The Cavaliers had their five-game winning streak snapped in a 93-74 loss to the Rockets that saw them set season lows for points in the first (11) and third quarters (10) and shoot a season-low 33.8 percent.
---
QUOTE OF THE NIGHT
"Those that were fortunate enough to have known Johnny were touched by both his tremendous compassion for people, and his lifelong passion for the game of basketball. We will miss him greatly."
-- Bulls chairman Jerry Reinsdorf on Johnny "Red" Kerr, the former Chicago Bulls coach and broadcaster, who died Thursday after a battle with prostate cancer
All-Around Bad Night For Cavs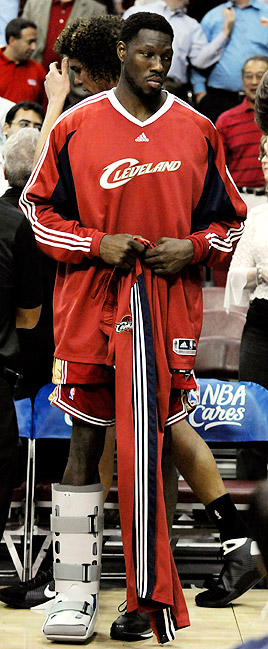 AP Photo/Pat Sullivan
According to team officials, Cleveland forward Ben Wallace will miss four-to-six weeks after breaking his right leg in the second quarter of the Cavaliers' loss to the Rockets.
Yes, the Celtics Are Still No. 1
By John Hollinger
ESPN.com

Several e-mails are also coming in from Laker fans regarding Boston's loss to the Clippers, juxtaposed with the Celtics' continued perch atop the Power Rankings.
Here's the deal: Boston had enough of a margin over the Cavs and Lakers that a two-point road loss, even to the Clippers, wasn't going to knock their rating down far enough to put them behind those teams. All the facts I mentioned on Tuesday remain true: Boston still has a better scoring margin and a stronger strength of schedule, both on the season and in the most recent 25 percent of their schedule, and they've done it with the benefit of fewer home games.

Orlando All-Star Rashard Lewis names the league's toughest power forward to guard, the biggest trash talker and his favorite places to play.
Scott Van Pelt Show