Sam Forencich/NBAE via Getty Images
What 2 Watch 4: Try 30 Games In 30 Days

Tuesday isn't merely St. Patrick's Day. It also starts the countdown of the final 30 days of the regular season.
There's a lot to squeeze into that month, too, starting with finalizing the seeding order for Cleveland, Boston and Orlando in the East. We've also still got six teams in the running for the eighth seed in the East. And we have seven teams, from No. 2 to No. 8, separated by a mere four games in the ever-wild West.
A rundown of the 30 most un-missable games in those 30 days follows here, inspired by the breakdown we do every summer when the schedule is first released and with the benefit of five months of buildup to help us pick out the must-see fare that should help sort out all of the above:
March 17: Orlando at Cleveland
It has to be good to trump the Celtics playing on their holiday in Chicago. Dwight Howard hooking up with LeBron James qualifies.
March 18: Chicago at Oklahoma City
Rookie of the Year favorite Derrick Rose meets up with with the uber-athletic Rookie of the Year challenger who's coming up strong from the outside: Russell Westbrook.
March 20: Boston at San Antonio
Some of us would dare to describe this as a potential NBA Finals preview. Are you with us?
March 22: Philadelphia at Sacramento
This is the Kings' final game against an Eastern Conference opponent this season. Which makes it Sacramento's final opportunity to beat an Eastern foe if it hasn't happened by then.
March 25: Boston at Orlando (ESPN)
It's very possible that this'll be a showdown for the East's No. 2 seed as opposed to the top spot. Still must-see viewing, though.
March 31: New Orleans at Sacramento
The first NBA player we ever wrote about professionally back in 1989 -- Vlade Divac -- gets his jersey retired at Arco Arena with friend and countryman Peja Stojakovic on the other bench. We hope to be there, too.
April 1: Miami at Dallas
No foolin' … Dwyane Wade has not played a game in Big D since the 2006 Finals. Mavs fans are in for some haunting flashbacks.
April 2: Cleveland at Washington (TNT)
If Gilbert Arenas plays a single game this season, let's hope it's this one. If not, Utah at Denver ain't a terrible consolation prize.
April 3: Portland at Oklahoma City
Very bold prediction: Greg Oden will be in uniform to throw down with his old friend Kevin Durant and trump Cleveland at Orlando and the Ron Artest-Kobe Bryant rematch in Rockets at Lakers.
April 5: Phoenix at Dallas (ABC)
With a lot to choose from on this particular Sunday -- San Antonio at Cleveland and Deron Williams at Chris Paul, just to name two alternatives -- Suns at Mavs stands out as a game that threatens to snuff out whatever scant playoff life Steve Nash's crew can still claim at this point.
April 7: New Orleans at Miami
With apologies to Dwight and Yao Ming in Orlando at Houston, CP3 versus D-Wade is the duel du jour.
April 8: Phoenix at New Orleans
This will almost certainly be the last Suns game of the season that matters … with another Wiz-Cavs date in Cleveland on the undercard to tempt Arenas.
April 9: Houston at Sacramento
In the 78th game on Sacramento's schedule, Ron-Ron finally returns to Arco for a game that counts after an exhibition appearance in October. (Don't worry: We're just as stunned as you are that a Kings game made this list three times.)
April 10: Los Angeles Lakers at Portland
What sort of reception do you suppose awaits Trevor Ariza? Another pertinent question: Will Utah at San Antonio in the evening's other standout offering tell us who gets the No. 2 seed in the West?
April 12: Boston at Cleveland (ABC)
It's the last showdown for any two residents of the East's top three until the second round of the playoffs.
April 14: Miami at Atlanta
The evening's other two games are on TNT -- Boston at Philadelphia and Jazz at Lakers -- but the seeding stakes might be highest at Philips Arena when the two teams most likely to finish No. 4 in the East hook up.
April 15: Regular season ends
With 28 teams playing on Tax Deadline Day -- everyone except the Lakers and Jazz -- it's too soon to know which of the 14 games will mean the most in the standings. Three safe bets: Houston at Dallas, New Orleans at San Antonio and Denver at Portland.
Marc Stein is the senior NBA writer for ESPN.com. To e-mail him, click here.
Dimes past: Feb. 28-March 1 | March 1 | 2 | 3 | 4 | 5 | 6 | 7-8 | 9 | 10 | 11 | 12 | 13

There are four teams in the league, three of them from the East, that have made zero alterations to their rosters since opening night.
Can you name them?
The answer can be found at the bottom of this item.
And here's some more good material for those of you looking to craft your own trivia question: From the start of the 1986-87 season -- my senior year of high school -- through Feb. 27 of this year, not a single NBA player went for at least 40 points, 10 assists, six rebounds, four steals and three blocks in the same game.
In the past 14 days, Miami's Dwyane Wade has done so twice.
Wade does have some work to do, though. His three 40-point, 10-assist games in 2008-09 place him only fifth on the all-time list for a single season. Kansas City-Omaha's inimitable Nate Archibald actually had 14 such games during the 1972-73 season. Michael Jordan (1988-89) and Allen Iverson (2005-06) have each posted five 40/10 games in a single season. Denver's Michael Adams had four in 1990-91.
Iverson is the active leader in 40/10 games with 12 in his career, followed by LeBron James (six). Wade is tied for third among active players with five alongside -- yes -- Boston's Stephon Marbury.
As for the answer on the first topic: Atlanta, Indiana, Philadelphia and Utah are the only teams whose rosters remain untouched since opening night.
D-Wade's Box Score Bonanza

Date
Opponent
Pts
Ast
Reb
Stl
Blk
March 9
Bulls
47
12
6
4
3
Feb. 28
Knicks
46
10
8
4
3
---
For the privilege of holding off Oklahoma City in the Pops Mensah-Bonsu Sweepstakes, assuming you're going to let us get away with giving this signing that kind of weight because of our fondness for Pops, Toronto is paying Mensah-Bonsu $175,787 for the rest of the season.
A bargain, dare we say, for a 25-year-old who snagged 25 rebounds in his first 43 minutes as a Raptor.
---

A leftover from last week's Weekend Dime that didn't quite make the cut -- courtesy of an Eastern Conference scout who was asked to pick out which teams will grab the seventh and eighth playoff spots in the East:
"Without deeply analyzing the schedules, I'd go with Philadelphia and Charlotte. Milwaukee has too many guys injured even though Scott Skiles has them playing really hard. And I like Charlotte more than Chicago or New York or anyone else down there. They play together. They defend. They seem to be buying into [Larry Brown's] stuff.
"The way [Boris] Diaw plays has helped [Emeka] Okafor. You have to go out on the perimeter to guard him because he can shoot 3s, but he can drive by you, too. Larry likes guys he can play through and he can play through Diaw.
"But it's mainly because they're a team that, to me, seems to be pointing up. I can't say that about a lot of teams around them."

Minnesota coach Kevin McHale acknowledged recently that he and Wolves owner Glen Taylor were quickly rebuked by NBA commissioner David Stern for their willingness to publicly address the growing pessimism about league business stemming from the worldwide economic downturn and possible changes that might be coming to the NBA's collective bargaining agreement when it expires after the 2010-11 season.
McHale presumably absorbed the harshest scolding after saying that "a correction is needed to be made" and cautioning that the NBA Players Association should brace for "a lot of changes coming down the road."
"I'd be shocked if there weren't major changes in professional sports … it's happening everywhere else," McHale said on March 3, adding that players shouldn't expect "a lot of sympathy from fans" given the NBA's average salary of more than $5 million.
Yet it's not just the Wolves who've been muzzled.
The league doesn't want team personnel anywhere discussing such matters, fearful of inflaming tensions at a time when Stern and union counterpart Billy Hunter have spoken optimistically about starting serious negotiations on a new deal as early as this summer. An early start is a must with barely two years left for the sides to try to hatch a revised agreement that (A) accounts for some of the never-been-seen issues caused by today's slumping economy, (B) somehow narrows the widening gap between the revenues generated by big-market and small-market teams and (C) puts the tweaks in place before the current deal expires in June 2011.
How hard will all that be? As one of our trusted salary-cap experts noted this week: "The problem is that it's not going to be easy to find a system that can be fair to both New York and to Memphis."
The overriding fear, then, is that we'll get to June 2011 without a new deal, which would almost certainly lead to an extended work stoppage.
So the league office, trying to hush outward pessimism as much as it can, issued a memo to all 30 teams on Tuesday which, according to a copy obtained by ESPN.com, prohibits any team representative or employee -- including owners, general managers and coaches -- from "making any unauthorized public comments about collective bargaining" or "having any unauthorized communications with any player or representative of the Players Association concerning collective bargaining."
The memo did not specify the penalties that would be invoked by violating the latest directive, but I was advised that "huge fines" are a safe guess.
---
Small clarification on last week's item about Drew Gooden's signing with San Antonio.
The most San Antonio could offer him as of Thursday, when Gooden officially signed his contract for the rest of the season, was $1,410,411, roughly $74,000 less than originally calculated here.
---

Since Mark Cuban threatened to clear out his entire roster in the wake of a lifeless road loss to the Kevin Durant-less Thunder -- the most stinging comments he's ever issued about his own players in nine years of ownership -- Dallas has delivered three of its best wins all season, following up a home victory over San Antonio by sweeping a back-to-back on the road this week in Phoenix and Portland.
But it wasn't Cuban's first such eruption of the season.
Team sources say he was actually a lot louder and angrier in January after the Mavs absorbed a 28-point road hammering from the Suns. Unlike this month, when his comments were dispatched via e-mail to the media, Cuban flew in to greet the team in Sacramento and personally deliver the threat about being shipped out for a lack of effort.
The immediate results weren't so great last time, with Dallas ultimately blowing a double-digit lead and losing to the lowly Kings. The repeated lack of pep from the Mavs this season -- when they were supposed to be liberated by the firing of the hard-driving Avery Johnson -- was one of the factors leading to the hiring two weeks later of Darrell Armstrong as an assistant coach to help manage the locker room, after Armstrong's successful stint as a veteran counselor on the Mavs' team that went to the 2006 NBA Finals.
The Mavs' outlook, however, has brightened somewhat entering Sunday's ABC showdown with the Lakers ... or at least it seemed so before Friday night's deflating loss at Golden State. Fears that they might miss the playoffs entirely have largely been replaced, thanks to the Suns' ongoing fade, with legit hopes of finishing somewhere other than eighth to avoid a dreaded first-round matchup with L.A.
Then there's the recent intriguing pronouncement from Cuban on "The Michael Irvin Show" on ESPN Radio (103.3 FM) in Dallas, during which he suggested that the Mavs will be on the short list of teams that can be classified as buyers this offseason when a growing number of clubs will likely be looking to slash payroll. The rising expectation in front-office circles holds that the likes of Tyson Chandler, Vince Carter and Richard Jefferson -- as well as other big names that have yet to be identified -- will again be made available via trade.
"I think we've got the No. 1 trading asset available and that's money," Cuban said. "It's not so much cap room. It's are you willing to take back money from other teams, particularly in these [tough economic] times."

It happened only once last season and hadn't happened this season before Thursday, when the Lakers triumphed in San Antonio to become the first team since Boston on March 17-18 of 2008 to win road games on consecutive days in the state of Texas.
On the NBA Today podcast, Marc Stein and host Jason Smith review L.A.'s back-to-back wins over the Rockets and Spurs this week and how they've kept Kobe Bryant right there with LeBron James and Dwyane Wade at the heart of an MVP discourse which seems to be getting louder by the day.
• Listen to the interview


"I think we're mature and we want to be a great playoff team. And also, Stan is not panicking."
Orlando's Dwight Howard, defending his team after the Magic nearly squandered a 22-point lead to the shorthanded Celtics in Boston on Sunday … and throwing in an unsolicited defense of his coach after Shaquille O'Neal's recent slams of Stan Van Gundy.
It seems safe to suggest the playoffs are no longer an option for Shaq's Suns, but it seems equally safe to expect the "Master of Panic" tag he stuck on Van Gundy last week -- after first taking pokes at Howard ("Everything he's done, I've invented") and Toronto's Chris Bosh ("the RuPaul of big men") -- to be dredged up again during the postseason, depending on how Orlando fares.
After being called out for a crime he has long decried -- flopping -- Shaq went after his former coach as hard as he's ever gone after anyone publicly, which is obviously saying something. But that really hasn't surprised folks who have firsthand knowledge of the depths of O'Neal's discontent under Van Gundy in Miami, which was never discussed much publicly because of the role Pat Riley was perceived to have played in Van Gundy's exit just 21 games into a roller-coaster season in 2005-06 that ultimately, stunningly delivered a championship.
I can't forget the story I heard from one of O'Neal's old teammates, who insists he spied Shaq wiggling three fingers near his ear at practice one day while Van Gundy was lecturing Heat players about their lack of focus and acceptance. The ex-teammate says it was Shaq's way of reminding everyone who caught the gesture that he had won three rings to that point compared to Van Gundy's zero. As long as Riley was in the same organization, with four rings of his own at that stage, Shaq wanted Riley on the bench … without ever publicly lobbying for it.
I'm told that similar scenes to the ear story played out during Terry Porter's final days in Phoenix. The drills and teachings of Porter's practices were never embraced by a variety of Suns vets -- not just Shaq -- but that widespread resistance apparently prompted O'Neal to at least once note the nearby presence of assistant coach and eventual Porter successor Alvin Gentry and crack: "We won't be doing that when Alvin takes over."
Double Dose Of Legendary 13s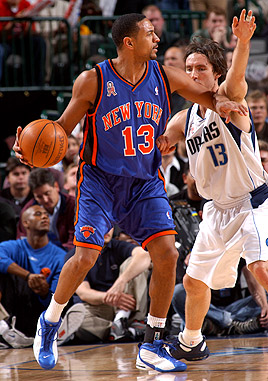 Glenn James/Getty Images
Two of the best point guards ever, pictured here in a 2002 encounter in Dallas, showed no fear of wearing No. 13: Mark Jackson, who ranks second all-time in assists, and two-time MVP Steve Nash. (See Box 7.)
I love this game.
I love finding out, through some Friday The Thirteenth research, that triskaidekaphobia is not rampant in our league.
Fear of the number 13?
Please.
Not in the NBA, where more than half the teams -- 16 to be exact -- field a player who wears my favorite number.
I can already hear you. My fondness for No. 13s will be dismissed as merely the latest example of my over-the-top loyalty to Steve Nash. But that's not it.
The guy who got me hooked on No. 13 is actually Mark Jackson, who in my knock-on-wood, thoroughly storybook professional life path went from being my favorite NBA player in high school and college … to playing point guard on the first NBA team (1993-94 Los Angeles Clippers) that I covered as a beat writer … to being stuck next to me on an "NBA Fastbreak" set as an ESPN teammate.
I love this game.
And I love having the platform to decide that this is the ideal time and place to honor No. 13s in the NBA, since March is the second month in a row with one of those Friday The Thirteenths that freak out so many of you.
So here are three lists to commemorate the occasion, which could not have been compiled without the amazing data available at the imperious basketball-reference.com:
Retired No. 13s: Golden State (Wilt Chamberlain); Los Angeles Lakers (Wilt Chamberlain); New Orleans (Bobby Phills); Philadelphia (Wilt Chamberlain); Portland (Dave Twardzik); San Antonio (James Silas).
Active No. 13s: Maurice Ager (New Jersey); Chucky Atkins (Oklahoma City); Matt Carroll (Dallas); Marcin Gortat (Orlando); Jerome James (New York); Mike James (Washington); Steve Nash (Phoenix), Joakim Noah (Chicago); Patrick O'Bryant (Toronto); Mehmet Okur (Utah); Gabe Pruitt (Boston); Luke Ridnour (Milwaukee); Quinton Ross (Memphis); Von Wafer (Houston); Sonny Weems (Denver); Delonte West (Cleveland).
My All-Time No. 13 Team:
G -- Mark Jackson
He wore No. 13 with six different teams (Knicks, Clippers, Pacers, Nuggets, Raptors and Jazz), ranks No. 2 all-time in assists (10,334) and serves as my inspiration here.
G -- Steve Nash
I'll go out on a limb to suggest that the two-time MVP would happily slide to shooting guard on this squad.
C -- Wilt Chamberlain
Don't really have to explain this selection, do we?
F -- Moses Malone
He wore No. 13 in his second ABA season with the Spirits of St. Louis -- not long before my beloved Buffalo Braves acquired Moses and scarred me forever by trading him after just two games -- and was built more like a power forward back then. So we can get away with slotting him in alongside The Dipper.
F -- Frank Selvy
He'd have been way too small to play small forward in the modern game, but wearing No. 13 as the first of six numbers he sported in the NBA nudged Selvy in. He was the No. 1 overall pick in the 1954 draft, twice named an All-Star and is also responsible for the only 100-point game in Division I history, which he uncorked for Furman in '54. Which means that the only 100-point games witnessed in the NBA and the NCAA's top level belong to guys on this list.
Sixth Man -- Glenn (Big Dog) Robinson
Another former No. 1 overall pick who was twice named an All-Star and dominated the college game. One of my editors insisted that he should swap spots with Selvy. I instinctively disagreed but did consider it.
Bench -- Larry (Mr. Mean) Smith, Sarunas Marciulionis, Mehmet Okur, Silas and Slick Watts … who gets bonus points for making headband-wearing in the NBA a sport unto itself to narrowly swipe the last spot from Dave Twardzik.
Coach -- Doc Rivers
He's one of only four active coaches with a championship on his résumé and he was born on Oct. 13, 1961. Which, as you might have guessed, fell on a Friday.
Editor's note: Click here to see all 140 players who have worn No. 13 in the NBA and compile your own All-Time No. 13 Team.

Five questions with Bucks forward Richard Jefferson:
Q: I think a lot of us expected your move from New Jersey to Milwaukee to be a huge culture shock. Were we right?
A:
That was overstated. I grew up in Glendale, Arizona, moved to Tucson, Arizona, then I played in East Rutherford for seven years. Yeah, I lived in New York while I was with the Nets, but I spent the better part of my life in smaller cities. I'm almost 30 years old, so to get [back] to a smaller city, it wasn't that much of a shock. It was more [significant] just leaving the [New Jersey] organization.
Q: How do you assess your first season as a Buck so far?
A: I have not played as well as I would have liked this year, but I'm still getting better. I think with all the injuries and all the things going on, we haven't been able to get that full rhythm as a team. And I think that [affects] you individually also. But for me I'm judging myself on how much I can help this team improve and I feel like we've done that.
Given all the injuries and all the situations that have gone on, we still improved from the previous team, won more games than last season already, won more road games and we're still right there in the playoff [hunt]. We've pretty much been in that spot all season. Somebody has to come in and play better than us to take that spot.
So the way I look at it is, even if my individual numbers aren't what I'd like them to be, our team has improved. And I think that's why they brought me here, to try to change the mentality of the team.
Q: You've been mentioned in trade rumors before and were just traded last June, but it seems like your name was mentioned more than ever around this season's trade deadline. Are you used to it all by now or is it still unsettling?
A: At the end of the day, it's nothing new. I'm a professional. I respect both sides of it … teams wanting me or a team trying to see what they can get for you. … People make too much of a big deal of all the trade rumors. Because at the end of the day, what was the biggest trade that went down?
After all the names and all the speculation -- (like) Shaq in Cleveland or Cleveland is trying to get Antawn Jamison and Caron Butler -- so much of that stuff is just media-based and teams throwing it out there to see what the fans might think or to see if the other team will bite. So really there's a little bit of irresponsibility going on with the teams and the media when it comes to that stuff, because nothing really happened.
Q: So you don't feel like you were as close to getting traded as it seemed to a lot of us media folks?
A: It's not like I didn't feel there was a possibility. But I just think that of all the trades that were mentioned or possibilities of people that are on the trading block, of the 100 of them that are mentioned as possibilities, typically two of them happen every single year. For me I don't lose too much sleep. If something happens, you move on. But most of the time those things don't happen.
Q: I'm guessing that the Bucks wouldn't have even looked at trading you so soon if it wasn't for the bad economy and how it has teams looking to save money any way they can. But I'm also guessing that it has to feel good on some levels to hear that teams like San Antonio, Cleveland and Portland might be trading for you. Right?
A: It does. But at the same time I really feel like we have unfinished business here. This organization has a lot of pride. We're trying to re-establish that, so I would have been a little disappointed if I would have gotten traded. … If we can make the playoffs and they trade me this summer, then I can say: "Hey, we went to Milwaukee and after all the things that have gone on, we made the playoffs after not making it for four or five years. We improved as an organization and then I moved on."
Can Dwyane Wade realistically finish higher than second in MVP balloting with LeBron James in his way? Can the Spurs realistically get healthy enough to win a seven-game series against the Lakers? Can the Celtics realistically expect Stephon Marbury to be a key contributor at playoff time when he hadn't played a regular-season game for almost 14 months before joining them? NBA on ESPN Radio studio host Kevin Winter asks the questions and Marc Stein supplies the answers.
Listen to the podcast