(Nathaniel S. Butler/NBAE via Getty Images)
Patrick Ewing stepped back into the New York limelight during Legends Awards Night.

(Victor Baldizon/NBAE via Getty Images)
Michael Beasley and Jamaal Magloire of the Heat rolled past Memphis and Rudy Gay.

(Scott Cunningham/NBAE via Getty Images)
Hawks coach Mike Woodson drew up an eighth straight home victory, topping the Wolves.

(Sam Forencich/NBAE via Getty Images)
Sixers center Samuel Dalembert kept Greg Oden and the Blazers off the glass in Philly's OT win.

NEW YORK -- Patrick Ewing's phone never rang last summer, Donnie Walsh explained, because the new president of the New York Knicks never needed to turn to his B-list.
Avery Johnson interviewed. Rick Carlisle interviewed, as did Mark Jackson and Herb Williams. Even CSKA Moscow coach Ettore Messina interviewed over the phone with Walsh, who eventually offered the job to Mike D'Antoni.
"I was dealing mainly with head coaches, and if I didn't get the guys I wanted there would have been another group, and I think [Ewing] would have been a part of that, but I never got that far because Mike took the job," Walsh recounted Tuesday as Ewing was honored again by the Knicks, this time among a group of the franchise's greatest players from each decade of the team's existence except the current one. "He's been doing it [working as an assistant coach] for six years, I'm sure he's good at it and he's worthy of a chance. So his time is coming; it has to be the right place that he fits with, and fits with him."
Ewing's current job as an assistant coach to Stan Van Gundy mandated that this event be held when the Magic made one of their two visits to town, and Ewing took 10 minutes out of his pregame preparations here as an Orlando Magic assistant coach to recall his fondest (and non-fondest: Game 7 of the 1994 Finals against Houston) memories with the Knicks franchise, and to express his continuing desire to one day sit in the lead seat on the bench.
"I'm just like any person who is coaching in this league," Ewing said. "I'm just looking for an opportunity, that's all."
If Ewing harbors any bitterness at the Knicks for ignoring him last summer, he wasn't saying so Tuesday as he received the loudest ovation among a group of Knicks legends that included Bernard King, Willis Reed, Walt Frazier, Richie Guerin and Carl Braun.
People close to Ewing say he is hoping the Washington Wizards come calling this summer should they decide to search for a replacement for interim coach Ed Tapscott, who was a longtime front-office fixture with the Knicks until his affiliation with former general manager Ernie Grunfeld helped lead to his departure in 1999.
A year later, the Knicks parted ways with Ewing, too, when they traded him to the Seattle SuperSonics in a move that triggered what has become a lost decade, much like the extended slump of mediocrity and worse that enveloped the Knicks after they traded another of their franchise icons, Frazier, in 1977.
To this day, Frazier said, he has still never received an explanation from anyone associated with the Knicks as to why they decided to trade him to the Cavaliers for Jim Cleamons, a deal he said was "devastated" by when he learned about it while listening to the radio, and a deal he termed a "giveaway" Tuesday night.
"I had no ill feelings, because it had been a successful marriage: They got two championships, I got fortune and fame, and so I had no ill will and never berated the organization," Frazier said.
It has been nearly a decade since Ewing has been associated with the Knicks, a time frame that mirrors the period Frazier spent away from the team, drifting much more aimlessly than Ewing has been. Frazier reflected upon that time spent away from basketball, recounting how he worked as an agent (one of his clients was Chicago Bears defensive lineman Richard Dent), in public relations and even as a restaurant greeter before someone from the Knicks noticed on the day he was inducted into the Hall of Fame that Frazier's gift for gab might make him a nifty broadcaster. Frazier ditched his plans to retire to his home in St. Croix, and his second life with the Knicks began with him behind a microphone.
Ewing also used to speak about perhaps becoming a broadcaster, but he has settled into the routine of an assistant coach while working under Jeff Van Gundy in Houston, and now Stan in Orlando.
If his big coaching break comes, it won't come in New York unless the D'Antoni era ends up being a disaster and he's sent packing in the summer of 2012.
"Unfortunately, we never got to the promised land, but we came close," Ewing said of his time in a New York uniform.
Now similar things can be said of Ewing's new promised land -- a head-coaching seat -- with the one big difference being that the window of opportunity will never close as long as he remains patient, works hard and perseveres.
That's what he did as a player, and that's what he's doing as an assistant coach, too, until the phone call that never came from the Knicks last summer comes from someone else, someday, somewhere down the road.
Chris Sheridan covers the NBA for ESPN Insider. To e-mail Chris, click here.
Dimes past: March 9 | 10 | 11 | 12 | 13 | 14-15 | 16 | 17 | 18 | 19 | 20 | 21-22 | 23

By Jeremy Wagner | Roundball Mining Company/TrueHoop Network
Riding a five-game winning streak against some of the dregs of the NBA, the Denver Nuggets were in position to prove they are a team to be reckoned with in the Western Conference as they began a big three-game road trip in Phoenix. Despite the winning streak and the fact that Denver recaptured the Northwest Division lead, it failed to show any progress in the areas the Nuggets had been struggling in, primarily defending the pick-and-roll and covering the 3-point line.
That set up a big test Monday in Phoenix. Winning in Phoenix has not been a strength of the Nuggets franchise. Denver has lost eight straight, 17 of 21 and, going even further back in the annals, 37 of 44 in the Valley of the Sun. Add in the Suns' record-setting pace on offense since Alvin Gentry took the reins and it did not look like a great night to be a Nuggets fan.
Knowing the importance and difficulty of the game, one would at least expect to see the Nuggets start the game with some purpose and focus. But it was Phoenix, fighting to get into the playoffs and looking to validate its own four-game winning streak, that came out with passion and intensity. The Suns dominated the Nuggets on the glass, finishing the first half with ten offensive rebounds to the Nuggets' eight defensive rebounds, and were able to pick their shot against the vapid Denver resistance. Steve Nash exploited the Nuggets' disjointed pick-and-roll defense time and again, and Denver found itself down 14 midway through the second quarter.
Denver did make an impressive run of its own, spanning the end of the second quarter and the beginning of the third -- claiming an 11-point lead midway through the third thanks to some hot shooting and aggressive offense -- but the lackadaisical defense gave every point back and then some in a 118-115 loss.
The story of the second half of the season for Denver has been a defense without cohesion, incapable of getting stops when it desperately needs one and an offense that vacates the kitchen when quality teams turn up the heat. As a result the Nuggets have not defeated a team with a record over .500 since March 4, when they beat the Trail Blazers in Denver. Their last road victory against a winning team was Feb. 18.
Right now when I look at the Denver Nuggets I do not see a team capable of making a run to the Western Conference finals, as was once thought to be the case. I see a team that will once again be one-and-done, and that is a tough pill for Nuggets fans to swallow.
Jeremy Wagner writes Roundball Mining Company, the TrueHoop Network's Nuggets blog

By John Hollinger | ESPN.com
Jamal Crawford's bizarre sit-out on the Warriors in protest of Don Nelson's occasionally-bench-the-veterans tactic has me wondering: Has this guy ever played on a team that wasn't screwed up?
Going from the post-Jordan Bulls to the Isiah-led Knicks to Nellie's circus in Golden State, Crawford has never really been with a team or a system that was afloat professionally. He still hasn't played in a playoff game, or even been in a real playoff race, and it's his ninth season in the league.
Perhaps that's why Crawford remains a conundrum to me. On the one hand, few players could be so unflappable while surrounded with such obvious incompetence; particularly during the Thomas years, Crawford was the one Knick who never seemed rattled by the circus going on around him.
On the other hand, it's been nine seasons and he still makes all the same mistakes he did as a rookie: taking contested long jumpers early in the clock, not getting back on D or fighting through screens and generally acting like he's not terribly bothered at the thought of losing by 20 again.
I'm not sure which assessment is more valid. What I do know is that I'd love to see him get with a real team and find out. Which is why Don Nelson's unusual opt-out-or-be-traded threat is something Crawford can just laugh off. Getting traded out of Golden State would likely be the best thing that ever happened to him … for his sake, the sooner the better.
For the other four Insider gems, click here.
By Andrew Ayres
ESPN.com

MONDAY'S BEST
Dwight Howard, Magic:
Goes for 29 points, 14 rebounds and four blocks in a 106-102 win over the Knicks. Now Superman gears up for an East No. 2 battle in Boston on Wednesday.
---

MONDAY'S WORST
Sebastian Telfair, Wolves:
Nets two points on 1-for-7 shooting as the woeful Wolves take their fifth straight loss. Kevin McHale must really be enjoying his bench time now.
---
QUOTE OF THE NIGHT
" We don't worry about how bad we played in a time like this. We just got to keep trying and getting wins."
-- Bulls guard John Salmons after his team beat the East cellar-dwelling Wiz by two points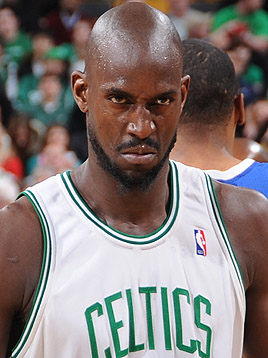 Steve Babineau/NBAE via Getty Images
Kevin Garnett played 18 minutes, hitting all five field goal attempts while scoring 12 points in a 90-77 win over the Clippers. He added two rebounds and two assists in his third game back since missing 13 with a sprained right knee.
By Chris Sheridan
ESPN.com

NEW YORK -- In a minor leap forward after saying a week ago that "nothing is set in stone," Orlando coach Stan Van Gundy said Monday he is committed to keeping Courtney Lee as his starting shooting guard for the rest of the regular season.
As for the postseason, it'll depend on whether the rookie is in over his head.
"I don't anticipate right now any changes to what we're doing in terms of starting," Van Gundy said before the Orlando Magic's 106-102 victory over the New York Knicks, in which Lee scored 22 points. "We've been playing well, and again, anything could change -- and depending on who the first-round matchup is, maybe we would do something different -- but right now I think that's the more comfortable way to go at this point, and we've been pretty good at it."
Mickael Pietrus was signed last summer to be the Magic's starting 2-guard, but Lee moved into the starting five when Pietrus was out with an injury Jan. 4, and he has held the job ever since, averaging 10.2 points in nearly 30 minutes per game.
The concern going forward into the playoffs will be whether Lee is up to the task of defending an opposing 2-guard who serves as a primary scorer. And if the Magic draw the Pistons or Heat as their first-round opponent rather than the 76ers, suffice it to say that Lee would be a bit more challenged by trying to contain Dwyane Wade or Richard Hamilton than he would by Willie Green.
"He's had ups and downs like all rookies do, but he's got a good head on his shoulders; he's a poised guy, and for the most part if he makes mistakes he won't continue to make them. He'll learn from them and bounce back. At times he's looked good at both ends, and at times he's looked like a rookie. But the fact that he can keep his poise and is not rattled by any situation is what gives you confidence in playing him," Van Gundy said. "He's got the physical ability [to defend scorers], he's got the quickness, but he's not real big; that's a bit of a problem, and if we get bigger 2-guards, Pietrus can put more size on them."

Hornets point guard Chris Paul is really glad the Tyson Chandler trade didn't work out. Chris thinks he makes Tyson a better player, and Tyson makes him a better player.
Tirico & Van Pelt