(Victor Baldizon/Getty Images)
For the Magic to have postseason success, they need a superhero-worthy performance from Howard.

(AP Photo/Jeffrey M. Boan)
CP3 congratulates Rasual Butler, whose amazing 3-pointer sent the game to OT, when NO won.

(Photo by Bill Baptist/NBAE via Getty Images)
Dwight Howard and the Magic had to deal with Dikembe (when not tied up with Yao) in a 93-83 loss.

(AP Photo/The Canadian Press, Chris Young)
Atlanta's Joe Johnson drives past the Raps' Anthony Parker en route to 25 points in a 118-110 win.

(AP Photo/Lance Murphey)
The Grizzlies' Rudy Gay takes umbrage at the notion he fouled Travis Outlaw. Portland won 96-93.

(AP Photo/Sue Ogrocki)
Tony Parker drives between D.J. White and Russell Westbrook in the Spurs' 99-89 win over OKC.

(AP Photo/Rich Pedroncelli)
Luke Walton posted a plus-32 plus-minus on Beno Udrih and the Kings in a 122-104 Lakers win.
Playoff Warning: Don't Sleep on the Magic and Heat

Orlando and Miami remain the two teams to watch in the Eastern Conference playoffs, even though both lost Tuesday night. They lost to two Western Conference teams, two teams they just couldn't beat this season. Orlando lost at Houston, while Miami fell to New Orleans in overtime at home.
We learned more about seedings than matchups Tuesday night. Come playoff time, the Magic and Heat won't have to face the Rockets and the Hornets. They'll be safely ensconced in the Eastern Conference, where they will be threats, not threatened. No Yao Mings or Chris Pauls on that side of the Mississippi River.
Why can't Orlando advance to the NBA Finals from the East? The Magic are 2-2 against Boston and 2-1 against Cleveland. It's not the most likely scenario, but it's not impossible. With Dwight Howard, they'll have the best center in either series if they want to play conventionally. If they want to take the unorthodox way to a championship -- the outside way -- they will have made more 3-pointers than every team in the league except the Knicks.
More questions surround the defending champion Celtics than the Magic. Until we know how effectively Kevin Garnett can return from his knee injury, until we know whether the Celtics will even have home-court advantage in the second round of the playoffs, I'm not ready to consider a Celtics-Cavaliers Eastern Conference final to be preordained.
Celtics general manager Danny Ainge said in a text message that there are "no new issues" with Garnett's knee. "Everyone will be relieved when he's playing like always," he said.
Ainge didn't say when that would be. At this point, Garnett isn't scheduled to play until next week. And we don't know which Garnett version we'll see. When he played with time restrictions in four games in March, his numbers on a per-minute average were about the same as they were in December, his best month of the season. But he was playing only 16 minutes a night. Is he ready to go full speed for more than 40 minutes the way stars are expected to during the playoffs?
We've already seen the Magic address their critical injury situation, regaining speed after acquiring Rafer Alston to take Jameer Nelson's starting point guard spot. As midseason moves go, it has been more effective than Boston's additions of Mikki Moore and Stephon Marbury.
But playoff series aren't decided by the likes of Mikki Moore. They're about the superstars. That means it's time for Howard to come through like one. In his first two playoff appearances, his scoring averages declined from the regular seasons that preceded them. If he changes that trend, maybe even Shaquille O'Neal will start to acknowledge Howard's greatness.
The modern (i.e., post-Jordan) standard for singular playoff excellence was set by Dwyane Wade for his playoff run in 2006. Wade is an even better player now. He faces a more challenging conference, with three teams to worry about instead of just Detroit, and his surrounding cast is much less experienced. But what's to say he can't upset the order of things in at least one round?
It looks as though Wade will have to summon his heroics in the road jersey, but that's the way the greatest have always done it (Jordan's "the shot" and its sequels, Magic's Junior Skyhook in the Boston Garden, LeBron's 25 straight points in the Palace).
The Heat (and the Philadelphia 76ers) lost ground to the Atlanta Hawks, who won in Toronto on Tuesday. Miami, currently in the fifth spot, trails the fourth-slotted Hawks by three games. It looks as though the Hawks will have home-court advantage, which would seem to put Miami at a disadvantage.
And that's what makes the Heat, along with the Magic, the stories. They're the teams that can make news rather than just meet expectations.
J.A. Adande is an ESPN.com senior writer and the author of "The Best Los Angeles Sports Arguments." Click here to e-mail J.A.
Dimes past: March 23 | 24 | 25 | 26 | 27 | 28-29 | 30 | 31 | April 1 | 2 | 3 | 4-5 | 6
Seven Reasons to Fear the Orlando Magic

By Kevin Arnovitz | TrueHoop Network
I've heard the rap on the Orlando Magic. They're essentially a jump-shooting team. They don't hit the offensive glass and don't have a go-to guy on the wing who can manufacture points in crunch time. In short, the Magic just don't seem like a championship contender in the eyes of their doubters. How do you gauge what constitutes a contender? As Justice Potter Stewart said of obscenity, you know it when you see it.
Funny thing is, with the possible exception of a home loss to Dallas nine weeks ago in which Jameer Nelson played his last 19 minutes of the season, every time I see the Magic play, they wallop the opposition.
Arguments that their style doesn't conform to the postseason seem remote while watching them dismantle Western Conference powers on the road or rip off 13 out of 15 wins after their point guard and team leader is lost for the season. It's enough to make you ask, "Exactly what style of basketball are we talking about? A style that translates into the league's second most efficient defense and sixth most efficient offense? A style that wins more than 70 of its games on the road?"
Amid the noise, we perused the schedule and found the Magic had tough back-to-back games this past weekend: A Friday night showdown with Cleveland in Orlando, followed by a road date against a tough home team in Atlanta, where the Hawks were 29-9 going in.
The results were impressive. The Magic decimated the Cavs, leading by 40 at one juncture in the third quarter. The following night in Atlanta was a bit more of a struggle. Despite the fact that this jump-shooting team missed a slew of open looks, it managed to grind out a win with a heady defensive effort and second-chance points.
• To read the entire TrueHoop blog, click here.
Hawks' Johnson Saves Best for Last ... Again

By Elias Sports Bureau
Joe Johnson scored nine points in the game's final six minutes to lead the Hawks to their 118-110 victory in Toronto. Johnson ranks 10th in the NBA in total points scored this season, but he stands sixth in points scored in the fourth quarter, behind only Dwyane Wade, LeBron James, Kobe Bryant, Chris Paul and Brandon Roy.
• Rasual Butler's 3-point field goal with no time remaining tied the game, and the Hornets went on to defeat the Heat 93-87 in overtime. Butler's name doesn't appear among the NBA's top 10 in 3-point field goal percentage, but he has been terrific in the fourth quarter. Butler has connected on 46.4 percent of his fourth-quarter 3-point attempts, the highest percentage among the nine heavy-duty 3-point shooters who have made at least 45 fourth-quarter 3s.
• The Grizzlies led the Trail Blazers 47-29 with 30 seconds remaining in the first half, but Portland scored six points before halftime, then dominated the second half to earn a 96-93 decision at Memphis.
It was the second time this season when the Blazers have won a road game in which they had trailed by as many as 18 points. (They won at New Orleans on Feb. 2 after having trailed by 20 points.) No other NBA team has won a pair of road games this season by overcoming deficits of that size.
• The Knicks connected on 50.6 percent of their field goal attempts at Chicago on Tuesday night, while the Bulls shot just 43.3 percent from the floor. Final score: Chicago 110, New York 103.
Unusual? Sure was. Of the 1,160 other games played in the NBA this season, only eight were won by teams that had a greater disparity in field goal percentage than the Bulls did. But maybe practice makes perfect. Back on Jan. 6, the Bulls (shooting 38.6 percent) defeated the Kings (shooting 50.7 percent) by a 99-94 score -- the only game in the NBA this season in which the winning team's field goal percentage was at least 10 percentage points lower than its opponent's.
By Maurice Brooks
ESPN.com

TUESDAY'S BEST
Chris Paul, Hornets
: CP3 had 26 points, nine rebounds, nine assists and six steals to lead the Hornets to an overtime victory over the Heat. The win clinched a playoff berth for New Orleans.
---

TUESDAY'S WORST
Steve Novak, Clippers
: Even good shooters have bad shooting nights. He went 0-for-9 from the floor, including 0-for-8 from 3-point range, to finish scoreless against the Wolves.
---
QUOTE OF THE NIGHT
"This has been a dream for me. It has been a dream for a lot of guys. I was really comfortable with the decision this time around."
-- Oklahoma forward Blake Griffin on declaring for the NBA draft
T-Mobile Shot of the Night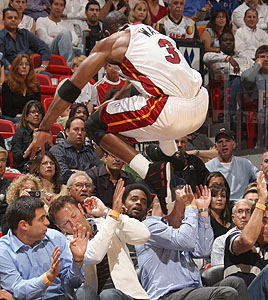 Victor Baldizon/Getty Images
Dwyane Wade gave an all-out effort against the Hornets, posting 32 points, seven boards and six assists, but it wasn't enough to keep the Heat from losing in overtime.
Nice Discount: Pistons' Bynum
By John Hollinger
ESPN.com

A few months ago, if you'd heard that a diminutive guard blew up for 26 points in the fourth quarter to give the Pistons a crucial late-season win, I'm pretty sure you wouldn't have guessed it was Will Bynum, and I'm equally sure you wouldn't have guessed "crucial" meant fighting for the No. 8 playoff seed in the East.
I'm not sure we've heard enough about his exploits in Detroit's win over Charlotte on Sunday, which more or less secured a playoff spot for the Pistons and put the Bobcats on the brink of elimination. Given the Pistons' struggles in recent weeks, Bynum's explosion might have saved the season.
This season, Bynum's player efficiency rating is 18.08, which is pretty phenomenal for a guy Detroit picked up off the scrap heap and helps explain why he increasingly has been seeing crunch-time minutes at the expense of Rodney Stuckey. He has been averaging 20.8 points per 40 minutes and -- surprisingly for a guy with a shoot-first rep -- 8.0 assists. Bynum's performance makes Joe Dumars seem like a very wise man, indeed. When he signed Bynum for the league minimum during the summer, he included a team option for next season that will keep him in his energizer role for a league-minimum salary.
To see the four other Insider Gems, click here.

Frank Dale and Joe Mead wonder how far the Spurs can go in the playoffs without Manu Ginobili in the lineup.
NBA Today