(Andrew D. Bernstein/NBAE/Getty Images )
Andrew Bynum started in place of Lamar Odom and connected on 7 of 11 shots from the field for L.A.

(Rocky Widner/NBAE/Getty Images )
Ron Artest shook loose for 26 points as Houston knocked off the Kings -- his former team -- 115-98.

(Noah Graham/Getty Images)
The Lakers' Kobe Bryant popped in 33 points, while the Nuggets' Carmelo Anthony had 23 in defeat.
Lakers Show Why They Are The Class Of The West

LOS ANGELES -- If the Lakers did this -- this being a 116-102 victory over the Denver Nuggets -- with Andrew Bynum still dripping in WD-40, then the Western Conference playoffs will have all the drama of a Tiger Woods-Charles Barkley match-play event.
The Nuggets represent the best of the rest, the current No. 2 seed and presumptive conference finals opponent if the chalk holds form, which only reinforces the notion that the gap between the Lakers and the Western field just grew by, oh, 7 feet.
It's not as if they needed Bynum in order to wrap up home-court advantage in the West; the Lakers went 25-7 while he was out with a torn knee ligament (injured in Memphis on Jan. 31). And they needed only one half of Bynum's half-game's worth of minutes to roll past Denver on Thursday night.
Bynum's main value is the X factor when it comes to assessing the Lakers' chances against whatever team comes out of the East. As much as Kobe Bryant claimed the Lakers "wanted to send a message" to the Nuggets and any other aspirants to the Western Conference throne, rest assured this was cc'ed to a few inboxes @ celtics.com, cavs.com and orlandomagic.com.
The Lakers once again have two 7-footers they can throw at teams; even if you can force Bynum to miss from close range, there's Pau Gasol to grab the rebound, and vice versa. The versatile Lamar Odom is back to coming off the bench, adding immensely to the team's depth and giving coach Phil Jackson all kinds of configurations to play with. And they still have Kobe, who erased any remaining doubt about the game's outcome when he elevated around Chauncey Billups' raised arms and banked a 13-footer off the glass to put the Lakers up by 14 with five minutes remaining.
It took only one half of game action for Bynum to get back to looking like the player who averaged 14 points and eight rebounds per game. After a start that he described as "rusty, nervousness, butterflies," he scored 13 points in the second half to give him a total of 16, to go with seven rebounds. Wearing a large brace on his right knee, Bynum started and played 21 minutes, as the Lakers tried to keep him to about five minutes per quarter.
His return was greeted by an ovation even louder than Bryant's in the pregame introductions, then saluted with another quick tribute that included the intro to the "Welcome Back Kotter" theme just before tipoff.
Then he mistimed his leap on the jump ball and lost the tip to Johan Petro. It was that kind of start. He didn't really look like his old self until the second half. He missed both of his shots in the first quarter. He mistimed a leap on an alley-oop, then traveled as he tried to avoid Chris Andersen. Defensively he was caught out of position, following the ball instead of tracking his man.
Bynum's biggest self-criticisms were that he felt sluggish and his lateral movement was so slow.
"When I get my timing back, I think I'll be back," he said. "I'm slow off my feet to get rebounds and stuff like that. That'll all change."
Before the game George Karl jokingly hoped that Bynum had developed a nice jump shot during his time off and would show it off during the game. No such luck. Bynum posted up deep in the paint for a couple of second-half hook shots. That got him untracked (although he did hit a free throw-line jumper after he collected a long rebound.)
The most important thing was the reassurance to his team that he could be back on the court -- even earlier than Jackson's target of the final two games of the regular season. This won't be a repeat of last year, when Bynum never made it back from his knee injury and the Lakers were physically dominated by the Celtics in the NBA Finals. Now it's not a matter of abstract speculation about what Bynum can be. It's not too hard to imagine him having an impact once his stamina and timing return. (The next checkpoint is Friday in Portland, when he'll see how his knee responds to playing back-to-back games).
Those so inclined to believe the Lakers will win it all if they have Bynum can resume thinking that way -- which amounts to pretty high expectations for a guy with seven total points in six career playoff games.
"It's additional pressure, but it's good to know people are behind you," Bynum said. "That's a lot better than people doubting you."
Little to doubt about the Lakers' place in the West. Bynum helped turn a tie score at halftime into a game the Lakers controlled midway through the third quarter.
The only bit of intrigue came from Odom's reaction to returning to the bench after flourishing as a starter in Bynum's absence (Odom didn't complain, but he seemed subdued), and Jackson's decision to go with Shannon Brown as the first guard off the bench instead of Jordan Farmar. Guess the division of playing minutes is what passes for drama these days in Lakerland, a far cry from when the superstars were clashing.
The hardest part of the next two months could be waiting for June, as evidenced by one fan's shout: "We want LeBron!"
J.A. Adande is an ESPN.com senior writer and the author of "The Best Los Angeles Sports Arguments." Click here to e-mail J.A.
Dimes past: March 24 | 25 | 26 | 27 | 28-29 | 30 | 31 | April 1 | 2 | 3 | 4-5 | 6 | 8 | 9
Even In Defeat, The Nuggets Remain Confident

By Eric Neel | ESPN.com
LOS ANGELES -- In the moments after his team lost to the Los Angeles Lakers 116-102 on Thursday night, Denver Nuggets coach George Karl sat on a folding chair in the hallway outside his team's locker room, his eyes downcast, his chin resting in the palm of his right hand. Inside the locker room, his players were showering and getting dressed for the flight home, eager to leave their disappointment behind.
The Nuggets came into the night having won eight games in a row and having claimed the second spot in the Western Conference playoff race. They were rolling, eager to go heads-up with the Lakers.
"Tonight we take a swing at what we think is the best team in the West," Karl said before tipoff. "And we see where we stand."
After a game in which the Lakers' defensive pressure forced the Nuggets to settle time and again in the second half for ill-advised jump shots, it looked as though they stood not only in second place in the West, but maybe also pretty squarely in the second division, looking less like championship contenders and more like not-ready-for-prime-time players.
"It's frustrating," said Nuggets forward Nene Hilario afterward. "They played their game and we didn't play our game. We started forcing shots and going one-on-one when we needed to be patient."
Karl looked deflated when it was over, and you had to wonder if he wondered if his club could compete at this level. But he instead professed a kind of quiet confidence in the face of the loss.
There had, after all, been reason for hope, he said. The Nuggets defended the perimeter effectively for much of the game, and contested the Lakers' big men inside, as well. They fell behind by nine points in the second quarter but fought back to tie things up at halftime. And there were times, particularly in the early going, when they moved the ball quickly in their half-court sets and got decent looks.
"This is by far the best team I've had in Denver," Karl said. "It's the best defensive team, and it's more of a team than any I've ever had here. I think it's going to be a great challenge to see what we're capable of in these next few weeks."
If the quick-gloss read on Thursday night is that the Lakers are clearly the class of the Western Conference, beneath the surface there is the story of a Denver club, even in defeat, taking stock of itself.
"It's a great learning experience for us," point guard Chauncey Billups said afterward, looking around the Nuggets' locker room at a group of guys who have never played for or won an NBA title.
The team is still trying to understand what it takes to win games like this, looking to get a handle on what it means to stay true to themselves and what they're trying to do under the most intense pressure.
"I can't deny a team like L.A. or Utah probably has more of a feeling, in their fiber, of who they are, of knowing, feeling that trust, that belief in themselves," Karl said.
There are only two games left for Denver before the playoffs begin. Not much time for the Nuggets to learn what they don't already know, to discover such a crucial belief, it would seem.
But Karl remembers the way his 2000-01 Milwaukee team, which hadn't made it out of the first round of the playoffs the previous two seasons, mounted a run to the Eastern Conference finals. And he remembers how his 1995-96 Sonics, after having bowed out in the first round two years running, made it all the way to the NBA Finals. And he tells you, even on a night when his boys have been taken out behind the woodshed by the class of the Western Conference, that things can come together in a hurry.
"In the NBA playoffs, when you win, it grows fast. When we win a playoff series, there's going to be a high feedback of confidence, of trust, of belief, that I think can snowball," he says. "Winning in the playoffs ... there is an expansion of trust and belief, there's an expansion of all the little things you talk about, you can feel and see them in a playoff situation in a way that makes them seem more real. I think that's kind of where we're at."
If he's right, maybe they're not just No. 2. Maybe they're No. 2 with a bullet.
• Eric Neel is a senior writer for ESPN.com.
By Maurice Brooks
ESPN.com

TUESDAY'S BEST
Pau Gasol, Lakers
: He helped the Lakers show the Nuggets how big the gap between the No. 1 and No. 2 teams in the West is by scoring 27 points and pulling down 19 rebounds.
---

TUESDAY'S WORST
Philadelphia Sixers
: The Sixers have dropped three in a row since clinching a playoff berth, and their lead over the Bulls for the sixth seed in the East is down to 1.5 games.
---
QUOTE OF THE NIGHT
"We're the most dangerous team going into the playoffs in the Eastern Conference right now. I wouldn't say anyone is counting us out, but we're the underdog right now. I think we're going to come out and shock a lot of people."
-- Bulls forward Tyrus Thomas after Chicago defeated Philadelphia to close in on a playoff berth
T-Mobile Shot of the Night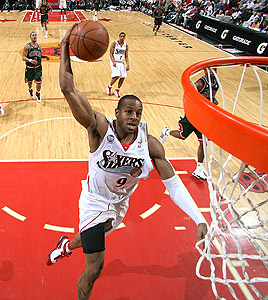 Victor Baldizon/Getty Images
Andre Iguodala fired in 19 points, handed out 10 assists and grabbed 7 rebounds, but his Sixers fell off in the second half of their 113-99 road loss to the Bulls.
By John Hollinger
ESPN.com

Utah's late-season swoon has been a huge disappointment to those of us who thought the Jazz might make a charge and present a credible threat to the Lakers, but there's an obvious reason for it: Carlos Boozer isn't himself yet.
In 20 games since returning from knee surgery, Boozer has yet to score more than 23 points in a game. By point of contrast, in March 2008 Boozer averaged 22.8 to lead Utah's march into the postseason. It's not for lack of minutes, as he's been playing over 30 a game, similar to what he played a year ago.
Most disturbingly, he's not getting to the line. Boozer has essentially become a jump shooter, taking only 43 free throws in 20 games since returning. For a Jazz team that tries to torture opponents in the paint and win games at the line, this is a radical departure; for instance, Booz took 5.5 free throws per game last season.
It goes without saying that the Jazz aren't a serious threat to do much damage in the West unless Boozer gets back on his game. With a week left in the season, time's a-wasting.
To see the four other Insider Gems, click here.
Perfect Night From The Line
By Elias Sports Bureau

The Bulls made all 19 of their free throws in their win over the 76ers on Thursday, their best free throw performance in a game in over 28 years, since going 22-for-22 against the Warriors on Jan. 27, 1981.
TrueHoop On Bynum's Return

Henry Abbott talks about Andrew Bynum's return and David Stern's stance on Twitter. Plus, Jason Smith speaks with David Thorpe about his All-Rookie Team.
NBA Today