(Photo by Tim Heitman/NBAE via Getty Images)
Mavericks guard Jason Terry celebrates hitting a shot in the 95-84 win over the Rockets.

(Photo by David Liam Kyle/NBAE via Getty Images)
Mo Williams and LeBron James dispute some officiating during OT of the 111-110 loss to Philly.

(AP Photo/Eric Gay)
Hornets guard Chris Paul reacts after being fouled by Matt Bonner in the Spurs' 105-98 OT win.
The Schedule Makers Got It Right In The West

The NBA's schedule makers couldn't have planned it any better.
By sheer happenstance, the six Western Conference teams with playoff seedings at stake were slated to face off in three head-to-head matchups on the final night of the regular season. The slate of games was irresistible, but the implications were less tidy. You needed an advanced degree in mathematics to sort through the possible playoff scenarios.
Lost amid the "if x, then y" chatter was the more imperative reality that these games weren't just about where and whom each team would play in the first round of the playoffs. We also got a glimpse of each team's resolve in what was essentially its first postseason test.
No team has had its mettle tested down the stretch more than the San Antonio Spurs. They recently lost super sub Manu Ginobili for the season, and Tim Duncan has been nursing a pair of sore knees. San Antonio entered Wednesday night with an uninspiring 10-8 record over the past 18 games.
To avoid playing an opening playoff game on the road for the first time since 1998, San Antonio had to defeat a
New Orleans Hornets
team competing with Dallas for the sixth seed in the West.
Like San Antonio, the Hornets have been plagued by injuries this season, but they came into San Antonio a much healthier team than the one that defeated the Spurs in New Orleans on March 29. The Hornets' starting unit -- which included Tyson Chandler for the first time since March 16 -- came into the game with a 19-5 record this season.
The Spurs and Hornets went at it with snarling intensity. The game evoked the teams' epic seven-game conference semifinal series of a year ago. Chris Paul and Chandler hooked up for a couple of their patented alley-oops in the closing minutes of the first half. Both teams applied stifling ball pressure, and Paul and Kurt Thomas engaged in a little extracurricular entanglement.
For much of the fourth quarter, San Antonio appeared headed for a loss and a weekend road trip to Portland, Houston or Denver. Rasual Butler -- an 84 percent free throw shooter -- had a chance to ice the game at the line with the Hornets leading by two. He missed one, leaving the Spurs with the ball, seven seconds and a three-point deficit.
Then, Michael Finley happened. Again.
Having already nailed a decisive (if dubious) 3-pointer this week at Sacramento, Finley ran a flare cut along the arc -- courtesy of a perimeter screen from Duncan -- and drained another in a series of buzzer-beating 3-pointers for the Spurs this season. This one sent the game into an anticlimactic overtime period that the Spurs won handily behind Duncan (six points, six rebounds and a block of Chris Paul).
In Dallas, 271 miles away, the Houston Rockets had a chance to put themselves into position to claim the third seed in the West. Their opponent, the Dallas Mavericks, still held out hope for the sixth seed.
The game was one of wild swings. Dallas started strongly, recognizing early that the best way to overcome Houston's dogged team defense is to find the one favorable mismatch on the floor and attack it. That's what Dirk Nowitzki did in the opening quarter against a valiant -- but overmatched -- Luis Scola. Nowitzki hit six consecutive baskets against Scola during a 3:30 stretch of the first quarter, and finished the night 11-for-12 from the field against him.
Yao Ming countered in the second quarter with 15 points on 7-for-9 shooting against a slower Erick Dampier and a beleaguered Ryan Hollins. When Dallas' post defenders fronted Yao, the Houston guards lobbed entry passes over the top. When the Mavs played behind Yao, it was a massacre.
With 9:25 remaining in the third quarter, Yao drifted away from the left block where he'd ravaged the Mavericks all night, and nailed a face-up 18-footer to give the Rockets a 14-point lead.
Yao never hit another shot -- from the field or the line -- and managed only two touches in the final 21 minutes.
The Mavericks came alive with solid production from Josh Howard at the free-throw line, from Nowitzki from midrange against Scola and from Jason Terry with fourth-quarter heroics along the perimeter. The Mavs also got a lift from Brandon Bass, who held Yao in check and scrapped for a crucial offensive rebound that yielded a big 3-point bucket by Terry at the 4:05 mark of the fourth.
Dallas surged past Houston, closing the game with a 23-8 run.
Once the proceedings in Texas were over, the bracket in the West was set. By virtue of San Antonio's comeback win and Houston's stinging loss, the Spurs earned the third seed and were crowned Southwest Division champions. Houston drew a 4-5 matchup with the Trail Blazers -- host team to be determined by the outcome between Portland and Denver in the late game.
Unfortunately for Houston, its loss guaranteed Denver the second seed in the West, leaving the Nuggets with nothing to play for at the Rose Garden -- and it was obvious. The assist totals told the story -- 29 for Portland, with only nine for Denver. The Nuggets produced a 12-point second quarter -- their lowest output of the year. Meanwhile, Portland shot an astounding 13-for-22 from beyond the arc to secure home-court advantage in a first-round matchup against Houston.
What did we learn about the scrum widely known as "Two-Through-Seven in the West"?
For the Rockets, their worst fears were realized. In the fourth quarter of a crucial game, they didn't trust their catalyst and couldn't find another offensive option.
Dallas' performance reaffirmed a growing belief that, when healthy, the Mavericks are a dangerous team with versatility, strong rebounding, quality guards and guys who can take -- and make -- big shots.
Though the Hornets suffered a gut-wrenching loss, they can take solace in the fact that, after a season beset by injuries, they looked more like themselves Wednesday than they have in a while.
The Spurs simply got it done, improbably and not without complication, but they notched the victory they had to have to maintain any hopes of advancing deep into the postseason.
The Blazers drew a matchup against Houston that probably wasn't their first choice, but Portland will play its first two games in front of a raucous home crowd. The Blazers also punctuated their season with a boffo offensive showcase.
Purists might argue that Denver didn't do itself any favors by heading into the postseason on a 33 percent shooting night. It's unlikely the Nuggets care. Along with the Lakers, Denver is the only team guaranteed home court through the conference semifinals.
And those clairvoyant schedule makers? They can now get to work on the 105 games that really matter -- the 2009 NBA playoffs.
Kevin Arnovitz is an NBA editor for the TrueHoop Network.
Dimes past: March 30 | 31 | April 1 | 2 | 3 | 4-5 | 6 | 8 | 9 | 10 | 11-12 | 13 | 14 | 15
Sheridan's Ballot Lists LeBron James As MVP

By Chris Sheridan | ESPN.com
In handicapping the MVP race a few weeks back, it was looking like this was going to be more of a two-man race than it's shaping up to be. But the consensus now seems to be that LeBron James is going to win it rather convincingly, and he's got my vote on the ballot I faxed over to the NBA office from the press room at Madison Square Garden late Wednesday night (thanks to Stephanie Hess of the Knicks public relations office, who hit the send button for me. My own fax machine came up lame Wednesday, and I will shoot it Thursday.)
As I wrote in that column, the race was going to come down to an Ultimate Defining Factor, so I owe it to my readers to reveal what this year's was.
Having the league's best record and home-court advantage though the Finals is a major factor (and I've said before how much of a premium I put on winning), but what put me over the top was a night two weeks ago when I saw James make two layups -- not dunks, mind you, but layups -- that were so off the charts in terms of degree of difficulty and improbable execution that it drove home how every night when I watch the Cavs, the guy blows my mind with some type of play -- and it doesn't always have to be something spectacular on offense, as I'd wager that at least three or four of LeBron's sprinting, leaping blocked shots from behind on fast breaks would qualify for a highlight tape of the season's 10 best defensive plays.
LeBron has brought his game to an even higher level this season, but you could say the same about Kobe, too, especially defensively -- and you can't forget he's played the whole season with a broken finger, and you also can't discount how well the Lakers did against the elite teams in both conferences.
But LeBron has the uncanny ability to leave me astonished on an almost nightly basis, and that -- combined with the better record -- turns out to be my UDF for this season.
Here are all my ballots:
Most Valuable Player: 1. LeBron James, Cavaliers. 2. Kobe Bryant, Lakers. 3. Dwyane Wade, Heat. 4. Chris Paul, Hornets. 5. Dwight Howard, Magic.
Coach of the Year: 1. Mike Brown, Cavaliers. 2. Phil Jackson, Lakers. 3. Stan Van Gundy, Magic. Some coaches chart deflections in order to encourage their players to hustle. Brown refuses to follow along, instead charting blow-bys and uncontested shots in an effort to shame players into playing better defense. It has worked.
Rookie of the Year: 1. Derrick Rose, Bulls. 2. Brook Lopez, Nets. 3. Courtney Lee, Magic. What? No love for Mr. Love, Mr. Mayo or Mr. Westbrook, a courtside colleague at MSG observed Wednesday. I think they'll all be All-Stars down the road, but their teams didn't win enough. Lee at No. 3 is unnaturally high, I'll admit, but he was an integral part of a very strong team (remember what I said about putting a premium on winning?); and Lopez was the steal of the '08 draft.
Most Improved: 1. Chris Andersen, Nuggets. 2. Thaddeus Young, 76ers. 3. Nene, Nuggets. I was the only person on ESPN's panel to pick The Birdman, and I selected him because of how incredibly far he's come from where he was a year ago (inactive for the Hornets in the playoffs after serving a two-year drug suspension).
Defensive Player of the Year: 1. Dwight Howard, Magic. 2. Shane Battier, Rockets. 3. Chris Paul, Hornets. The top of the ballot is a no-brainer, so the debate is whether to put Battier higher than Paul. And to that I say: Battier is a better all-around defender, even though Paul's defense leads to so many transition offensive opportunities.
Sixth Man: 1. Lamar Odom, Lakers. 2. Jason Terry, Mavericks. 3. J.R. Smith, Nuggets. I think I'll be in the minority here, and Terry will win the award. But Odom moved from the bench to the starting five and kept the Lakers a dominant team, which isn't a traditional Sixth Man role -- but it sure was an effective one this season.
All-NBA: First Team: LeBron James, Paul Pierce, Dwight Howard, Kobe Bryant, Dwyane Wade. Second Team: Dirk Nowitzki, Tim Duncan, Yao Ming, Tony Parker, Chris Paul. Third Team: Pau Gasol, Chris Bosh, Shaquille O'Neal, Deron Williams, Chauncey Billups.
Chris Sheridan covers the NBA for ESPN Insider. To e-mail Sheridan, click here.
By Maurice Brooks
ESPN.com

WEDNESDAY'S BEST
Tim Duncan, Spurs
: The last time San Antonio opened the playoffs on the road, the year was 1998 and Duncan was a rookie. Thanks to his 20 points, 19 rebounds and six assists, San Antonio got past the Hornets to earn the No. 3 seed and keep his streak alive.
---

WEDNESDAY'S WORST
Chicago Bulls
: Maybe Chicago isn't scared of the defending champion. Knowing a win would have earned them the No. 6 seed and a playoff date with the Magic, the Bulls came out flat against the Raptors and were defeated 109-98, earning a series against the second-seeded Celtics.
---
QUOTE OF THE NIGHT
"We're as confident as we've been all season. Hopefully we can carry it into the playoffs."
-- Forward Dirk Nowitzki after the Mavericks defeated Houston -- their fifth win in six games
Finley Saves The Day For Spurs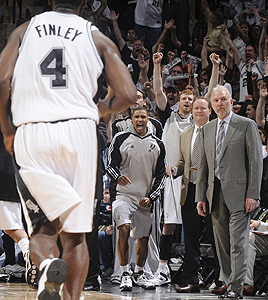 D. Clarke Evans/NBAE/Getty Images
Michael Finley forced OT with a 3-pointer at the end of regulation, and the Spurs took off from there in a 105-98 win over the Hornets that coupled with a Houston loss gave San Antonio the Southwest Division title.

Michael Wilbon hasn't finished filling out his NBA awards ballot. Michael is having some difficulty selecting a winner for Most Improved Player and Coach of the Year.
Tirico & Van Pelt
NBA Statistics and Information Research

Based on past voting, the following illustrates why LeBron James will win the NBA's MVP award this season. Unlike previous analysis where advanced metrics were used to show LeBron's statistical superiority over every other player in the league this season, this is NOT to show LeBron's relative merits compared to Kobe Bryant, Dwyane Wade or the other MVP candidates. Rather, the purpose is to show how LeBron's numbers and his team's record this season put him in a class with other players in the past who had similar seasons and were almost always selected as the league's MVP.
LeBron is only the fourth different player to average at least 28 points per game on a team that won at least 65 games. Good news for him: Four of the five previous times this happened, the player in question won the MVP award (Jordan finishing second to Karl Malone in 1996-97 is the only exception). Good news for the Cavs: All five previous 65-win teams with 28 ppg scorers went on to win the NBA title.
28+ PPG, Team Won 65+ Games
Season/Player
Points per game
Won MVP?
Team result
2008-09 LeBron James
28.4
66-16
?
1999-00 Shaquille O'Neal
29.7
67-15 Yes
Won NBA title
1996-97 Michael Jordan
29.6
69-13 No
Won NBA title
1995-96 Michael Jordan
30.4
72-10 Yes
Won NBA title
1991-92 Michael Jordan
30.1
67-15 Yes
Won NBA title
1970-71 Kareem Abdul-Jabbar
31.7
66-16 Yes
Won NBA title
O'Neal Breaks Wilt's Record
By Elias Sports Bureau

Phoenix's Shaquille O'Neal and Denver's Nene played in late games on Wednesday night, taking their battle for the NBA's lead in field goal percentage down to the final minutes of the final games on the regular season's final day. And when each made 5-of-9 shots, it meant that O'Neal, who led coming into the day, had prevailed, shooting 60.9 percent for the season to runner-up Nene's 60.4.
It's the 10th season in which Shaq has led the NBA in field goal percentage, breaking the record of nine seasons that he had previously shared with Wilt Chamberlain.