(Photo by Noah Graham/NBAE via Getty Images)
Lakers big men Pau Gasol and Andrew Bynum slap five en route to a 2-0 series lead on Utah.

(Photo by Jonathan Ferrey/Getty Images)
Brandon Roy drives against Yao Ming en route to 42 points in Portland's Game 2 win.

Photo by Sam Forencich/NBAE via Getty Images)
Rockets center Dikembe Mutombo falls to the ground with a leg injury. Is it the end for Deke?

(AP Photo/Tony Dejak)
Pistons' guard Richard Hamilton would rather not watch the Cavs roll over his team in Game 2.

(AP Photo/Mark Duncan)
Pistons coach Michael Curry pleads with referee Bill Spooner after Amir Johnson picked up a T.
It Is Time For the Lakers To Get "Nasty"

LOS ANGELES -- The word that bounced around between the first two games of this Lakers-Jazz series was "nasty," specifically Utah coach Jerry Sloan's lament that it didn't apply to his team. But maybe it's the Lakers who need to get nastier, who need to realize that simply admiring their wonderful shot-making at home isn't the formula for winning a championship.

The Lakers put up some astounding numbers in the course of their 119-109 victory in Game 2, including 41 points on 86 percent shooting in the first quarter and 60 percent accuracy for the game. And yet Utah still had a chance, pulling within three points in the final 3:17 of the fourth quarter. The Jazz didn't do enough to win, but they did enough to feel they have a legitimate shot at winning Game 3 at home Thursday night.

Utah's opponents fared noticeably worse this season in Salt Lake City, where their scoring average dropped from 106.3 points to 95.5 (a much more significant change than the 2.9-point difference between the Jazz's home and road averages).

The Lakers aren't playing shut-down defense in their own building. Utah averaged 104.5 points in the two losses. Deron Williams is doing whatever he wants. He set a playoff career high in assists in Game 1 and set a personal playoff scoring mark with 35 points in Game 2. The Lakers' scoring outburst was good for only a 12-point lead at the end of the first quarter. Utah shot 50 percent for the game, hardly the sign of lockdown D.

"I think it's just that we're not being smart," Lakers center Andrew Bynum said. "Deron comes off the screen-and-roll, nobody picks up the roll guy or we're not claiming Deron coming off the screen and he's getting open jump shots. Three people do the right thing, two don't. Stuff like that."

If there's a place to be nasty, it's on defense. Assisting and converting are for offense. Defense is about mean words like steal and block and deny. The Lakers could be a little chippier.

"Maybe," Lakers forward Trevor Ariza said. "We might need to do that, get a little chippier early."

I told him Sloan used the word "nasty."

"He could use that, that's his team," Ariza said. "We're a different team."

I asked, does that word apply to you guys?

"I don't think so at all," Ariza said. "As long as we play tough. It think 'tougher' is the word that should apply to us."

So far it doesn't. They almost had to be shamed into making a defensive stand. It came after Pau Gasol missed two free throws with the Lakers up by five. Williams drove down the lane and Gasol blocked his shot. Then Gasol blocked Ronnie Brewer after he grabbed the rebound.

"I wanted to redeem myself," Gasol said.

Kobe Bryant went from glaring at him to pumping his fist. Then Kobe effectively finished off the Jazz with a jumper at the other end. Bryant played the final few minutes with an edge, and even picked up a technical foul for elbowing Paul Millsap.

But the Jazz were edgier throughout the night, playing the Lakers to a virtual draw on the boards despite being undersized once again due to the absence of Mehmet Okur. This came after Sloan said, "We're not a nasty team" after Game 1. Sloan came to regret the choice of words: "It sounded worse after I got away from it ... the idea was to play hard, get at people and do what's legal in basketball, and that's compete."

Still, tough guys like Kyle Korver backed him up and the Jazz eventually followed through.

The Lakers were the ones being nice. Phil Jackson second-guessed himself for rotating so many players on the court (no one played more than Bryant's 38 minutes).

"I think it was my fault," he said in a rare mea culpa. "Substitution probably hurt us a little bit in the course of the game, and I think that I tried to play too many players at that time in the game to get us going, which created a little bit of hesitancy."

This isn't the time to try to worry about fatigue or to please as many people as possible. It's the playoffs. Time to get nasty.

J.A. Adande is an ESPN.com senior writer and the author of "The Best Los Angeles Sports Arguments." Click here to e-mail J.A.
Williams Knows His Role For The Cavaliers

By Chris Broussard | ESPN The Magazine
CLEVELAND -- Mo Williams was sitting at his locker, icing his knees and ankles, with dozens of cameras and digital recorders in his face. With nothing but a towel wrapped around his waist, he was breaking down Cleveland's 94-82 Game 2 victory over Detroit. He was the man of the moment.
But Williams wanted more. He wanted some of the real spotlight.
"Man, why didn't y'all ask me to go to the podium,'' he said in mock disgust. "I wanted to put my suit on, my tie ...''
The podium, of course, was reserved for LeBron James. Williams had to settle for a half-naked interview at his cubicle.
Sometimes it's hard being part of the supporting cast.
You have to listen to opposing coaches talk about how they're going to double-team James, get the ball out of his hands and make the rest of you beat them.
You have to read about Tracy McGrady saying your team's not that good, even though you had the best record in the league. Translation: It's LeBron and a bunch of average Joes.
You have to live with being disrespected.
"I read the quote T-Mac had in the paper,'' Williams said. "Saying the Lakers are going to win it, saying we're good but we're not great. That don't do nothing but fuel us. It fuels us to get better than we are. We don't get the respect we deserve. We know that.''
The Pistons, run over by James and his 38 points in Game 1, entered Tuesday's matchup vowing to corral the likely MVP and see what the other Cavaliers could do. Done with trying to guard James solo, they weren't going to play the foil in another King James Dunkfest, weren't going to play the witness to any more unencumbered trots to the bucket. They were going to make Williams, Delonte West, Zydrunas Ilgauskas and Co. prove they could do more than hang onto LeBron's coattails.
Four seconds into the game, the Pistons made good on their promise, trapping James in the left corner with Antonio McDyess and Rip Hamilton. James beat it with a skip pass, and soon thereafter, Williams buried a 20-footer to open the scoring and give Cleveland a lead it never surrendered. It was a precursor of things to come, as Williams followed James' game-high 29 points with 21.
Williams thought he'd have a good game, especially after Pistons coach Michael Curry revealed his strategy after Game 1.
"We've seen teams run and jump LeBron before,'' Williams said. "We're prepared for that. I hope they run and jump. Because I'm itching. I'm itching for them to do that because I'm going to knock down shots. That's how much confidence I have when LeBron kicks it out. Pick your poison. Pick your poison.''
James and Williams weren't the only Cavs the Pistons found toxic. West added 20 points as Cleveland's starting backcourt outscored Detroit's 41-31.
"If teams want to play LeBron one-on-one like Detroit did in Game 1, he'll have 40,'' said Williams, who made 8 of 13 shots, including two 3-pointers. "If they don't, he'll have 12 assists, because we're going to knock down shots. We've got too many guys around him that can knock down shots.''
Williams is actually comfortable in the role of the overlooked. Drafted 47th by Utah in 2003, he had to hustle to stick in the NBA. Latching on with Milwaukee the next season, he was regarded as T.J. Ford's backup, despite starting often because of Ford's injuries.
Then, after playing terrifically over the first half of the season to help Cleveland rack up the best record in the Eastern Conference, he was left off the All-Star team. The fact that the fans didn't vote Williams in as a starter was no surprise. But when the coaches, many of whom place huge value on winning when it comes to naming All-Stars, didn't pick him, it spoke volumes.
To read the entire Broussard column, click here.
The Trail Blazers' Winning Formula

By Elias Sports Bureau
Protect the ball and make your shots. It's a simple, foolproof formula that the Trail Blazers used to defeat the Rockets 107-103 in Game 2. Portland shot 51 percent from the field and committed only five turnovers. Since the NBA started tracking turnovers in 1970, six other teams turned the ball over five or fewer times in a playoff game in which they made more than half their shots. Like the Blazers, all six were winners.
LeBron James scored 29 points and got support from Mo Williams (21) and Delonte West (20) in the Cavaliers' 94-82 win over the Pistons in Game 2. It was the first time in 19 years that three players scored at least 20 points in a 48-minute playoff win against Detroit. The last teammates to do so were Doc Rivers (34), Dominique Wilkins (24) and Sidney Moncrief (23) of the Hawks on May 2, 1991.
By Maurice Brooks
ESPN.com

TUESDAY'S BEST
Brandon Roy, Blazers
: He scored the second-most points by a Portland player in a playoff game, finishing with 42 on 15-for-27 shooting from the field. He also pulled down seven rebounds as the Blazers evened their series with the Rockets.
---

TUESDAY'S WORST
Shane Battier and Ron Artest, Rockets
: What happened to Battier and Artest being two of the best wing defenders in the league? On a day they finished fourth and fifth, respectively, in the Defensive Player of the Year voting, Roy had his way with them.
---
QUOTE OF THE NIGHT
"I'm going to need surgery. For me, basketball is over. I cried so much about it when I was laying on the floor."
-- Rockets center Dikembe Mutombo, who injured his knee in Houston's loss to Portland. He is second on the NBA's career blocks list with 3,289.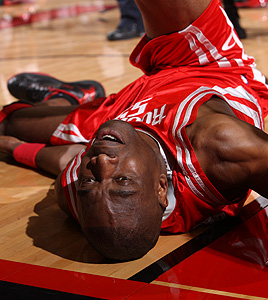 (Photo by Sam Forencich/Getty Images)
The Rockets lost more than just a game Tuesday night as defensive specialist Dikembe Mutombo was carried off the court on a stretcher after injuring his left knee.
Roy, Aldridge Ground Rockets
By Brody Rollins | TrueHoop Network

Brandon Roy's 42 points will garner the most headlines, but LaMarcus Aldridge won Tuesday night's game for the Portland Trail Blazers. Desperate for another offensive threat after Saturday's meltdown, coach Nate McMillan responded by drawing up more plays for the talented forward that isolated him against the smaller and less agile Luis Scola. The result was 27 points and, more importantly, a resurgent post game that was all but nonexistent in Game 1.
Houston's offensive struggles when teams have fronted Yao are well-documented. Why McMillan waited until Game 2 to use that defense is unclear, but it certainly worked.
At 7-foot-6, Yao is the best passing big man in the league primarily because he can see over the double-team and pass to open teammates on the perimeter. When the Blazers denied him the ball, the Rockets' offense stagnated for stretches as they relied on the penetration of Von Wafer and Kyle Lowry, and the sometimes questionable shot selection of Ron Artest. If they had made more free throws, the outcome may have been different, but ultimately the Rockets need Yao's involvement in order to be successful. Utilizing the pick-and-roll with Yao and not settling for one-on-one type plays would be a nice place to start.
Brody Rollins' work can be found on the TrueHoop Network's Rockets blog, Rockets Buzz
D-Will's Big Night Not Enough
By Kevin Arnovitz
TrueHoop Network

LOS ANGELES -- Add what Deron Williams did Tuesday night to the growing list of stellar point guard performances in the 2009 postseason. Utah's fourth-year floor general scored 35 points in the Jazz's 119-109 loss to the Lakers.
From the outset, the Lakers' size and length made it difficult for Williams to penetrate and get shots inside. Williams responded from long distance, starting with a long 25-foot jumper, two minutes into the game, the first in a barrage of bombs from the outside.
Asked how the Jazz were able to stay close, Lakers guard Kobe Bryant responded, "It was Deron Williams being a bad boy. He made great reads and kept them in the game."
Williams had his least effective season from beyond the arc, shooting only 31 percent, but Tuesday night he was the Jazz's 3-point specialist, going 6-for-11 from long range.
"My shot felt good," Williams said. "I tried to assert myself and be more aggressive."
Williams' shooting exploits were impressive, but the 35 points on 12-for-23 shooting didn't tell the whole story. Williams kept the ball on a string and the Lakers' defenders off-balance. When he wasn't firing from the outside, he was hitting baseline cutters and his big men underneath.
"He did what he's been doing all year," Jazz forward Paul Millsap said. "He stepped up for us. He was unconscious."
During Utah's stand in the fourth quarter, the Jazz practically suspended their flex offense and went exclusively to Williams in isolation, with the occasional screen from Jazz forward Carlos Boozer. Williams scored 10 points during a two-and-a-half minute stretch in the fourth quarter that brought the Jazz within eight points.
The Lakers' defense finally put the clamps on Williams when Derek Fisher and Pau Gasol returned at the 5:13 mark of the fourth quarter.
"The Boozer-Williams screen-and-roll on the open side of the floor caused us some problems," Lakers coach Phil Jackson said. "We were able to handle it with Pau and Derek."
Williams didn't score in the final 5:24 of the game, but his exploits caught the Lakers' attention as the series moves to Salt Lake City for Game 3 Thursday night.
"We have to try to get the ball out of his hands," Lakers forward Trevor Ariza said. "Make other people make plays."

Commissioner David Stern thinks the NBA is in its glory days with all of the great young talent that it has right now such as the Cavaliers' LeBron James.
Tirico & Van Pelt