AP Photo/Matt Slocums
After a rough week, Dirk Nowitzki gets a deserved hand for keeping Dallas from a sweep feeling.

Ronald Martinez/Getty Images
Carmelo Anthony elbows Antoine Wright, which earned Melo a T and woke up Dallas in Game 4.

AP Photo/Donna McWilliam
Things are looking up for Mavericks coach Rick Carlisle -- his team's alive and headed to Denver.

Andy Lyons/Getty Images
Josh Smith and the Hawks had a tough time with Cavs guard Delonte West (21 points) in the loss.

Dale Zanine for the Akron Beacon Journal via US PRESSWIRE
Please clear a path. The King is leaving the building still undefeated in this year's playoffs.
DEN-DAL Is About More Than What Happens On The Court

DALLAS -- You will hear lots about the seven technical fouls, two flagrant fouls and a handful of nasty scenes in the stands that made the Denver Nuggets far more uncomfortable than the realization that they still need one more win to get to the Western Conference finals.
Playoff schedule
WEST SEMIFINALS
Denver 3, Dallas 1
Game 5: Wed., 9 ET, DEN

Los Angeles 2, Houston 2
Game 5: Tue., 10:30 ET, LAL

EAST SEMIFINALS
Orlando 2, Boston 2
Game 5: Tue., 8 ET, BOS

Cleveland 4, Atlanta 0
Cavaliers advance to East Finals
That probably means you will not hear nearly enough about what we really should be dissecting deeply:
Dirk Nowitzki
and
Carmelo Anthony
absolutely going at it Monday night in a one-on-one duel that was ridiculously good.
Too deliciously good for Game 4 to be the last time these two hook up for the season.
Anthony poured in 41 more points Monday night, only for Nowitzki to trump him with 44 when it would have been easier for Dirk and his Dallas Mavericks -- facing a 3-0 series deficit no NBA team has ever overturned -- to let their season expire. Nowitzki has now rung up 77 points and 29 rebounds since the turmoil in his personal life was made public, with his latest detonation enabling Dallas to escape with a 119-117 triumph that will nonetheless be remembered as both historic and distressing.
The historic part: Nowitzki and Anthony became just the third twosome ever in a playoff game to each total at least 40 points and 10 rebounds. Jerry West (41 and 10) and Elgin Baylor (45 and 17) did it as Los Angeles Lakers teammates against Detroit in 1962. Michael Jordan (42 and 12) and Charles Barkley (42 and 13) did so for Chicago and Phoenix, respectively, in the 1993 NBA Finals. Then the list ends with Dirk and Melo.
The flip side: Amid reports of beer throwing and nasty language aimed at Nuggets officials and family members of Denver players -- as well as reports of Kenyon Martin angrily jawing with fans seated behind the Nuggets' bench -- Mavericks officials had to scramble to deploy extra police officers and security guards to calm the tensions that still linger from the controversial ending to Game 3, which included Mavs owner Mark Cuban shouting at Martin's Dallas-based mother.
The postgame surprise after Saturday's Game 3 was an unexpected announcement from the league office that the referees' failure to call an on-the-dribble foul by Antoine Wright on Anthony was a mistake. After Game 4, just past 1:30 a.m. local time, Cuban posted an apology on his Blog (blogmaverick.com) to Martin and his mom as well as the entire Nuggets' traveling party for the treatment they received at the American Airlines Center.
"... The reality is that this has gotten out of hand," Cuban wrote in a post that also offers up use of his private suite to Martin's family if the Mavs can force a Game 6 here. "When tempers and such start impacting the fan experience both in Dallas and Denver -- and it requires special security -- that's not what I want for Mavs or Nuggets fans.
"No one takes more abuse and gets more threats on the road than I do. So I know exactly how it feels. I've also had my family and friends spit on at games in this series [in Denver]. So I know how unpleasant that is as well. It's a dirty secret that all arenas need to do a better job of protection for visiting team fans, particularly during the playoffs."
Denver still holds a 3-1 lead and had its chances to complete an improbable four-game brooming of the Mavs thanks mostly to Anthony, who followed up the game-winning triple he controversially splashed home after the Game 3 no-call with another clinic. Only this time, in addition to the backing he got from Chauncey Billups (24 points) and J.R. Smith (19), Melo tossed in 11 rebounds, five steals and several long and determined stretches of D against the scorching Nowitzki.
Dirk?
The Mavs had five other players in double figures -- while also pounding Denver on the boards (50-34) with Martin clearly unsettled by the crowd trouble and Chris Andersen sidelined by the stomach flu -- but Nowitzki stood out anyway. He had 19 points alone in the fourth quarter, finally gave Dallas its first lead since 6-5 with a step-back jumper with 65 seconds to go that made it 114-112, and did all his damage without attempting a single 3-pointer.
Patiently grinding his way to all of his favorite hot spots, Nowitzki shot 8-for-15 in the paint and 6-for-10 in his midrange work. Mavs coach Rick Carlisle likened the performance to the sort he used to see from ex-teammate Larry Bird, while Nuggets coach George Karl could only lament: "Tonight it looked like [Nowitzki] had a mission. He was pretty serious about every possession and every touch he got."
Said Carlisle: "We were nastily determined to somehow win."
You could tell. Dallas was down 14 early when Wright locked arms with Anthony and Melo swung his arm to get free. There was pretty much nonstop nastiness after that, on the floor and sometimes in the crowd, which bothered Karl far more than the fact his team couldn't finish Dallas off after winning its first seven games against the Mavs this season.
"I think Dallas is one of the top four teams in the Western Conference and they have been for the last six weeks," Karl said. "And we're supposed to beat them four straight?
"We've come a long way, man."
Furious George was then asked about the evening's atmosphere and whether it ranks as one of the most hostile games he's ever seen.
"I would probably use an uglier word than hostile, but I'm not going to do that right now," Karl said. "I don't think it was very classy. I've been in hostile buildings, but you can do it in a classy way."
Denver's turn comes Wednesday night in Game 5, when one of the wilder, chippier, more contentious near-sweeps that we've ever seen rages on.
Marc Stein is the senior NBA writer for ESPN.com. To e-mail him, click here.
Playoff Dimes past: April 27 | 28 | 29 | 30 | May 1 | 2 | 3 | 4 | 5 | 6 | 7 | 8 | 9 | 10 | 11
Cavaliers Top Hawks To Remain Perfect In The Playoffs

By John Hollinger | ESPN.com
ATLANTA -- Mission accomplished ... sort of.
The Cleveland Cavaliers completed a four-game sweep of the Atlanta Hawks with an 84-74 win to advance to the conference finals, but they weren't exactly popping champagne corks afterward.
"Why should we celebrate?" LeBron James asked after the game. "We're trying to win a championship. We're excited because we're playing great basketball, but we're not satisfied."
At least this time the Cavs showed they could grind out a tough win, rather than blowing another overmatched team off the floor.
"Sometimes you have to win ugly like this, and it's good to know that you can," Cavs coach Mike Brown said. "I'm sure Atlanta feels like they didn't play their best. I know offensively we didn't play our best. But the way we defended tonight allowed us to make some mistakes."
To read the entire Hollinger column, click here.
Nowitzki's Big Quarter Saves Mavericks

By Robert Mahoney | TrueHoop Network
Maybe "What more can Dirk Nowitzki possibly do?" wasn't such a rhetorical question after all.
Despite an already impressive showing, Nowitzki reminded all of us that Dirk at his finest is truly a sight to behold. He delivered in every way imaginable, scoring 19 fourth-quarter points in a gutsy display of shooting prowess, savvy and resiliency. Though Game 4 between the Nuggets and Mavs was filled with technical and flagrant fouls galore, Nowitzki's focus remained squarely on ensuring a rematch in Game 5. His mettle was unquestionable and his confidence unshakable; Dirk's performance was a testament to just how deadly a hot-shooting 7-footer can be when backed into a corner.
Dirk managed to overcome his few shortcomings from this series in that epic 12 minutes. He made his final 16 free throw attempts after missing his initial one. He refused to settle for the first decent look he saw, instead opting to use Denver's overaggressive defenders against them. He played tough defense on critical possessions, and grabbed 13 rebounds. But perhaps most importantly, Dirk's dominance didn't come to a grinding halt in the fourth. With the game and the series hanging in the balance, Dirk put together his most complete and dominating performance in these playoffs, and perhaps in his career.
No team has ever come back from a 3-0 series deficit. Apparently, someone forgot to mention that to Nowitzki, who seems as determined as ever to turn a sweep into a series.
To read more from Mahoney, check out his TrueHoop Network blog, "The Two Man Game."
By Maurice Brooks
ESPN.com

MONDAY'S BEST
Dirk Nowitzki, Mavericks
: He obviously isn't ready for his season to come to an end. The former MVP scored 19 of his 44 points in the fourth quarter as Dallas rallied past Denver.
---

MONDAY'S WORST
Mike Bibby, Hawks
: It is going to be a long offseason for the point guard after he went 1-for-6 from the field, finishing with three points and one assist.
---
QUOTE OF THE NIGHT
"Why should we celebrate? We're playing for a championship."
Cavaliers forward LeBron James after Cleveland eliminated Atlanta from the postseason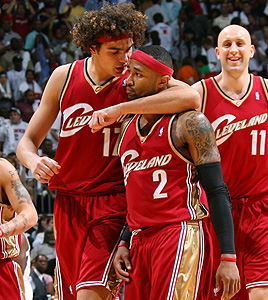 Jesse D. Garrabrant/NBAE/Getty Images
Mo Williams dropped in 12 points for the Cavaliers, who have swept the Pistons and the Hawks in the first two rounds of the playoffs.
The Mood At Lakers Practice
By Shelley Smith | ESPN

"It was somber, I would say," Phil Jackson said afterwards. "But they recognize that we went to Houston and did what we had to do, and now it's a three-game series."
Blowing a great opportunity -- to win without Yao Ming -- is not cause for panic, Kobe Bryant insisted. "Nobody said it was going to be easy," Kobe said. "We surely didn't think it would be easy. We're playing against a tough team."
Bryant added that the Lakers are not the first team to be inconsistent in the playoffs.
"Go back to Chicago when they won championships," he said. "They used to do the same dumb thing, too ... But when you win a championship, nobody remembers you had a 3-1 series lead or you blew a 2-0 series lead. Nobody remembers Boston had two seven-game series in the first round last season."
And as for Cleveland and Denver's roll through the month of May?
"We did it last year, too," Bryant said, chuckling. "Except for one time. Boston came away with the championship.
To read the entire TrueHoop blog, click here
By John Krolik
TrueHoop Network

In the days and weeks following this series, the conventional wisdom is going to be that the Cavs breezed through their first two playoff series. But let it be known that the Cavs were handed nothing when they got to Atlanta. Remember, this Hawks team went 31-10 at home in the regular season. In their previous seven playoff games at home over the last two seasons, the Hawks had lost one game in their building. In two games at home against the Cavaliers, that number went to three.
And make no mistake; these Hawks came to play in their final two games. In Game 3, the Cavaliers fended off the Hawks' relentless energy on defense and the boards through a transcendent performance from LeBron James, who dropped 47/12/8 in the best statistical playoff game in his already-stacked playoff résumé. In Game 4, with LeBron looking as close to human as he's looked throughout these playoffs, the Cavaliers had their resolve tested, facing a deficit of seven after the first quarter and leading by as little as two in the fourth quarter. But when push came to shove, the Cavaliers responded in crunch time by falling back on what they've relied on all season; stifling defense, gritty baskets by the tough-as-nails Delonte West, big 3s from the ice-cold Mo Williams, and the brilliance of the league's MVP. This game, the Cavs finally got the test everyone was waiting to see.
An outcome other than a double-digit victory? That we'll have to keep waiting for.
To read more from Krolik, check out his TrueHoop Network blog, "Cavs: The Blog."
Putting Up Big Double-Doubles
By Elias Sports Bureau

Dirk Nowitzki scored 44 points and had 13 rebounds as the Mavericks avoided elimination by defeating the Nuggets 119-117. Nowitzki and Carmelo Anthony (41 points and 11 rebounds) were the third pair of players in NBA playoff history to each score 40 or more points and grab 10 or more rebounds in the same game. The others: Jerry West (41/10) and Elgin Baylor (45/17) as Lakers teammates (vs. Detroit in 1962); Michael Jordan (42/12) and Charles Barkley (42/13), Bulls vs. Suns in 1993.