Jesse D. Garrabrant/NBAE/Getty Images
Rashard Lewis fires up the winning 3-pointer in the closing seconds for the Magic.

Jesse D. Garrabrant/NBAE/Getty Images
Dwight Howard was a force in the middle, scoring 30, grabbing 14 rebounds and making two steals.
Game 1: Stunning Comeback Sinks Cavaliers

CLEVELAND -- Brace yourselves, Cavs fans, because this little factoid will make Wednesday night's loss hurt even a little more.
You know what fueled that comeback? That uncanny resilience? That seemingly impossible victory for the
Orlando Magic
in a game that appeared over at halftime?
We would like to give all the credit to Magic coach Stan Van Gundy, who kept telling his team to keep fighting and stop fawning, not to quit, to keep cutting into the lead and induce a little panic. And certainly, that credit is deserved.
But we started this column by asking about fuel, which is why it was so amusing to see Rafer Alston pop into the locker room after the game and pronounce to anyone who was listening, "It was the McDonald's! Dwight's McDonald's and Hedo's pizza."
Turns out Howard got himself ready for Game 1 of the Eastern Conference finals by downing two quarter pounders with cheese, large fries and a Sprite, while Turkoglu went all non-Turk, keeping the yogurt and the olives off his pizza while downing a plain cheese pie.
"Imagine what some vegetables might have done for you?" Howard was asked.
"That physique look like it needs vegetables?" Alston interjected, prompting one side of the Magic locker room to burst into laughter.
For some of you, this is one of those mornings when you begin kicking yourself shortly after you wake up. You check the previous night's scores, you remind yourself that Mo Williams had ended the first half with what appeared to be a 67-foot dagger and then you scratch your head and wonder two things: How the hell did that happen? And why the heck didn't I stick it out to the end?
The Cavaliers were asking themselves a variation of that latter question at the conclusion of a topsy-turvy night, an evening when Orlando steadily rallied back from a 16-point deficit and got a clutch 3-pointer from Rashard Lewis with 14.7 seconds left to defeat the Cavs 107-106 in Game 1 of the Eastern Conference finals.
Stunning point No. 1: The Magic overcame a 49-point performance from LeBron James.
Stunning point No. 2: The Magic won despite making only three 3-pointers in the first three quarters.
Stunning point No. 3: Junk food wasn't the only thing they got a mouthful of.
"He [Van Gundy] told us we all look like witnesses," Howard said of his coach's halftime speech, "and we can't have that. That really motivated us, because he said, 'Y'all are out there just watching [James] dunk,' and that brought some fire out of us."
But although Van Gundy did some screaming, he also did some pleading and prodding, repeatedly telling his team that Cleveland might not respond well to a nip-and-tuck game given that it had steamrolled through the first two rounds of the playoffs, winning every game by at least 10 points, and could turn a tad uptight if things would get a little too tight.
Van Gundy couldn't have been more right.
"The one thing about our team, and it's been pretty consistent all year, but this is a resilient basketball team. This team will keep playing," Van Gundy said. "All I was talking about was getting our heads right, gather ourselves, and try to do it possession by possession. I said we're not going to get it all back in six minutes, but let's get it to 10, get it to six, get it to two and put pressure on; then we got the lead. The players did a very good job of that, keeping their heads and staying in the game."
Howard led Orlando with 30 points and 13 rebounds, but he was on the bench for the winning shot after drawing his sixth foul with 25.6 seconds left.
Funny thing, though (at least it seemed funny to Howard and Lewis, because they joked about it afterward), was that Lewis turned to Howard as the play was about to begin and winked three times, signaling he would go for the win with a 3-pointer.
And that's what happened. Lewis received the pass from Turkoglu for the last of his 14 assists and buried the shot from the corner. Orlando then played tight defense, forcing a jump ball with one second left that ended with Williams' missing an off-balance jumper at the buzzer.
"It definitely hurt, but we've got to adjust. I've said it before: A series is not won or lost in one game," said James, who cramped up after the game and took several minutes to exit the court. "Just caught a few cramps. That comes from maybe a little bit of dehydration. So I've got to make sure I keep my fluids up for the next few days. I'm not hurt. Just sometimes, if you've ever played sports before and you catch a cramp, your body will tell you when you are ready to move. If you try to move before your body tells you to move, it's going to hurt."
"Dwight played great," James said. "But Lewis was the X factor for them."
So was Turkoglu, who took over the ballhandling chores for most of the fourth quarter, fought off the Cavs' blitzing traps and passed for seven of his 14 assists during the final quarter.
Turkoglu said point guard (or point forward) was a position he had been learning since he was 12. His coaches in Turkey told him that his combination of size, sight lines and skills could make him a dominant ball handler in the Magic Johnson mold.
That was the way he played in Game 7 of the Eastern Conference semifinals against Boston, and as in that game -- although not to the same momentum-shifting degree -- once Turkoglu got rolling, the rest of the team followed.
As for Howard, he was an entirely different player in the low post without having to deal with the heft and bulk of Celtics center Kendrick Perkins as he had during the previous series, and being just a foot or two closer to the basket when he got into position to shoot made all the difference. (Of his 20 shots, he made 14.)
James did his thing (49 points, 20-of-30 shooting, 8 assists, 6 rebounds), but the Cavs didn't do their team thing in the second half nearly as well as they did in the first. They reverted to the standstill offense that has so often doomed their fluidity, gave James the ball at the top and spread the floor while waiting for him to shoot or create.
By the end, what at halftime had been a euphoric arena had turned into an island of disgust.
Lately, they aren't used to losing around here (let's not forget that 39-2 regular-season record), and the anger fans were feeling was palpable as the sellout crowd filed out of Quicken Loans Arena. The night began with the collective thought, "When exactly are the Lakers coming to town?" But that was replaced shortly before midnight by the simplistic, "How the heck did that happen?"
Adversity, welcome to Cleveland. Or perhaps we should say welcome back.
"[Adversity] is always good. Nobody said it was going to be easy," James said. "It's one game, and if we just look at it as one game, we'll be fine. If we think the world is coming down on our heads, we're going to lose pretty bad."
For now, we'll put this one down as a bad loss -- a bad loss to a team whose nutritionist was named either Chuck E. Cheese or Ronald McDonald.
Apologies, Cavs fans, if that makes the loss hurt even more. But there comes a time when every champion has to bounce back from something bad, and now the onus is on the Cavs -- if they truly are championship material -- to prove that's something they're capable of doing.
Chris Sheridan covers the NBA for ESPN Insider. To e-mail Sheridan, click here.
Playoff Dimes past: May 2 | 3 | 4 | 5 | 6 | 7 | 8 | 9 | 10 | 11 | 12 | 13 | 14 | 15 | 17 | 20
Cleveland Fans Held Their Breaths

By Chris Broussard | ESPN The Magazine
CLEVELAND -- For Cavaliers fans, the scariest moment of Wednesday's 107-106 loss to the Orlando Magic was not Rashard Lewis' winning 3-pointer with 14.7 seconds to play.
It was the five minutes immediately after the game when LeBron James stood on the court wincing in pain, unable to move. Teammates ran over to help him off the floor, trainers tended to him, and many of the 20,562 fans stood still in Quicken Loans Arena, waiting to see what was wrong.
Eventually, James walked off the court with a slight limp but under his own power. Turns out, it was just a cramp.
"I'm not injured," said James, who also had blood dripping from his knee after being kicked on the final play. "Just caught a few cramps. That comes from maybe a little bit of dehydration. So I've got to make sure I keep my fluids up for the next few days. I'm not hurt.
"Just sometimes, if you've ever played sports before and you catch a cramp, your body will tell you when you are ready to move. If you try to move before your body tells you to move, it's going to hurt."
James began cramping in his right quad during the third quarter. He was visibly bothered by the cramp and twice motioned for coach Mike Brown to call timeouts during the second half, the last one with 2:47 to play and the Cavs trailing 95-94.
He said the Cavs' nine-day layoff probably contributed to the cramping.
"It may have because I caught some cramps, too, before Game 1 of the Atlanta series with the layoff that we had," he said. "You can never simulate a game in practice because you can't add 20,000 fans, you can't add the lights, you can't add that type of atmosphere. With all the sweating that goes on during the course of the game, the mental and physical pounding that you take throughout the course of a game, it's easy for you to catch cramps."
Of course, James' play showed no evidence of cramping. His production was off the charts: 49 points, 8 assists, 6 rebounds, 3 blocks, 2 steals on 20-of-30 shooting. But he always has said he prefers not to score 50 points, and he admitted that his one-on-one play in the third quarter may have taken his team out of its offensive rhythm.
It's not that he was shooting so much, but that he was holding the ball before taking shots or making moves.
"Offensively, we were stagnant at times, maybe because I felt the hot hand," he said. "I got back to the one-on-one play that I had in the past. But I felt I had it going individually."
Mo Williams, who was seated next to James on the dais during the postgame news conference, took offense to James' comments, pointing to his own 6-for-19 shooting as the reason the Cavs lost.
"I don't think that him going one-on-one was the factor," said Williams, who finished with 17 points and five assists but was just 2-of-8 on 3-pointers. "I think he had it going. That's part of our offense, for him to attack his man. I think the key, the biggest key to the game was myself. I have to take pressure off this guy. I'm looking at the stats and I'm looking at Dwight [Howard] and I'm looking at Rashard and I'm looking at Hedo [Turkoglu], and those three guys were terrific tonight.
"And I look at myself, 6-for-19. LeBron is 20-for-30 from the field. I don't care; he can go one-on-one all he wants. I still got 19 shots. It wasn't him."
After rolling to victories by at least 10 points in each of their first eight playoff games, the Cavs are tasting adversity for the first time this postseason. James said it can be a plus.
"[Adversity] is always good. Nobody said it was going to be easy," James said. "It's one game, and if we just look at it as one game, we'll be fine. If we think the world is coming down on our heads, we're going to lose pretty bad."
By Maurice Brooks
ESPN.com

WEDNESDAY'S BEST
Rashard Lewis, Magic
: Yes, LeBron had 49 points, but the Cavs didn't win. So this spot goes to Lewis, who scored 17 of his 22 points in the second half, including a key 3-pointer with 14.7 seconds left.
---

WEDNESDAY'S WORST
Cleveland Cavaliers
: After sweeping their first two playoff opponents, the Cavaliers finally played a close game and came up short, failing to hold a 16-point lead at home.
---
QUOTE OF THE NIGHT
"He told us, 'We all look like witnesses.' That got us fired up."
-- Magic center Dwight Howard on what coach Stan Van Gundy told the team at halftime
• See Wednesday's daily leaders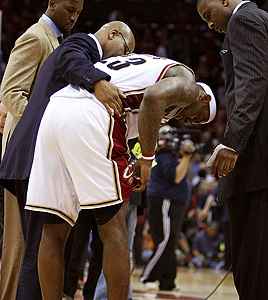 (Photo by Elsa/Getty Images)
LeBron James limped off the court after cramping up during the Cavaliers' one-point loss to the Magic. James scored a career-high and franchise playoff-record 49 points.
Magic Ruin LeBron's Big Night
By John Krolik
TrueHoop Network

Of all the painful things stemming from this game, the worst by far is this feeling: LeBron James' performance doesn't count.
LeBron, the best player alive and our savior, had what may well have been the best game of his career. I will go there. It's not just that he posted a playoff career-high 49 points on a ridiculous 67 percent shooting against the league's best defense with eight assists, six boards, three crushing blocks and two steals. It's the way he did it.
His bread-and-butter drives to the rim weren't even there during the first half. There were beautiful post-ups, open 3s over an unsuspecting defense and finishes on the fast break.
He broke down the high double-traps early with nice passes to find cutters. He had a stretch during the second and third quarters when he simply could not miss a midrange jumper. If the Cavs could've pulled this one out, we would get to mythologize this game and salivate over what we just saw for the next full day, and this would've gone into the record books as one of the truly amazing games of his career, which is to say one of the most amazing games of any career.
But history is the propaganda of the victors, and the fact that the Cavs came up two measly points short of winning means this is a game that should be forgotten. After Anderson Varejao bites on a rocker-step fake from Rashard Lewis and gives up a 3-pointer on a man he was in position to run off the 3, and Delonte West misses an open look from the short corner, all of a sudden we're forced to find fault somehow.
We now have to look at those three free throws LeBron missed in the fourth, to say that maybe he should've pulled up for the jumper instead of letting the double-team come and letting the ball get forced from his hands. It's not fair. But that's basketball, and that's life. Wednesday night, I saw one of the best games I've seen an individual play. But for all history cares, he might as well have gone 0-for-30.
To read more from Krolik, check out his TrueHoop Network blog, "Cavs: The Blog."
Why Was Carter In The Game?
By John Hollinger
ESPN.com

Speaking of Anthony Carter's botched inbound pass (at the end of L.A.'s Game 1 win in the West finals), the question nobody is asking is: "Why was he in the game?"
So let me ask it, emphatically: Why on Earth was Carter on the floor when Denver needed to score to tie the game? Nene had fouled out, so that option was off the table, but having Carter out there instead of Linas Kleiza was insane. In the regular season, Carter averaged 9.2 points per 40 minutes with a 49.0 true shooting percentage, and he hadn't scored a point the entire game; meanwhile, Kleiza averaged nearly twice as many points per 40 minutes (17.8) and shot more accurately (55.8 true shooting percentage).
And, at 6-foot-8, Kleiza is 6 inches taller. Which means he would have had a much better chance of looping a pass around 6-10 Lamar Odom before Trevor Ariza had time to intercept it.
To see the four other Insider Gems, click here.

Avery Johnson points out that if he were George Karl, he would go to Chauncey Billups and have him reiterate what Karl would say to the team.
Mike & Mike
Magical Comeback In Cleveland
By Elias Sports Bureau

The Cavaliers took a 16-point lead against the Magic, and you couldn't blame the fans in Quicken Loans Arena if they had thought this one was in the bag. In the LeBron James era, before Wednesday night, Cleveland was 100-5 (.952) during the regular season and 10-0 in the playoffs when it held a lead of more than 15 points at home.
• Dwight Howard had 30 points and 13 rebounds in Orlando's Game 1 upset of Cleveland. During this past regular season and through the playoffs, only one other player had at least 30 points and 10 or more rebounds in a game against the Cavaliers: Al Harrington (39 and 13) in a Knicks loss on Feb. 4.
LeBron James fell one point shy of 50 in Cleveland's 107-106 loss to the Magic in Game 1 of the Eastern Conference finals. James' 49 points were the third-most in NBA history in a playoff game decided by one point. Bob Pettit scored 50 in a 110-109 win over the Celtics in Game 6 of the 1958 Finals, a victory that gave the St. Louis Hawks the league championship. Ray Allen dropped 51 on the Bulls earlier in this year's playoffs, but Chicago won that game in triple overtime 128-127.