Noah Graham/NBAE
Dwight Howard and the Magic will try Sunday to bounce back from Thursday's 25-point loss.

Noah Graham/NBAE
L.A. big man Andrew Bynum was one of several defenders who held Howard to one made field goal.
The "D" In Dwight Doesn't Stand For Dunks

LOS ANGELES -- If you're wondering about the last time Dwight Howard failed to throw down a single dunk in a game before Thursday night's Game 1 -- or if you're wondering about the last time he went two games without a dunk -- we've got the details for you.
Finals schedule
Game 1: Lakers 1, Magic 0 Game 2: Sunday, 8 ET, ABC
Game 3: Tuesday, 9 ET, ABC
Game 4: Thursday, 9 ET, ABC
Game 5: June 14, 8 ET, ABC
Game 6: June 16, 9 ET, ABC
Game 7: June 18, 9 ET, ABC
The last time Dwight played in two games without a dunk, since you obviously have to exclude the Game 6 against Philadelphia in the first round that he missed through suspension for elbowing
Samuel Dalembert
: It was actually a three-game dunk drought during the first half of the 2007-08 season. Those games were the last two of the 2007 calendar year (roadies in Charlotte and Chicago) and a home loss to New Jersey on Jan. 2, 2008. Howard came into the Finals with 51 dunks in 18 playoff games. The closest pursuer? Cleveland's
LeBron James
... with 29. So it's no wonder Phil Jackson was happier with the Dwight dunk stat than just about anything else that the Lakers achieved in Game 1. "That's a big part of his game," Jackson said of Howard, who had to settle for a swooping lefty hook in the first quarter as his only made basket in a mere six field-goal attempts. Jackson certainly doesn't expect the Lakers to blank Howard again on the dunk front, but it also looked in Game 1 as though Howard got discouraged by the fact that he's no longer facing the likes of
Zydrunas Ilgauskas
and
Anderson Varejao
. Dunks will come, because they always do with Dwight, but he has to run harder and move with more purpose down low if he wants to have success against the length and mobility of L.A.'s big men. "They really clogged the paint up," Howard said Friday. "They made it tough for me to really try to get into my moves, our baseline. But it's only one game. We see what we have to do as a team to win. It's team basketball first. I'm not really concerned about the offensive end. That stuff will come. But on the defensive end ... I would say we weren't as aggressive as we normally are, all of us. And we have to rebound." As for a different kind of slam, Howard tried to stay in downplay mode -- but acknowledged some disappointment, too -- when he was asked Friday about the occasional disparaging remarks sent his way by the first Orlando center to take the Magic to the Finals:
Shaquille O'Neal
. "I haven't spoken to him one on one," Howard said. "I don't know. I can't tell you why he's said a lot of discouraging things. I wish he wouldn't say it because he's one of the few guys that we all look up to. But you can't control what he says. I'm playing for The Finals right now, so my focus is not on what Shaq says or anybody else. It's getting my team a trophy." In this matchup of two of his former teams, Shaq has thrown his public support behind
Kobe Bryant
and the Lakers, which has been widely interpreted as O'Neal choosing between the lesser of two hard-to-stomach scenarios. For all of his past battles with Bryant, O'Neal has been far louder this season with his well-chronicled criticisms of Magic coach Stan Van Gundy and his dismay with the Howard being billed -- as Shaq was early in his career -- as the NBA's answer to Superman.
Playoff Dimes past:
May 21
|
22
|
23
|
24
|
25
|
26
|
27
|
28
|
29
|
30
|
31
|
June 4
Marc Stein is the senior NBA writer for ESPN.com. To e-mail him, click here.
J.J. Redick Plays Defense?

By Kevin Arnovitz | TrueHoop
LOS ANGELES -- When a team loses as soundly as the Orlando Magic did Thursday night, you have to dig deep into the data to find any positives. Beneath the wreckage, there was one interesting item: Kobe Bryant went only 1-for-5 from the field when being guarded by J.J. Redick. Yes, it's a small sample size, and yes, it was garbage time. For Redick, though, Thursday night's stint on Bryant was another piece of evidence that the much-maligned guard might -- just might -- not be the defensive liability critics make him out to be.
After checking back in with about seven minutes remaining in the fourth quarter, Bryant wasted no time going to work on Redick. "The first three times he touched the ball, he went at me," Redick said at the Magic's practice Friday.
On each occasion, Bryant came up empty. Redick deflected any suggestion that the 1-for-5 line was a result of his defensive wizardry. "A lot of times with Kobe, it's just a matter of his missing shots," Redick said. "I don't think I'm going to be labeled the 'Kobe Stopper' or anything."
Redick's first three seasons in the NBA have been rough. He is considered one of the best pure marksmen in collegiate history, but his outside shot hasn't been consistent in the NBA. Minutes have been hard to come by with the Magic (his agent's trade demand earlier this season fell upon deaf ears). But most of all, Redick has been trashed for his defense.
"The league is a lot about perception," Redick said. "The notion that I can't play defense is something I'm going to fight my whole career."
Asked where that perception of his defensive game comes from, Redick offered a wry smile. "Do you really want to know?"
That perception of Redick changed a bit during the Magic's conference semifinal series against Boston, when he chased Celtics guard Ray Allen around stagger screens for two weeks. Allen had a miserable series, hitting only eight 3-pointers in seven games. Redick wasn't much better offensively but was a huge factor for Orlando on the perimeter.
Is the rap on Redick's defense unfair? "Yes," Steve Clifford, Orlando's defensive-minded assistant coach, said emphatically. "He knows what we do, does it well and makes it hard on guys."
With the emergence of Courtney Lee this season, Redick's place in the Magic rotation is as tenuous as ever. His future in the NBA will likely take him elsewhere. In the meantime, Redick will continue to polish his résumé and challenge conventional wisdom about his game -- a task that's become just a little bit easier this spring.
Teams Could Be Taking Financial Hits

By John Hollinger | ESPN.com
I'm not sure everyone completely appreciates the nuances of the salary cap, so let me make sure everyone understands this: If revenues decline by 10 percent in 2009-10, as commissioner David Stern seemed to suggest in his news conference Thursday night, it will be total financial Armageddon for the league's teams because of the "claw-back" provisions in the salary cap.
The commissioner phrased it as though it weren't a big deal; in reality, this couldn't possibly be a bigger deal. Each year's salary cap is an estimate built off the previous year's numbers. If it turns out they were wrong, they "claw back" the amount they were off, in addition to whatever adjustment is built into the cap for the coming year.
To read the entire Hollinger story, click here.
Magic Have A Long Way To Go

By Marc Stein | ESPN.com
Two days to regroup isn't as favorable as it sounds for the shell-shocked Orlando Magic. A dunk or three from Dwight Howard is surely coming -- and you can safely presume that the free-flinging Magic will shoot better than 30 percent from the floor next time -- but they have lots to fix before these Finals resume Sunday (8 p.m. ET, ABC).
"We've got a long way to go," Magic coach Stan Van Gundy said, "to get back into this."
That might sound overly pessimistic after one game, even for an NBA coach as hard to please as Van Gundy, but he's not wrong. Too honest, perhaps. But undeniably accurate after Thursday night's 100-75 thrashing.
To read the entire Stein column, click here.
What Blowouts Really Mean

By Henry Abbott
TrueHoop
In Game 1 of the NBA Finals, the Lakers rolled to a 25-point win. All kinds of observers take it as a sign that the Lakers are wholly dominant, but both coaches immediately cautioned that no matter how big it is, no win is more valuable than any other.
"It's pretty hard to find a champion who hasn't at some point in their playoff run gotten their butts beat by 20-plus," Stan Van Gundy says. "I mean, San Antonio did I think every year in their playoff runs. … Those kind of things happen. I know this: We're a lot better than what we showed today."
Phil Jackson: "I told those guys it doesn't matter whether we win by 60 or six in this game. … It's just one win. We've got to go out and establish that again on our home court on Sunday."
I checked out the past 20 years of Finals games to see what happens to teams that lose by big margins. Does it matter?
To read the entire TrueHoop blog, click here.
What's It Like Covering Kobe?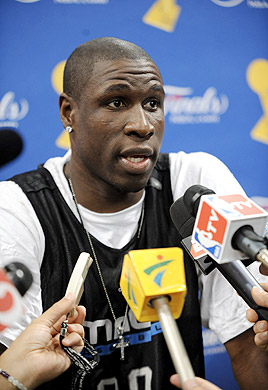 Noah Graham/NBAE
Mickael Pietrus and the rest of the Magic will have to do a better job of slowing down Kobe Bryant, who went off for 40 points in Game 1.
Who Is Running The Point?
By Chris Sheridan
ESPN.com

LOS ANGELES --
Rafer Alston
's job is safe, and
Jameer Nelson
will continue to come off the bench during the NBA Finals.
At least that's what Orlando Magic coach Stan Van Gundy said with some conviction Friday, a day after the Magic's 25-point loss to the Los Angeles Lakers in Game 1.
"I cannot imagine -- although I'll never say never -- that I would get to a point where I would be comfortable starting him after he just missed four months. I've got no issues going forward with regards to who I start," Van Gundy said.
That statement also served as a vote of confidence for off guard Courtney Lee, who replaced J.J. Redick as the starting shooting guard for the Eastern Conference finals but had trouble -- just like other Magic players -- defending Kobe Bryant man-to-man.
Van Gundy did acknowledge he had erred by using Nelson for the entire second quarter, saying he would limit Nelson to stretches of six or seven minutes of playing time as the series moves forward.
To read the entire Sheridan story, click here.

Joe (L.A.): While most Lakers fans are already popping champagne, I get this feeling that Game 1 is more of an aberration than most people think. The Magic played horribly and couldn't buy a field goal. What do you think?
Chris Sheridan: I called it a throwaway game in my column last night, which is what it should be for the Magic. I expect to see a lot more energy and effort from them Sunday night, which was a point they continued to harp on today, and I expect Stan Van G to tinker with his rotations. He acknowledged playing Jameer Nelson for too long a stretch in the second quarter, and he changed his tune regarding possibly using a Twin Towers format of Howard and Gortat together. Last night, he was totally dismissive of that being a viable option. Today, he said he'll have to reconsider it if the boost it gives them on defense does not sap their offense too much.
DMiz: Someone asked SVG after the game if playing Jameer would affect Skip at all. He said it has no affect. That's total BS. It kills his confidence and you need all your confidence to drain 3's!
Chris Sheridan:
It was brought up today at Stan's news conference, and Stan said if Rafer thought it affected his game, then "that sounds like an excuse to me." Was one of Stan's strongest statements of the day.
To read the entire Sheridan chat wrap, click here.