Allen Einstein/NBAE via Getty Images
Can The Heat And The Pistons Get Back To The Top?
It wasn't that long ago when the Miami Heat and the Detroit Pistons were the top teams in the Eastern Conference. I really believe that both teams are in good position to get back there relatively soon.
Each team has a Hall of Famer calling the shots in its front office, with Pat Riley in Miami and Joe Dumars in Detroit. I think the Heat are clearly closer to competing for a championship, and if you asked both Dumars and Riley, they would have to agree with me. That's largely because of the presence of a home run hitter in the middle of Miami's lineup in
Dwyane Wade
. The Pistons just don't have an answer to that right now.
NBA on ABC Schedule


•
Heat at Pistons, 1 ET (ABC)
You can make a case that Wade is the league MVP this season. That goes a long way toward a quick turnaround for any franchise. But with money to spend in the next few seasons, I think both teams are in an almost perfect position to get back to the top of the East relatively quickly. Miami won its title in 2006 with
Shaquille O'Neal
, but I don't know that the Heat have to have another elite center to compete for a championship. I think the position is a little overrated right now in the NBA. There just aren't that many great centers in the league. If you look at the teams that are successful, you'll see a lot of them are playing power forwards at the center position. I think the Heat ultimately do need another big man, but they have done a good job recently of acquiring pieces through the draft. When you add guys like
Michael Beasley
and
Mario Chalmers
, you have done a good job in getting guys who will play a big role in the future of the team. Both of those guys can play and they are gaining valuable experience by learning on the job. That experience will help them greatly down the road. The team needs to continue to draft well, but the fact that the Heat are winning while rebuilding bodes well for them. The Pistons have some building blocks in place as well. I think point guard
Rodney Stuckey
has a bright future and is going to be a tremendous player for years to come. But Detroit needs to add some parts as well. The Pistons are going to have money and are willing to spend it. Based on his experience and track record as a proven winner, I fully expect Dumars to spend it wisely. The Pistons are suffering a little bit now, but you have to be patient when retooling. When you get rid of
Chauncey Billups
, their brain on the offensive end and a veteran point guard, you are going to lose something. Still, I think
Allen Iverson
gets talked about too much as the reason for the Pistons' struggles. Denver misses some of the things that he brought to the table. He's a flat-out scorer and made things easy at times for his teams when they needed to score points. But trades are, by their definition, a give-and-take proposition. I'm not sure he'll be a long-term part of Detroit's plans but I believe he has a lot of basketball left to give.
Mark Jackson played 17 seasons in the NBA and is now an analyst for ESPN.
Dimes past: March 9 | 10 | 11 | 12 | 13 | 14-15 | 16 | 17 | 18 | 19 | 20 | 21-22
Pistons Better Offensively Without A.I.
ESPN Research

Most expected Allen Iverson to give the Pistons' offense a shot in the arm when he first came to Detroit. But despite A.I.'s gaudy scoring averages over his 12 NBA seasons and reputation as an elite scorer, the Pistons are actually a better team offensively without him. With him, Detroit has a minus-41 plus-minus, but without him, its plus-minus shoots up to plus-eight.
Detroit Pistons This Season With and Without Allen Iverson on the Court
With Iverson
Without Iverson
Points scored per 100 possessions
105.3
110.1
Points allowed per 100 possessions
107.0
109.2
Net points (+/-)
-41
+8
Net points per 100 possessions
-1.7
+1.0
Offensive rebound percentage
25.7
33.6
Note: All data through March 16
A similar trend appeared when Iverson was with the Nuggets. Although Denver's offense was better than Detroit's, the Nuggets were never actually better without Iverson on the court (plus-94) than with him (plus-38).
2006-07 Denver Nuggets With and Without Allen Iverson on the Court
With Iverson
Without Iverson
Points scored per 100 possessions
108.1
110.1
Points allowed per 100 possessions
106.3
107.6
Net points (+/-)
+38
+94
Net points per 100 possessions
+1.8
+2.5
Offensive rebound percentage
29.4
32.5
Despite going on a four-game winning streak immediately after Iverson went on the shelf with a back injury, the Pistons are 7-6 overall without A.I. in the lineup and 23-29 with him.
Information from 82Games.com was used in this report, which was compiled by Alok Pattani of ESPN Stats & Analysis.
Bench Notes: Looking At The Subs For Miami And Detroit
By Kevin Arnovitz
TrueHoop
MIAMI HEAT

The Heat have a negative point differential for the season, and the team's reserves account for that deficit. Head coach Eric Spoelstra has an extremely fluid rotation. In Miami's past four games, Spoelstra has used the same starting lineup, but has given bench minutes to seven different players.
Daequan Cook
and rookie Michael Beasley have emerged as the clear No. 6 and No. 7 guys in the rotation. Cook can shoot the lights out, guard both wing positions and has improved his ballhandling skills. Beasley usually checks in for
Jermaine O'Neal
midway through the first and third quarters, and will occasionally finish games. After that, it's a bit of a muddle.
Yakhouba Diawara
gives Spoelstra another defender on the wings, but that's the extent of his game right now.
James Jones
has never found his shot after being sidelined for the first 10 weeks of the season with a hand injury. Backup point guard has been a revolving door for Miami. The Heat have used
Marcus Banks
(traded to Toronto in the
Shawn Marion
-Jermaine O'Neal deal),
Chris Quinn
, Cook (a shooting guard) and now
Luther Head
, who was signed on March 4. The former Rocket saw his first action Saturday in Miami's triple-overtime win over Utah, playing 21 minutes, while Quinn remained on the pine. In the post, veteran
Jamaal Magloire
and
Joel Anthony
will compete for playing time, though neither has emerged as the preferred option. Indications are that Spoelstra's depth chart in a first-round playoff series will likely be dictated by matchups rather than habit, but it's worth tracking the box scores to see who's getting the lion's share of the bench minutes in the final four weeks of the regular season.
---
DETROIT PISTONS

One question preoccupies any discussion of the Pistons' bench: What happens when Allen Iverson returns? The assumption is that Michael Curry will bring Iverson off the bench. The head coach
even suggested recently
that Iverson will pick up
Will Bynum
's minutes as the Pistons' backup point guard. Between Iverson, Rodney Stuckey and Rip Hamilton, the Pistons' 96 backcourt minutes will be accounted for, with little time left over for Bynum.
Antonio McDyess
, Detroit's longtime reserve, has been slotted into the starting lineup. For the time being,
Jason Maxiell
has emerged as Curry's preferred big off the bench. Maxiell has been picking up starts in
Rasheed Wallace
's absence, and has seen his minutes gradually increase. Curry will also look to
Kwame Brown
and
Amir Johnson
, though more sporadically.
Walter Herrmann
is the wild card. Since the All-Star break, Herrmann has been tallying double-digit minutes more games than not, mostly at the small forward position, where he spreads the floor for the second unit. The Pistons have traditionally been a strong bench team. If Iverson can embrace the role as Energy Guy Off the Bench, Maxiell can continue to shoot over 60 percent from the field, as he has for the calendar year, and Herrmann can spell
Tayshaun Prince
with serviceable minutes at the 3, that tradition should continue.
Read TrueHoop's breakdown of every contender's bench situation here
.
By John Hollinger | ESPN.com

With
Dwyane Wade
missing Wednesday's game with an injured right hip flexor, it gives rise to an interesting question: How safe is Miami's hold on the fifth seed? Miami, at 36-32, leads Philadelphia by only a game and a half and Detroit by two games. Additionally, Miami still has to play Detroit twice, making the three-game margin seem a lot less comfortable, and eight of its final 14 games are on the road. Philadelphia in particular appears to have a great shot at catching Miami. On paper, the Sixers' closing schedule is perhaps even tougher than the Heat's, but in the final week the Sixers play Cleveland twice and Boston once. Depending on whether the playoff seeding race has been decided by then, those three could be virtually automatic losses. Or they could be Philly romps against the Cavs' and Celtics' scrubs. So in a weird way, Heat fans should be rooting as hard for the Magic and the Lakers as they are against the Sixers -- their respective fates are likely to determine the difficulty of Philly's final week. As for Detroit, the Pistons have injury problems of their own that would make it hard for them to chase down Miami. But if the Pistons can win head-to-head Sunday, it would set up a showdown between the two on the last day of the season. And with a win, Detroit would own the tiebreaker. As of Saturday, the
Playoff Odds
still show Miami beating both Philly and Detroit by two games, but the race for No. 5 could still be a toss-up. So don't pencil in Heat-Hawks in the second round just yet. It appears the race to be Atlanta's first-round opponent (and avoid the Magic or the Celtics) has much more time to play out.

Justin (Miami):
What are your thoughts on Beasley? I know a lot of people weren't talking about him at the beginning of the year because he wasn't playing big minutes and the other rookies were getting big minutes on bad teams and putting up nice numbers. Lately, the guy has been a force. In the 4th quarter of the Celtic game he was unstoppable. If the draft were held right now, would you take Beasley at # 1?
J.A. Adande:
Was very impressed with Beasley versus Boston. But I still would have taken Derrick Rose No. 1.
---
Peter (Seattle):
Is A.I.'s ego hurt? Did the Pistons handle this properly, and can we say for sure that Det's better with Stuck than A.I.?
Adande:
Detroit's recent skid shows it wasn't ALL Iverson's fault. But if I'm Detroit I wouldn't worry about A.I.'s ego, since he doesn't fit in the long-term plans. Better to develop Stuckey … or maybe find out if he isn't up to the task so the Pistons can make other plans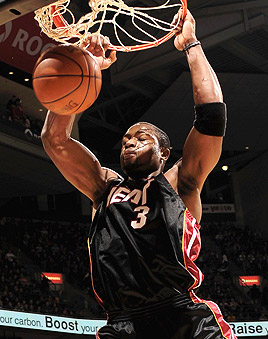 Ron Turenne/NBAE via Getty Images
Even with D-Wade, the Heat couldn't top the Nets on Friday. Can the MVP candidate help give Miami some breathing room in the race for the East's fifth seed Sunday?

Jason Smith and Marc Stein give you a comprehensive look at the Eastern Conference playoff race, including whether the Cavs are peaking too early.
NBA Today
Five Good Minutes: D-Wade