As we reach the eve of the 2011 NBA draft, we still have more questions than answers. To address those questions, we asked five writers to weigh in on which international prospect is best, which one-and-done player might have hidden potential, which college veteran might not live up to expectations, and more.
Here's 5-on-5:
1. Which unexpected draft selection would you most like to see?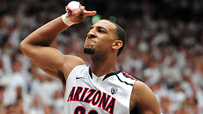 Danny Chau, Hardwood Paroxysm: Chandler Parsons at 24. A reach? Maybe. But the Oklahoma City Thunder don't really have too many holes in their rotation. At 6-foot-10, he's a great ball handler and passer, and while his 3-point shot is inconsistent, he's committed to working on it. His versatility at the 3 or 4 would be a subtle improvement to an already formidable roster.
Kalen Deremo, Roundball Mining Co.: I'd like to see the Heat land someone who has the ability to one day become a stud, like Selby, Jenkins or Reggie Jackson. I've never been a Heat-hater and would actually like to see LeBron win a ring so that everyone would finally get over "The Decision" and move on with their lives. Hitting the few picks the Heat possess would galvanize this process.
John Hollinger, ESPN.com: For comedy purposes, Minnesota taking Jimmer Fredette at No. 2. But realistically, for basketball reasons, I'd love to see Washington get Kawhi Leonard at No. 6. Based on their output over the past year, I'd say Leonard has a lot better chance at a strong pro career than Jan Vesely does.
John Kenney, KnickerBlogger: The Knicks need help on the boards and on defense. It would be nice, then, for them to actually address one of those needs by drafting Kenneth Faried from Morehead State, a world-class rebounder who plays with tremendous energy yet has only been loosely connected to the Knicks.
Jonathan Santiago, Cowbell Kingdom: Derrick Williams going first to Cleveland. Why? Because if Kyrie Irving is available at No. 2, a Gasol deal between the Lakers and Timberwolves becomes more conceivable.
---
2. Which one-and-done player could make the most meteoric rise?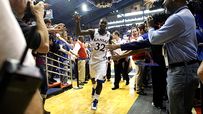 Danny Chau, Hardwood Paroxysm: Josh Selby. If his draft stock were solely based on his freshman year at Kansas, he'd be falling to the bottom of the second round. But Selby, a top-five recruit coming out of high school, is a remarkable athlete with scoring instincts you just can't teach. Offense-starved teams ought to take notice.
Kalen Deremo, Roundball Mining Co.: I'd definitely say Brandon Knight. People don't realize how successful he was in his only college season. He set the single-season freshman record for points scored and 3-pointers made at Kentucky, all while leading his team farther into the NCAA tournament than John Wall. Watch out for Josh Selby next season, too.
John Hollinger, ESPN.com: As noted in my Draft Rater column, I'm a huge Tristan Thompson fan, so this is an easy one for me. While Thompson had a solid freshman season at Texas, he grades out as a very strong candidate as an NBA power forward because of his huge rates of blocked shots and free throw attempts. Adjusting for schedule and pace, he was second among all prospects in both categories.
John Kenney, KnickerBlogger: Whatever team gambles on Kansas' Josh Selby will hope that he is more Josh Selby, top-10 high school prospect than Josh Selby, mediocre college point guard. An NCAA suspension to start the season and a number of injuries are plausible explanations as to why Selby underperformed at Kansas. Drafting him is a high-risk, high-reward proposition.
Jonathan Santiago, Cowbell Kingdom: I like Josh Selby. When he was in Sacramento on Sunday, he spent several minutes talking to Kings owner Gavin Maloof and former King Bobby Jackson. Not only did he listen to their feedback, but he also asked questions. He seems like a young player fully invested in reaching his potential.
---
3. Which college veteran could fall flattest?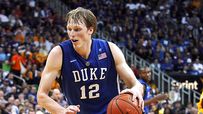 Danny Chau, Hardwood Paroxysm: Jimmer Fredette. You don't start a national epidemic like "Jimmer Fever" without taking on expectations. Fredette's success in the league depends on where he's drafted, and I'm not sure many teams will give him the license to shoot he had at BYU.
Kalen Deremo, Roundball Mining Co.: I've gotta go with Kyle Singler. After having such an illustrious career at Duke, I just see no room for him in the NBA. He's not fast, athletic, explosive or strong -- all of which aren't good signs heading into the most athletically driven league in the world. Sometimes players like Singler thrive at the next level by shooting lights-out, but unfortunately for Singler, he can't even do that.
John Hollinger, ESPN.com: Marshon Brooks. Take all the air out of his numbers and he starts looking really ordinary. Factor in his age (22) and relative inefficiency, and he's the one likely first-rounder I'd bet most strongly on failing. If Singler ends up in the first round he's another strong face-plant candidate.
John Kenney, KnickerBlogger: Derrick Williams is a highly regarded undersized forward who dominated the college game, will likely be drafted second overall and may not have a true position in the NBA. Sound familiar? While he surely has a future in the league, Michael Beasley 2.0 could very well fail to live up to the expectations as the No. 2 overall pick for similar reasons as the original: too slow to guard 3s, undersized at the 4.
Jonathan Santiago, Cowbell Kingdom: Marshon Brooks. I like his game. But when you're compared to Kobe Bryant, that sets up unreal and perhaps unfair expectations. He's more Nick Young than Black Mamba to me.
---
4. Who is the best international prospect in the draft?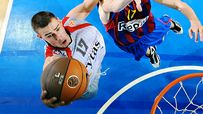 Danny Chau, Hardwood Paroxysm: Does Kyrie Irving, an Australian citizen, count? If not, it's Bismack Biyombo. With length, athleticism, and NBA-ready defensive skills, Biyombo has all the tools to be a game-changer. His nonexistent offense is worrisome, but with no reported qualms regarding his work ethic, that should come in time.
Kalen Deremo, Roundball Mining Co.: Is Jeremy Tyler considered international? If so, then I'd go with him barely over Enes Kanter, whom I also like a lot. I hear about Vesely's athleticism, but having athleticism in the NBA is a prerequisite. You must be able to do something else really good, and I just don't see it. Valanciunas should be a serviceable center, but Tyler and Kanter offer up talent in addition to their size, unlike other international players.
John Hollinger, ESPN.com: Jonas Valanciunas. The Lithuanian center has a lot of similar characteristics to Andris Biedrins in terms of build and statistical profile, except he's taller and makes his foul shots. It's easy to forget now, but three years ago Biedrins was really good. Waiting a year to buy Valunciunas out shouldn't be a big problem for a rebuilding team in the top seven; it will be a mistake if they pass on him because of that.
John Kenney, KnickerBlogger: A legitimate 7-footer, Jonas Valanciunas is an intriguing prospect because of his size and inside game. However, if he's unable to join the NBA until the 2012 season, teams with "win-now" mentalities might skip him -- a move they may regret if he turns into a top-five center in the league.
Jonathan Santiago, Cowbell Kingdom: Bismack Biyombo. He may have had a terrible workout at the adidas EuroCamp, but that situation didn't showcase the best aspect of his game -- his defense.
---
5. How would you characterize the overall quality of the 2011 draft class?

Danny Chau, Hardwood Paroxysm: This draft is lacking in star-level talent, which damages its sex appeal. However, the draft is stocked with potential role players, so there will be plenty of low-risk, high-value picks in the late first round and second round.
Kalen Deremo, Roundball Mining Co.: I think it's much better than people perceive. No, the top of the lottery isn't littered with franchise players, but overall I think there's about the same amount of talent as in most drafts; it's just more evenly distributed. I see a lot of sleepers in the 10-50 range, but also some major busts early on.
John Hollinger, ESPN.com: Below average. It's not as awful as some make it sound and there's fairly deep talent in terms of role players, but there's little star talent and only a few sure things even as solid long-term starters.
John Kenney, KnickerBlogger: Go with me on this one: This draft is like a bizarro diner. It serves good, but not great, American food, with a number of options that look moderately appealing. However, it also has international unknowns, like kangaroo meat and shark's fin, which will either delight you or give you food poisoning. I get the feeling a lot of GMs are still looking at their menus.
Jonathan Santiago, Cowbell Kingdom: It's shallow. There isn't a huge talent disparity between the top-tier and lower-tier prospects in this year's draft. I'm not even sure you can say Kyrie Irving and Derrick Williams are dramatically better prospects than some of their draft-mates.


ESPN.com and the TrueHoop Network
John Hollinger is a senior writer for ESPN.com. Danny Chau, Kalen Deremo, John Kenney and Jonathan Santiago write for the TrueHoop Network.
• Follow ESPN's NBA coverage on Twitter | On Facebook