Bobcats hope to secure No. 1 pick
Updated:
May 29, 2012, 9:31 PM ET
Associated Press
NEW YORK -- After the worst season in NBA history, the Charlotte Bobcats could use a player such as Anthony Davis.
Unfortunately for Michael Jordan's team, it's been a long time since lottery luck shined on the team needing it most.
Playing The Lottery

The Bobcats have a 25 percent chance to land the No. 1 overall pick, but the team with the worst record hasn't won the lottery since 2004.
| Team | Record | % to land No. 1 |
| --- | --- | --- |
| Bobcats | 7-59 | 25.0 |
| Wizards | 20-46 | 19.9 |
| Hornets | 21-45 | 14.8* |
| Cavaliers | 21-45 | 13.8 |
| Kings | 22-44 | 7.6 |
| Nets | 22-44 | 7.5 |
| Warriors | 23-43 | 3.6 |
| Raptors | 23-43 | 3.5 |
| Pistons | 25-41 | 1.7 |
| Blazers | 28-38 | 0.8 |
| Bucks | 31-35 | 0.7 |
| Suns | 33-33 | 0.6 |
| Rockets | 34-32 | 0.5 |
* -- Combination of two lottery picks.
-- ESPN Stats & Information
The Bobcats hope that trend ends Wednesday, when they have the best odds of earning the No. 1 pick in next month's draft.
Charlotte has a 25 percent chance of victory, the reward for its 7-59 record that was the lowest winning percentage (.106) in league history. Davis is the college player of the year after leading Kentucky to the national championship. He is considered the top prize available.
Not since 2004, when the Orlando Magic drafted Dwight Howard, has the team with the worst record won the lottery. Minnesota dropped a spot to second last year, when the Cleveland Cavaliers moved up with a pick owed to them by the Los Angeles Clippers and took Rookie of the Year Kyrie Irving.
The Bobcats, who dropped their final 23 games, appear in much more dire straits than some teams that were able to recover from their lottery letdowns.
"You could make the case that they don't have, at any position, a top-15 player at their position. So they're not in the top half of starters at any place on their roster, which is a tough place to be and that's why a guy like Anthony Davis, if they do draft him, he's going to be expected to turn it around. But there are no quick fixes," former NBA coach and current ESPN analyst Jeff Van Gundy said Tuesday during a conference call.
The Washington Wizards have a 19.9 percent chance of picking first, while Cleveland (13.8 percent) and New Orleans (13.7) have the next-best chances.
The lottery is back in New York for the first time since 1993, moving to the Disney/ABC Times Square Studio from its longtime home in Secaucus, N.J., because the NBA Entertainment facility there no longer houses a television studio.
Maybe that's a good omen for the Nets, who also are going from New Jersey to New York. They now Brooklyn Nets have a 7.5 percent chance of moving up from the No. 6 spot to land the top pick, and if they don't end up in the top three, their selection goes to Portland as part of this season's Gerald Wallace trade.
The Nets are one of the recent teams that came up empty after a dismal season, settling for the No. 3 pick two years ago after a 70-loss season. Though there are occasional complaints about the format, NBA commissioner David Stern has said there's been little call to change it.
Donnie Nelson, the president of basketball operations and general manager of the Dallas Mavericks, believes that's a good thing.
"I think the system works pretty well," Nelson said. "The problem you run into if you do away with it is there's the potential for teams tanking games at the end of the season and that can get kind of ugly. That's not a path you want to go down."
Van Gundy, like many, thinks the lottery is a way to police teams from trying to lose in hopes of securing the No. 1 pick and even argued for dropping the weighted system that gives the Bobcats 250 out of 1,000 chances, taking away even more incentive to lose. Though he said the team played hard, he used the word "tanking" Tuesday, essentially accusing Jordan's organization of not trying to win this season.
2012 NBA Draft: In Or Out?

Which college players have declared for the NBA draft? Chad Ford has the latest.
• Chad Ford: In/Out?


• 2012 NBA draft index
"They have, I think, a very poor roster by design," he said. "I think they are trying to do what most people in the front office would agree with how they're doing it. Get bad to try to get good. People have done it before. San Antonio Spurs, I think it was 18 wins when David Robinson was hurt and they got Tim Duncan (in 1997) and for 15 years they've been just phenomenal. So what they're doing I think goes to what most people in the NBA would do, but it's by design."
The Cavaliers are hoping lightning strikes twice.
Last year, owner Dan Gilbert's 15-year-old son, Nick, proved to be a lucky charm when he represented the team at the drawing in New Jersey. The young Gilbert, wearing hipster glasses and a bow tie, endeared himself to Cleveland fans after the team won the lottery by looking into the camera and saying, "What's not to like?" a catchphrase that helped the city get over the loss of LeBron James.
The Cavs are sending Nick again along with the same traveling party that brought the team luck a year ago.
His dad recently joked that his son better bring home a winner.
"If he doesn't get the first pick, he will be grounded all summer," Gilbert joked. "This is a very important draft for us. We hope to add some key pieces this summer."
Irving also will attend the lottery along with the Gilberts, former Browns quarterback Bernie Kosar and current Browns players Josh Cribbs and Joe Haden.
General manager Rich Cho will be on stage for the Bobcats, whose odds are best (35.8 percent) of picking fourth. The lottery sets the top three picks, with the remainder of the 14 participants drafting in inverse order of their records.
The draft is June 28 in Newark, N.J.

Copyright 2012 by The Associated Press
2012 NBA Finals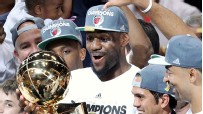 Follow the NBA on ESPN:
Twitter / Facebook / Google+
LATEST CONTENT
FINALS FEATURES
AUDIO/VIDEO
FINALS PAGE
ESPNSteinLine

Marc Stein


Quite a coup for JaVale if he gets all money owed him AND ability to be playoff-eligible with new team because he was waived before midnight
about 2 hours ago

ESPNSteinLine

Marc Stein


ESPN reported Sunday that sides were in serious buyout talks, but @sam_amick reports McGee ultimately did not have to surrender any salary
about 2 hours ago

ESPNSteinLine

Marc Stein


After game tonight in Indy, @Sixers indeed consented to waive newly acquired JaVale McGee, who'll become a free agent once he clears waivers
about 2 hours ago

mcten

Dave McMenamin


New column up in the blog: Cavs won't let LeBron take blame for the Houston loss http://t.co/zoEUjd75aI
about 4 hours ago

ESPNSteinLine

Marc Stein


RT @murrunaga: Here's what I've been workin on: NBA Insiders pod w/ @ESPNSteinLine @WindhorstESPN @ramonashelburne - http://t.co/OAlkWWywTr
about 4 hours ago

ESPNNBA

NBA on ESPN


The Pelicans are 5-0 since Anthony Davis went down with an injury. http://t.co/l02UF3I1lw
about 5 hours ago

ESPNNBA

NBA on ESPN


Pelicans defeat Nuggets 99-92, remain 1/2 game behind OKC for last playoff spot.Tyreke Evans: 22 Pts, 7 Reb, 7 Ast. http://t.co/QWYqmRdveR
about 5 hours ago

ESPNSteinLine

Marc Stein


Don't panic, @JohnnyNBA. Full podcast from tonight's NBA Insiders show on @espnradio is in the works
about 5 hours ago

ESPNSteinLine

Marc Stein


Visits with @Bucks coach Jason Kidd (http://t.co/OVOCPSiEim) & Hollywood's own @kenjeong (http://t.co/vUJwj2WMtQ) from @espnradio tonight
about 5 hours ago

ESPNNBA

NBA on ESPN


KG returned last week for the TWolves. So did "Jiggly Boy" in this AWESOME arena video.KG couldn't help but smilehttp://t.co/IgTFSrLYMk
about 5 hours ago

ESPNNBA

NBA on ESPN


GALLO!!!!!Halfcourt shot at the buzzer after the Pelicans throw it away. It's all tied up at 65 at the end of 3.
about 5 hours ago

ESPNSteinLine

Marc Stein


The inimitable @kenjeong -- That Guy From That Thing! -- is with us right now on the NBA Insiders on @espnradio
about 6 hours ago

ESPNNBA

NBA on ESPN


Like father like son http://t.co/JIQiD2uEkp
about 6 hours ago

ESPNNBA

NBA on ESPN


Most 30-point games this season:1) James Harden: 262) LeBron James: 173) Russell Westbrook: 164) Anthony Davis: 135) Steph Curry: 12
about 6 hours ago

ESPNSteinLine

Marc Stein


Eager to lobby the committee (of one) on our weekly NBA Insiders Power Rankings segment on @espnradio? Start tweeting now #powerrankings
about 6 hours ago

ESPNNBA

NBA on ESPN


Serge Ibaka powers the Thunder past the Lakers 108-101.Ibaka: 18 Pts, 14 RebsKanter: 16 Pts, 15 Rebs http://t.co/YyFgsgCVxS
about 6 hours ago

mcten

Dave McMenamin


New story: LeBron James/James Harden react to the flagrant foul called on Harden for appearing to kick LeBron http://t.co/B1O5ABR7dp
about 6 hours ago

ESPNNBA

NBA on ESPN


Just another night for LMA: 26 pts, 15 reb.Blazers get past Kings 110-99 http://t.co/ALJ1FU1sLJ
about 7 hours ago

ESPNNBA

NBA on ESPN


FINAL: Warriors come from 26 points down to defeat the Celtics 106-101.Curry: 37 pts, 4 reb, 5 ast http://t.co/1603vvX7Yk
about 7 hours ago

kpelton

Kevin Pelton


Boston's 109 FGAs were the most in a regulation NBA game since 4/16/2008, per @bball_ref: http://t.co/OB4T6tRPnR
about 7 hours ago

MOST SENT STORIES ON ESPN.COM
ESPN.COM PARTNER: NBA.COM