Anthony Davis reacts to NBA lottery
Updated:
May 31, 2012, 1:27 AM ET
By
Andy Katz
| ESPN.com
LEXINGTON, Ky. -- Kentucky bought a billboard promoting Anthony Davis outside of New Orleans Arena prior to the SEC tournament in March.
The purpose was to sell Davis, and the Wildcats, to New Orleans in preparation for the Final Four at the Superdome next door to the New Orleans Hornets' home.
Little did the University of Kentucky know that its marketing department had done advance work for the hometown NBA franchise.
More NBA Draft Coverage

The Hornets landed the top overall pick Wednesday. Chad Ford projects the entire first round in his updated mock draft. Mock draft

---

Anthony Davis, expected to be the NBA draft's top pick, sat down for a chat with ESPN.com's Andy Katz and expressed excitement about playing for the Hornets. Story
---

Anthony Davis will transform New Orleans not only with his play but also merely by his presence, which could help lure or retain key players, writes David Thorpe. Story

---

Years after his Sonics earned the rights to take Kevin Durant, Rich Cho's Bobcats also fell into the No. 2 pick. Only this time, there wasn't much reason to celebrate, writes Henry Abbott. TrueHoop
• Ford: Who's in/out of draft
• Audio: Plain Dealer's Mary Schmitt Boyer


| ESPN's Rick Reilly


| ESPN Radio's Colin Cowherd


• SN PollCenter: Cast your votes
"If that billboard isn't still up, they should put it back up," Anthony Davis Sr. said about his son.
The Hornets moved up three spots in the NBA draft lottery on Wednesday night to land the No. 1 pick, snatching the honor away from Charlotte, Washington and Cleveland.
The coincidence for Davis couldn't have been predicted. On the day he received his national championship ring from the NCAA for earning a title in New Orleans for Kentucky in March, he found out the Hornets had won the right to select him on June 28.
"I won a national championship in New Orleans, so why not win another one in New Orleans?" said Davis, who was the Most Outstanding Player of the Final Four and the consensus National Player of the Year award winner in his only season at Kentucky.
"I just have to buy into what they're doing and work my hardest," said Davis, as his friends and family gathered at a Dudley's Restaurant in downtown Lexington to watch the lottery on ESPN.
New Orleans won't publicly commit to selecting Davis -- at least not yet -- but there is no other expected selection at the top of the draft. The Hornets, who finished with the worst record in the Western Conference at 21-45, do have experience up front in Emeka Okafor and Chris Kaman, if both return next season.
"That helps, because there are guys there that can show me how things work," Davis said. "They can take me under their wing. It makes it a lot easier."
Davis was savvy to the present mood in New Orleans professional sports, with the spring dominated by the news of bounty-related suspensions to the NFL's New Orleans Saints. The Saints dominated local coverage during the Final Four.
"This can kind of bring joy back to New Orleans," Davis said. "I guess I get lucky when I go there."
His family had been on edge throughout Wednesday. His father, Anthony; mother, Erainer, as well as twin sister, Antoinette, and older sister, Lesha, came in from Chicago on Wednesday. So, too, did his four grandparents and cousins.
His father had predicted Davis would go to New Orleans. His mother wanted Charlotte because she liked the city. Moving to New Orleans seems like the next step for the family, even with both sets of grandparents still living in Chicago.
Winning Ticket

The Hornets won the NBA draft lottery, securing the No. 1 overall pick ahead of the Bobcats and Wizards. It's the second time the Hornets have held the top overall selection.
Team
Record
Pick
Hornets
21-45
1
Bobcats
7-59
2
Wizards
20-46
3
Cavaliers
21-45
4
Kings
22-44
5
Blazers*
28-38
6
Warriors
23-43
7
Raptors
23-43
8
Pistons
25-41
9
Hornets*
21-45
10
Blazers
28-38
11
Bucks
31-35
12
Suns
33-33
13
Rockets
34-32
14
* -- Acquired in trade
"As everyone knows, Anthony is a momma's boy, so his mother will be there with him," Erainer Davis said.
Davis was relieved by the end of the night. The close-knit crew that was with him Wednesday extended to graduating Kentucky manager and future roommate/workout partner Will Martin.
The Davis' had put off signing with an agent, and it has led to some organizational challenges. The Davis' sought the advice of friend Joe Craft, a Kentucky donor whose name is on the practice facility. Wellford Tabor and Kelly Knight stepped in to help the Davis' put together a plan for this week and into next before the NBA takes over for the pre-draft camp in Chicago.
But the Davis' are moving ahead with an agent and Davis Sr. said the family interviewed with Jeff Schwartz and Henry Thomas separately Wednesday, and will meet with Bill Duffy on Thursday.
The 6-foot-10 Davis, who blocks shots and fancies himself more of a face-up forward such as Kevin Garnett offensively, has had quite a year -- from dominating in college, to leading the Wildcats to a title, to winning national awards and receiving the awards in New Orleans.
His spring hasn't been too shabby, either. Davis has visited the White House with the Wildcats and found out he's part of a pool of 21 players with a chance to be one of the final dozen on this summer's USA Olympic team in London. If Chris Bosh is out because of an abdominal strain, and with Dwight Howard ailing because of a back injury, Davis' chances increase.
He still has to find a spot among bigs Tyson Chandler, Blake Griffin, Kevin Love, LaMarcus Aldridge and Lamar Odom. But a few bigs are going to get cut.
Instead of playing for the Hornets in the NBA's summer league, he could be playing for the United States in London, going for gold in what has been an award-winning year.
"It's all been overwhelming," Davis said. "But it's been a great experience. Now I have a chance to play for the Olympic team and make it to London and then be ready for the NBA. We won a national championship, and now I might be the No. 1 pick in the NBA draft. I've just got to give all thanks to God."
Davis flashed his championship ring again -- which he won in New Orleans.
Davis said he loved Michael Jordan and when asked Tuesday what he thought of when hearing Charlotte, he replied, "Jordan." When he was asked about New Orleans, his response was, "A national championship."
The memories are still fresh for Davis and the good vibes continue to flow between him and the Crescent City.
2012 NBA Finals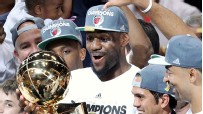 Follow the NBA on ESPN:
Twitter / Facebook / Google+
LATEST CONTENT
FINALS FEATURES
AUDIO/VIDEO
FINALS PAGE
tomhaberstroh

Tom Haberstroh


The Hawks have half as many losses as the 2nd-place Bulls.
8 minutes ago

ESPNNBA

NBA on ESPN


WHAT CAN'T STEPH CURRY DO? Curry with the sneaky trick pass to Harrison Barnes for the finish. #SCtop10 VIDEO: http://t.co/BmdZLOTtIj
33 minutes ago

MazzESPN

Mike Mazzeo


Deron Williams wore a red shirt with an X pregame. Supporting the End It movement, which shines a light on ending slavery/sex-trafficking.
35 minutes ago

espn_macmahon

Tim MacMahon


Half: Warriors 52, Mavs 40Dirk -- 5 points, 2-9 FGMonta -- 4 points, 1-7 FGKinda hard to beat West's best that way.
37 minutes ago

mcten

Dave McMenamin


D.Carroll on guarding LeBron: "When you're outside in the summer and you just can't get that gnat away from you -- that's all I want to be"
40 minutes ago

NickFriedell

Nick Friedell


Best pro game for McDermott. RT @ESPNChiBulls: Doug McDermott shines in loss to Pacers http://t.co/oK5B0f3LJ4
45 minutes ago

mcten

Dave McMenamin


Kevin Love not discouraged by CLE losing season series 3-1 to ATL: "They're a very good team and we're hoping to see them down the stretch"
about an hour ago

espn_macmahon

Tim MacMahon


End 1Q: Warriors 29, Mavs 24.Steph Curry -- 13 points, 4 assistsRajon Rondo -- 10 points, 2 assists
about an hour ago

MazzESPN

Mike Mazzeo


Lionel: You gotta make plays.
about an hour ago

IzzyESPN

Israel Gutierrez


"@stackmack: sure. https://t.co/Jg3DlOrBV9 (via @AaronDerek)" Been Steph Curry with the tricks.
about an hour ago

MazzESPN

Mike Mazzeo


#Suns 108 #Nets 100 (OT). Collapse complete. 15-point lead with 5:45 left. Baffling. 7-26 vs. .500 or better teams, 25-35 overall.
about an hour ago

espn_macmahon

Tim MacMahon


Rajon Rondo is on fire! He's knocked down a 3, a FT and a contested jumper!
about an hour ago

ESPNNBA

NBA on ESPN


James Harden posts his 27th 30-point game this season as Rockets snap 2-game skid w/ 103-93 win over Pistons. http://t.co/3ksCGwKOz2
about an hour ago

MazzESPN

Mike Mazzeo


Tough. Shot. #Nets on verge of completing an impressive implosion.
about an hour ago

ESPNNBA

NBA on ESPN


Harden earns 3rd triple-double this season, most in single season by a Rocket since Clyde Drexler had 3 in 1996-97. http://t.co/lZ8LFOfbUP
about an hour ago

MazzESPN

Mike Mazzeo


Recapping that final 5:40: #Nets outscored 16-1. Went 0-for-6 from the field with 4 TOs. As bad as it gets.
about an hour ago

MazzESPN

Mike Mazzeo


Joe not on the court (?!?!). Jack misses a long pullup (?!?!). Overtime. (SMH)
about an hour ago

MazzESPN

Mike Mazzeo


So side P&R w/ Jack-and-Brook after Joe sets a down screen for Brook and heads to right wing corner?
about an hour ago

MazzESPN

Mike Mazzeo


We're tied. Of course. Winning time is the worst time for Brooklyn.
about an hour ago

MazzESPN

Mike Mazzeo


The #Nets are trying to give this game away, as per usual. 15-point lead with 5:45 left down to three. Joe Johnson finally back in.
about an hour ago

MOST SENT STORIES ON ESPN.COM