Nerlens Noel heading to Philly
Updated:
June 28, 2013, 10:43 AM ET
ESPN.com news services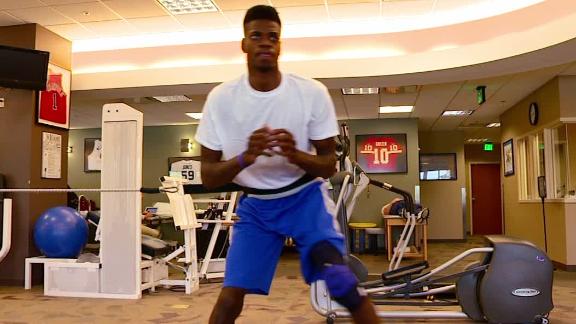 All-Access: Nerlens Noel


The New Orleans Pelicans traded center Nerlens Noel and a 2014 protected first-round pick to the Philadelphia 76ers for point guard Jrue Holiday, league sources told ESPN.com.
The Pelicans also received the 76ers' second-round pick (42nd overall, point guard Pierre Jackson of Baylor) in Thursday night's NBA draft, sources said.
More NBA Draft Coverage

ESPN.com's Chad Ford offers up his pick-by-pick analysis of all 60 selections in Thursday night's NBA draft. Analysis


Nerlens Noel watched and waited as picks went by on draft night, but his slide could be a blessing in disguise, Jeff Goodman writes. Story
• Roundup of night's trades

The No. 1 pick of Anthony Bennett set the tone for an unpredictable draft night Thursday, Andy Katz writes. Story
---
• ESPN New York: Hardaway a Knick
• ESPN Boston: Celtics deal for Olynyk
• ESPN Los Angeles: Bullock to Clips
• ESPN Dallas: Busy Mavs land Larkin
• ESPN New York: Nets draft Plumlee
• ESPN Chicago: Bulls land SF Snell
• ESPN Los Angeles: Kelly to Lakers
• Pelton: Trade grades


• Pelton: Draft grades


• TrueHoop: Draft's international flavor
• Audio: Bennett | Oladipo | Porter


• More audio: Zeller | Len | Noel


• More audio: Stern | Self | Larkins


• SN: Look of this class in 2018?
Protection on New Orleans' 2014 first-rounder to Philly is picks 1-to-5, sources said.
The 6-foot-10 Noel, projected by many to go No. 1 overall to the Cleveland Cavaliers, instead slipped to No. 6 on Thursday night.
He averaged 10.5 points and 9.5 rebounds, and blocked 106 shots as a freshman. However, he had a March 12 operation to repair a torn anterior cruciate ligament and expects to return to the court by Christmas, a long road back likely to involve countless hours of rehabilitation.
Noel was still wearing a Pelicans hat in New York when he learned he was traded.
"They've got a great organization there, too. I'm just staying positive about everything," he said. "It shows how much confidence they have in me. I'm just looking to get down there and work hard."
The 6-4 Holiday, a four-year pro, averaged 17.7 points and eight assists for the 76ers last season.
The move clears Holiday's $41 million contract off the books, giving the 76ers plenty of cap space to reshape a team that went 34-48 last season. The Sixers also hired Spurs assistant Brett Brown as their new head coach Thursday, according to a New York Daily News report.
In other first-round deals Thursday night:


The Minnesota Timberwolves traded Trey Burke to the Utah Jazz for the Nos. 14 (Shabazz Muhammad, UCLA forward) and 21 (Gorgui Dieng, Louisville center) picks in the draft. Minnesota had taken Burke, the former Michigan star point guard, with the No. 9 pick.
"My mind was pretty much everywhere. I was just ready to figure out where I was going to finally end up. Now that I'm at Utah, I'm definitely thrilled for the opportunity," Burke said.


After selecting Kelly Olynyk with the 13th overall pick, the Dallas Mavericks traded the former Gonzaga 7-footer to the Celtics for Boston's first-round pick, Brazilian center Lucas Nogueira (No. 16 overall), and a pair of 2014 second-round picks.
Celtics general manager Danny Ainge described Olynyk as a complementary player who will fit in well with Rajon Rondo and Jeff Green.


The Mavs moved Nogueira, guard Jared Cunningham and the No. 44 pick (Mike Muscala, Bucknell forward) to the Atlanta Hawks for the No. 18 pick, former Miami guard Shane Larkin.
The Mavericks, hoping to land prized free agent-to-be Dwight Howard, saved a little more than $1 million in salary cap space by moving down five spots and dumping Cunningham. But it will cost them about that amount to keep Larkin.



The Timberwolves took Colorado forward Andre Roberson with the 26th overall pick, then shipped Roberson and guard Malcolm Lee to the Golden State Warriors for a 2014 second-round pick and cash. The Warriors then traded Roberson to the Oklahoma City Thunder for a package that included the 29th pick.


The Denver Nuggets used the 27th pick on Rudy Gobert, a 7-foot-2 center from France, then traded his rights to Utah for the No. 46 pick (Erick Green, Virginia Tech point guard) and cash.


The Warriors and the Phoenix Suns swapped the 29th and 30th picks, respectively, with Golden State grabbing Serbian guard Nemanja Nedovic and the Suns picking up Kentucky shooting guard Archie Goodwin and Lee, who was traded for the second time Thursday night.
In second-round trades Thursday night:


The Portland Trail Blazers acquired the 31st pick (Allen Crabbe, California guard) from the Cleveland Cavaliers for two future second-round picks.
Crabbe is a two-time all-Pac-12 first-team guard who averaged 15.7 points and 5.7 rebounds during his three-year California career. Crabbe was third among Pac-12 scorers last season at 18.4 points a game.




The 76ers took small forward Glen Rice Jr. with the 35th overall pick, then shipped his rights to the Washington Wizards for the 38th (Nate Wolters, South Dakota State point guard) and 54th (Arsalan Kazemi, Oregon forward) picks. The 76ers then traded Wolters to the Bucks for 43rd overall pick Ricky Ledo, who went to the Hawks before ultimately landing with the Mavericks, sources said. Dallas wil send Brooklyn's 2014 second-round pick, which was acquired in the earlier deal with Boston, to the Hawks.


The Trail Blazers selected 6-10 forward Grant Jerrett of Arizona with the 40th overall pick, then shipped him to the Thunder for cash. Playing one college season, Jerrett averaged 5.2 points and 3.6 rebounds for the Wildcats, but shot 41 percent from 3-point range.


The Memphis Grizzlies agreed to trade forward Darrell Arthur and the 55th pick (forward Joffrey Lauvergne of France) to the Nuggets for center Kosta Koufos, sources told ESPN.com.
The Grizzlies, sources said, made the move to create playing time for young big man Ed Davis, who was acquired by Memphis as part of the Rudy Gay trade in January and who got little attention from ousted coach Lionel Hollins.
The Nuggets, meanwhile, have been expected to move Koufos since the ouster of reigning NBA Coach of the Year George Karl, who rankled his bosses by starting Koufos ahead of the mercurial JaVale McGee after the Nuggets had signed McGee to a contract worth in excess of $40 million.


The Hawks sent 50th overall pick James Ennis, a forward out of Long Beach State, to the Miami Heat for a future second-round pick, sources said. Ennis was the Big West's player of the year this past season.


The Indiana Pacers used their second-round pick on 7-foot center Colton Iverson of Colorado State, then traded him to the Celtics for cash.
Information from ESPN.com's Marc Stein, Chad Ford, Andy Katz and Jeff Goodman, ESPN The Magazine's Chris Broussard and The Associated Press was used in this report.
SPONSORED HEADLINES
MORE NBA HEADLINES
MOST SENT STORIES ON ESPN.COM
THE NBA DRAFT ON ESPN.COM
EDITORS' PICKS
What are the scouts saying? Marc Stein has the scoop.
Scouts Takes »

Bill Simmons tries to predict how the dust will settle in an ugly East.
Grantland »

Kobe Bryant will make his season debut on Sunday.
Story »